Like any other area of ​​medicine, organ transplantation is shrouded in all sorts of rumors. Media vying full of sensational stories about the criminal trade in live donors and the "medical matters" sacrificed for the sake of their patients fence organov.Nedostatok generates reliable information critical to the public. Most of its members are looking for transplantation and donation of a negative or absolutely passivno.Peresadka body - this is often the only way to save human life. In civilized countries, a new candidate for the operation is written to the queue every 10 minutes. On average, in anticipation of transplantation of an organ in the world die every day up to 20 people. Families of patients taking a variety of steps to find the right for an organ transplant - through the donor search, by collecting funds through ads on the Internet.
No country in the world has not been able to completely solve the shortage of donor organs, despite the wide campaign to promote the post-mortem donation. By virtue of the legal framework and medical indications in many countries living donors can only be a family in need. Posthumous donor can become everyone who gave their consent.
Creative work of advertising agencies and non-governmental organizations represented in our survey, trying to break the stereotype of sharply negative attitude to post-mortem donation.
Next to the terrible shots depicting people rip their organs to donation, the authors of the agency GIOVANNI FCB posted encouraging slogan - "Do not be a jerk, you know that's not what we're talking." Creative idea Agency should emphasize that organ donation is not as bad as many people think. As the customer's campaign issued a public organization VIZOO, which clarifies the bottom layout - "You're already dead. It will not hurt. This will save the lives of others. Donate your organs! »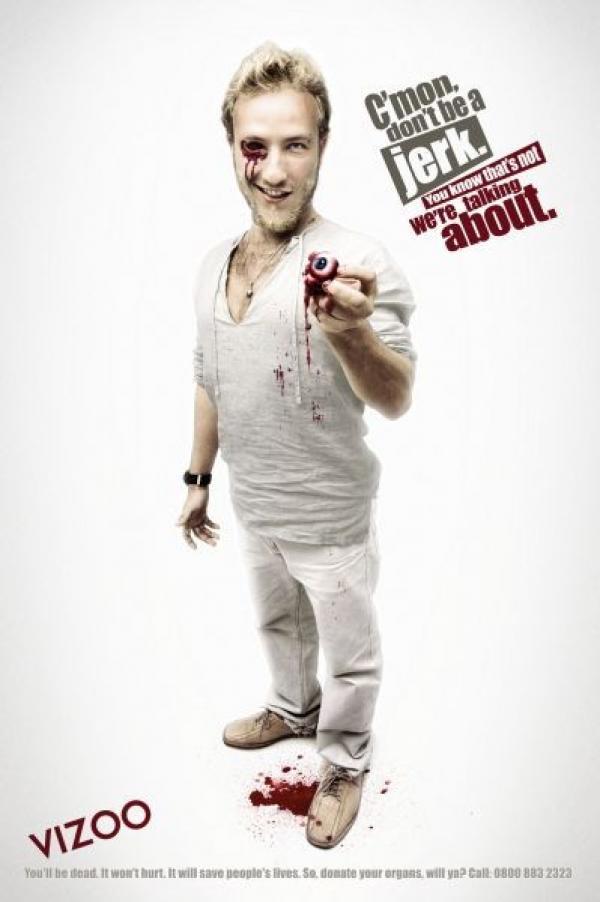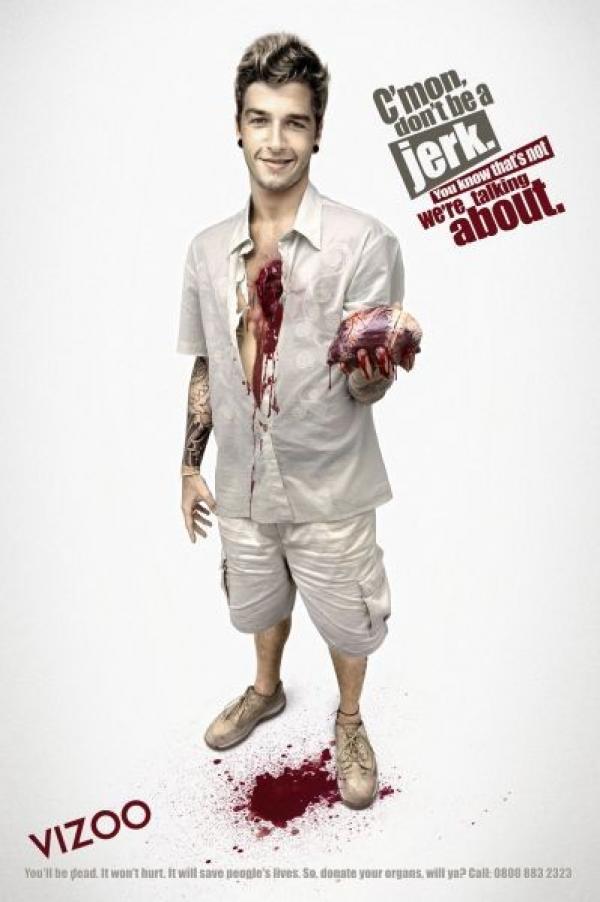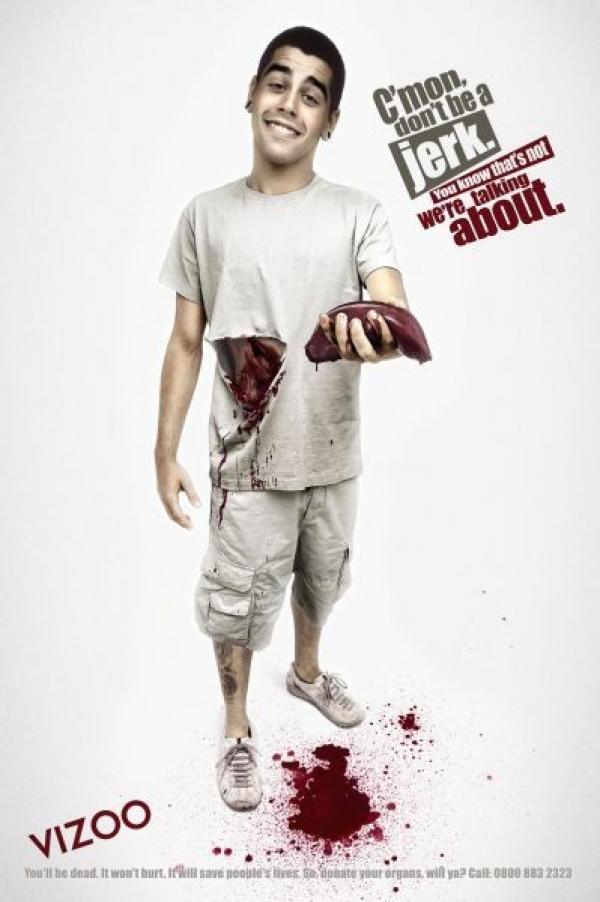 Donate your organs. Demand exceeds supply.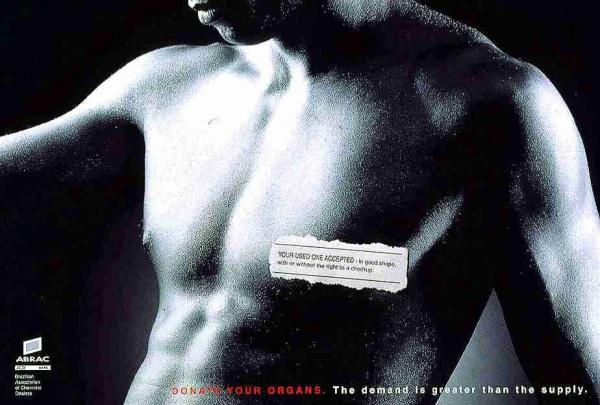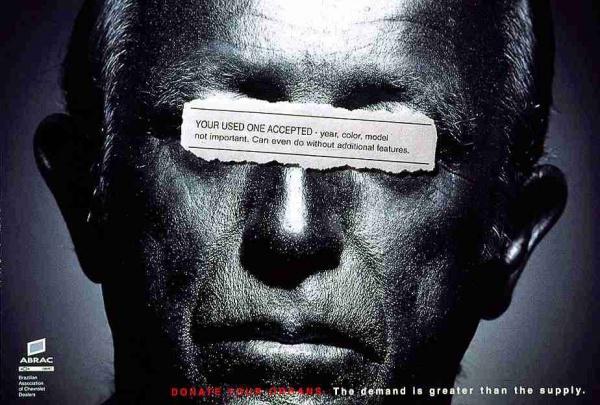 There is life after death: Donate your organs and revive in the other person! In Belgium, an advertising campaign
«revive to live» (Reborn to be alive) is aimed at informing people about the fact that in order to become an organ donor after their death is necessary for life to register. In order to convey this message to the men, the advertising agency Duval Guillaume Foundation and donor Organ Donor Foundation posted here is a print in the most popular men's magazine Belgian P-magazine. Slogan: Become a donor is probably your only chance to get into it. Sign Up Now.

As part of the same campaign in the obituaries section in the newspaper obituary published only one surrounded by eight empty cells. Thus, the agency Duval Guillaume conveys the idea that one organ donor can save 8 lives and to become a donor you need to register on the website of the fund donors.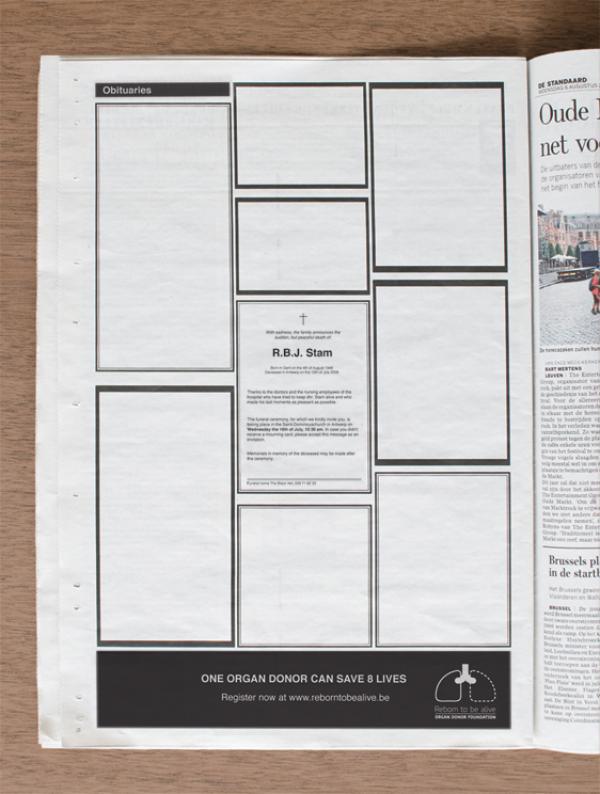 Extend its lifeline: donate organs.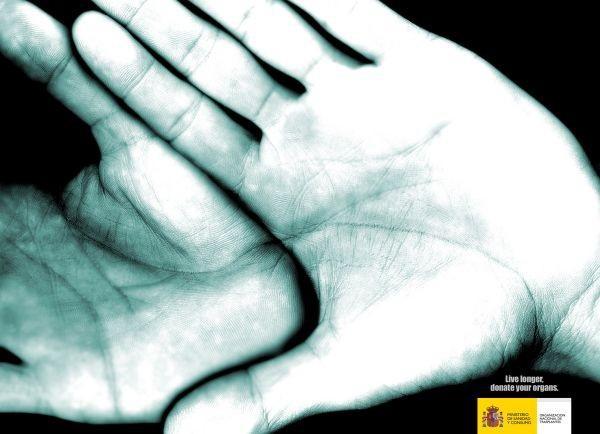 "Just put your signature, become an organ donor and win a ticket for free from hell to heaven" - gives us agency BVK / MCDOLAND.




Variations on the same theme of heaven and hell from the agency Scholz & Friends.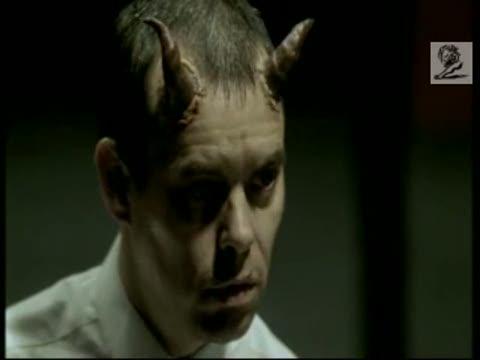 In Brazil, more than 60,000 people are on the list, waiting for organs for transplantation. Hospital Santa Casa Brazilian and agency Y & R developed a campaign to attract people's attention to this problem. The protagonist of the movie - lonely dog, ownerless, plaintively looks in the eyes of passers-by: "When you donate your organs, part of you goes on living after your death».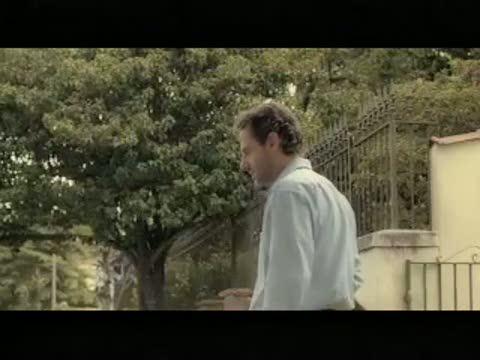 Your death can give life! JWT Shanghai stylized human organs for pregnancy photos to prove that the donation of organs can give life. Taglines: Donate your organs to give someone a second chance at life.

So we used the image of the embryo agency DDB BRASIL. Slogan: Give someone a second life.

Tagged Brazilian agency Giovanni FCB after the death of the donor who needs his body revives the patient directly from his body.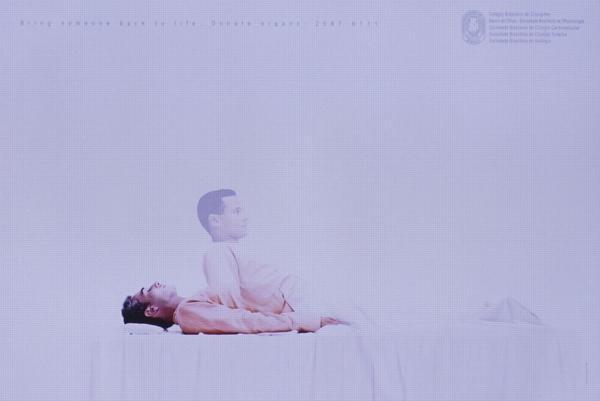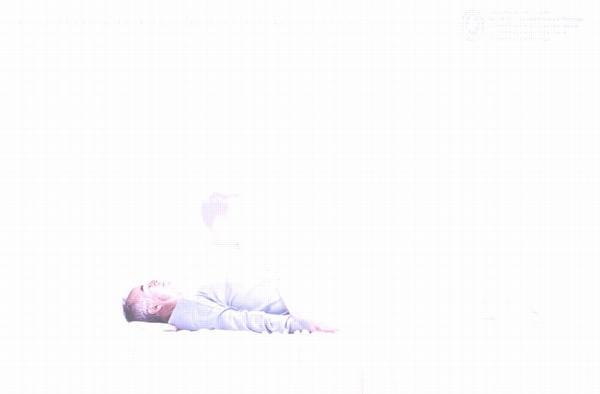 The wreath on the grave of one person becomes a circle for the salvation of another.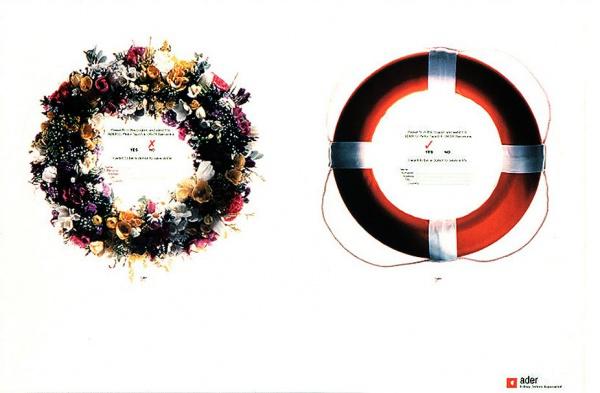 End of the line of human life is the beginning of another person's life line.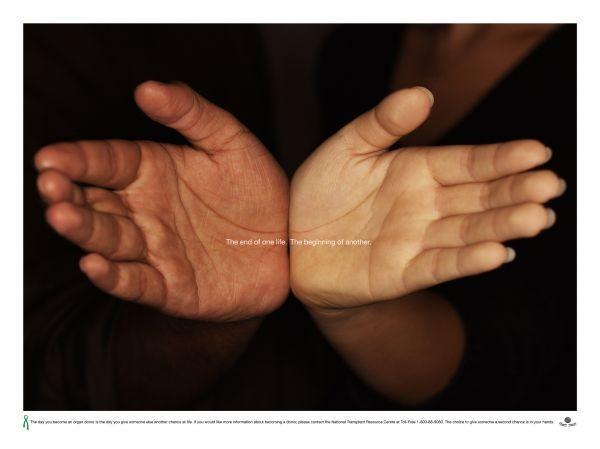 Tearjerker movie from the Spanish Agency Motiva Beaumont Bennett about a little blond girl who sleeps and dreams of the new body that need it to stay alive. It depends on you to wake up or it will sink into eternal sleep.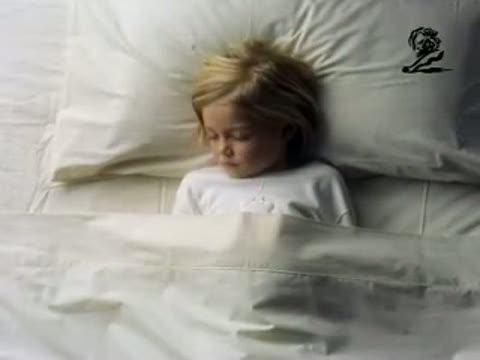 Become a hero posthumously ...! < CLM BBDO has developed a television and print campaign for the French organization for organ donation (ADOT). As part of the television campaign Agency presented two situations in which ordinary observers are solved on a heroic act. One of them is trying to save a drowning man, the other - to bring the old woman out of a burning building. Their debacle commented tagline: "You are not strong in saving the lost. Wait until his death. Bequeathed their bodies. " These videos illustrate the idea of ​​how difficult it is to be a hero, how hard it is to save the life of another person, but, at the same time offer a simple means to achieve this goal: give the body after death to those who it can help.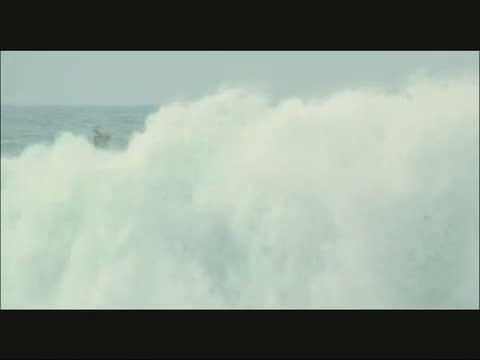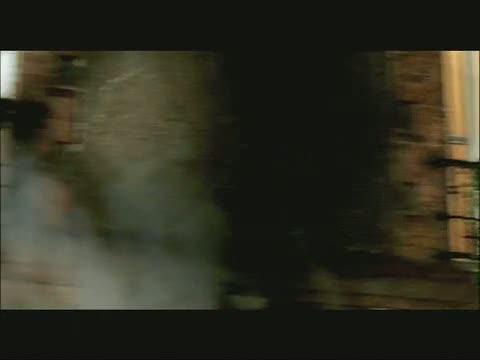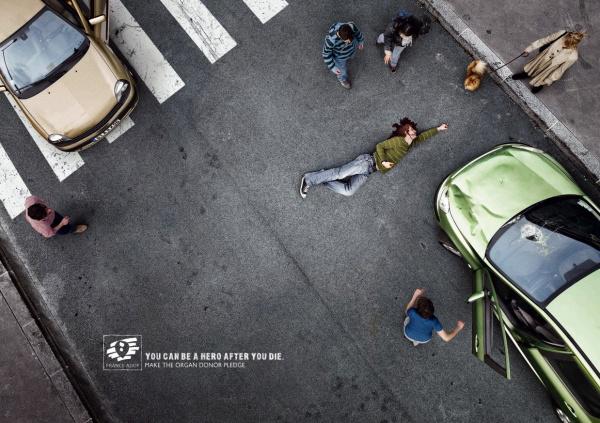 Tagline: You can be a hero, and after his death. Bequeathed their bodies.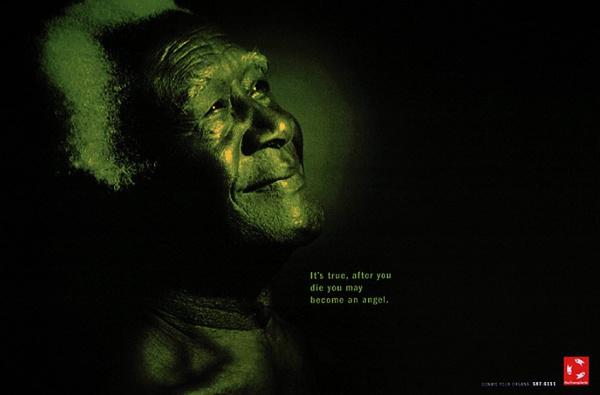 Slogan: After the death of you can become an angel.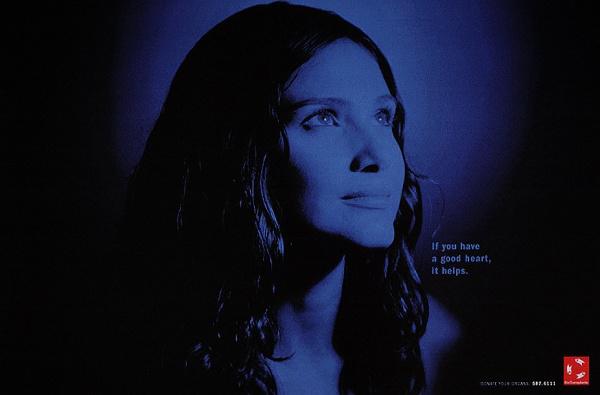 Slogan: If you have a good heart, it will help.

I pick up their bodies to the grave? Murderer! < Bodies - need a lot of thing, even if you no longer need them. If earlier at the mention of the donation generally asked to help, now the main motive of this advertising is a sense of guilt to society. Guilt for what felt sorry you no longer need the body and thus took with him to the grave of someone else tons.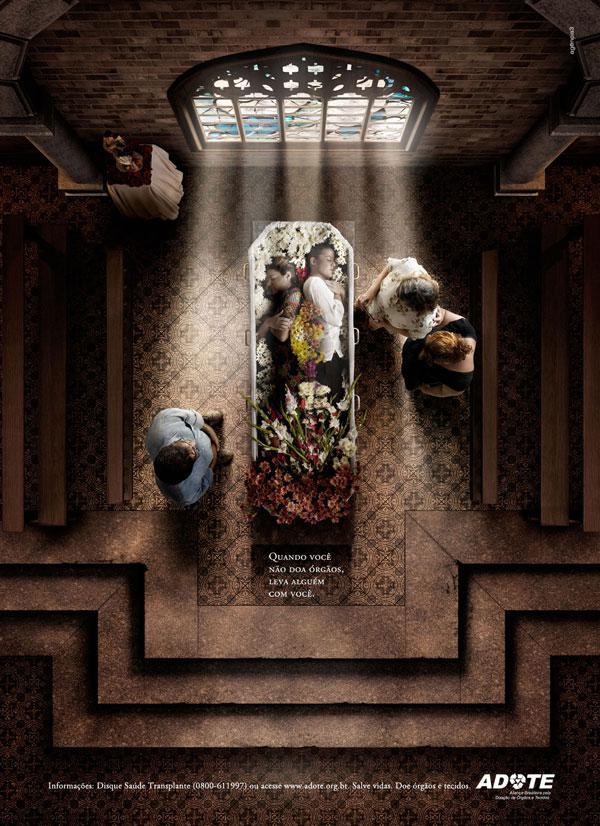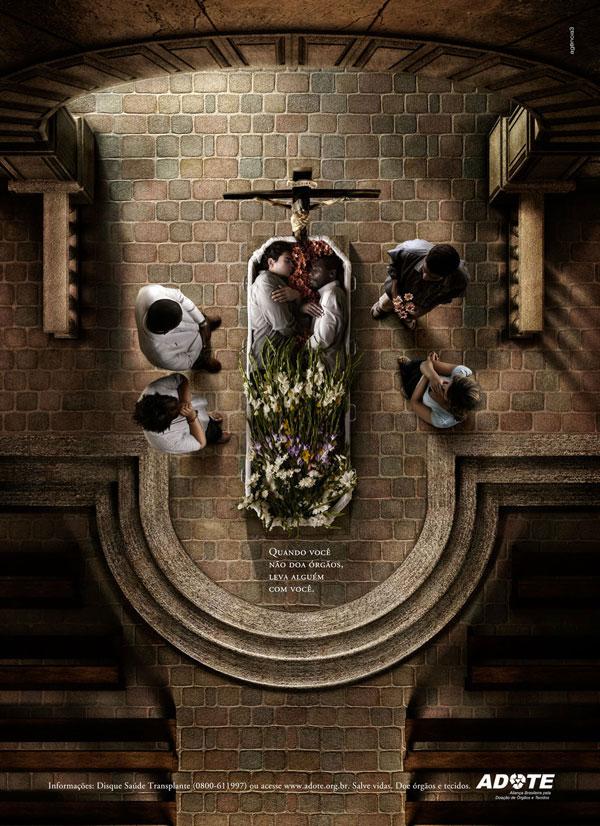 Queue live ... without end ... The text on the posters of the Belgian National Association of Heart and Lung Transplantation, the Brussels advertising agency Duval Guillaume, says: "We do not have a sufficient number of donors. In 2004, 2048 people were in need of organ transplants. Only 736 received them. Do you want to become a donor? ". Heroes advertising posters are holding numbered tag that says their place in the queue.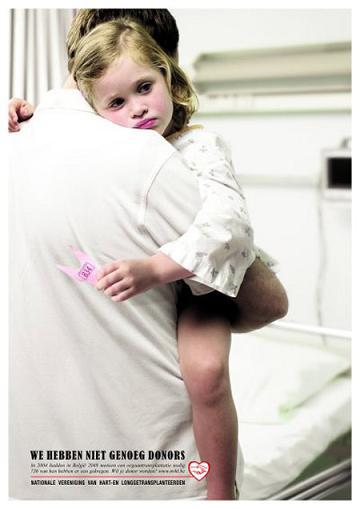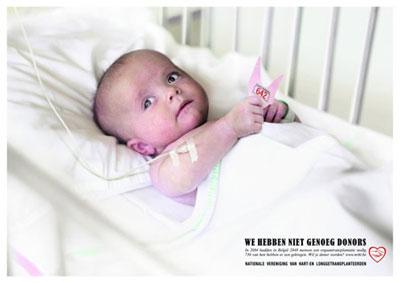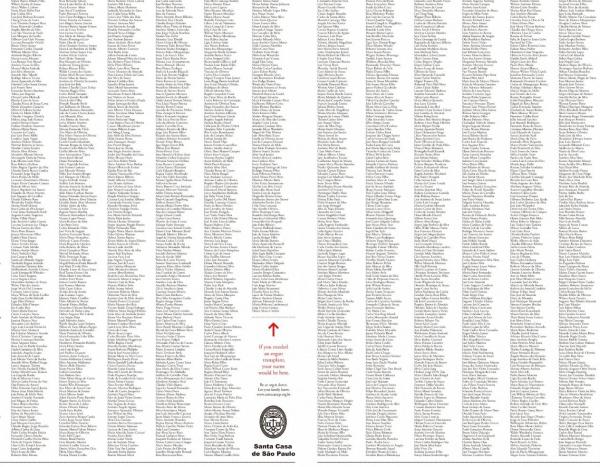 Slogan: If you needed organ transplant, your name would be here.

"Hey, you're sitting there. Wait 10 seconds ... Tired of waiting for? .. It will take another 15 seconds ... angry? .. Well, for a few seconds ... can no longer wait? .. If you wait long in 1 minute was so serious, imagine what they feel in need of years of waiting organs for transplant. »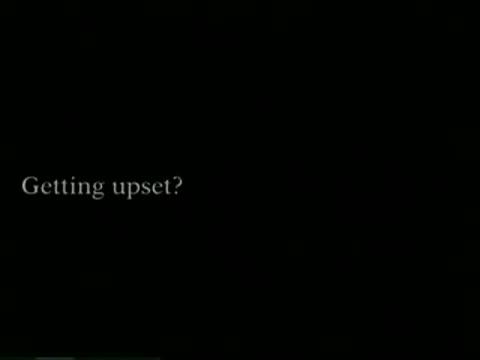 Hindu Muslim heart, black light-skinned man with an eye, an Israeli Arab with a kidney - people of all religions, nationalities and races are equal before life and death.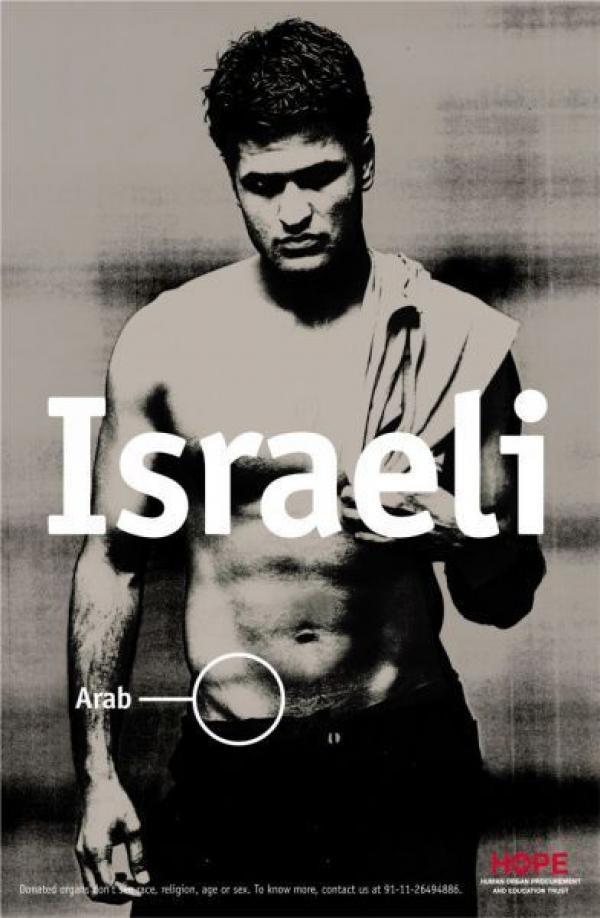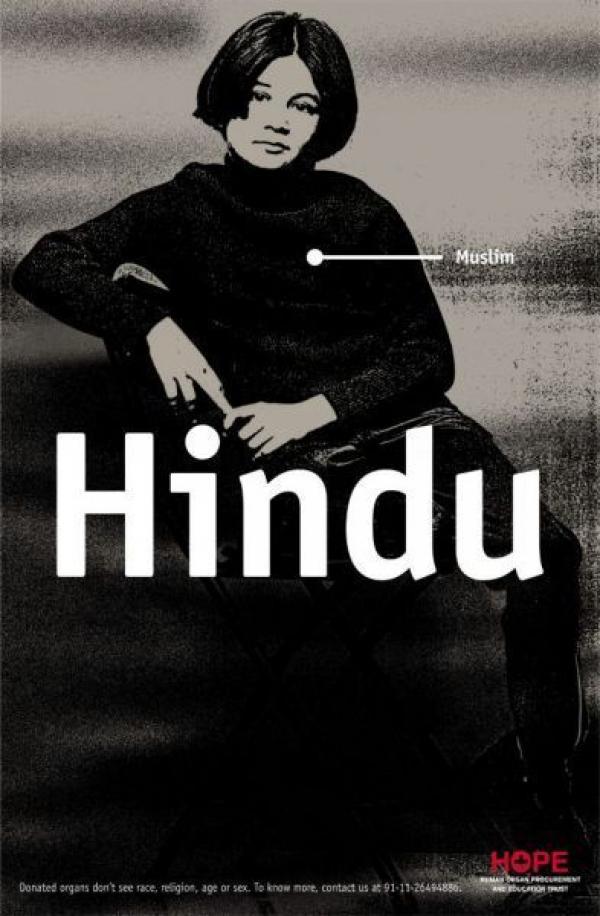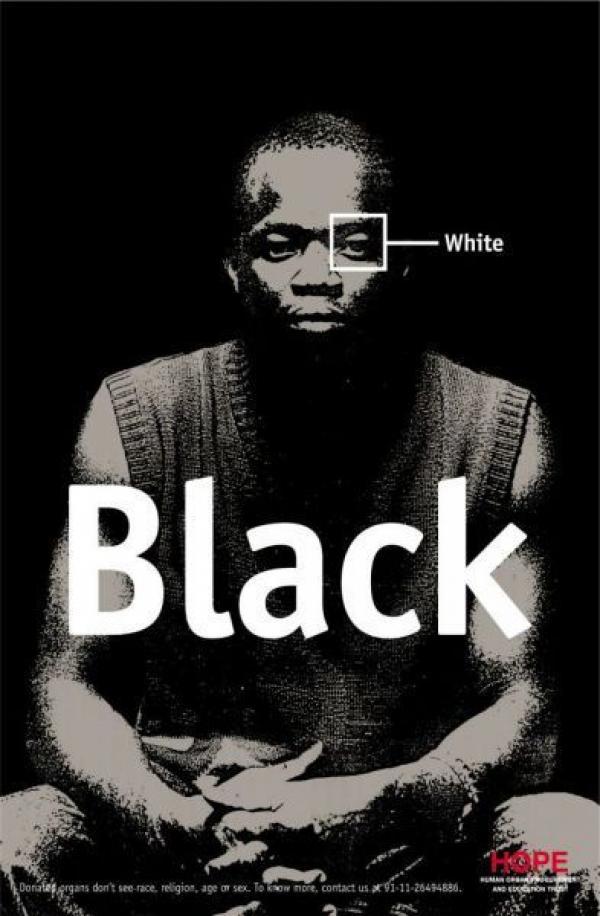 Print the French branch of Leo Burnett realistically demonstrates the truth of life: have decided to donate their organs after death, indeed, be very grateful. Without embellishment, the agency communicates the idea that such a donation can save seven lives.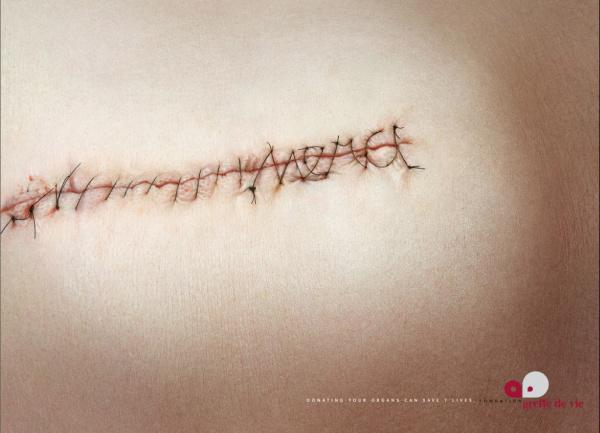 via # image4082855