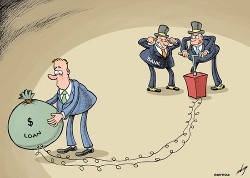 I am always surprised that 95% of people are maintained on divorce called "consumer credit". It is clear that the use of ordinary human weakness - afford to buy today is what will have to pay tomorrow. But these same men should understand that this is a divorce. Man differs from animals abstract thinking can imagine the consequences of their actions. And man can do simple arithmetic. But no, if he is shown the bait on the hook, abstract reasoning and arithmetic abilities are disabled.  
Some immunity in the population certainly produced, but the banking system with it desperately struggles. This is evidenced by the rage and aggression with which bank employees vparivayut its customers credit cards.
Come get salary card?
Get together with her credit card!
Oh, you do not need it?
And you have no one that does not ask!
It is clear that the use of a credit card vperdolennuyu thus force no one can make. The best thing you can do with it - immediately cut her melenko and carefully put in the trash. But here is the calculation that people will put it aside, and when it's a good time to remember and would get.
Trite? I did not say anything new?
So why then do so many people can not turn on the brain and continue to behave like idiots?
Cartoon in the topic (please gamers):
Source
www.zhart.ru/
Let's be philosophical.
< Who has any thoughts on this matter?
I - multidirectional:
On the one hand, like the gears of the economy spinning, people life is getting faster.
And on the other - increases mindless consumption, prices and the amount of rubbish on the planet ...