Pies - we are all familiar homemade goodies. It would seem that may be difficult in their preparation, but not every woman is friends with the dough and baking. Today editorial team
.cc has prepared for you a simple recipe for puff pastry home from an unusual name "Upletayka." In this recipe, no big deal, and cakes are obtained fantastically tasty!

Ingredients:

2 egg yolks; 1 cup sour cream; 200 g margarine or butter; 0, 5 kg of flour. li > Preparation:

1. On the stove, melt the butter and cool it. In a separate container, mix two egg yolks and cup sour cream, then add the melted butter, stir the ingredients, add the flour and knead the dough. It should soak in the refrigerator for at least half an hour. Half an hour later get him, Roll out and fold in half, this procedure must be repeated several times to the dough turned out puff.

2. While the dough cools, prepare the filling. You can use either: Boiled eggs with green onions and meat. To fry the meat filling two large onions, minced, pepper, spices, garlic, fresh herbs.

3. Roll out the dough, cut out from a large square, divide it into 4 equal squares.

4. Fold pastry and pinch the edges.

5. Bake the pies in the oven for about 12-15 minutes at a temperature of 180-190 degrees or grilled.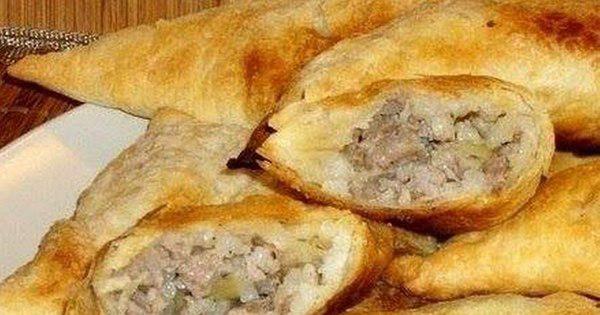 Bon appetit!

You still do not have time to cook these cakes, so your family has to eat them, because before this tasty dish is difficult to resist. Tell your friends about this recipe.

via takprosto cc