Planck - one of the most effective exercises to strengthen the muscles of the body. Standing in this position, you can simultaneously burn fat on your stomach and strengthen the muscles of the back, the buttocks, the press, hands and feet. On the effectiveness of the bar can be compared with push-ups.
What do you say to the fact that with one of the exercises can tighten your body, spending a total of 4 minutes per day? Hard to believe, but it's real! The essence of this method is that it is necessary to gradually increase the time spent in the position bar. After just one month you will be able to bring the body in shape and considerably strengthen the muscles.
By doing this simple exercise, you need to remember only one thing - your body should be straight from head to toe.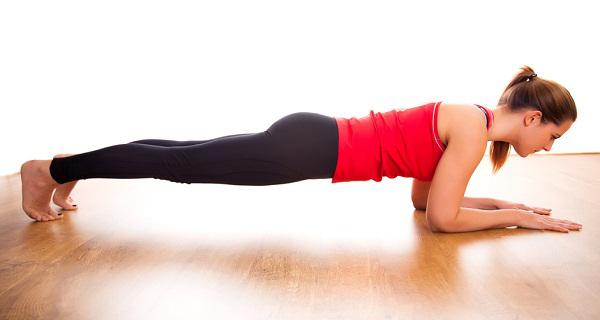 This is the concept that you have to do the bar during the month:

Day 1 - 20 seconds.
Day 2 - 20 seconds.
Day 3 - 30 seconds.
Day 4 -30 seconds.
Day 5 - 40 seconds.
Day 6 - a break.
Day 7 - 45 seconds.
Day 8 - 45 seconds.
Day 9 - 60 seconds.
Day 10 - 60 seconds.
Day 11 - 60 seconds.
Day 12 - 90 seconds.
Day 13 - a break.
Day 14 - 90 seconds.
Day 15 - 90 seconds.
Day 16 - 120 seconds.
Day 17 - 120 seconds.
Day 18 - 150 seconds.
Day 19 - a break.
Day 20 - 150 seconds.
Day 21 - 150 seconds.
Day 22 - 180 seconds.
Day 23 - 180 seconds.
Day 24 - 210 seconds.
Day 25 - a break.
Day 26 - 210 seconds.
Day 27 - 240 seconds.
Day 28 - hold on for as long as you can.

In the first days of lessons you will understand that the bar just seems very simple exercise, but in practice it is difficult to stand in this position at least 30 seconds. But if you desire to have the perfect body, it should not become an obstacle for you!

via takprosto cc