People believe that the wildlife is very cruel and aggressive. However, in practice, it is often still quite the opposite! You probably know of cases of ill-treatment of people with animals in zoos. So, these real places "hell" can be safely attributed and circuses. As soon as people can pay money and have fun at such notions? If only they knew the truth, in fact treat the animals who are forced to play there, they would certainly have changed their attitude.
This story is proof of this. Imagine the king of the jungle, which would seem to roam majestically across its territory and to catch up on all the fear, but in fact is helpless under anesthesia, until veterinarians make him an operation.
This is the King, the circus lion from Peru (Lima). To doctors, he was in a terrible state, his claws on the front paws were removed and teeth ruthlessly pulled out. That is why the poor animal could not even chew. By the way, he and 20 lions were relieved member of an international organization for the protection of animal rights, based in Los Angeles. According to activists, animals were kept in appalling conditions.
«to the circus animals often break teeth and claws ripped i>, - says Eva Tshombe Peruvian veterinarian. This is a painful procedure, during which no anesthesia is used, and this is not being done by veterinarians » i>.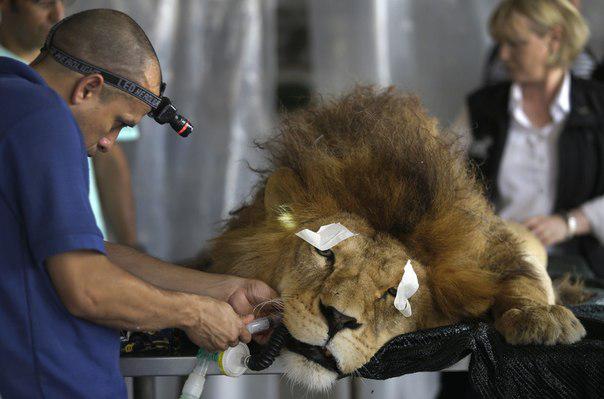 On Friday, a team of veterinarians and operated on King Simba - two lions 17 and 7 years, respectively, the total weight of which exceeds 160 kg. According to doctors, the Kings need another surgery, so next month will go to the Lion Park in Denver, Colorado.

It would seem that no one will really bear the punishment? Incidentally, in 2011 in Peru have banned the use of wild animals in circuses. But, as it always happens, the law slowly enter into force.

No one has the right to consider themselves superior to others. Man has long needed to settle down, because it is simply cruelty knows no bounds. For the sake of the show, which brings a fleeting pleasure, people are willing to take anything, including such action in relation to animals. Here are just a hardly any man would want to treat him well. In any case, those who do so should be punished!

Share this article with others - do not be indifferent to the cruel actions of the monsters on the planet.

via ofigenno ru