The second part of the review of the fashion from the red carpet awards ceremony of the 66th Emmy. I promise that this post will be pleasing to the eye no less than the last - beautiful and stylish women in it more than enough! The first part you can see and read here.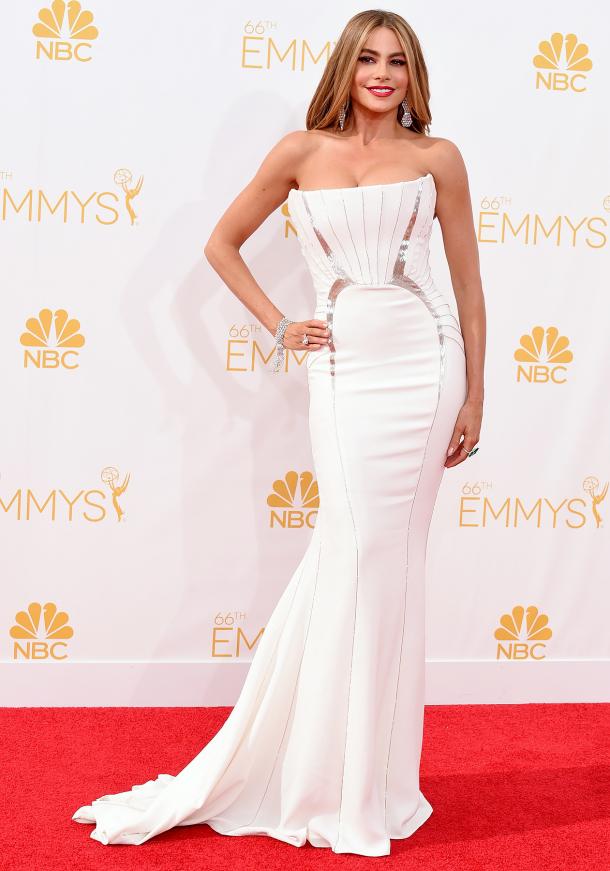 I propose to begin our review with Sofia Vergara. I confess I do not know much about the filmography of this actress, but as a woman she is certainly admirable! Sofia has welcomed to the ceremony in a white dress Roberto Cavalli structured with decorative silver elements. Ms. Vergara knows exactly what it is and what is not, therefore, puts only those outfits that accentuate its shape and hide flaws (if, of course, are available). Evening dress from Cavalli's just one of those.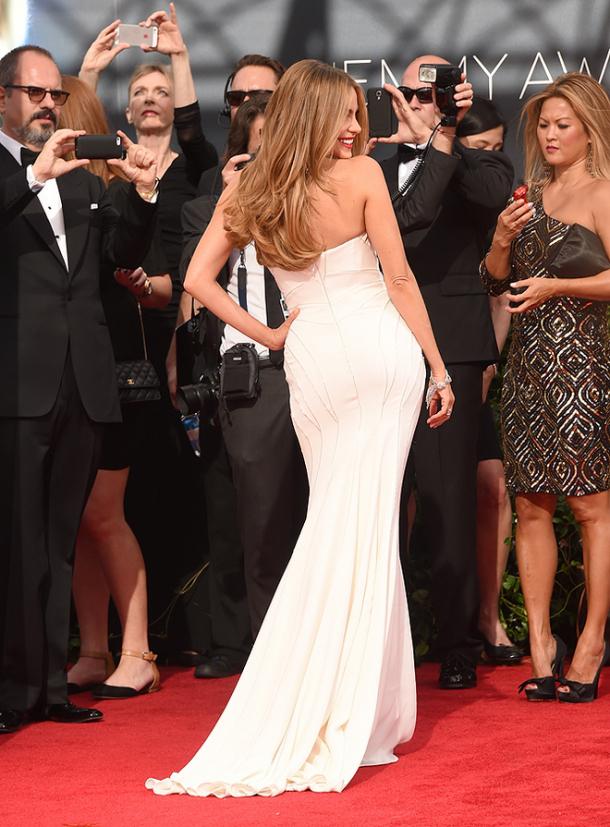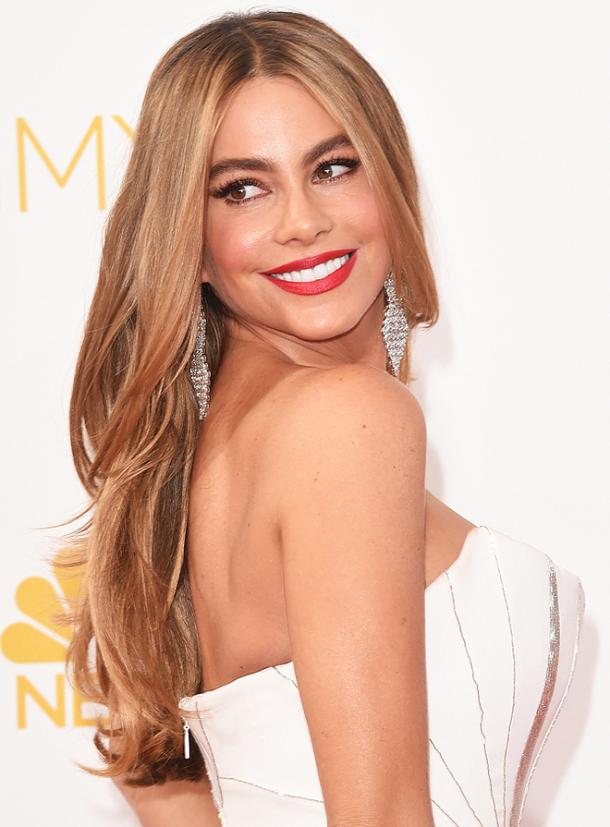 Little street fashion brought the red carpet Sarah Hyland, making shorter top part of his image. To the subject of clothes did not look too casually, the actress has added its dramatic ballroom skirt coral shade from Christian Siriano. Combined with the high beam and the perfect evening make-up outfit looked very fresh, but at the same time elegant.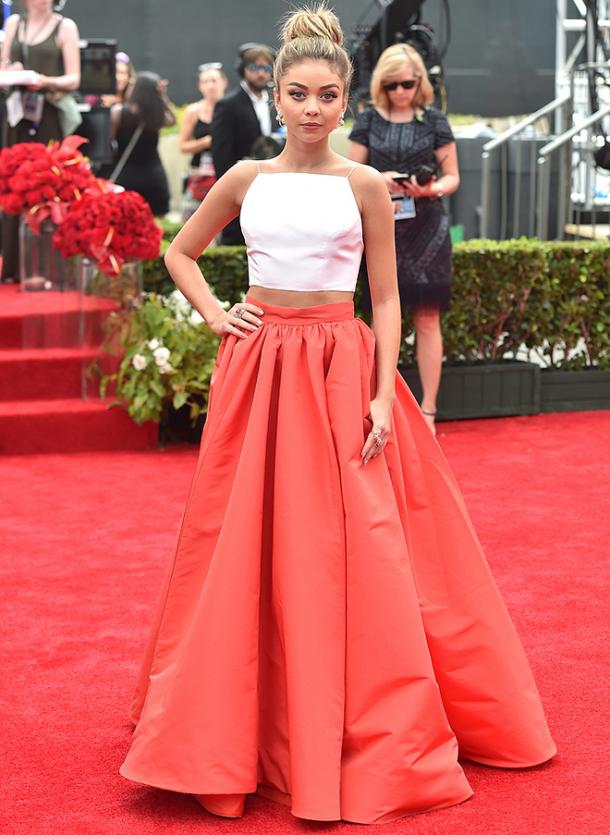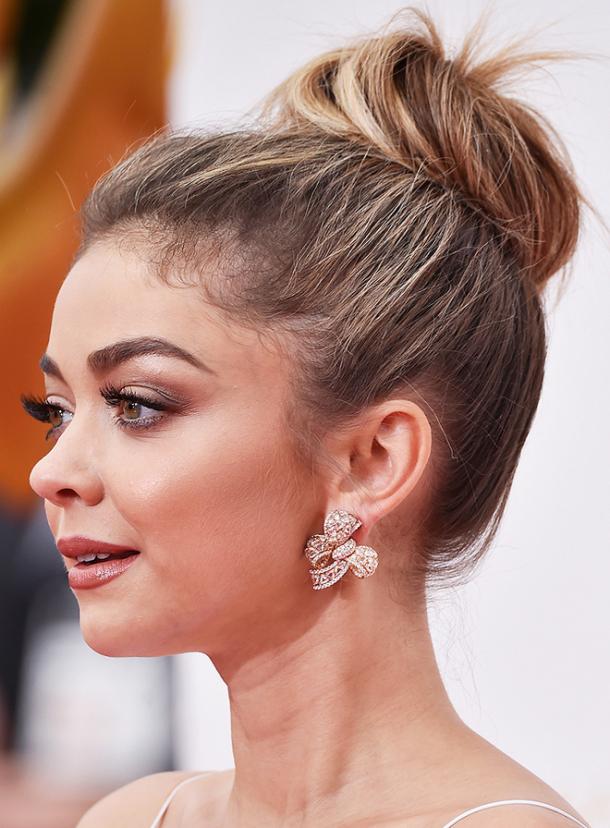 One of the most unusual outfits ceremony showed us Michelle Dockery, examples dress Rosie Assoulin. Bright color combinations and unusual decorative elements immediately attract the viewer's attention to this as well, which can carry only a very brave girl. Apparently, Michelle just one of those!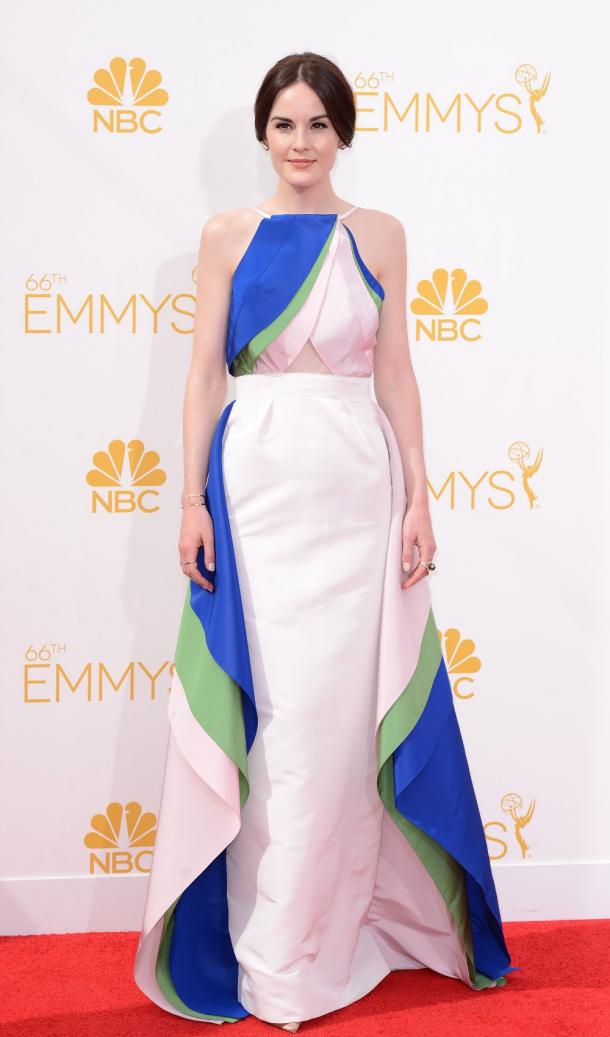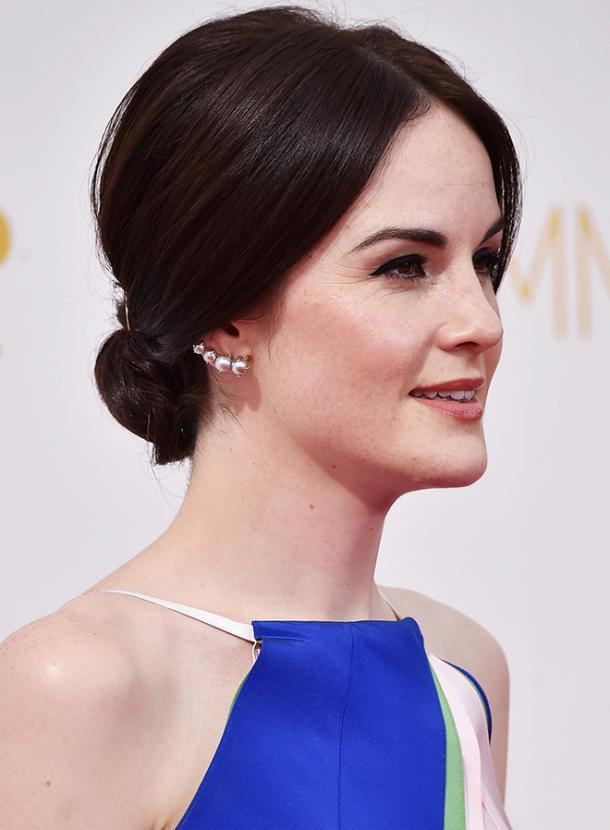 Evening dress Katherine Heigl has not made much of an impression on me: firstly, satin champagne color reminded me not the best wedding dress, and secondly, it looked very old-fashioned. Alas, I do not recall a single successful release of the actress on the red carpet over the past few years - should think about changing the stylist.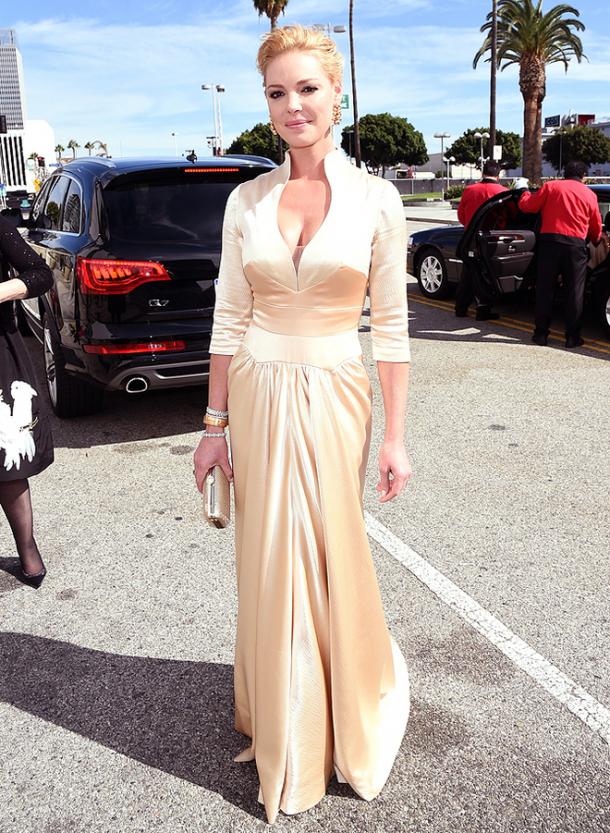 Heidi Klum, whose style often been criticized in recent years, surpassed herself - her image was perfect! One hundred percent hit with flowers, refined, but the actual style, lack of cleavage and inappropriate cuts - here it is the perfect outfit for Heidi.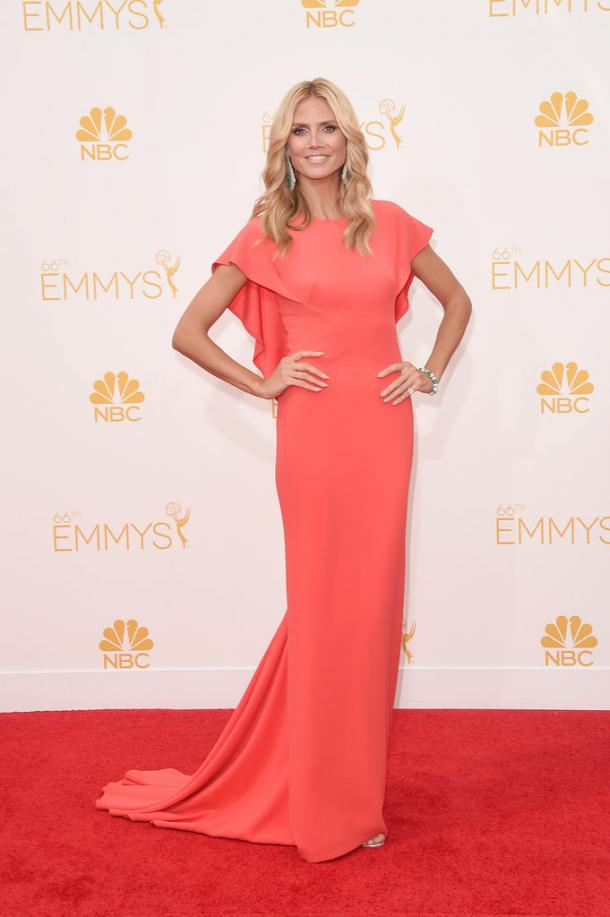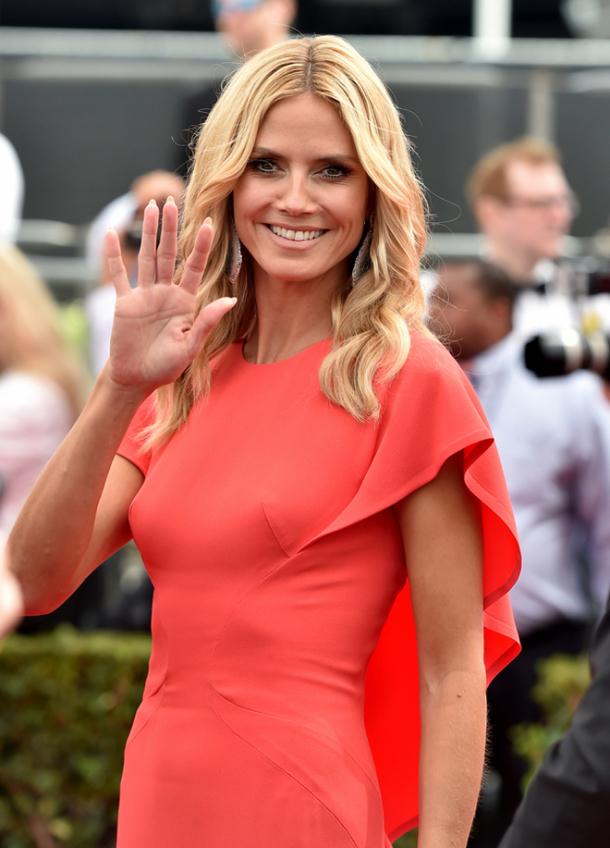 Michelle Monaghan came out on the red carpet couture creation by Giambattista Valli. On the catwalk outfit was presented in a more interesting version - in conjunction with a long cape and fancy golden strap around the waist. And if Cape implies a certain risk, the gold belt could leave understated white dress perfect pair. In any case, the image of Michelle is fresh and elegant.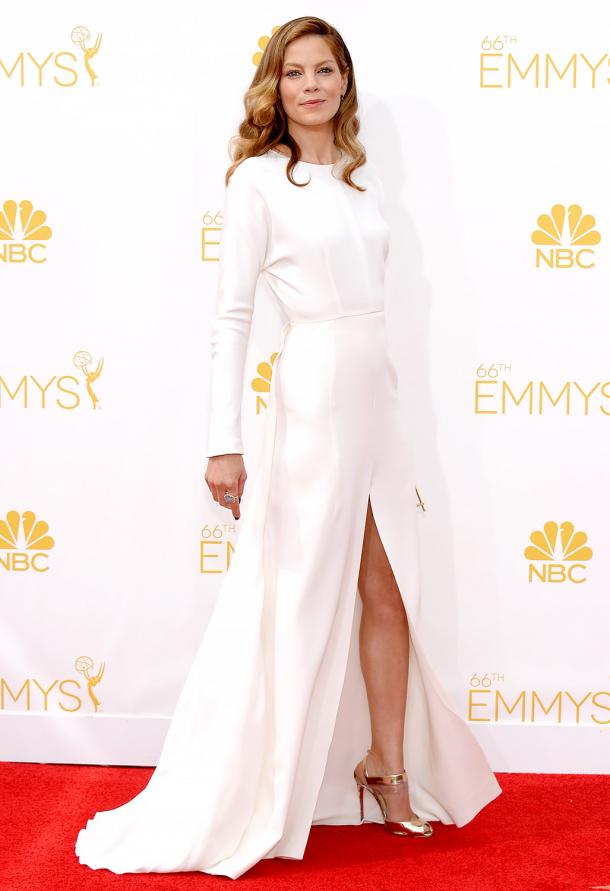 Claire Danes really make your life easier by selecting a dress from the fall collection Givenchy - decor through gates replaced the necklace, so with a selection of jewelry, the actress did not have any difficulties.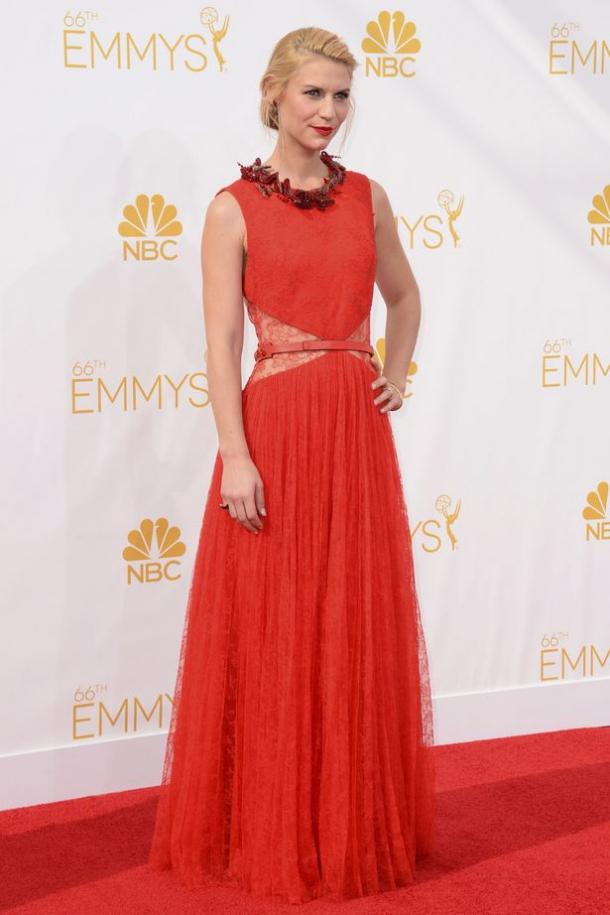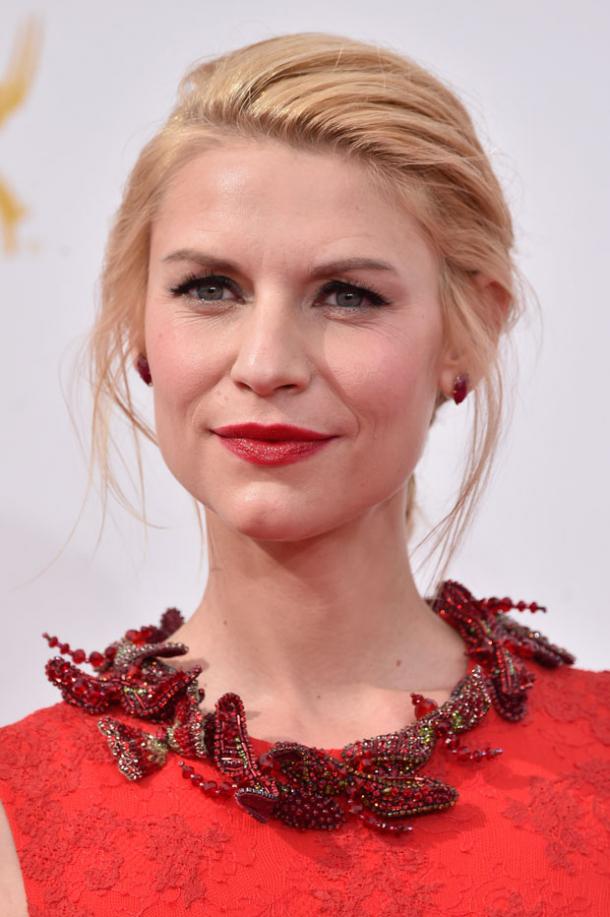 Teyonah Parris has chosen to output a very bright dress by Christian Siriano, consisting of a striped pink bodice and fluffy skirt lime color. Despite such dramatic outfit, the actress was able to easily submit it on the red carpet - confidence, bright appearance and smile a million have done their job.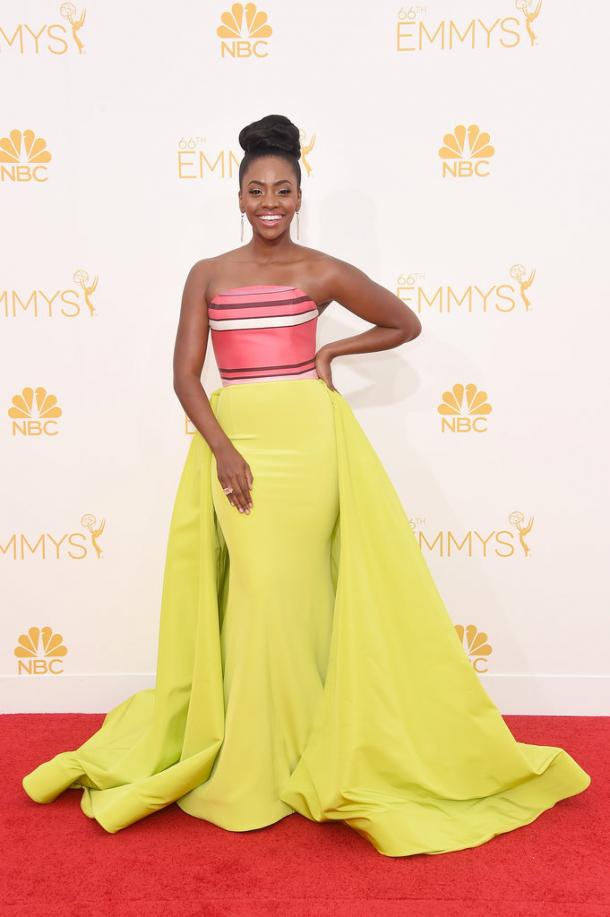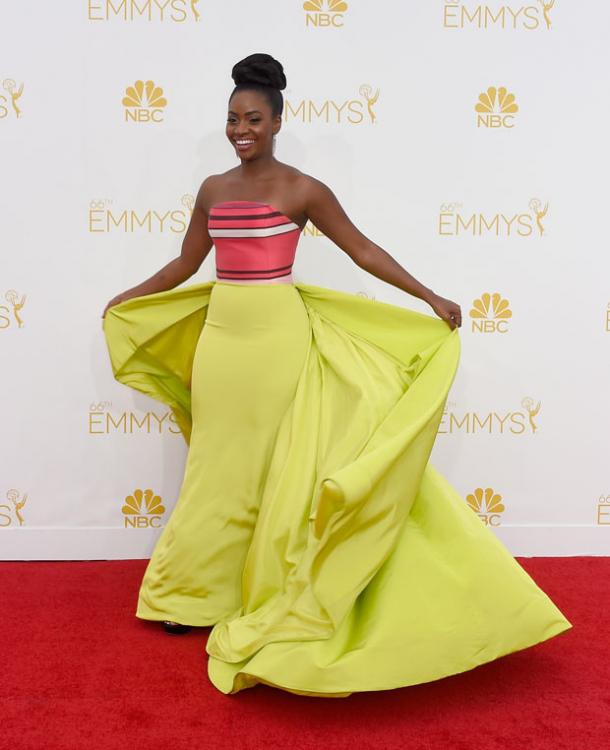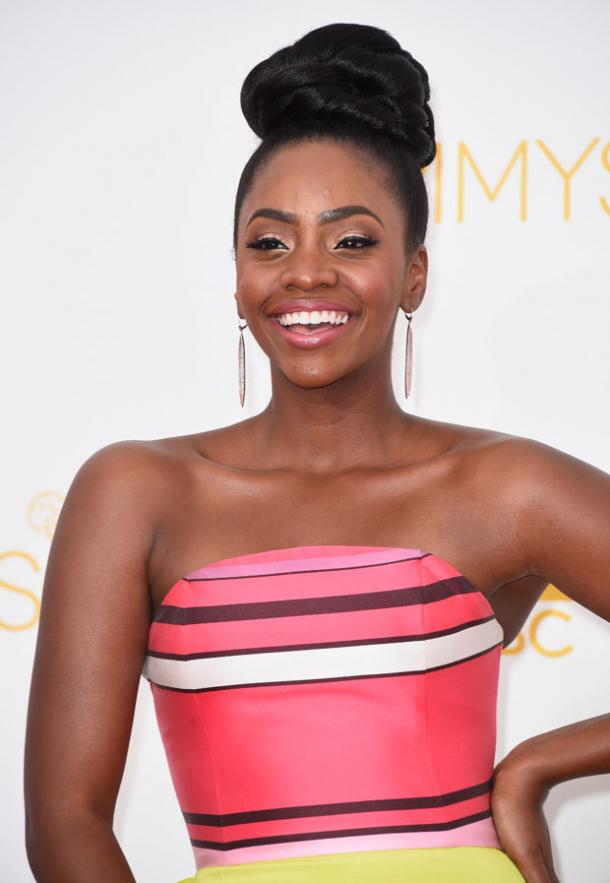 Just want to apologize for the quality of the photo, but I just could not show you this stunning outfit, which appeared at the ceremony of Robin Wright. The actress has chosen to yield an elegant tuxedo jumpsuit, with an open back, which was sewn for her in the studio fashion house Ralph Lauren. In my opinion, this is one of the best images of the ceremony.
Kerry Washington reiterated its request to the original design from Prada and chose to output orange dress with shimmering crystals decorated border and petticoat. I like this way, it has everything you need - a beautiful color, unexpected decorative elements and memorable design.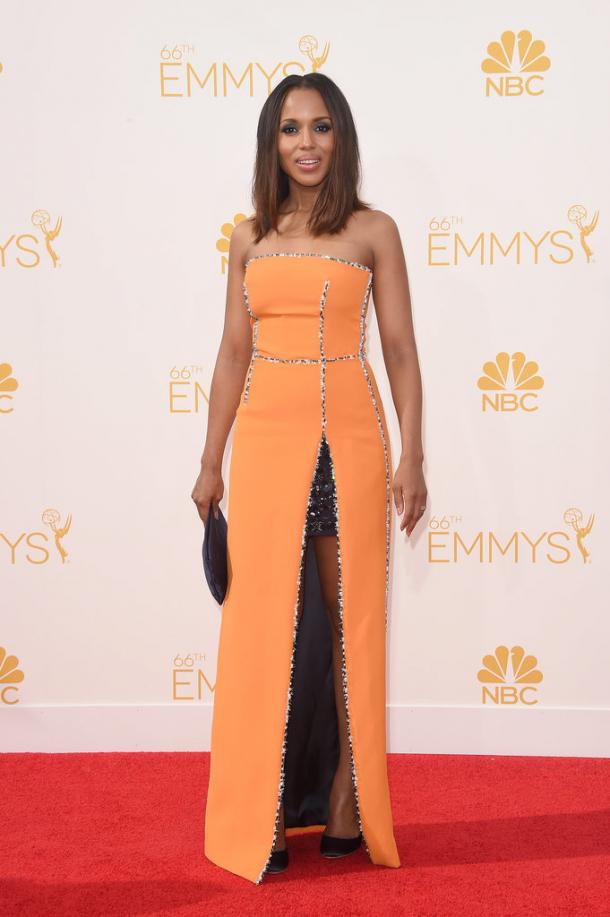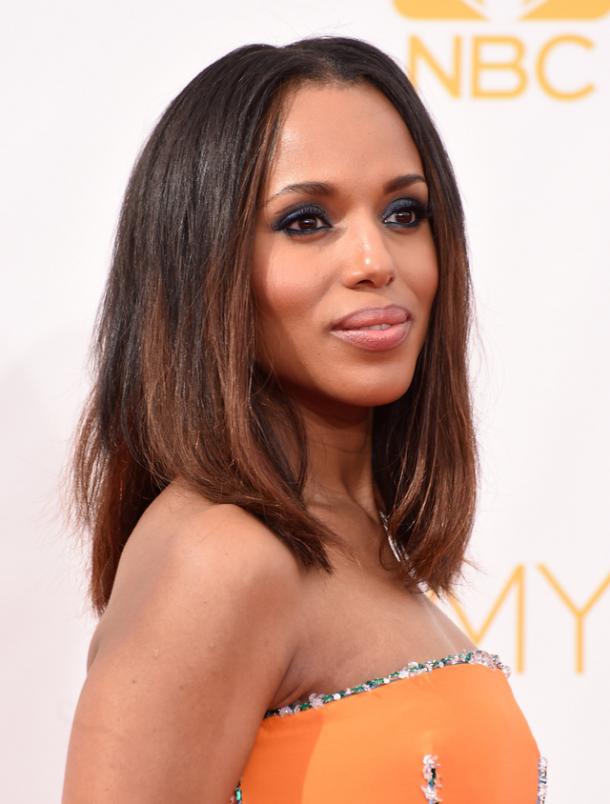 It seems we have a winner in the nomination "The most dramatic way." Lizzy Caplan has decided to play for high stakes and went out on the red carpet in the creation of Donna Karan Atelier. To fully appreciate this outfit, you need to consider it from all sides - the original cut of the bodice with criss-cross straps and cable sudden white is clearly worthy of attention and turn a simple black dress into a work of art.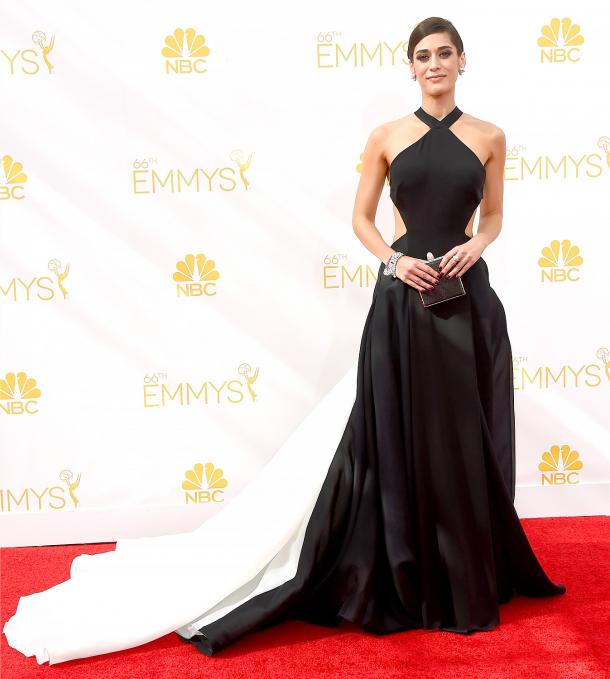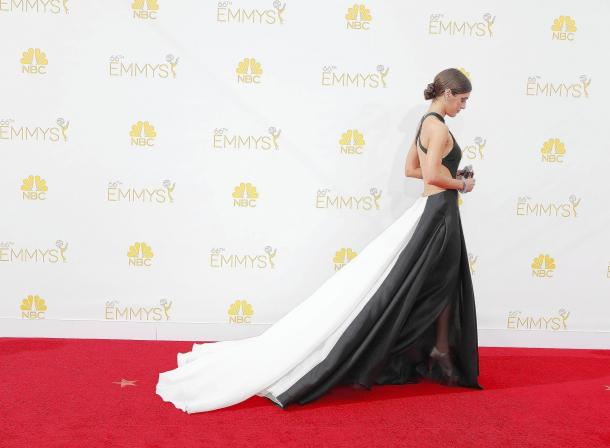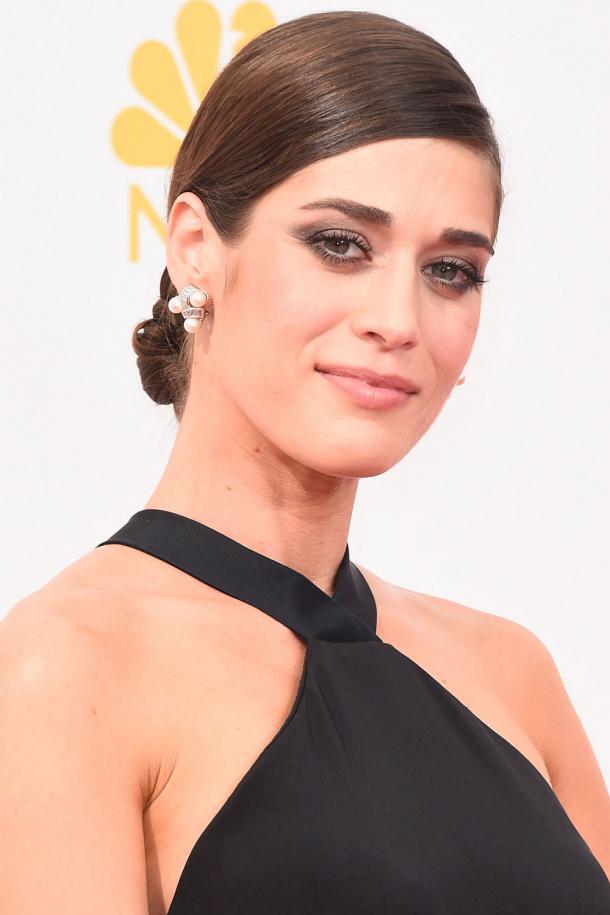 Replacing playful dresses in the style of the 50s to the outfits more elegant style, Zooey Deschanel, however, remained true to his favorite bright color palette. At this time, the actress opted for dresses fuchsia column, which she complemented with silver accessories, diamond jewelry and lush curls.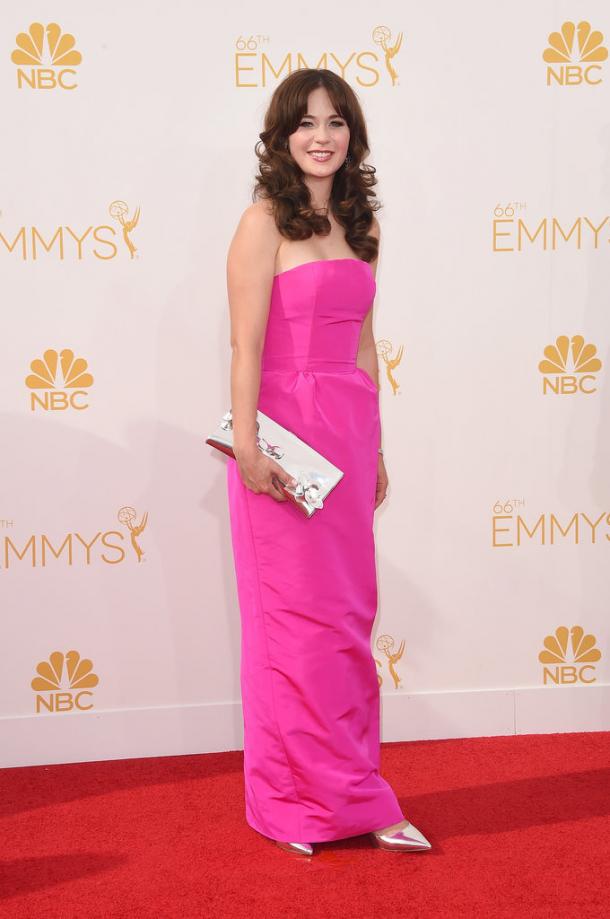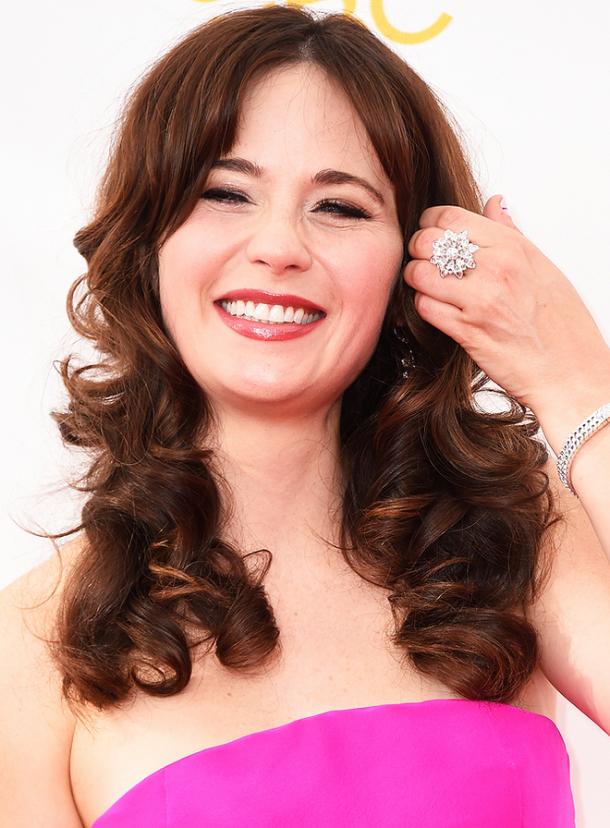 To be continued ...