I offer you a final part of the fashion-review recently held television award Emmy 2014. This kind of culmination of everything we've seen on the red carpet ceremony - here I will be the best, and worst outfits. Without this, alas, can not do!
The first part - vev.ru/blogs/emmy-2014-kto-v-chem-chast-1.html
The second part - vev.ru/blogs/emmy-2014-kto-v-chem-chast-2.html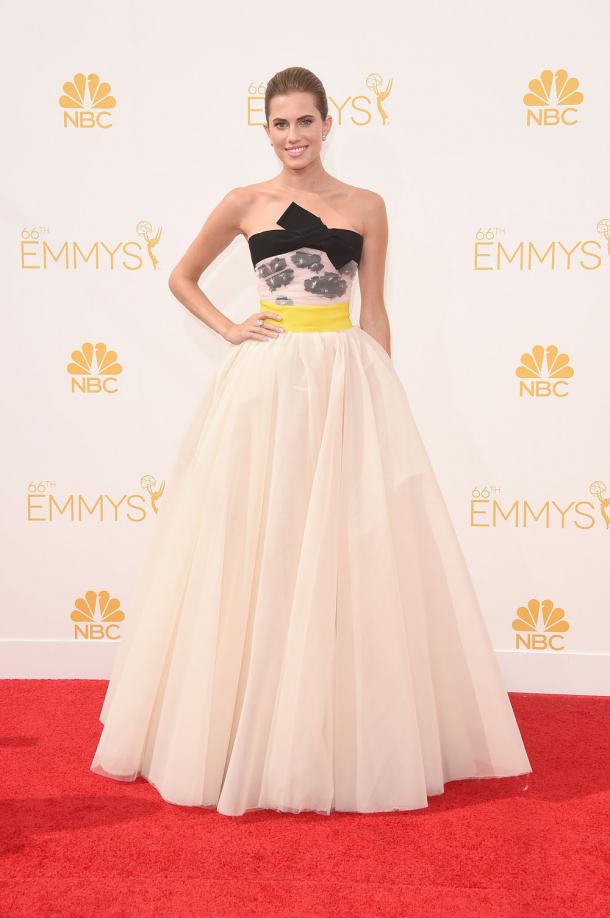 One of the best images of the ceremony, in my opinion, presented us with the star of the series "Girls" Allison Wills. The actress came out on the red carpet in a beautiful dress from the spring couture collection Giambattista Valli. Giambattista Valli - one of my favorite designers, so I'm just happy to see his work at the event, especially since his clothes are always interesting, but it is feminine and elegant. Dress with a fluffy cream skirt was decorated with floral applique, "muted" delicate veil, yellow belt and contrasting black ribbon on neckline. Ellison in the air toilet was a real decoration of the red carpet.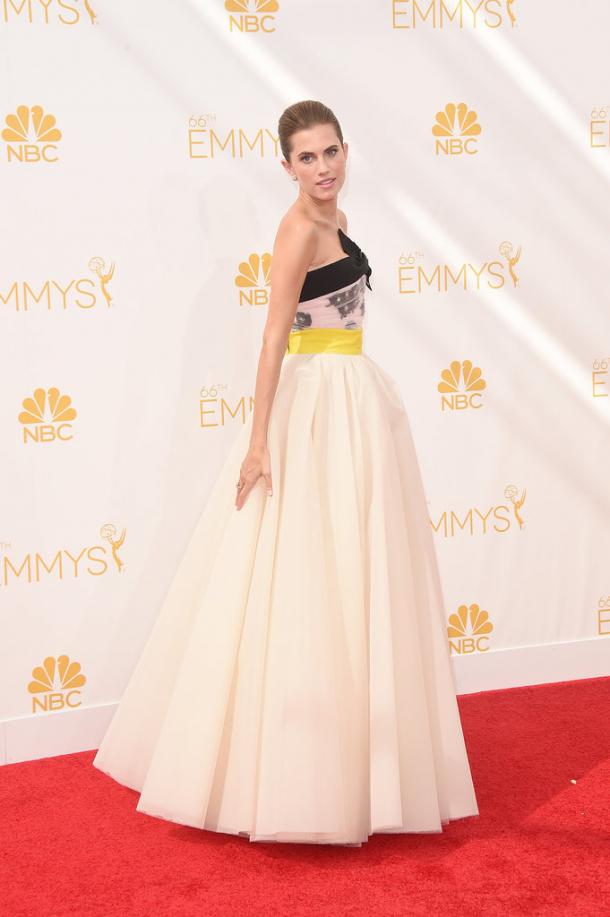 Vanessa Williams, known to many of us for his role in the TV series "Desperate Housewives" and the execution of the title song from the soundtrack to the cartoon "Pocahontas", an example for the ceremony bright dress of rich green color. The image was quite possible to survive in a minimalist style, but decided not to waste Vanessa small things (after all, this Emmy!) And added the outfit jewelery with emeralds and amethysts and nail polish to match.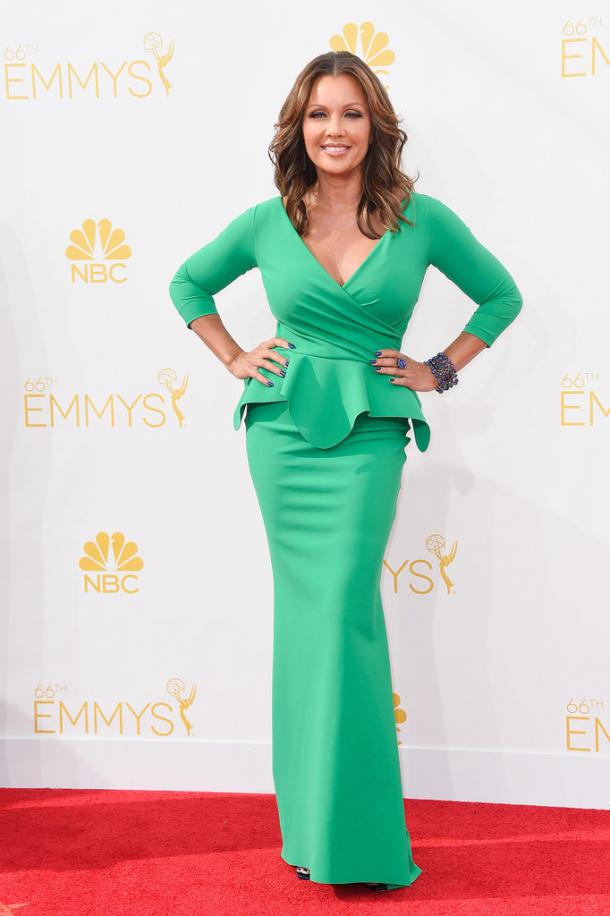 Kate Mara loves to experiment with their own clothes, without adhering to any specific style, and from this it fashionable images only win. At this time, the actress appeared on the red carpet in a white dress J. Mendel with many details and elements that are perfectly combined with each other and do not overload the image.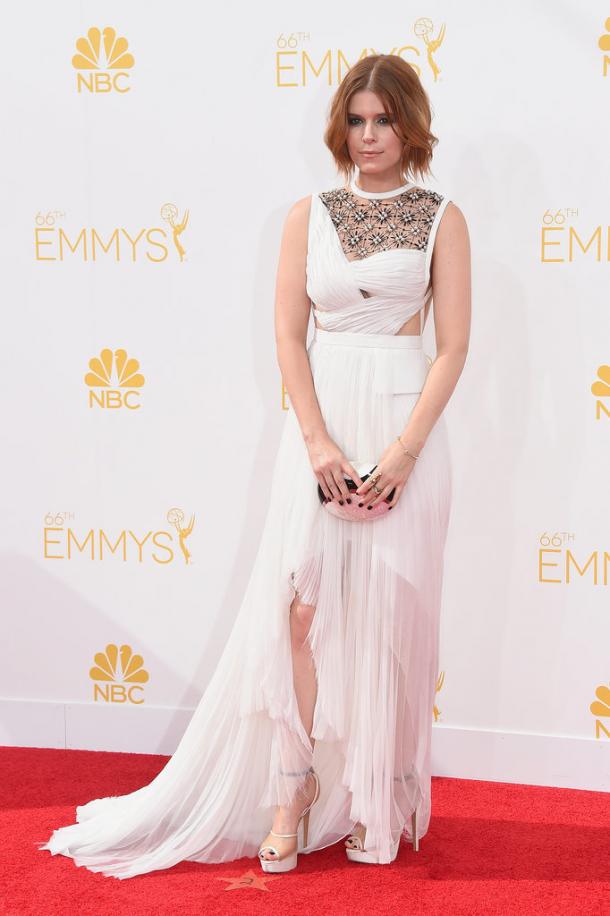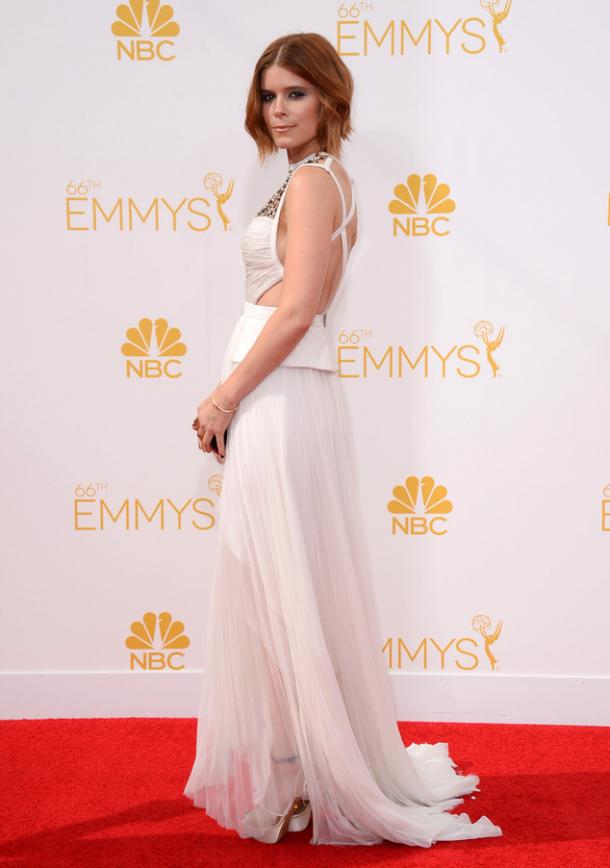 Julianne Hough chose to exit dress spring collection Dsquared². Outfit of white textured fabric was decorated with a large bow that spilled over into the skirt of the original form. I like this image, despite the seemingly excessive volume at the hips, but from a diamond necklace could easily refuse - jewelery with emeralds bright enough.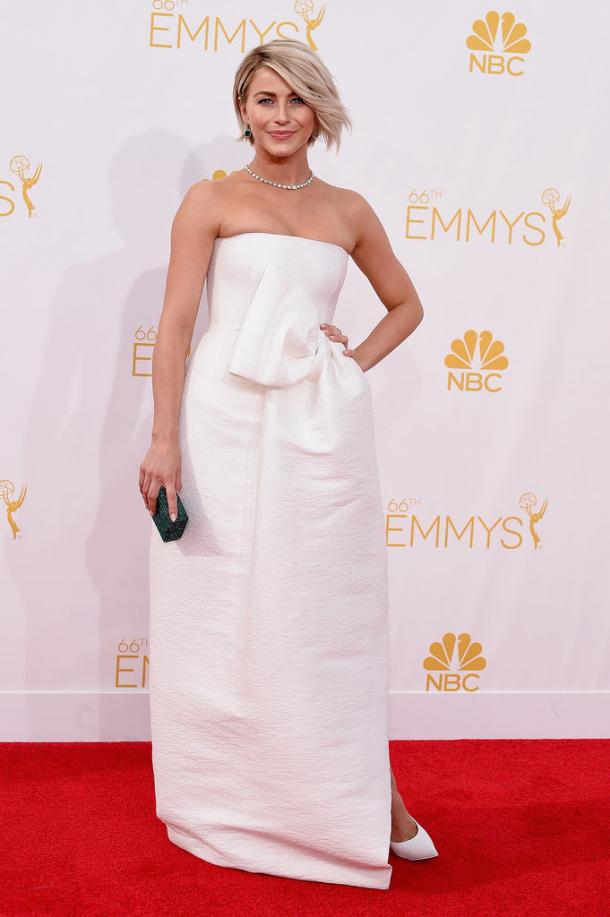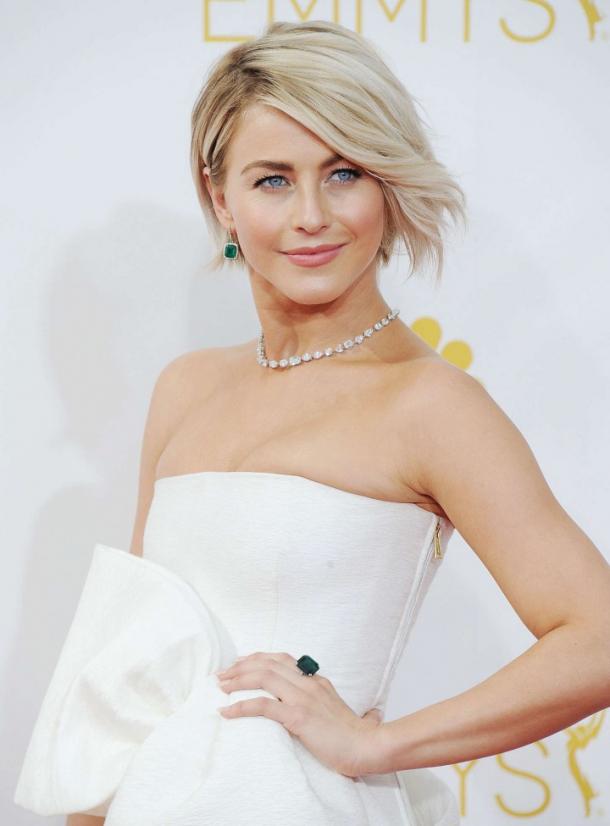 Red-haired beauty Christina Hendricks opted for red dress from Marchesa. Laid satin drapery was decorated with rich golden embroidery, which carried out the attire is not only decorative, but also delineated feminine silhouette of our heroine.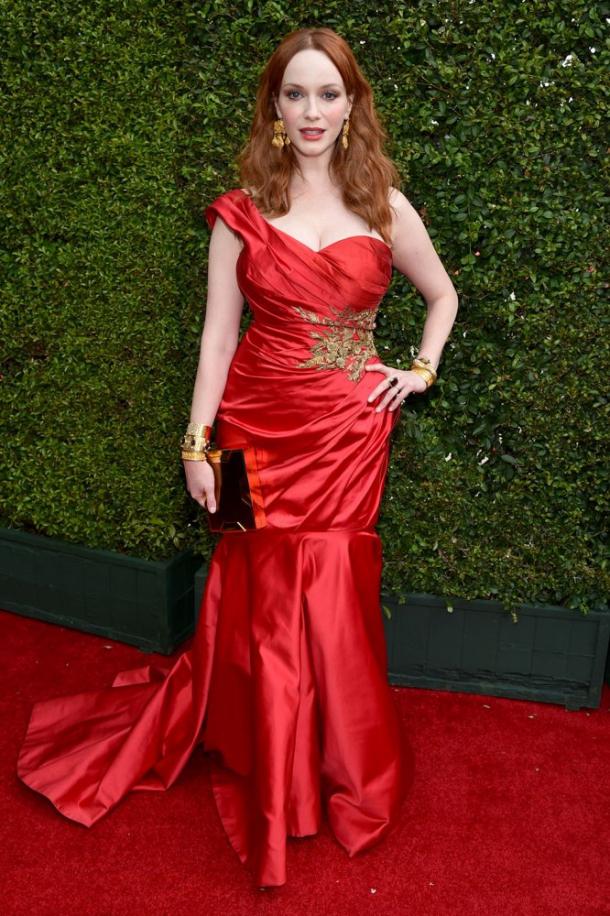 The star of "The Big Bang Theory" Kaley Cuoco also prefer red, but unlike Christina, her image by Monique Lhuillier was more playful and easy. Pink floral embroidery looked very interesting on the red background, and multi-layered tulle skirt made way air and flying.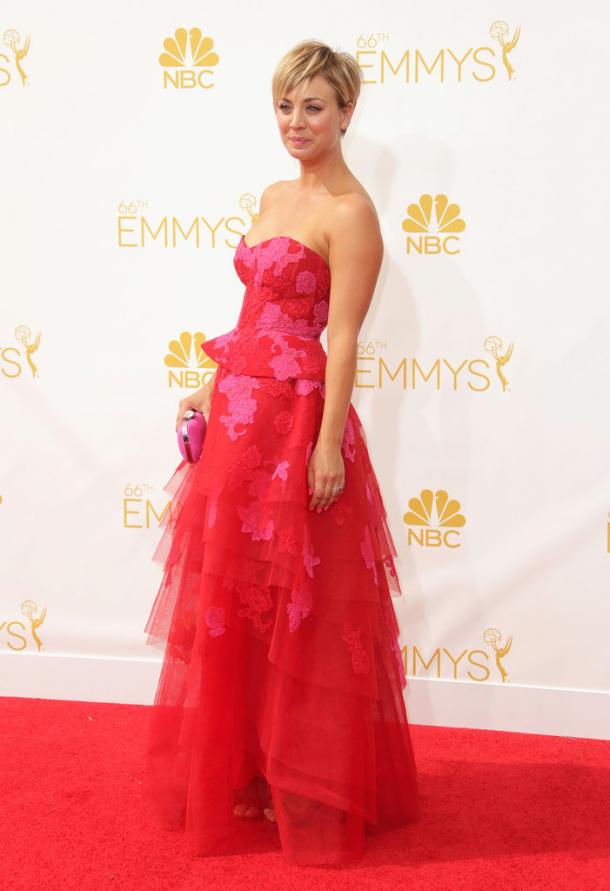 Beautiful, but at the same time very gentle image of the selected output Taylor Schilling. The actress was couture gown with rich embroidery in the best traditions of the fashion house Zuhair Murad. On the podium this outfit was introduced more enticing and even fatal, but Taylor was able to show him completely on the other side.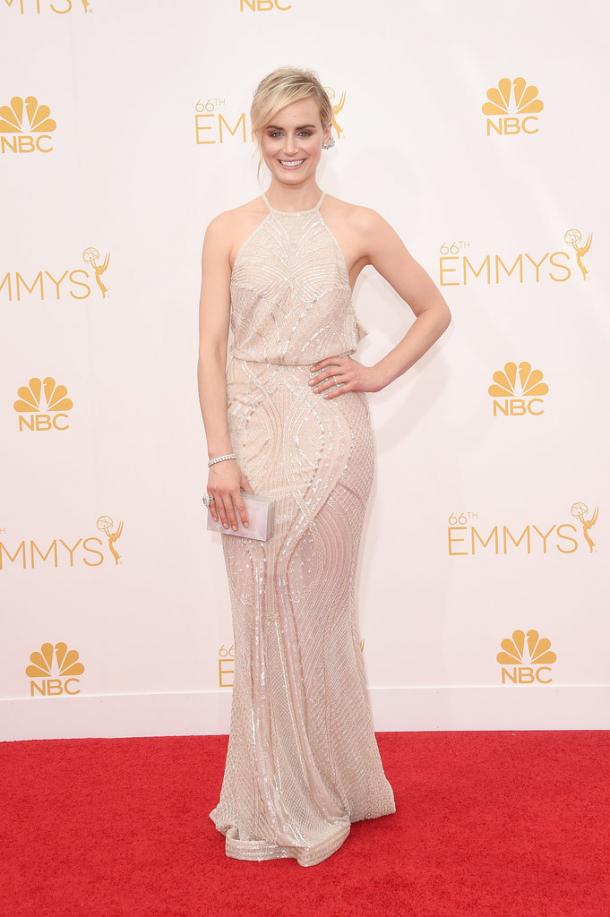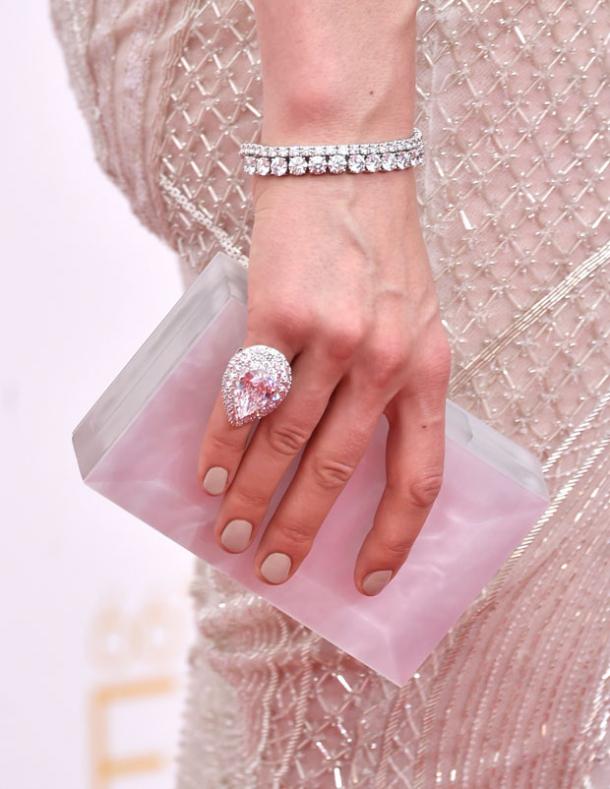 Once I prophesied this spectacular outfit by Stephane Rolland Sandra Bullock, but it was outstripped by Kate Walsh, and I am, however, pleased. Despite the fact that this dress is not so easy to "pull" on the red carpet, Kate was able to present it properly with glamor and confidence in his own irresistibility.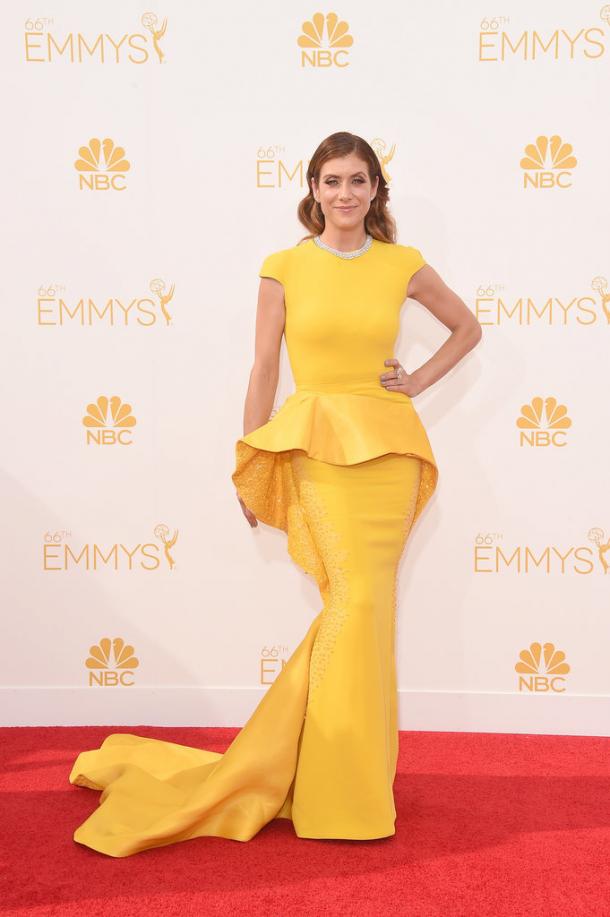 Again pleased us with his elegant way growing up fashionista Kiernan Shipka. 14-year-old actress appeared on the red carpet in a gray-silver cocktail dress with an unusual finish to match together by Antonio Berardi. In lukbuke dress was presented in conjunction with bright blue shoes original design, but Kiernan decided not to risk it and add to the image of elegant silver sandals.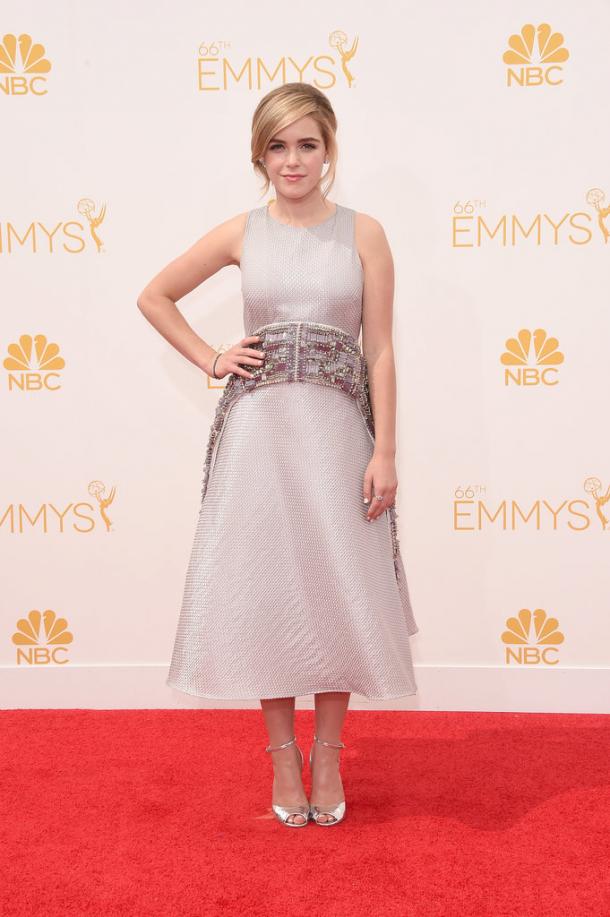 Lena Dunham has always been an extraordinary girl, but this time the star of "Girls" just surpassed herself. She wore a pale pink blouse with a skirt and a jacket collar. Yes skirt is not simple, and consists of a dozen layers of tulle with effect Ombre from candy pink to blood-red. This whole picture is further compounded by Lena makeup, made with an eye to wonder skirt - cheeks brighter eyes blacked.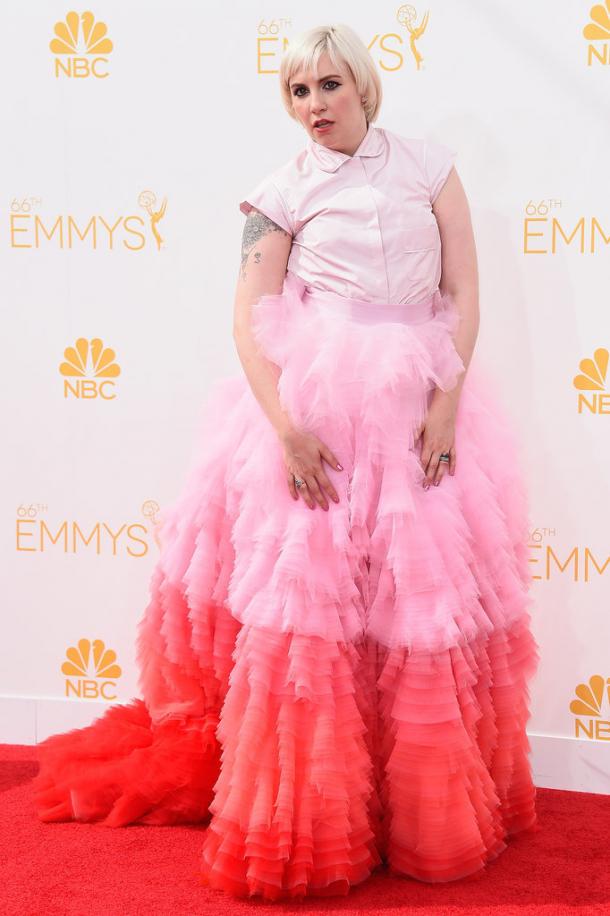 As Lena, Sarah Paulson decided to go to a fashion risk, but in her case, the risk paid off. The actress arrived at the ceremony in SuperDuper dress Armani Privé, richly decorated with black veil with bright red highlights. This outfit either love or hate - no middle ground. And I belong to the first category.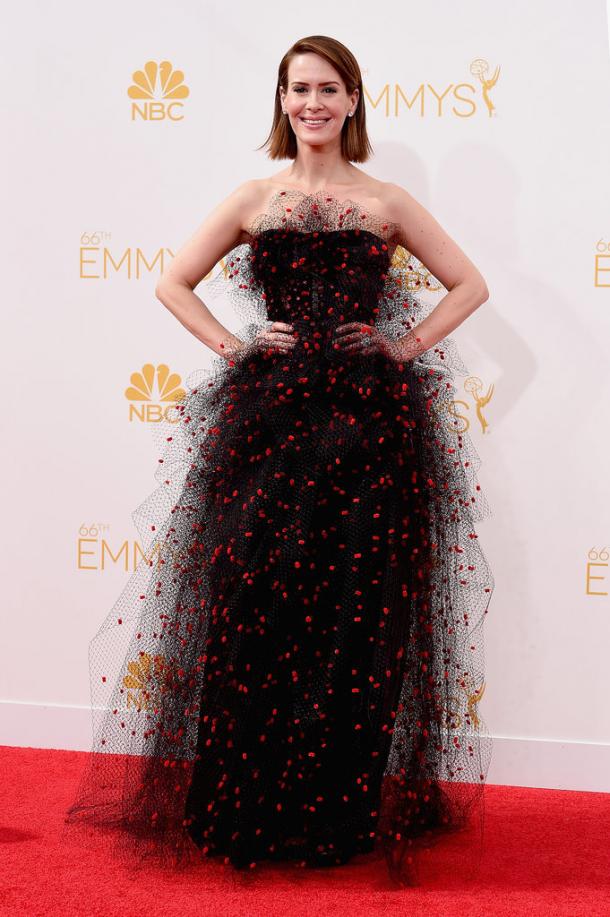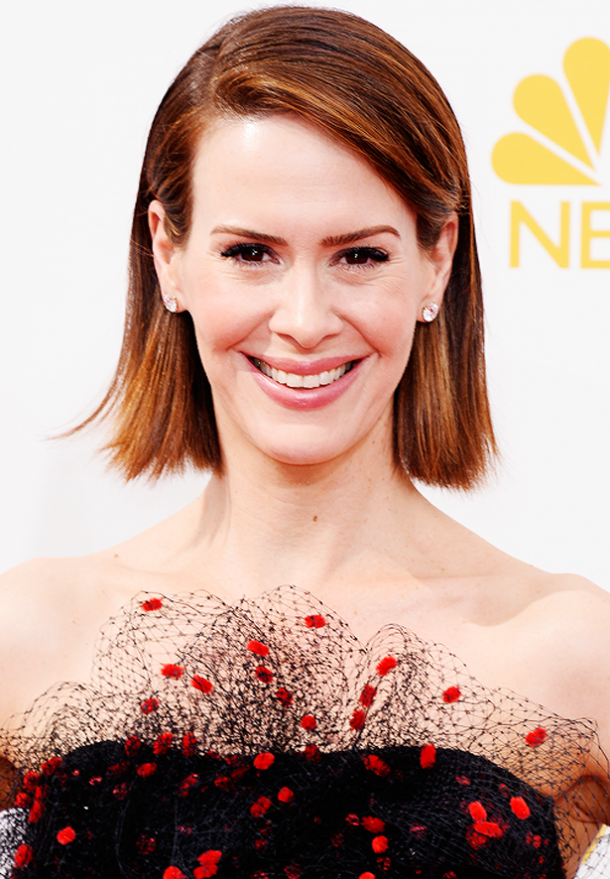 Viola Davis is true to his style - dress by Escada saturated colors have become her trademark. At this time, the actress tried on outfit interesting violet-blue shade with trim and seductive neckline. In my opinion, the outfit looks very old-fashioned, but for the beautiful color tremendous plus.