The awards ceremony Emmy Awards, held last night in Los Angeles, marked the beginning of a new season awards in Hollywood. As before, the event was held on a grand scale - couture outfits hefty diamonds and smiles a million have become an integral part thereof. The good news is also the fact that Emmy has died down in Hollywood immediately after the MTV VMA 2014 - after a heartbreaking sight on the red carpet look at the music awards luxurious evening dresses teletseremonii guests will be twice as nice!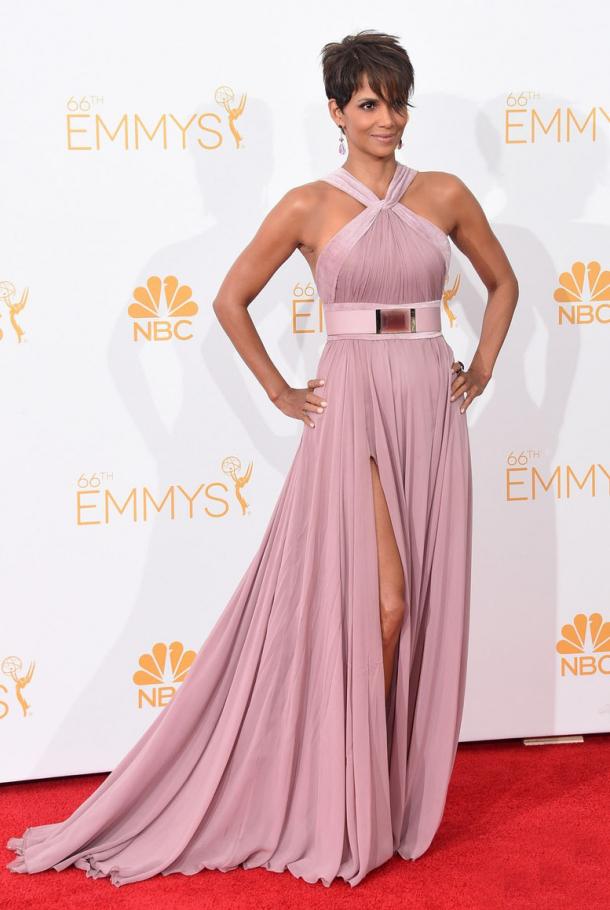 We begin our review with a gorgeous Halle Berry, whose image was one of the best at the ceremony Emmy 2014. The actress appeared on the red carpet evening dress Elie Saab color dusty rose (it was his glorified in his novel "The Thorn Birds" Colleen McCullough). Elegant but very soft and gentle outfit emphasizes the natural beauty Holly, who even with short hair was the embodiment of true womanhood.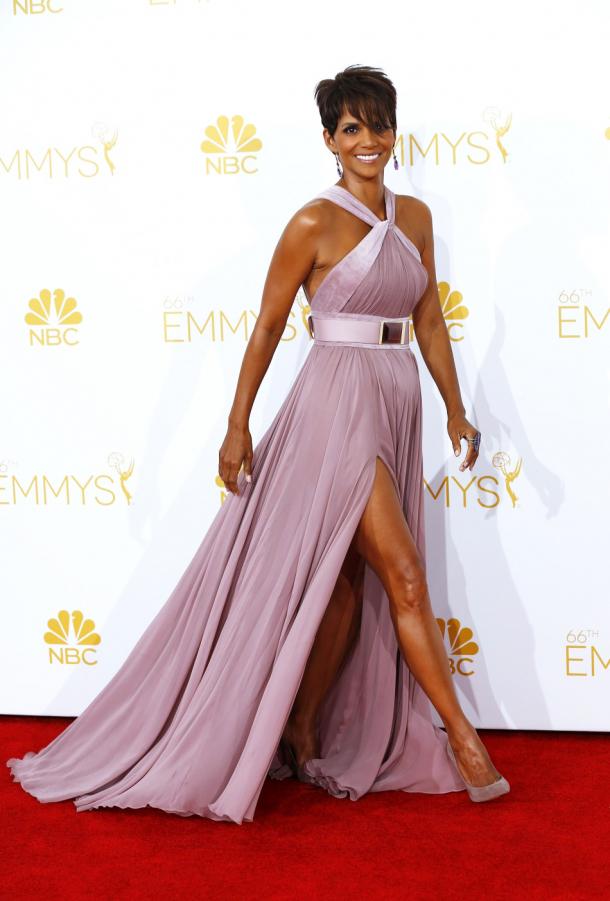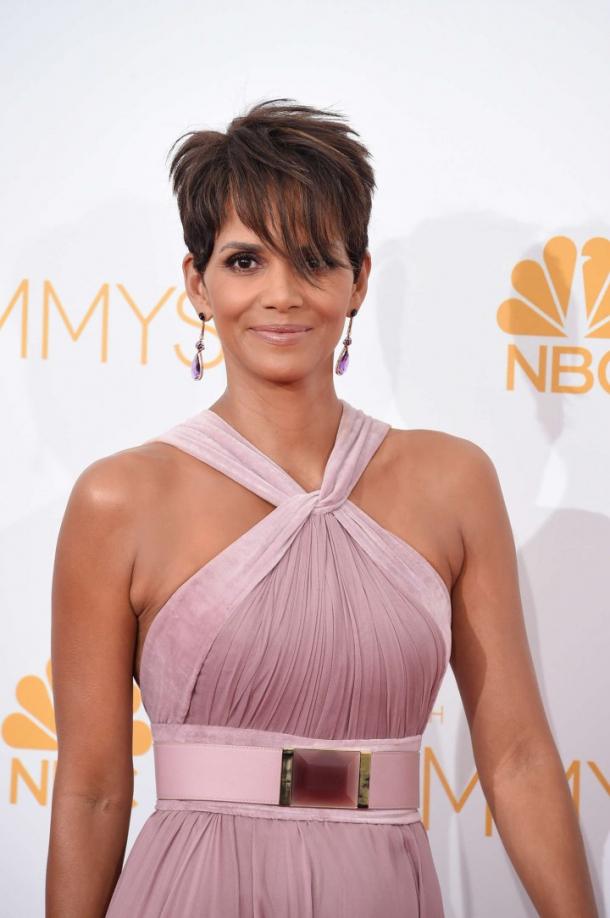 Jessica Pare - star of TV series "Mad Men," which this year did not take any awards out of four possible - Choose the output is not pompous dress to the floor, and the average length cocktail dress. Lanvin black creature was lavishly decorated with beads and decorated with drapery on the hips, which in its beauty vseey forms Jessica adds a few extra centimeters.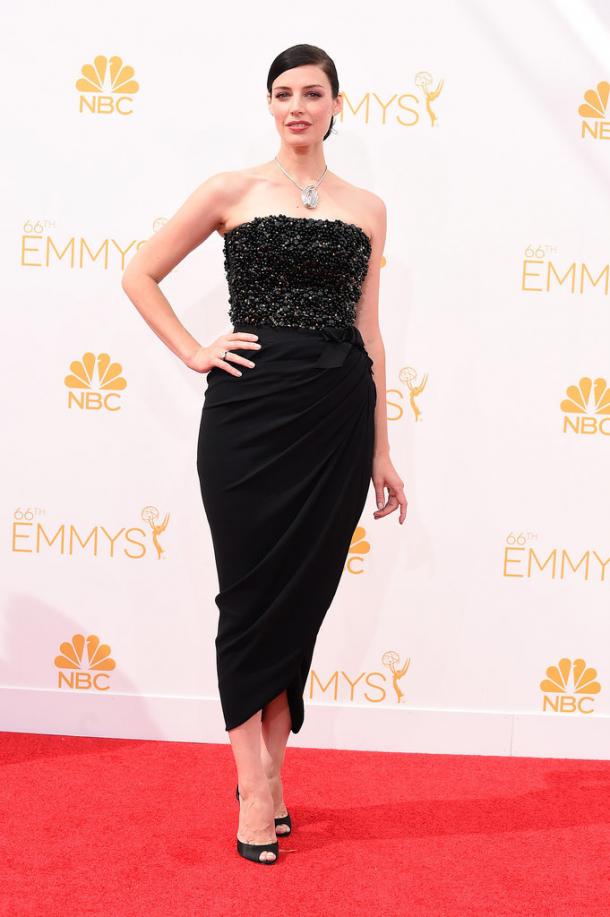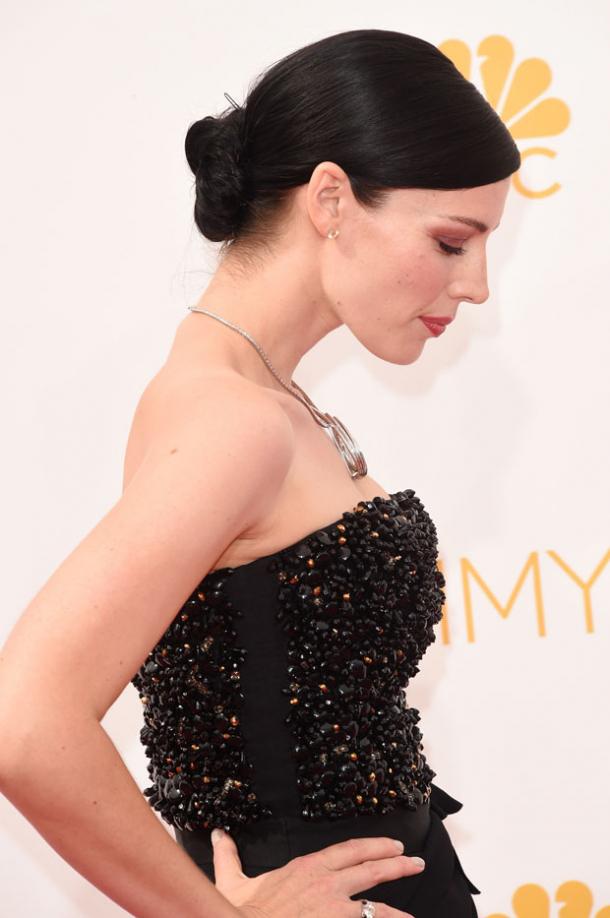 In contrast to the "Mad Men" has become a cult TV series "Breaking Bad" Emmy ceremony celebrated at his triumph - five wins, including the award for best drama series and awards in acting nominations. Among the winners was Anna Gunn, who demonstrated on the red carpet gorgeous dress from Jenny Packham. An unusual shade of blue was very becoming an actress and did the color of her eyes brighter and style of dress emphasized her figure and high growth.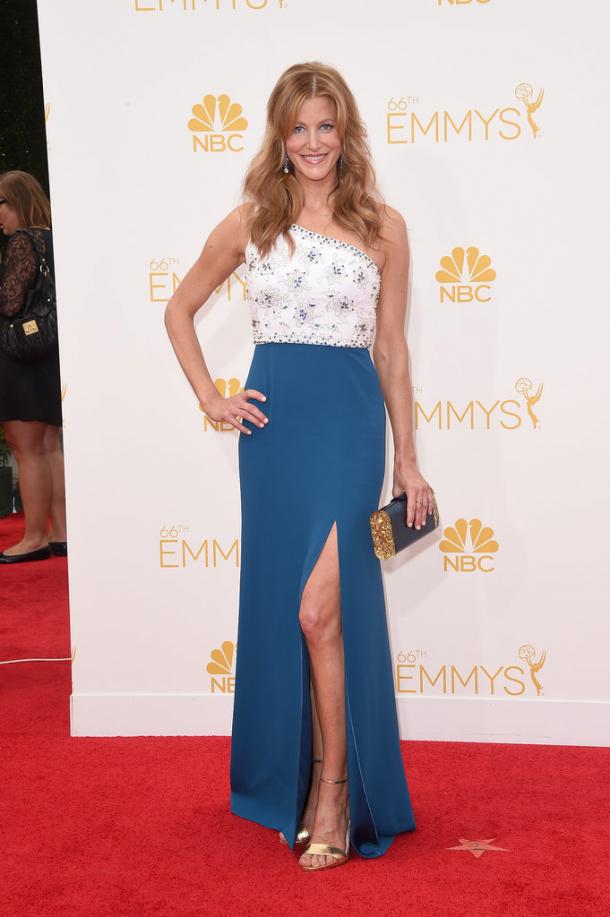 Dzhenyueri Jones opted for a rich red color dress by Prabal Gurung. Dramatic style of dress was complemented by discreet accessories and simple styling, which, unfortunately, has played a cruel joke with Dzhenyueri - newfangled styling was more like a few days, unwashed hair.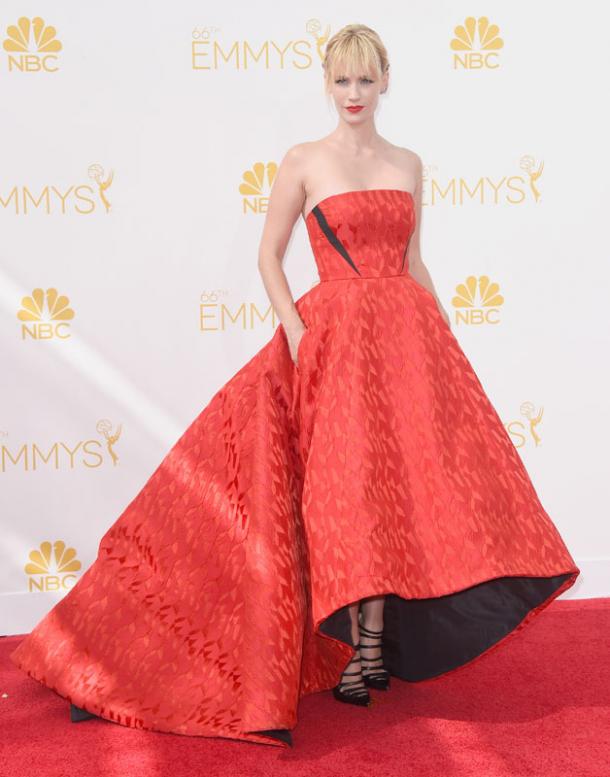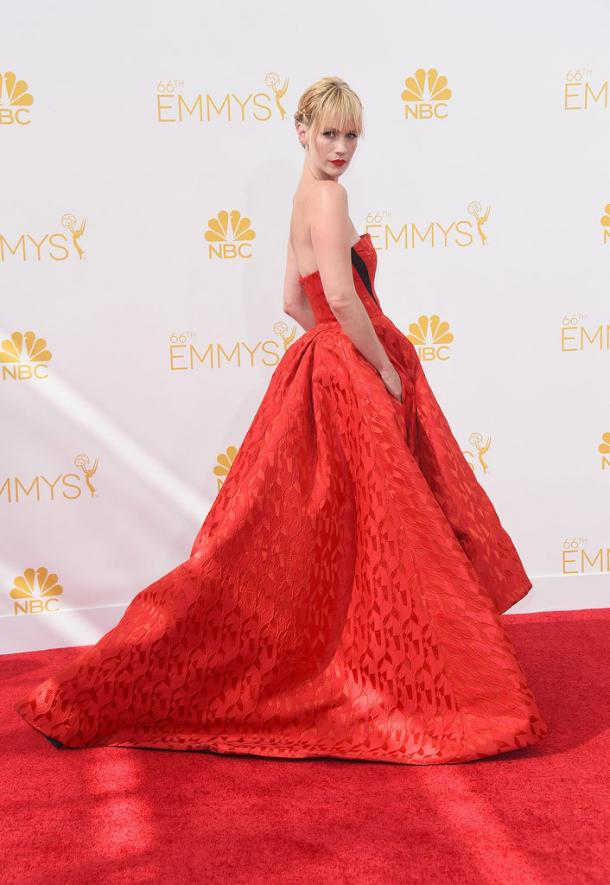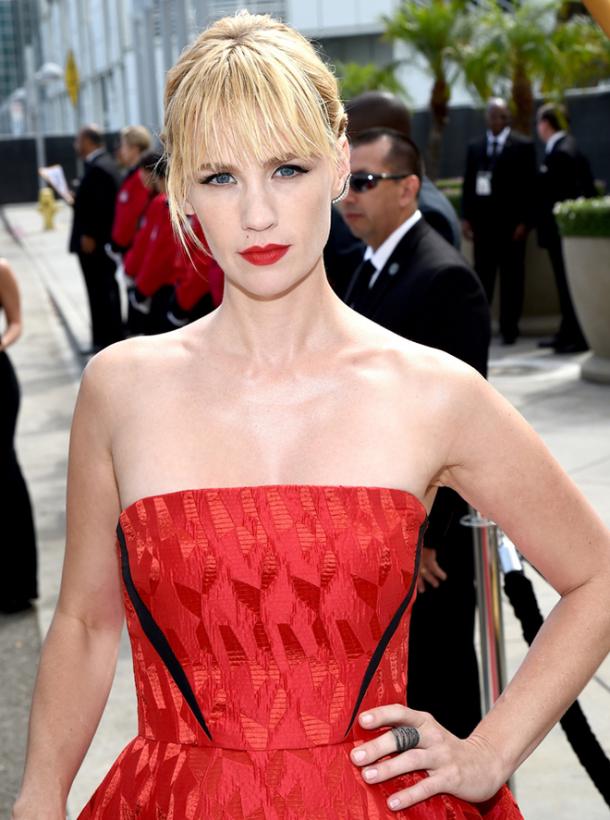 Old Hollywood with a modern twist - so you can in a few words to describe an image that has chosen to Emmy Lucy Liu. Her dress by Zac Posen was performed in the classical style, but decorated with unusual fabrics, which gave the image of originality.
Re-united with his longtime friend Tadashi Shoji, Octavia Spencer demonstrated on the red carpet is another custom-made outfit. At this time, the actress opted for a rich red color, but not to change the usual design - decorative drapery create spectacular silhouette.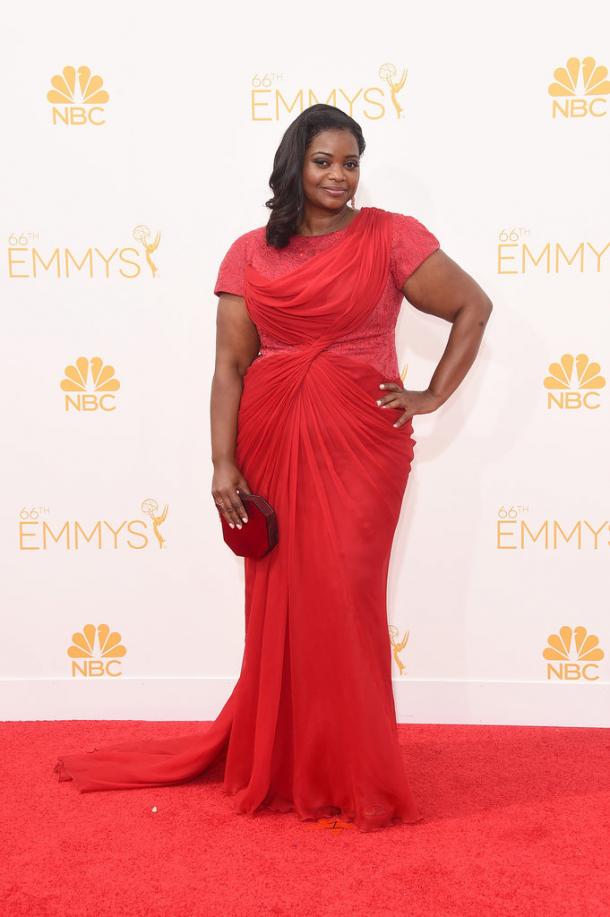 Cocktail dresses have always been a weakness of Julia Roberts, so the ceremony Emmy actress chose a mini dress from couture collection Elie Saab. Aqua outfit was lavishly decorated with beads and crystals of different sizes and colors and decorated Basques and V-neck. Fashion critics disapprove of choice Julia, alluding to the fact that the status of the actress implies a more elegant clothes on the floor. I do not share their opinion, but is confident that the graceful sandals could add an image of the actress is much more successful than the massive shoes.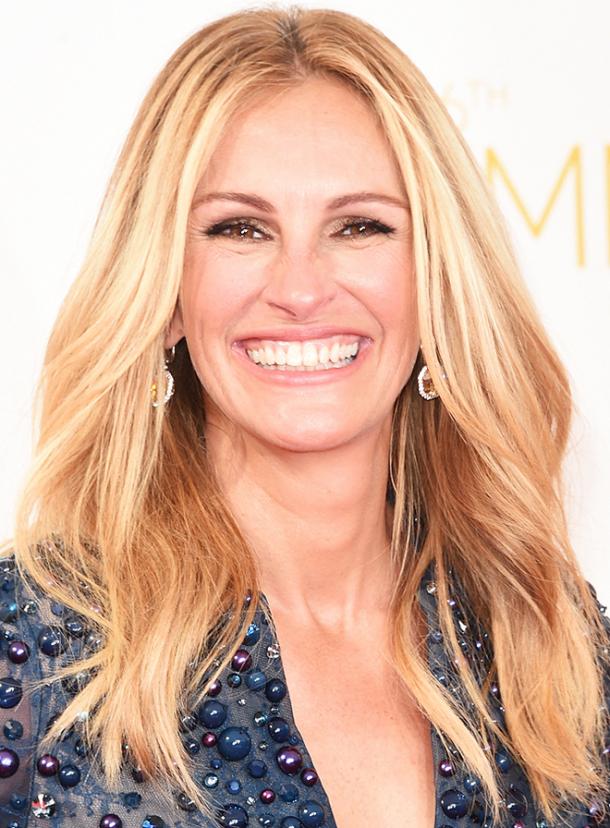 Julie Bowen chose to exit elegant dress Peter Som, chip which became blurred floral print. Julie is very outfit and emphasizes its graceful figure, but as an original ornament from my eyes hurt.
Natalie Dormer chosen output J.Mendel dress in shades of orange and black. It's not much of a dress, but then as an actress it demonstrates the highest praise worthy - a spectacular posture and confidence in his own irresistibility can turn even the most ordinary dress in a gorgeous evening dress.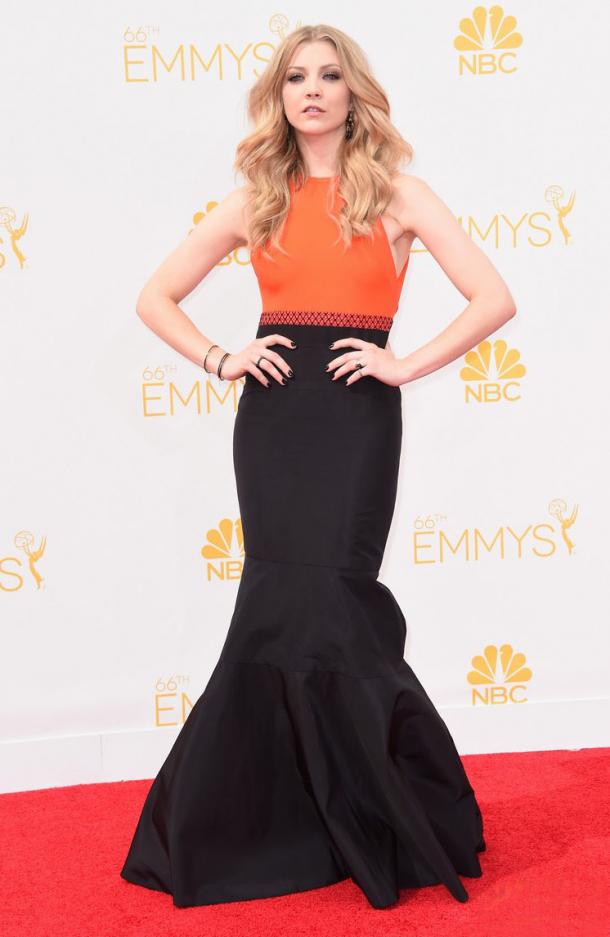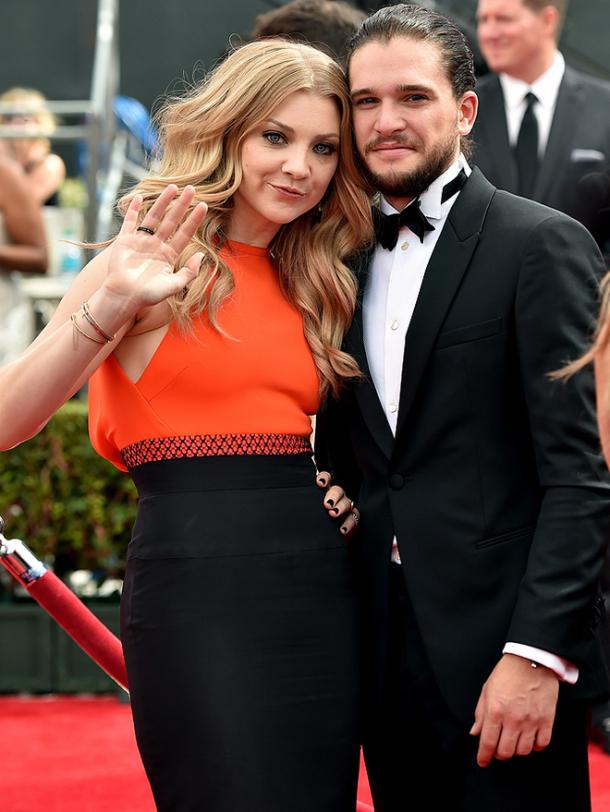 Hayden Panettiere charmer, today announced that they have with Wladimir Klitschko will have a girl, appeared at the ceremony in a beautiful dress from Lorna Sarbu. Pale pink chiffon dress was decorated payetochnymi patterns and deep neckline with transparent insert. In my opinion, this is the best way of Hayden recently.
Very showy outfit demonstrated on the red carpet presenter Kate Dili, betting on a romantic design by Burberry. Multi-layer chiffon skirt, an interesting effect degrade and dramatic bow at the waist - all consistent with the atmosphere of solemnity and celebration at the ceremony Emmy.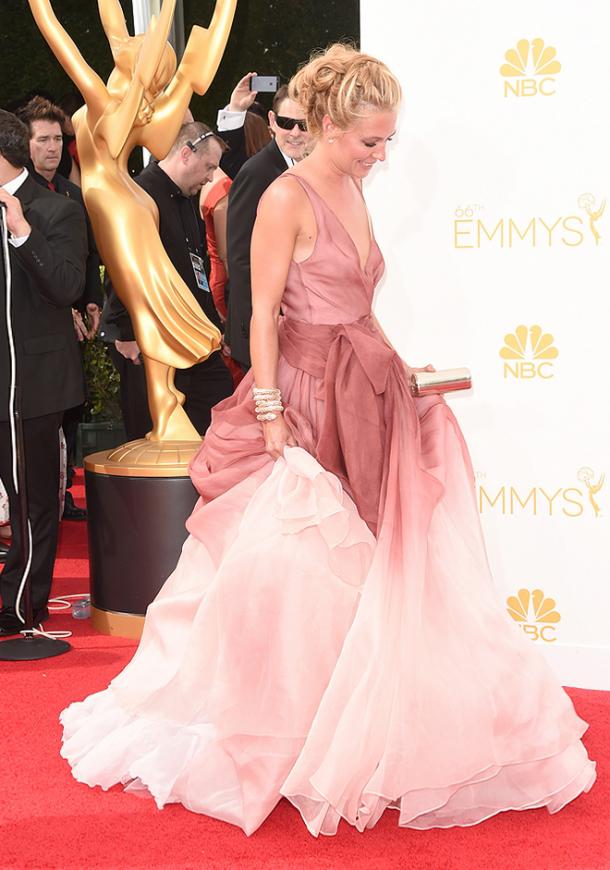 Debra Messing outfit though inferior image of Kate Dili on the part of solemnity, but was not without originality. Angel Sanchez dress was as if woven from pieces of fabric geometric shapes.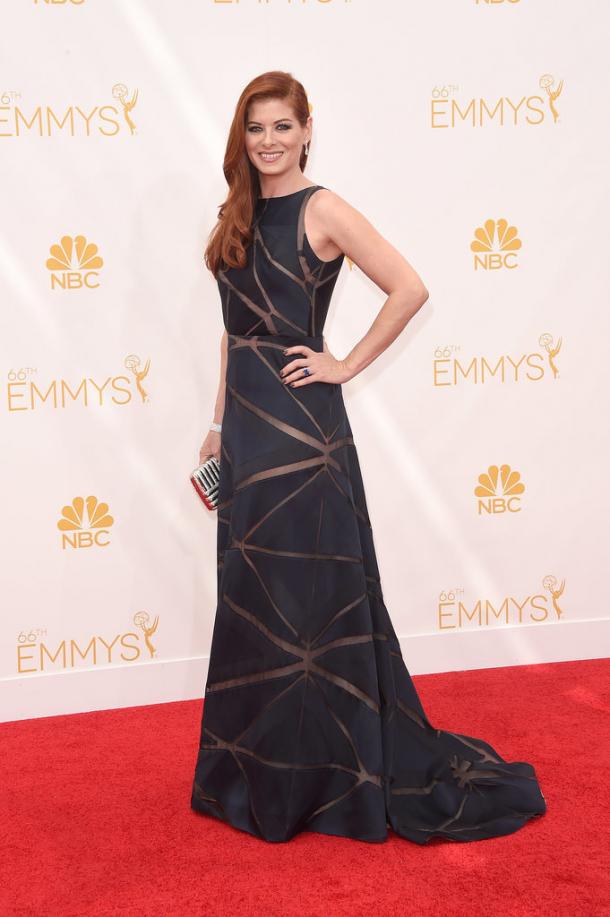 Classic silhouette dress from Carolina Herrera, who complained in the ceremony Julia Louis-Dreyfus, was complemented by interesting decorative elements of patent leather and fine fabrics. important role played in this image deep pink color, which was very dark-haired actress-to-face.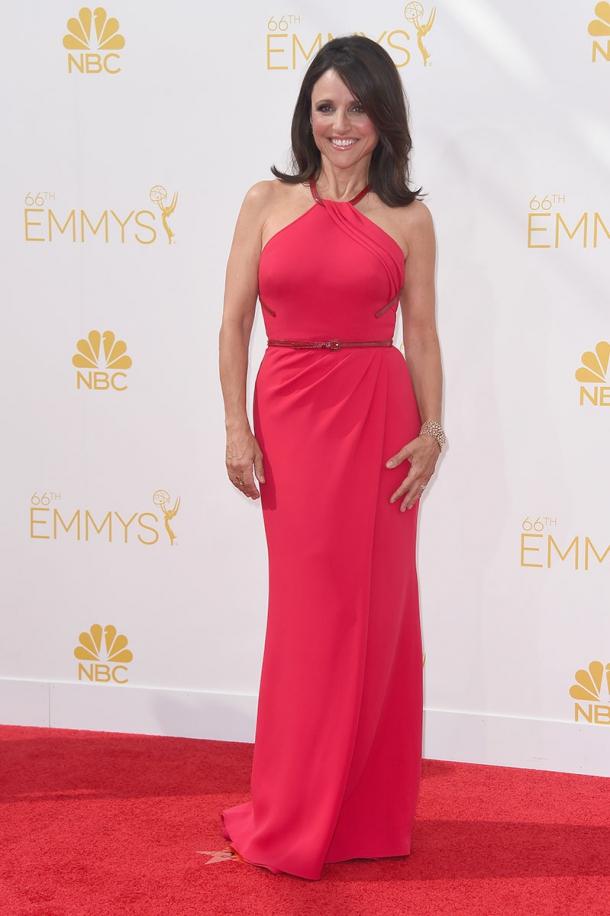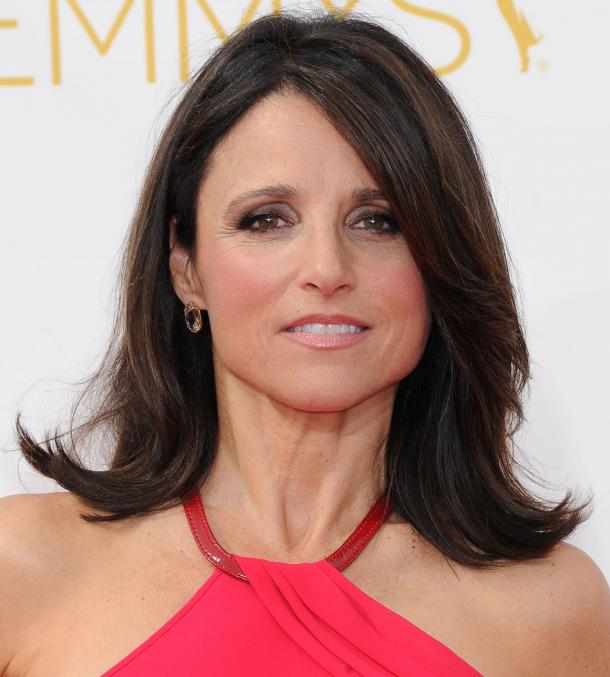 "Proper Wife" Julianna Margulies received his just reward in a dress Narciso Rodriguez. Evening dress was strewn with shimmering black beads, and behind dress was decorated with seductive neckline to the bottom of the back. Elegant and very beautiful.
Lena Headey, star of "Game of Thrones", which this time has suffered the present debacle, is famous for his love of black color and often chooses this classic shade for publication. At this time, the actress opted for a sculptural design of Rubin Singer dress with asymmetrical skirt and bodice one shoulder. In my opinion, the dress looks old-fashioned and does not decorate his mistress.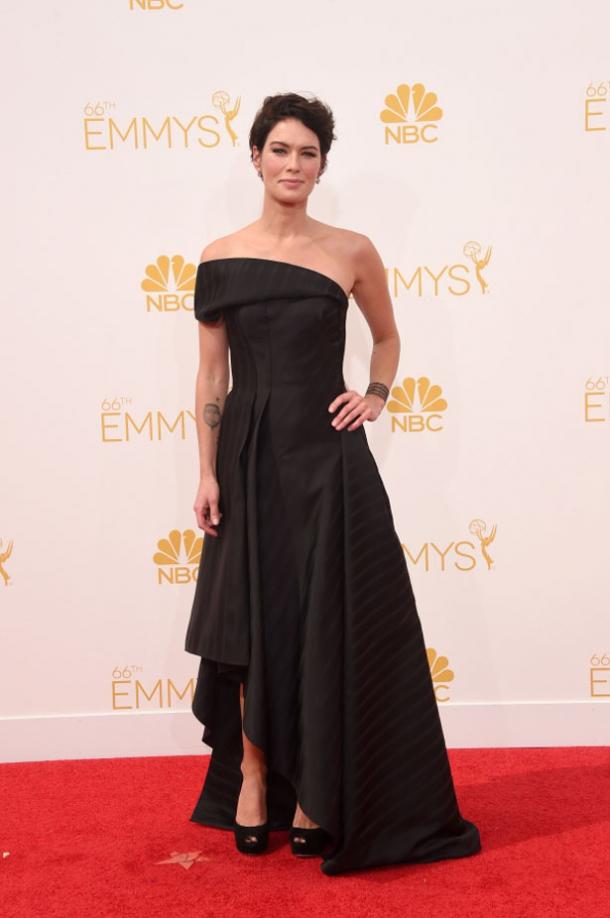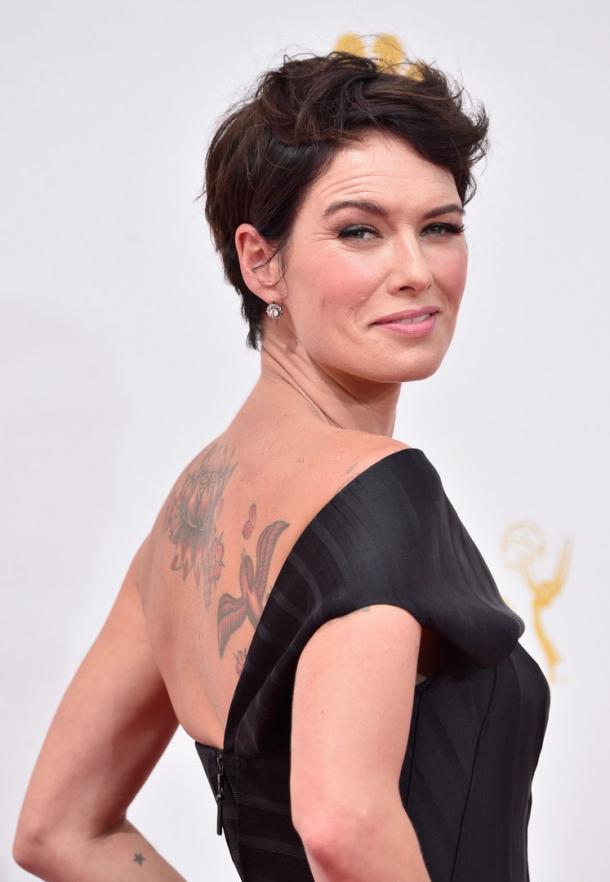 Despite the fact that Camila Alves, as before, appeared at the ceremony as a "plus one" to her husband Matthew McConaughey, she looked much more impressive and beautiful many nominees. Sultry Brazilian walked the red carpet in an interesting Zuhair Murad dress with patterned cutouts decorate it as if naked body. Personally, I reminded this dress cut paper snowflakes - think again soon the New Year.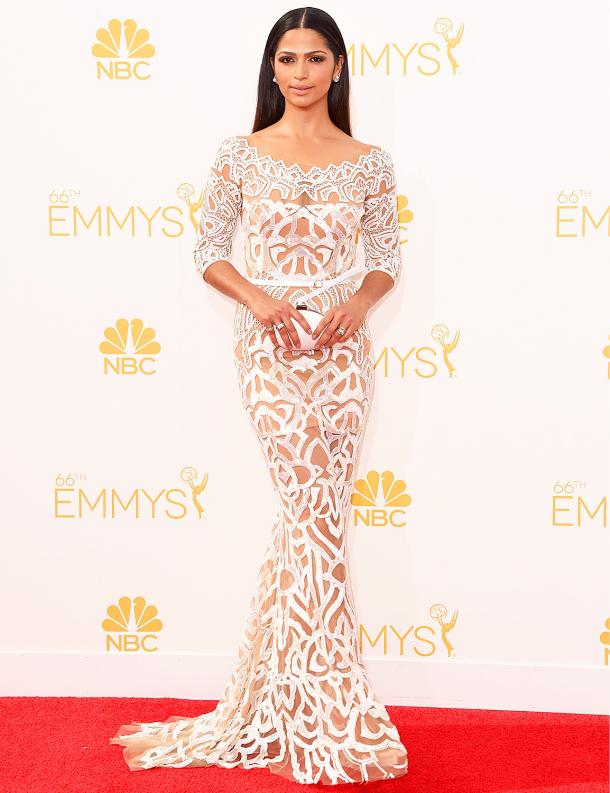 To be continued ...