That's all say the crisis-a crisis, but even in these hard times there are people who do not give up. Thus in 2009. Opened Chuvash Automobile Plant (CHUVAZ) - a modern, dynamic company focused on the production of world-class cars.
"CHUVAZ" is a road full production cycle, including welding and painting of bodies and subsequent assembly. Currently, the plant is carried out industrial assembly of cars of the brand "CHUVAZ ​​Tsivil" and "CHUVAZ ​​Algiz" SUV "CHUVAZ ​​Hamar Yal", as well as commercial truck "CHUVAZ ​​Ulyp».
The plant provides service products, spare parts, assisting in training staff.
"CHUVAZ" constantly working to improve the technological level and improve the quality of products. The company operates a quality management system ISO 9001.
The company has its own machining, tool, forging, metallurgical production. This structure allows the plant as soon as possible to create new types of products.
Then briefly on 3 sreens range of new car factory.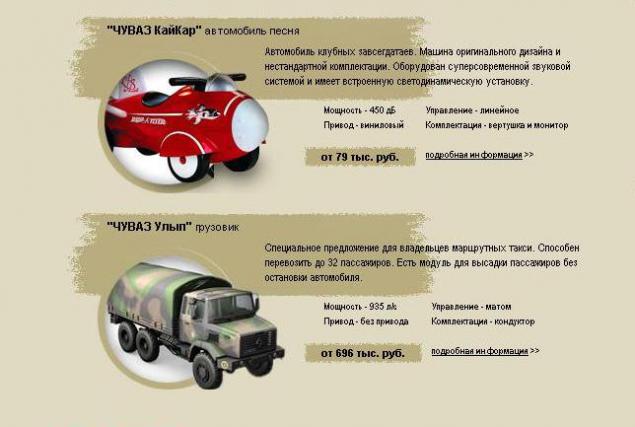 No wonder the motto of a new auto manufacturer: from Cheboksary to Kanash hour whisk you Chuvaz supercar!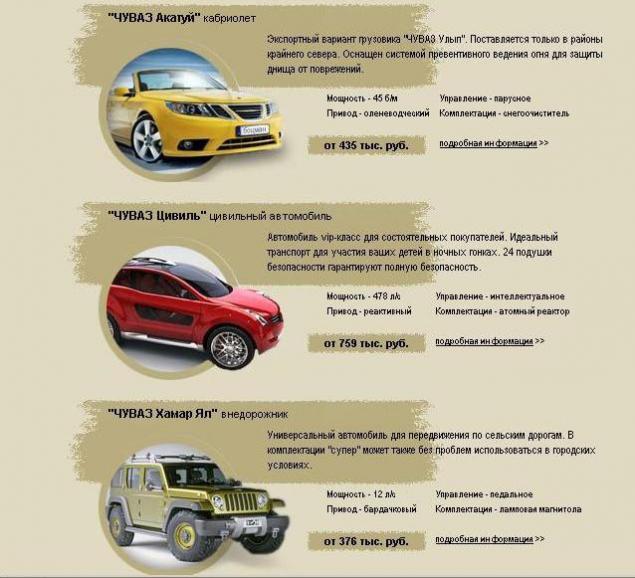 Generally pleased with the site of the new plant, especially the news type:
April 12, 2009
Cosmonautics Day at the "CHUVAZ" begin to assemble robots transfomerov. Robots tranformery height of 15 meters and a weight of 2 to 14, 5 tons are designed to protect the galaxy from an external threat.
for those wishing to learn more about the ChUVAZom link to a website
www.chuvaz.ru/
and the last screen models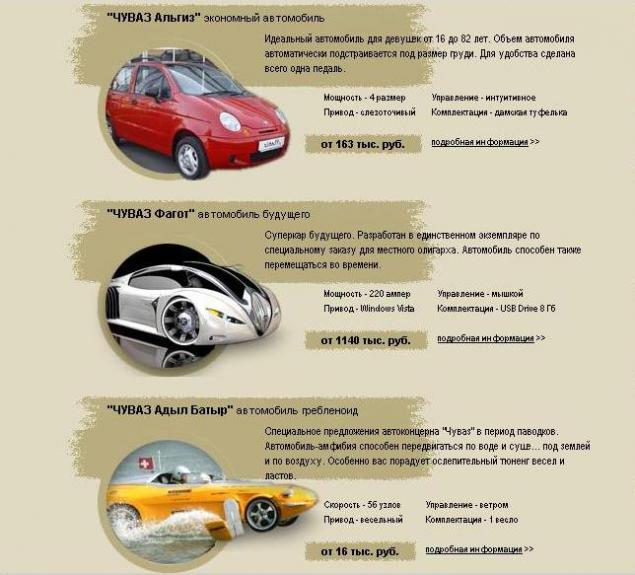 Source: