During the Soviet era, when kolichetsvo car brands can be easily counted on the fingers of one hand, and the turn of the new car was stretched a bit less than the distance from Earth to the Moon, some people, especially with straight arms do what then zavidivali millions. The same self-made cars, the name of which we still remember. The modern automobile industry is ready to offer consumers products to even the most unconventional taste. But even today there are enthusiasts, create your own exclusive design. And even sell them.
What is there in the car market of "samopaly" and how much it costs?
According to the materials and Drom.ru auto.ru
This is a good sample of the harsh rural production. Then it all went into the matter, even old tires. Of them received excellent bumper pads. In case of damage Kit can be found on any shinomontazhke. Emphasizing the lack of a tunnel between the seats, despite the rear-wheel drive. And also I assume the absence of "parking brake" - at least in the photos I had not seen.
1996
Engine: Gasoline, 1200 cc
Transmission: Manual
Drive: Rear
Mileage: 10000
Homemade Jeep engine Mosvich-408 City: Karasuk, Novosibirsk Oblast. Assess this pleasure only 20 000 rubles.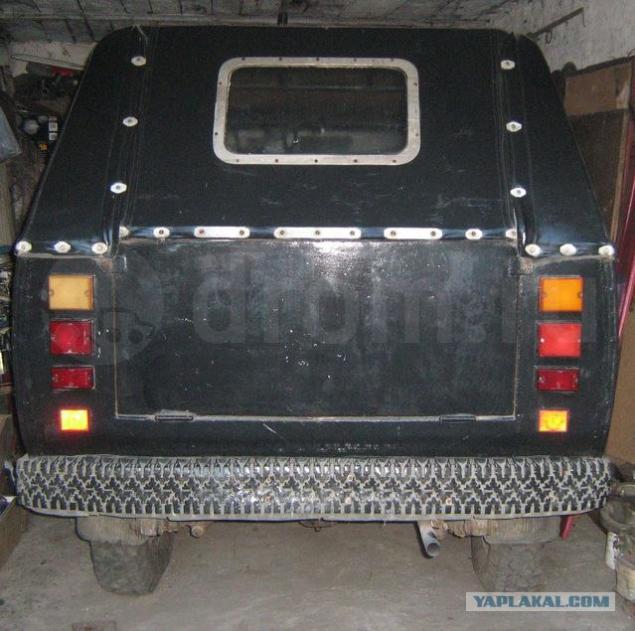 Samopal of Karasuk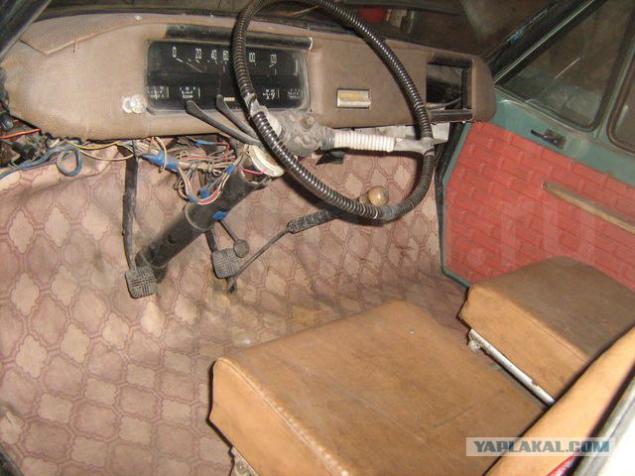 Samopal of Karasuk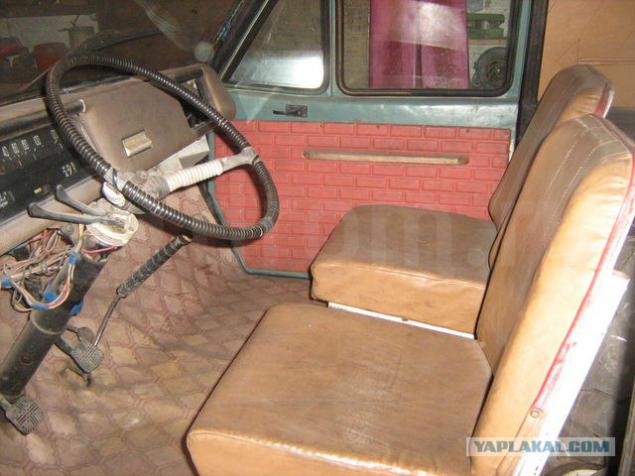 Samopal of Karasuk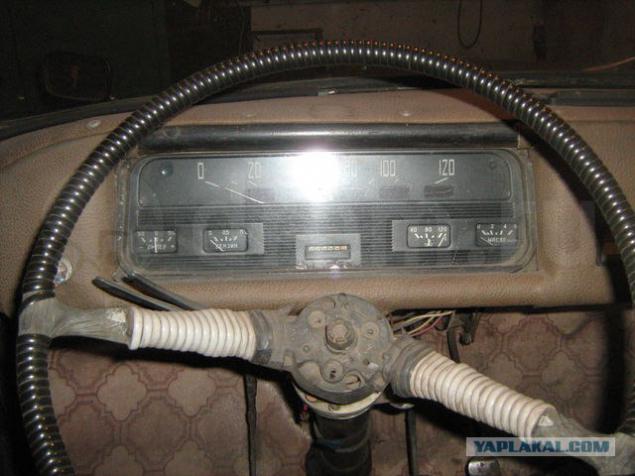 Samopal of Karasuk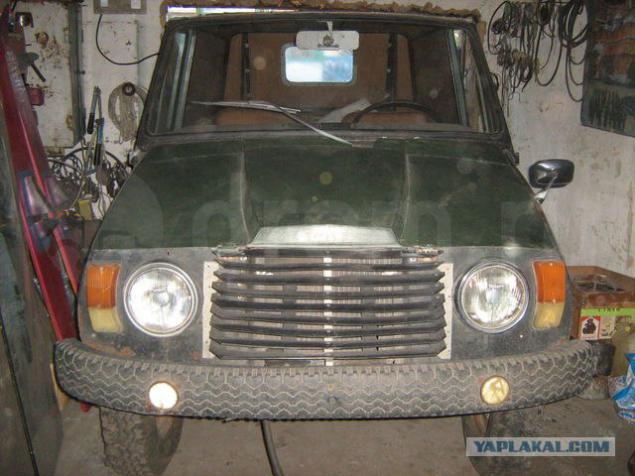 Samopal of Karasuk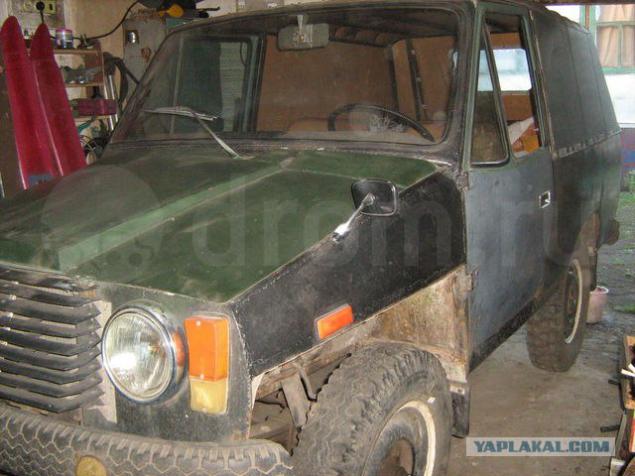 Samopal of Karasuk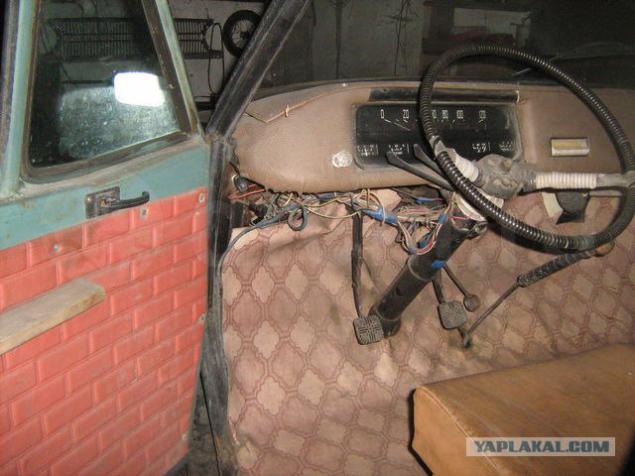 Samopal of Karasuk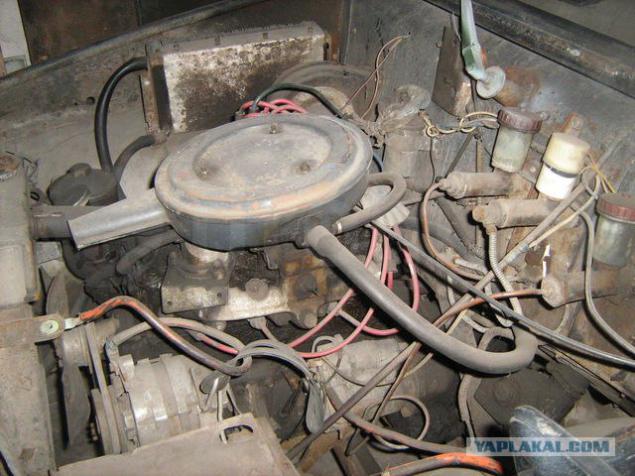 Samopal sale on the basis of the production car. Auto-type "color-music box" Batman, with svtroennym trahodromom inside.
Features:
Engine: petrol, 700 ccm
Transmission: automatic
Drive: Rear
Without run across the Russian
Total Mileage: 25000
Steering wheel: right
Is this a miracle in the glorious city of Novokuznetsk. Cost is quite democratic - 350 000 rubles. Deffki Included Parts not included.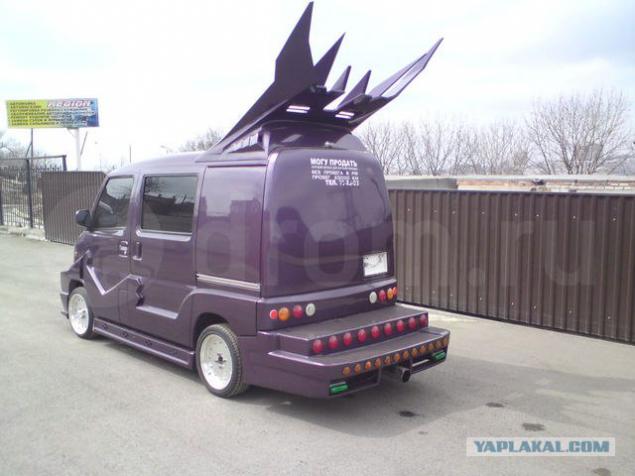 Car Batman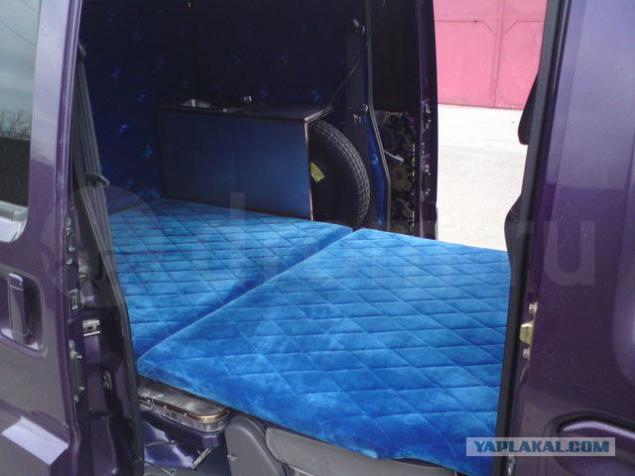 Car Batman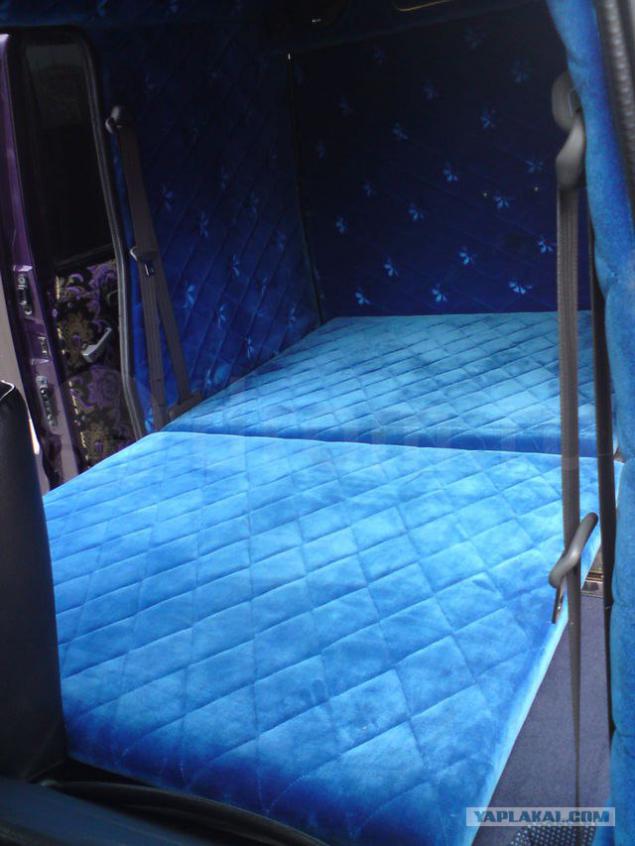 Car Batman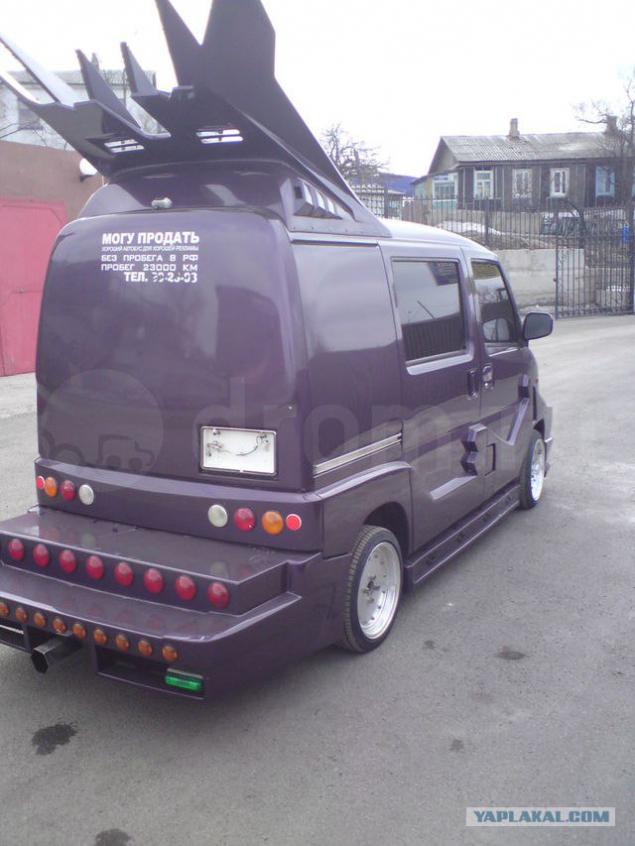 Car Batman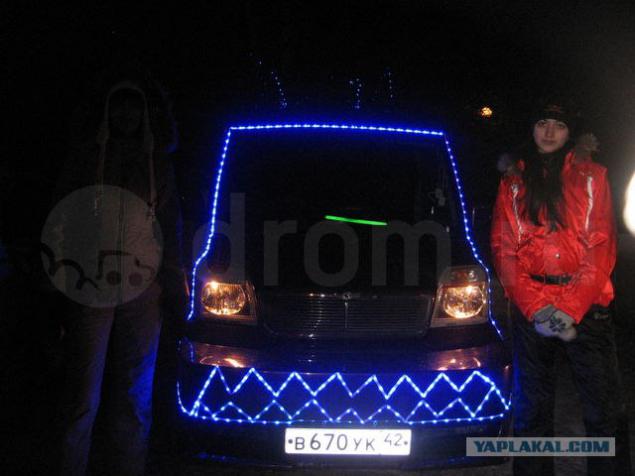 Car Batman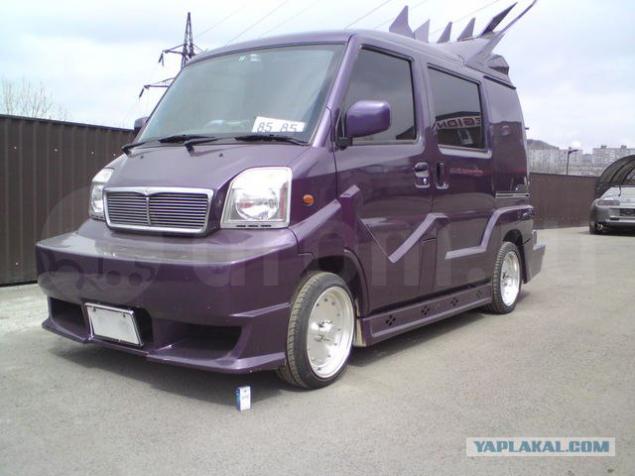 ATV. Floating.
As is the case when looking at the photo, you regret that no swamps around Togliatti. Otherwise, such a device could be built there. In the meantime, let me introduce a very interesting instance of Hakkasii, Abakan.
the new all-terrain vehicle, amphibious "BEAR-2»
2012.
Engine: Gasoline
Transmission: Manual
Drive: 4WD
Mileage: New car
Steering wheel: left
On the other characteristics of the owner of the silent.
Is it worth the floating happiness of 1 500 000 rubles. For all-terrain vehicle is inexpensive, believe me. In addition, if you have something interesting, you can change it interesting on this car, the owners do not mind.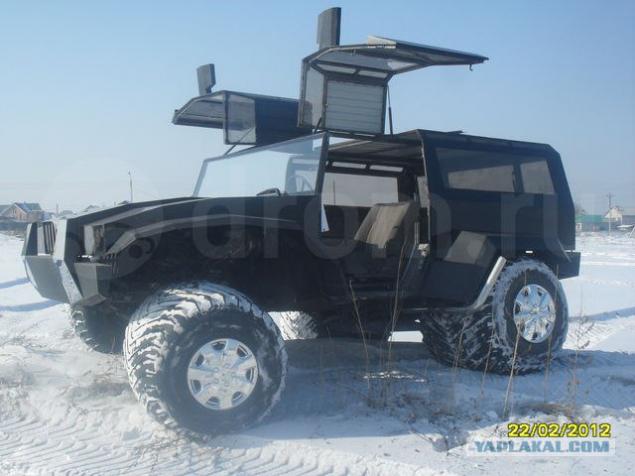 Amphibian "BEAR-2»
Amphibian "BEAR-2»
By the way, the guys have a website, on which there is a video of this ATV.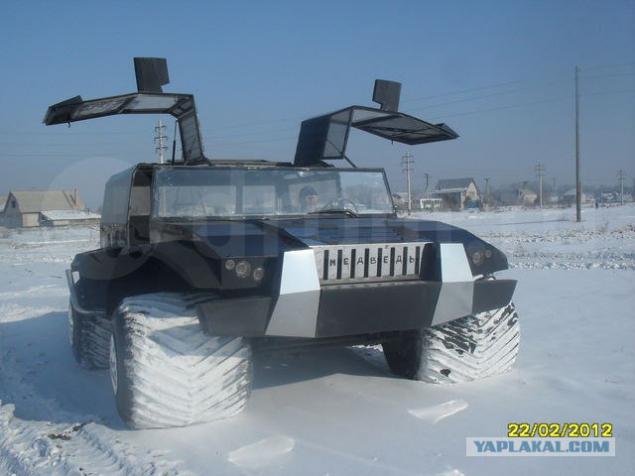 "You see, Balaganov that can be done from a simple sewing machine Singer? A small device - and get a pretty binder kolkhoz "(O.Bender). While there, binders ahead. Let me introduce a good instance of the series, in principle, of the vehicle.
2010
Engine: Gasoline, 2500 cc
Transmission: Manual
Drive: 4WD
Run across Russia: there
Mileage: 800
Steering wheel: left
Everything is new, including a body (engine, transmission, razdatka, bridges, everything from UAZ 469). All works exclusively. Built 2010, designed as a gas 69 1954 onwards
This copy gladly deliver to any region just 560,000 rubles. Not iskolyuchen and exchange.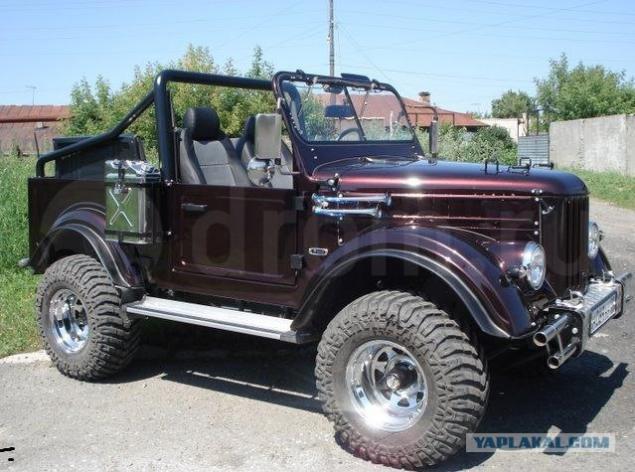 Gas 69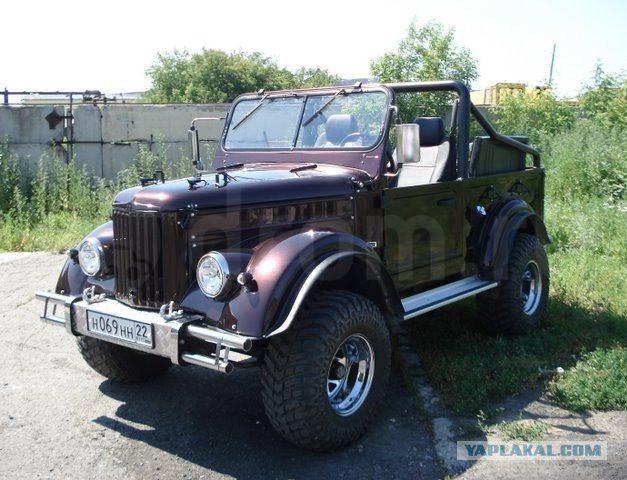 Gas 69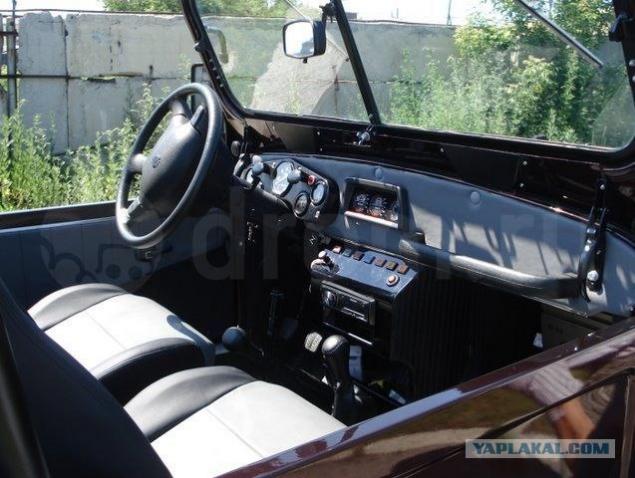 Gas 69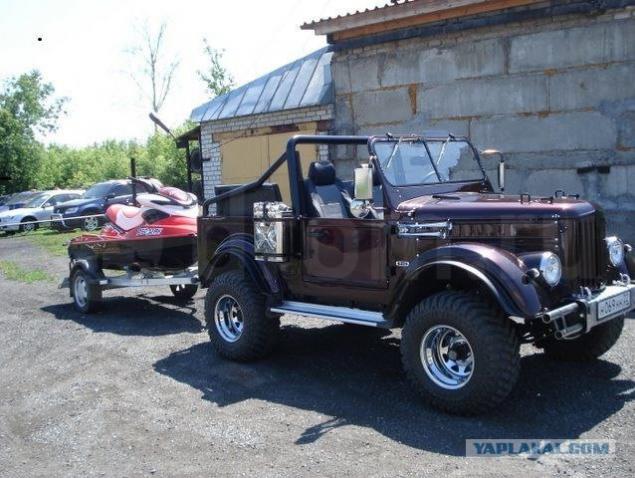 Gas 69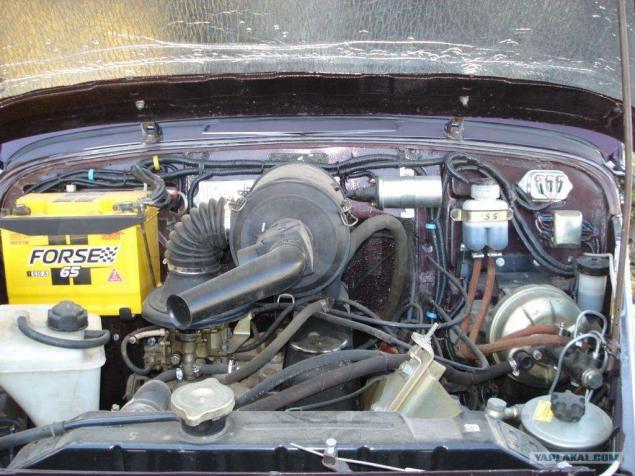 It is not homemade, but a good remake. Example competent approach not only to the appearance of normal LuAZ, but also its content. Again, the guys tried to Altai Territory, Zarinsk.
1969
Engine: Gasoline, 1400 cc
Transmission: Manual
Drive: 4WD
LUAZ 969.VEZDEHOD, warm interior, dvigatel408-E.50l.s, rul.reyka from Subaru, brake Zhiguli, snow shovels-controlled elektrolebёdkoy, trunk, canopy, casting a rubber R15 + R13 with native rubber.
hodu.trebuetsya not start dvig.posle overhaul.
Stoa is a real pleasure to 67,000 rubles.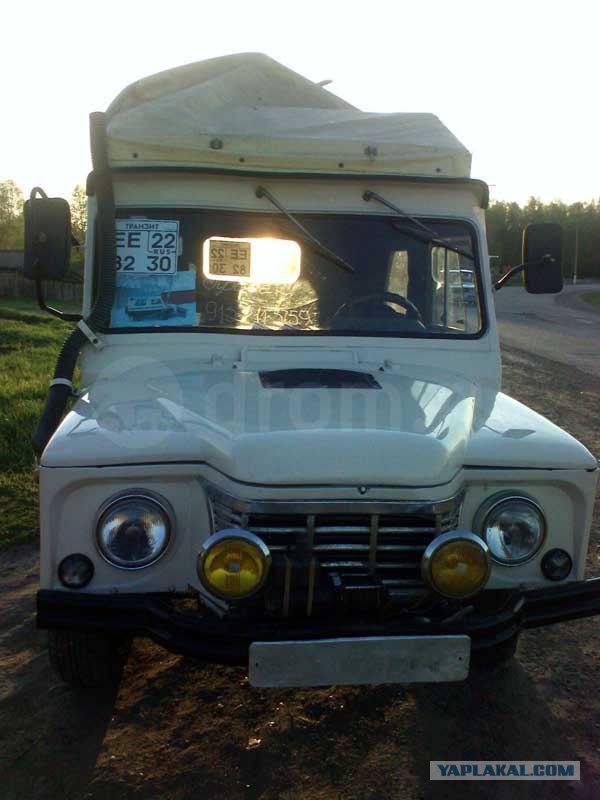 LuAZ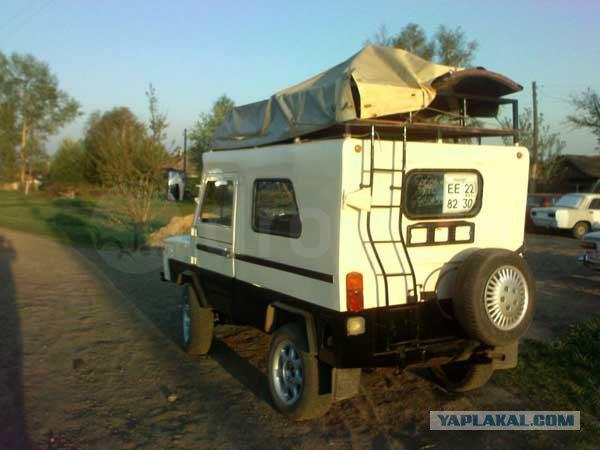 LuAZ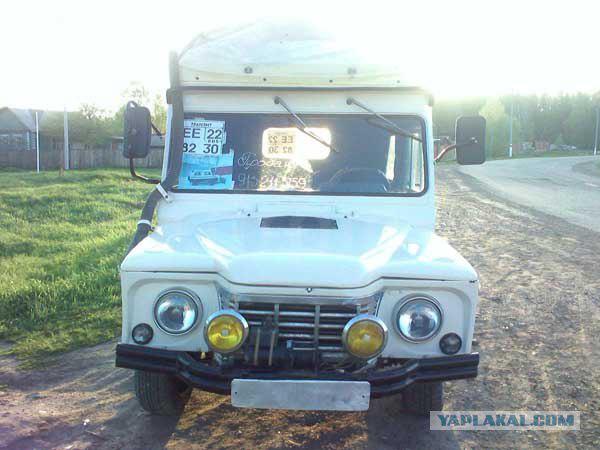 Meet the Monster. For self-made buggy appearance hides the following characteristics:
Engine: Gasoline, 1600 cc
Transmission: Manual
Drive: Rear
Mileage: 7500
Steering wheel: left
Buggy documents. The main unit - the engine of the priors. Main steam 5: 1, samoblok, 31h10.5 wheel, steering rack and special shock absorbers from the buggy, the radiator from the fields, lights hella, stove present, the speed at 5500ob 140km \ h, the rear hub of the Honda Prelude.
It is a pleasure, frankly, expensive 540 000 rubles. What to do - Sochi. There's now all expensive.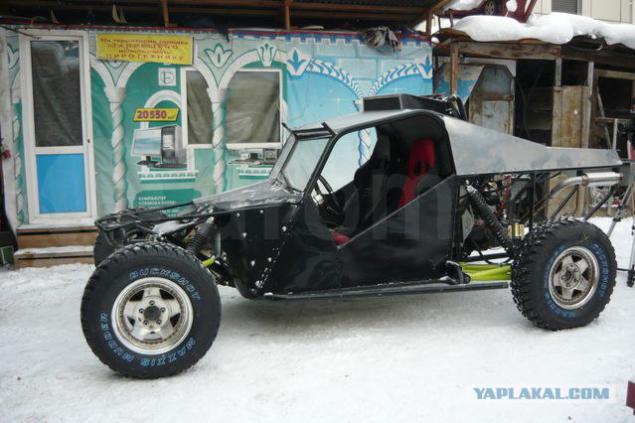 Monster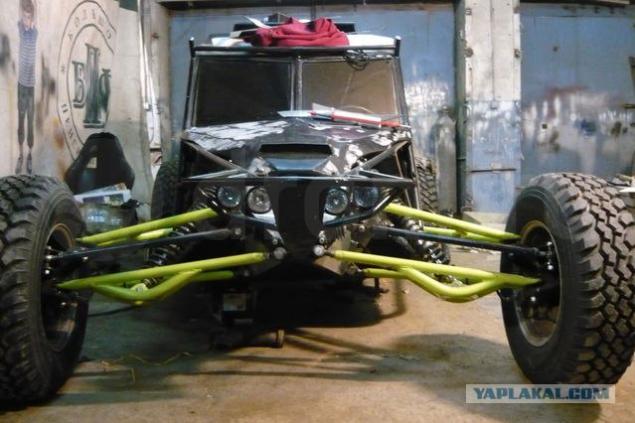 Monster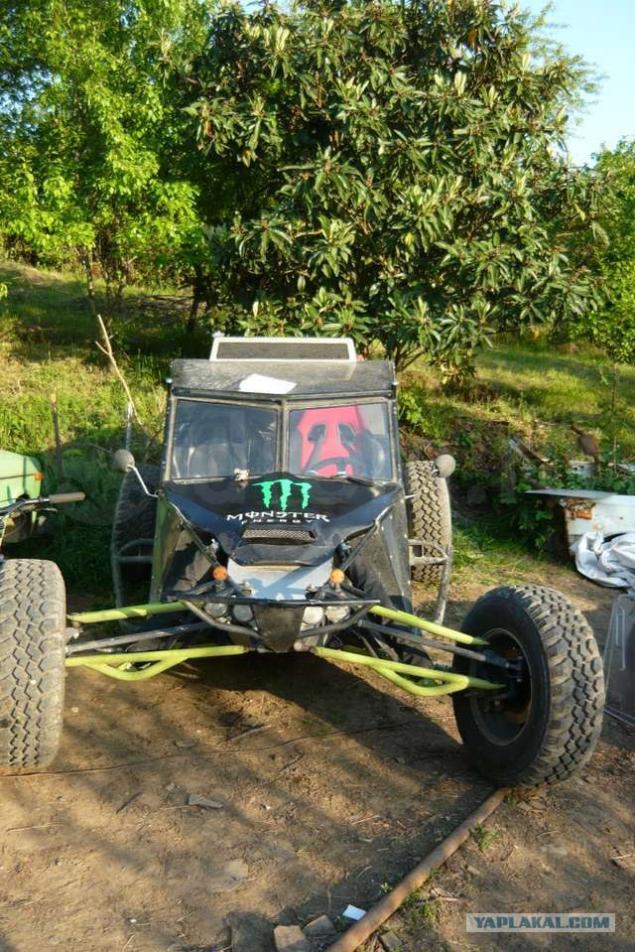 Monster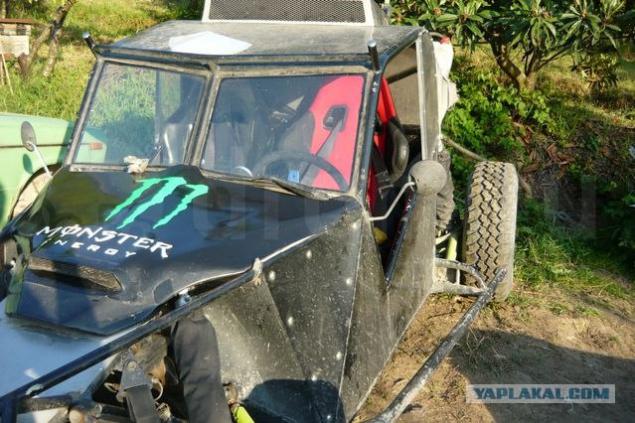 I think today we have already mentioned the binder, Singer sewing machine, and a direct hand. Here is an example where it all merged into a single cross-country rush. This machine not only can carry two riders, but also a certain amount of cargo. Interesting move - coupled not only to the rear, but the front wheels. They are controlled, for sure, it is hard, but passable ...
Engine: petrol, 650 ccm
Transmission: Manual
Drive: 4WD
Homemade ATV. Four-wheel drive, front-wheel drive permanent plug back privod.mehanichekie lock mostov.Dvigatel with motorcycle "Ural" .Dvuhskatnye wheels. Double. Good permeability !!! 20skorostey +4 lower. City: Blagoveshchensk. Kulibin who created this miracle of 14 years. Want to yourself? No problem! 100 000 rubles. it's yours! But if you want cheaper, maybe, for the 70,000 it will sell all the same to you.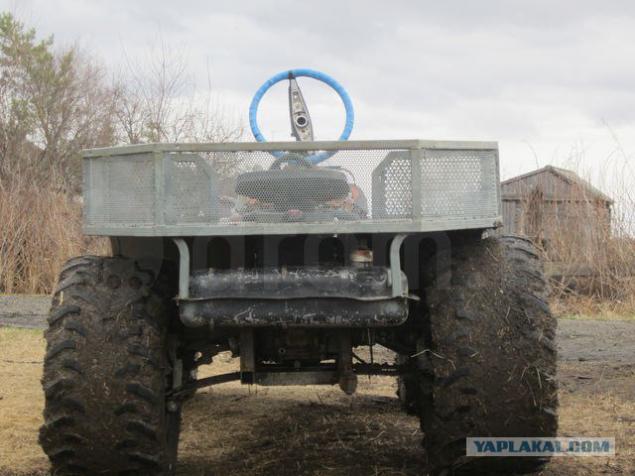 Homemade ATV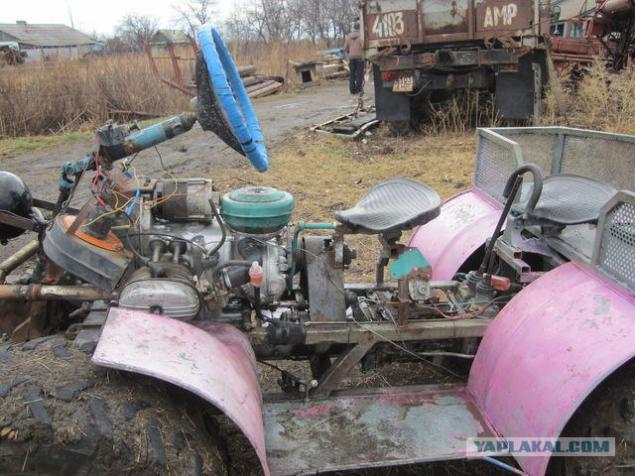 Homemade ATV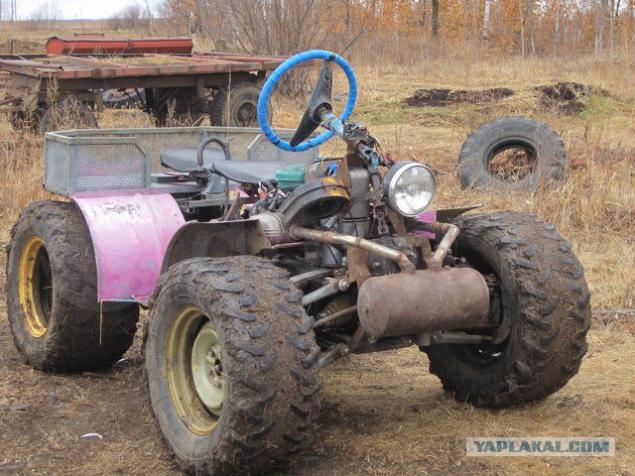 Homemade ATV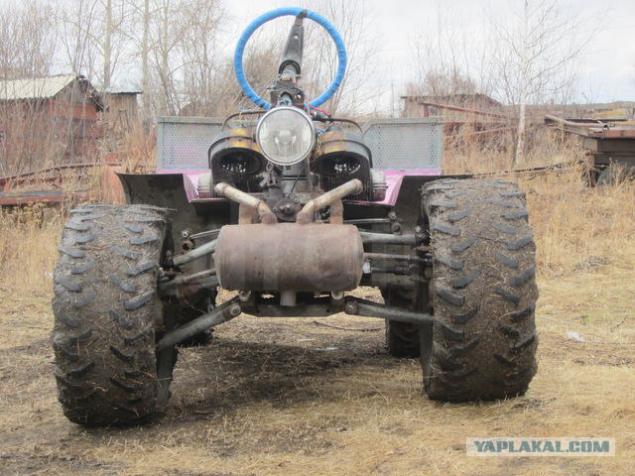 Homemade ATV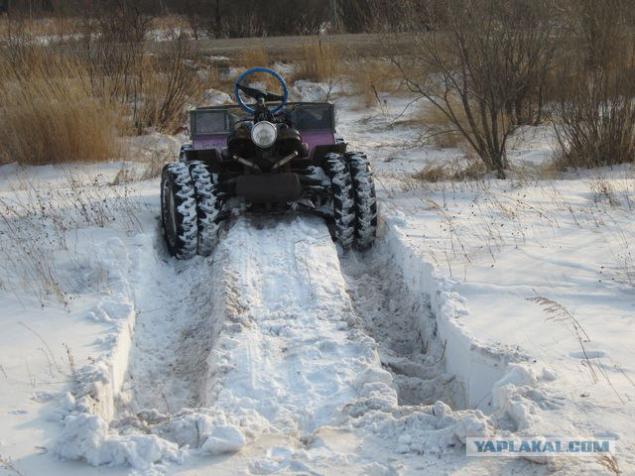 Homemade ATV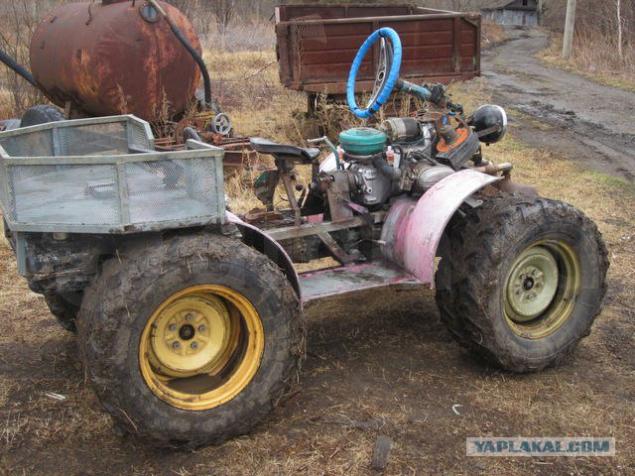 Homemade ATV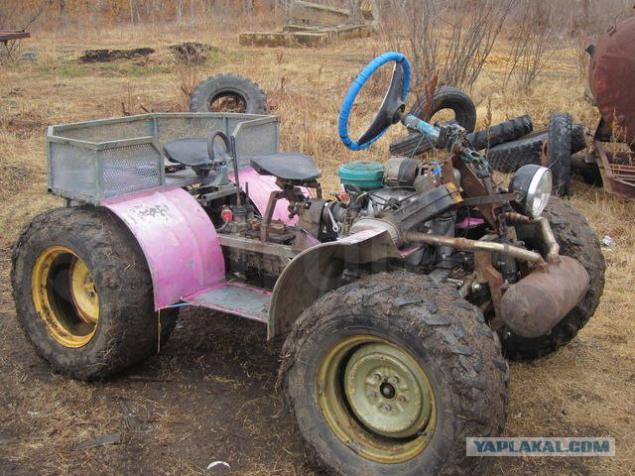 Another buggy. Made in Siberia. It is a little worse than the buggies of Sochi.
Engine: Gasoline
Transmission: Manual
Drive: Rear
Steering wheel: right
Special Notes: undocumented
Buggy in good condition. The engine of the "Zaporozhets", after thorough renovation, 40 horses. Box 4 +1. The maximum speed of about 90 km. Plant with sex trafficking. Delivery in Irkutsk and the area. City: Sibirskoye, Irkutsk region.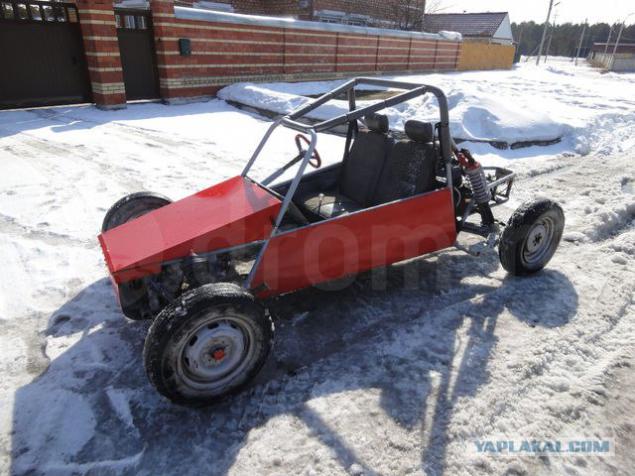 Buggy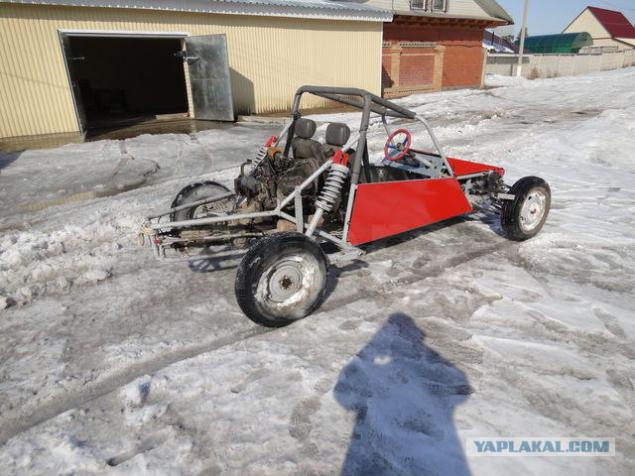 Buggy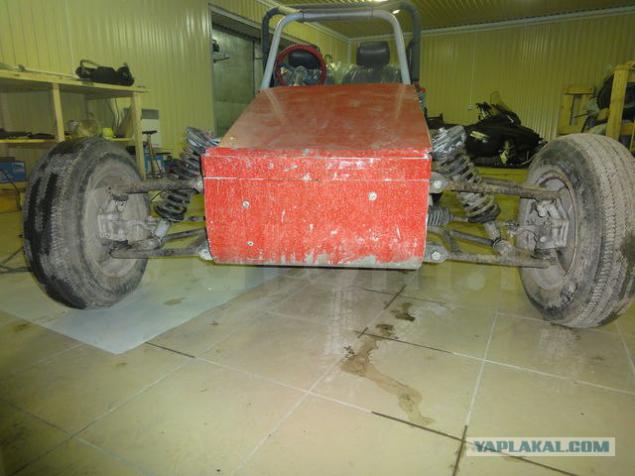 Buggy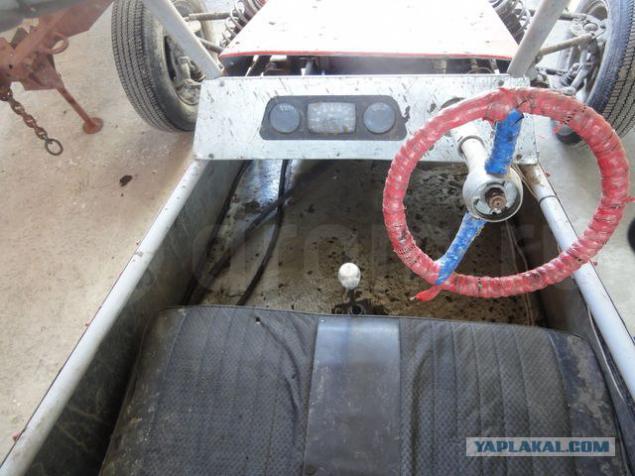 Buggy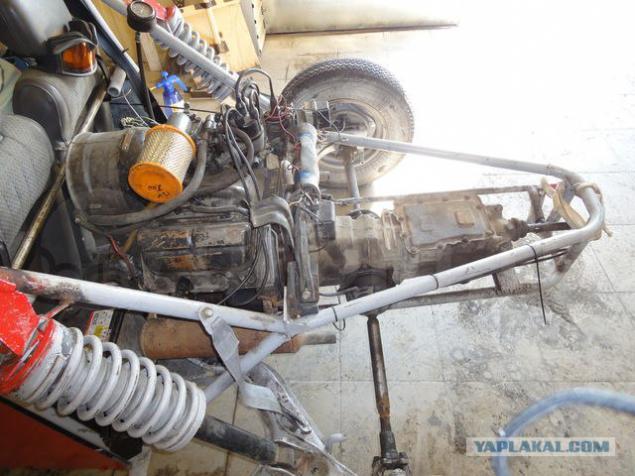 The first impression of viewing photos of this car - "And it goes ?!" The second impression was not much better than the first. Therefore facts.
2009.
Engine: Gasoline
Drive: 4WD
Machine for the extreme driving. hunting and fishing. Engine 406 (Volga), PPC gazelle razdatka GAZ-69. Military bridges, winch. wheels 34 & quot ;. two stoves .. differential lock. and many other improvements. City: Oktyabrsky, Republic of Bashkortostan
I am afraid that most of the improvements have not yet been made. In general, 150 000 I would not sit in this. And for less money too. This car has not inspired confidence in me.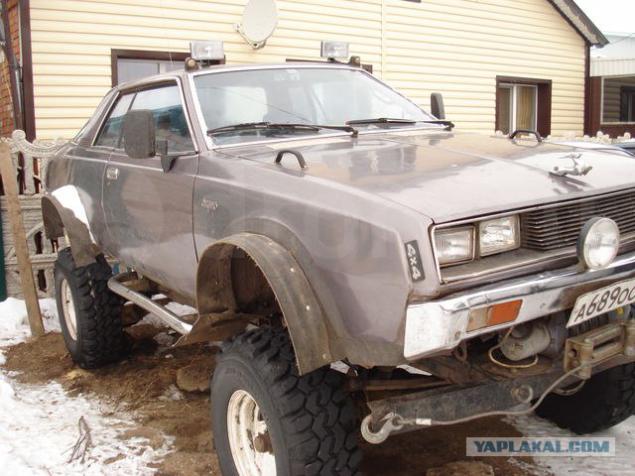 Machine for extreme driving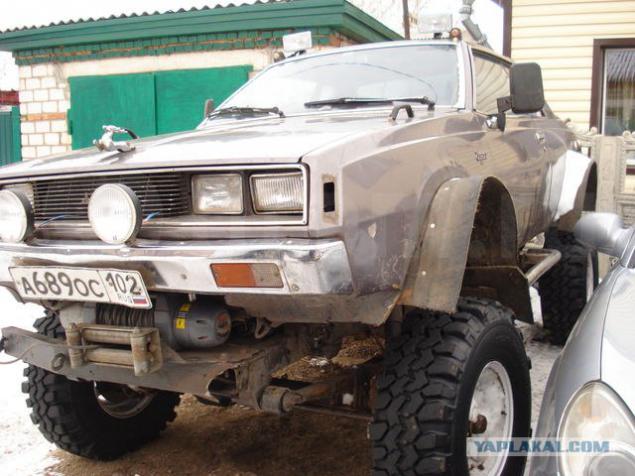 Machine for extreme driving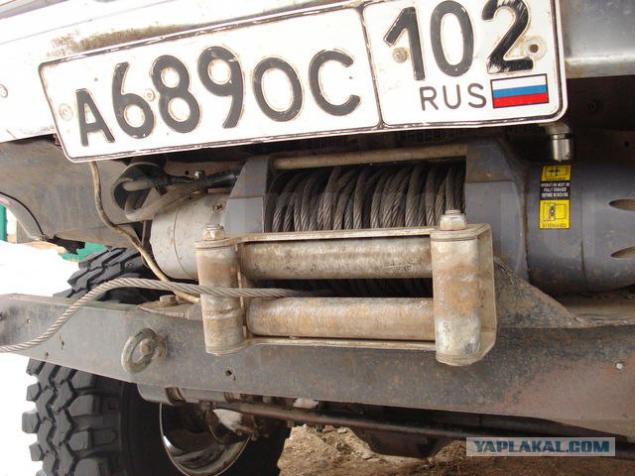 Machine for extreme driving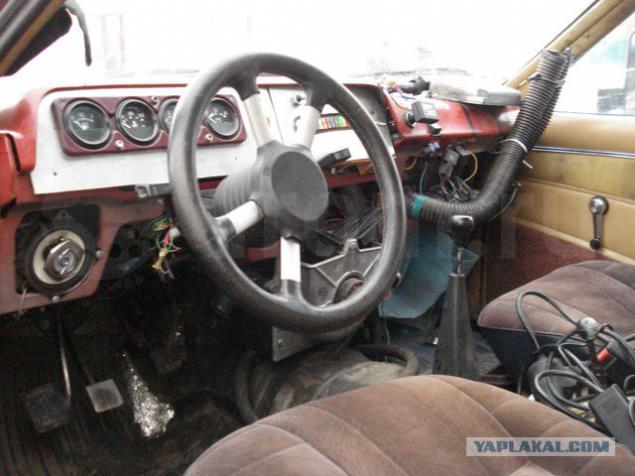 Car-tadpole. I assume that the creator of this car is very fond of the film "Prisoner of the Caucasus." Something like that periodically flashed it in the frame. One way or another, but a donor you will not specify. Check yourself!
Year established 1997.
Vehicle Type: SUV
Status: Homemade car is made on the basis of the car "Willis".
Part of the cab, doors and hood with GAZ-53. Engine GAZ-24.
The cost? Alas, zasmotrevshis in the photo, I just forgot to put it down.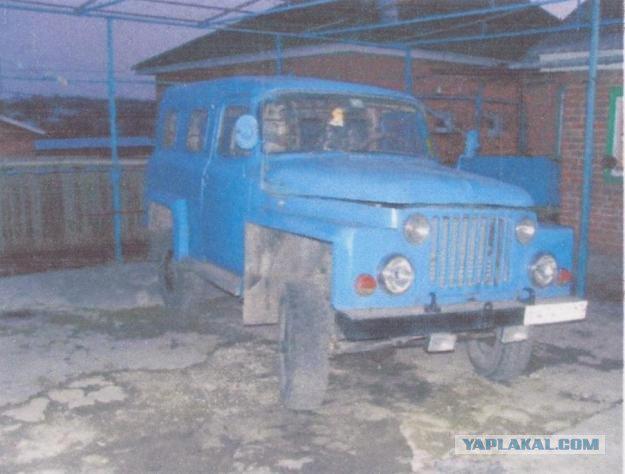 Car-tadpole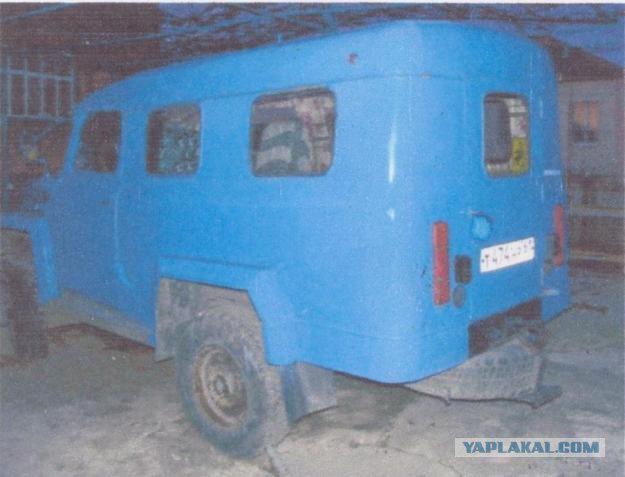 But allow me to present a masterpiece of this fantastic home-made cars. Only one reading performance makes something move below the waist. And they are outstanding!
Volga Gas 21. Built on the frame 1976 Chevrolet Malibu. 496 ci engine in volume 8, 1 liter. Installed volumetric compressor Weiand, 2 four-chamber carburetor. Engine power 700+ HP. Nitrous installed NOS (1000+ HP). The exhaust on both sides laterally Hooker. 3-speed transmission Turbo Hydramatic 400. Shifter c Sequential skorostey.Zadny bridge 9-inch Ford Moser Engineering. Brakes Chevrolet Corvette C3. Wheels racing wheels R15. Before 15x8, Reversing 15x10, 5. Drahovo Tire BFGoodrich g-Force T / A Drag Radial. Welded roll cage. Two front sport seats, the rear frame. Racing fuel tank in the trunk.
But I think that if the price tag to voice, then imotentsiya stable for the near future is provided to you. Drum roll ...
2 000 000 rubles. Non-Negotiable.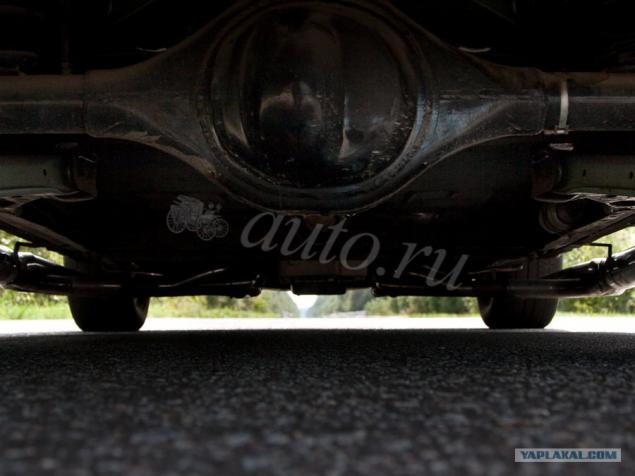 Volga GAZ 21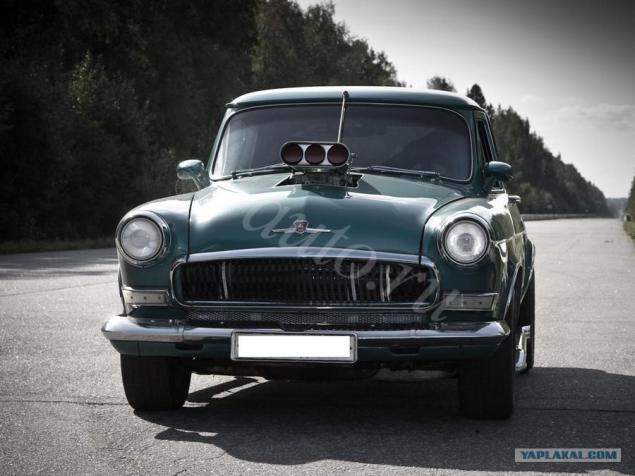 Volga GAZ 21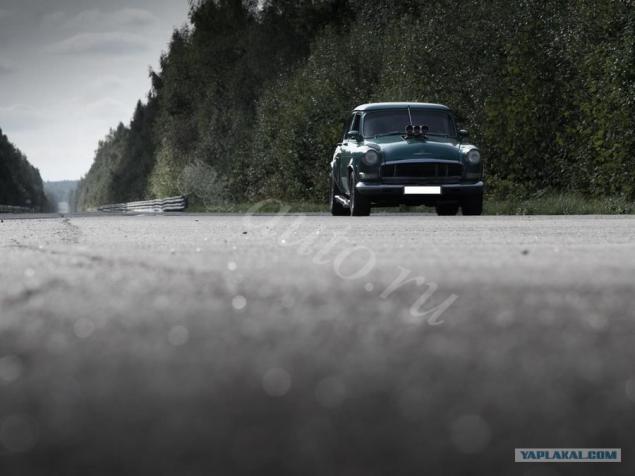 Volga GAZ 21
Limousine from the body 21 minutes of the Volga, on the frame chassis and aggregates Chrysler, including ABS, power, injectors, air conditioning, Box 1, 5 meters (total length of 6m), rear 4 individual seats electrically adjustable, climate control, front part of the passenger compartment separated by a partition which deaf vstoren LCD TV in the cabin of the driver as an LCD which is connected to the rearview camera. The car is on the move, technically sound, but long standing about 5 years, so there are some drawbacks -The body is in excellent condition, but you need to brush up some chrome detali.Salon road lined with leather, Alcantara ceiling, state-interior like new. The machine has TCP power of TCP 72l.s. The real volume of 5700 cc engine. cm.
One and a half million, and it's yours.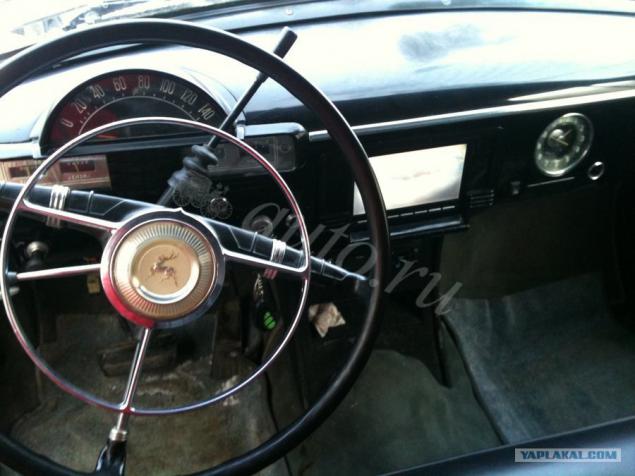 Limousine body of 21-th Volga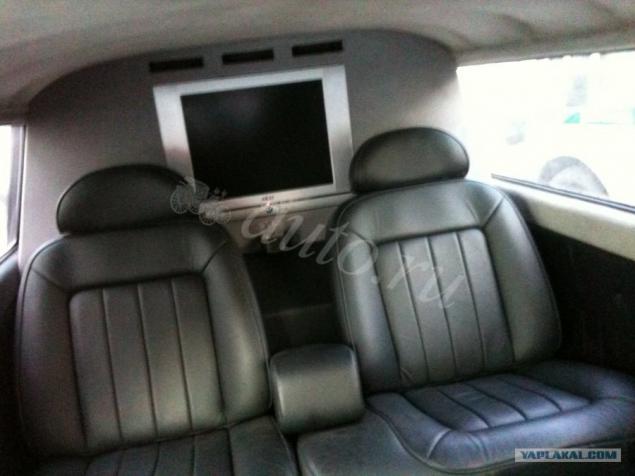 Limousine body of 21-th Volga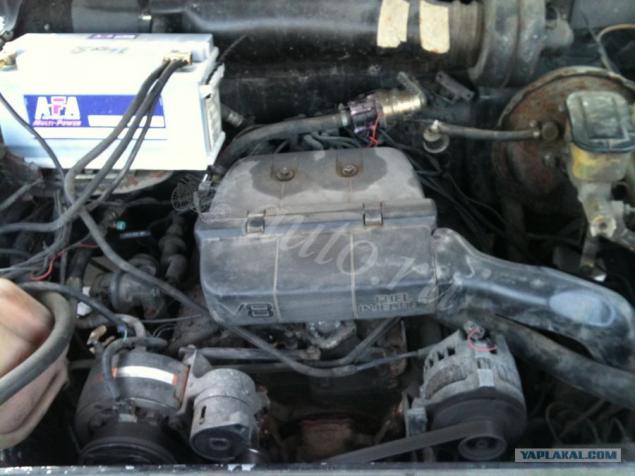 Limousine body of 21-th Volga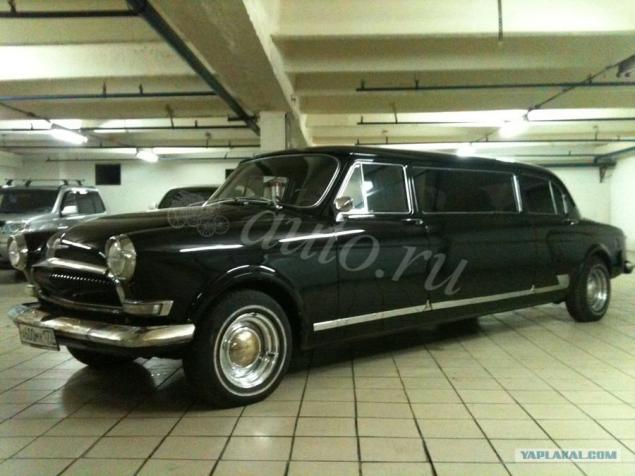 But this is not just a copy, I was pleased, and even charmed. When the T-REX just released, I just dreamed a dream to make samopal, like him. As it turned out, I'm not alone. But here the dream came true. But still, my head in the clouds.
Year 2007
Manual Gearbox
Engine type 1300 cm / 100 hp / Gasoline carburetor
Drive Rear
Mileage 20,000 km
Steering wheel left
An analogue of T-REX, motorcycle engine, HONDA CB1300, collected only from new parts, except the engine, but the engine neubivaem! In any turn at any speed, photo shoot at each traffic light is provided!
Respect Tula guys who created this samopal. It turns out, not only in Tula gingerbread can do. Oh, I almost forgot. It is a pleasure just 650 000. The original T-REX is at least twice as expensive.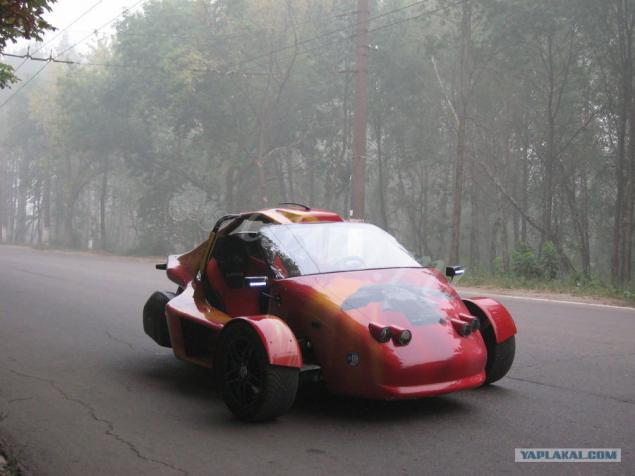 An analogue of T-REX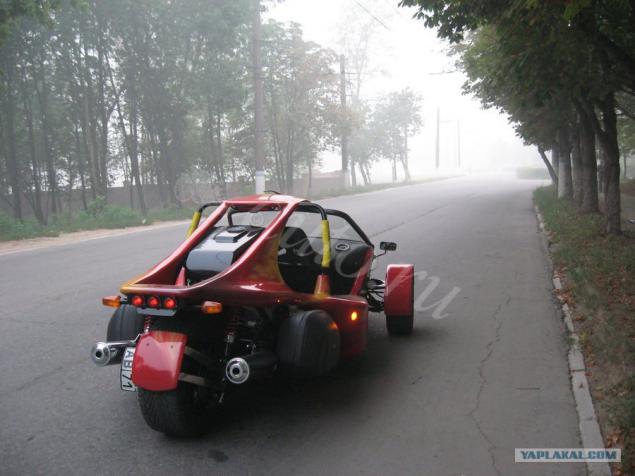 An analogue of T-REX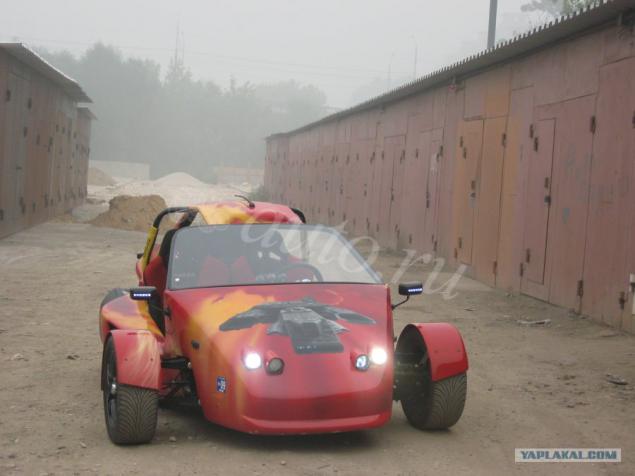 An analogue of T-REX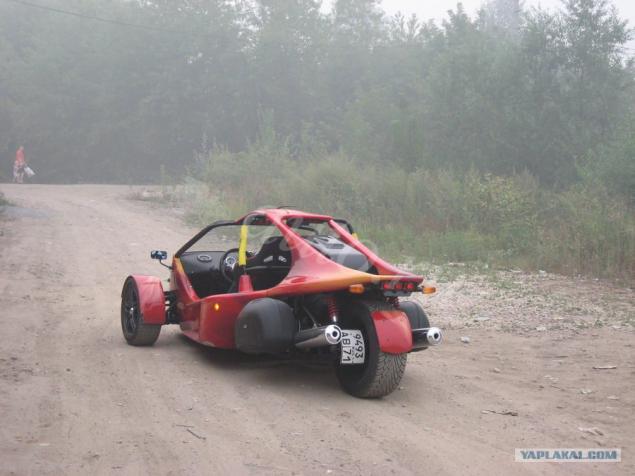 An analogue of T-REX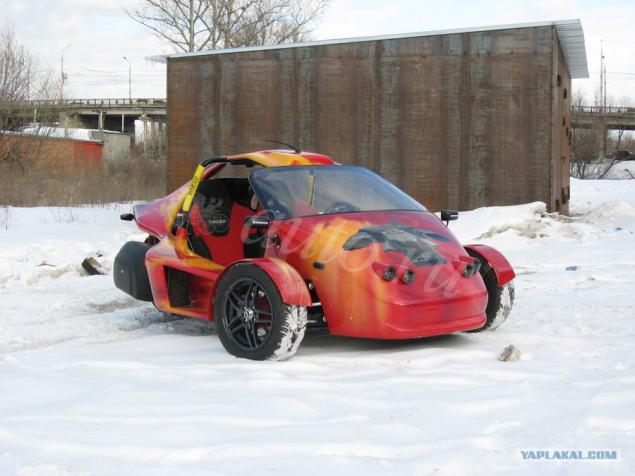 An analogue of T-REX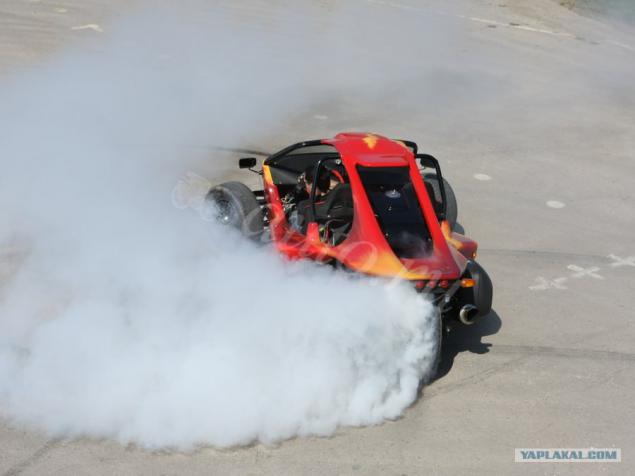 When I saw this picture, I initially did not believe his eyes. I think you know what I mean. So I had to look the car mods 70s.
On the car maker does not write anything at all, so the information about the characteristics of this "pro-American samopal" have to collect bits and pieces.
What year is your donor 1988.
Engine, 2, 3-liter, 145 horsepower injector.
Drive - rear. I think that the other characteristics are no different from the usual "Volga».
In addition to cost. Cost can say prohibitive, 800, 000 rubles.
What do you want? Exclusive is expensive, especially as such a quality. The machine is located in Stavropol.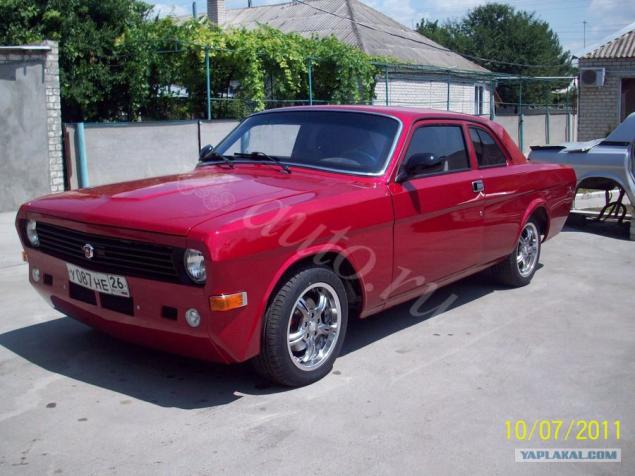 Volga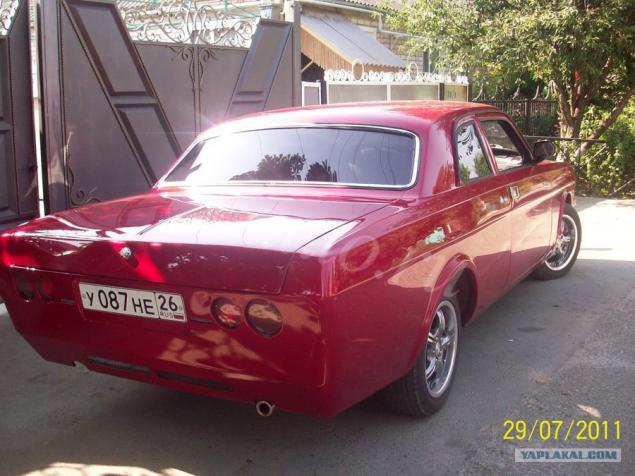 Volga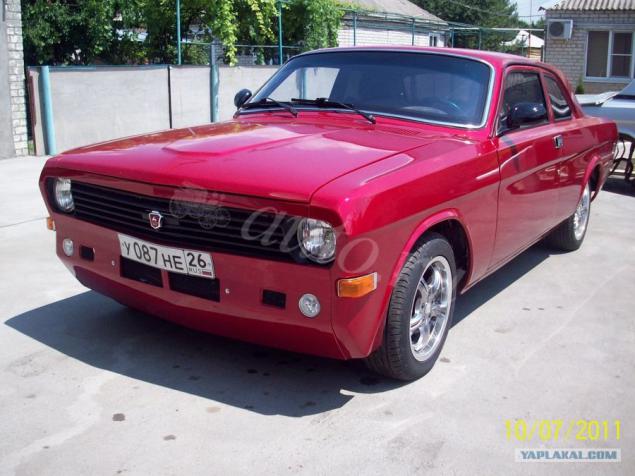 Volga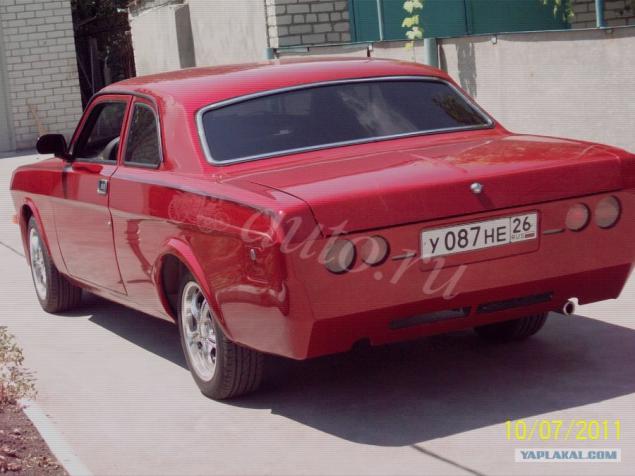 Volga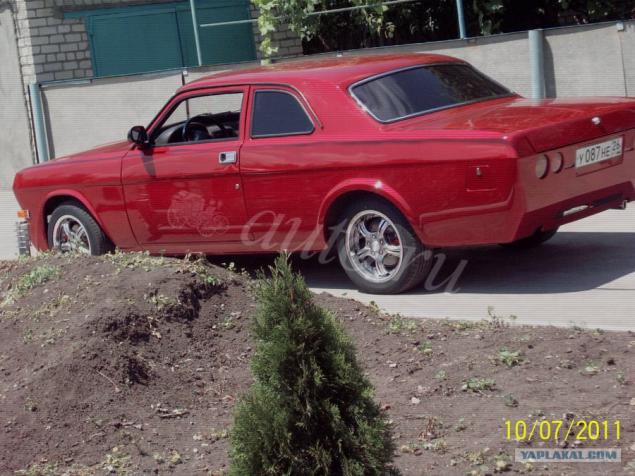 All that I'm familiar with this samopaly, so it is only the cabin, where you can learn the characteristics of "donor". Everything else - straight arms and good taste.
The car is based on the GAZ-66 frame, cab, bridges and everything else ...
On cross - TANK !!! According to documents passenger category (B) .Very waiting for the owner and spoiling for a fight with the bad roads. Car Maker ready to part with him for only one million rubles. But ready to make a discount of 1,000 rubles. Car in Mozdok.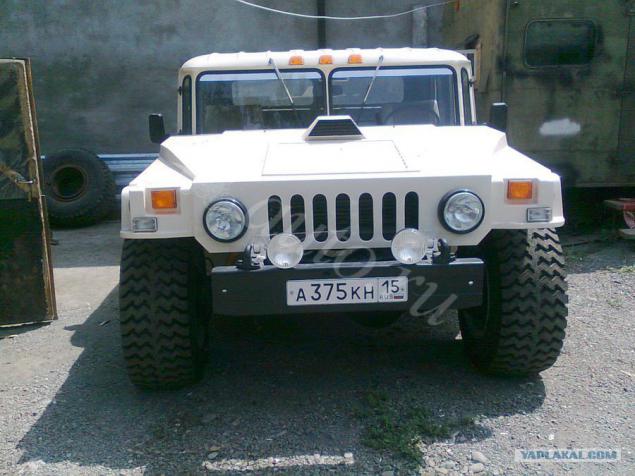 Hammer of the GAZ-66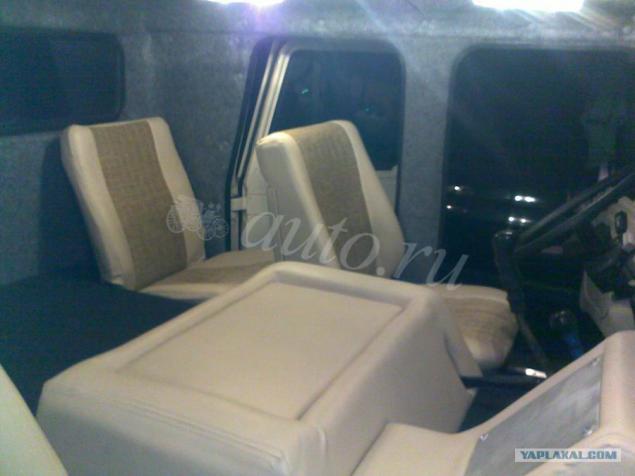 Hammer of the GAZ-66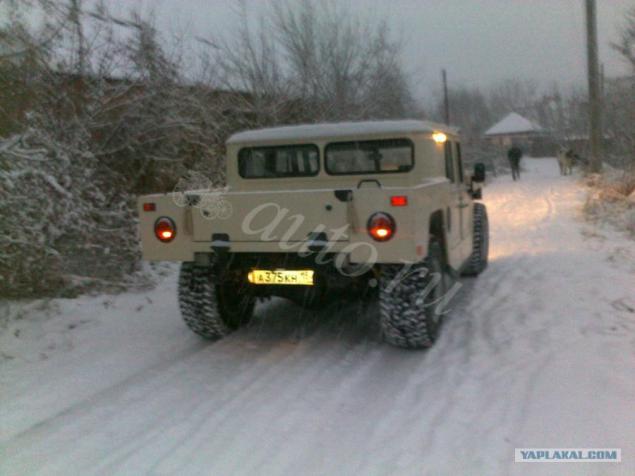 Hammer of the GAZ-66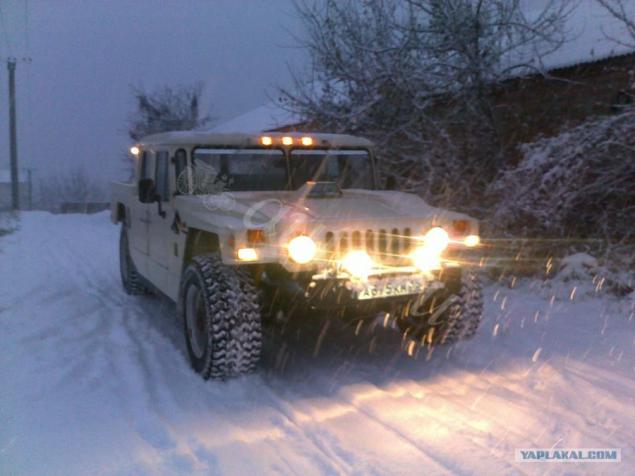 Hammer of the GAZ-66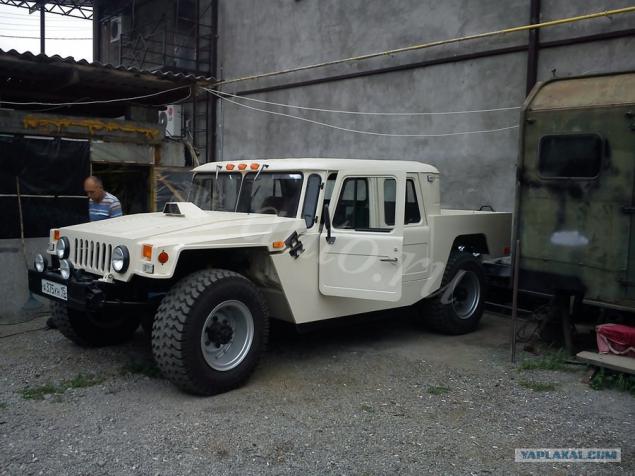 Hammer of the GAZ-66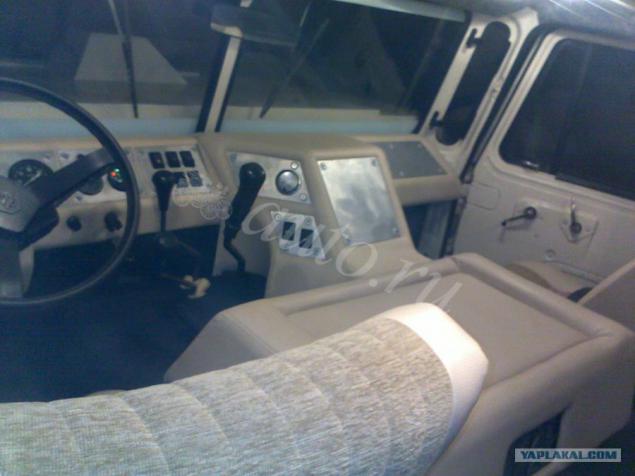 Very professional approach to the creation of the car. In fact, I have long thought chtoit whether to include the vehicle in the review samopaly, after working on it, apparently, the whole studio.
So, welcome, super-samopal, very reminiscent of 21 th "Volga".
Replikar, 2011 release.
Engine Type: 3800 cc / 267 hp / Gearshift
Drive: Front
Built on the basis of modern and / m the executive class with the appearance of the legendary retro car (retrotyuning). The best offer for rental companies and business people employed in the service industry celebrations and weddings (return one season) and nostalgic citizens with the possibility of daily use.
Winner of the championship cup for the most original tuning of the international festival.
P.S. Dear curiosity please yourself engaged in guessing the base car.
We only work with those who Serious intentions.
Is it worth the pleasure black exactly one million rubles. No discounts.
I think that if gas began to produce at least the piece like cars, the demand for them would be disposable. In the meantime, car plant slowly dies unoccupied niche occupied by people with straight arms.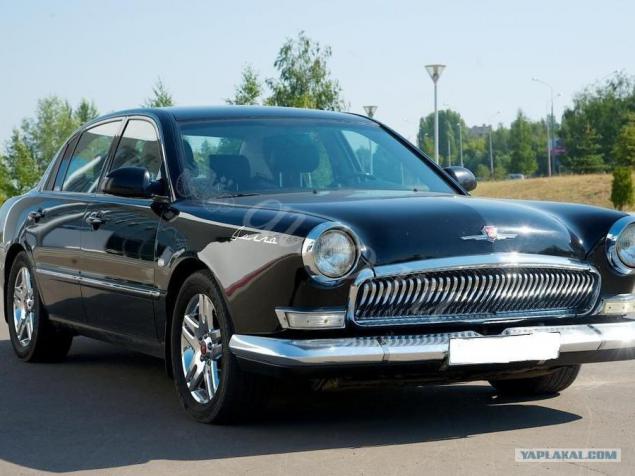 Volga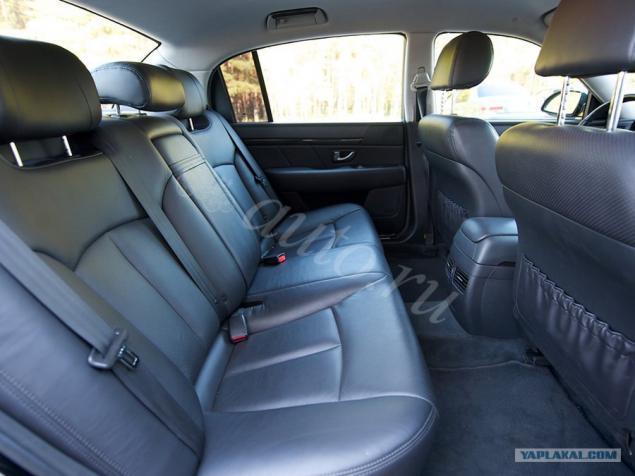 Volga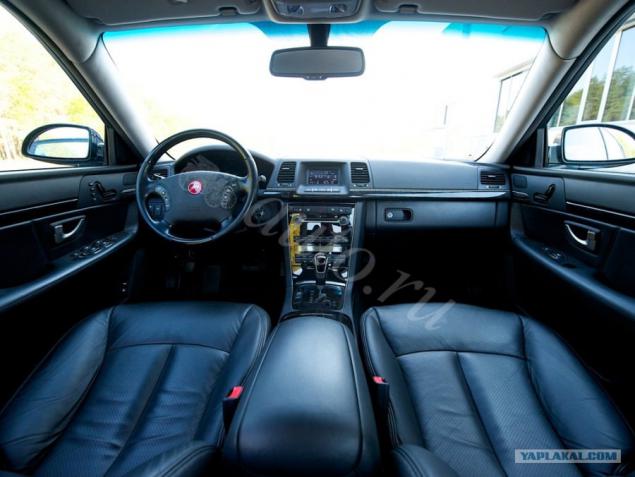 Volga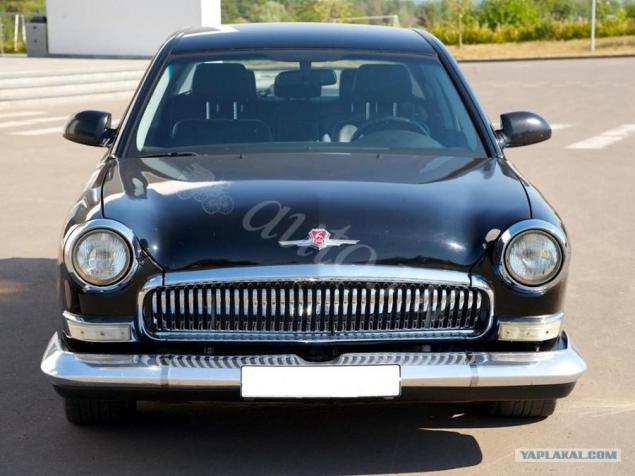 Volga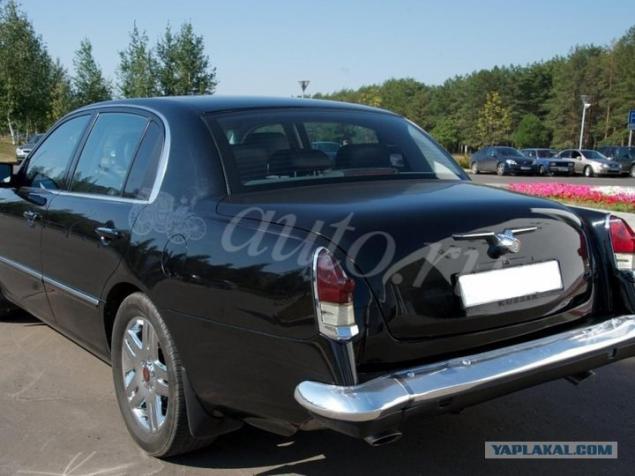 Another replikar-quality home-made. The appearance is very similar to Morgan, which is still available in this design.
Year 1993
Transmission: Manual
Engine Type: 2500 cc. cm / 100 hp / Gasoline carburetor
Drive: Rear
Body type: roadster
One of a kind handmade in the author's performance. Created by the designer-designer in 1993 in the style of British sports cars 1935-39 period. Unique body "roadster" is made of fiberglass, steel frame, high strength, original finishing details, the basic components and assemblies - GAZ 2410 vehicle is operated since 1993 and is in excellent condition. View this car can be in Kaliningrad. There you can buy and for only 1.3 million rubles.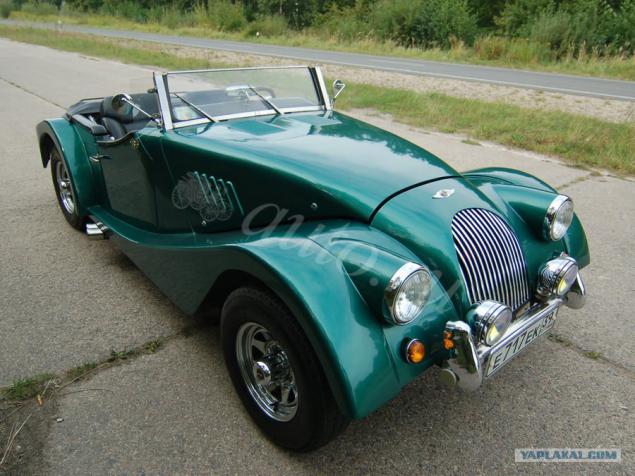 Morgan almost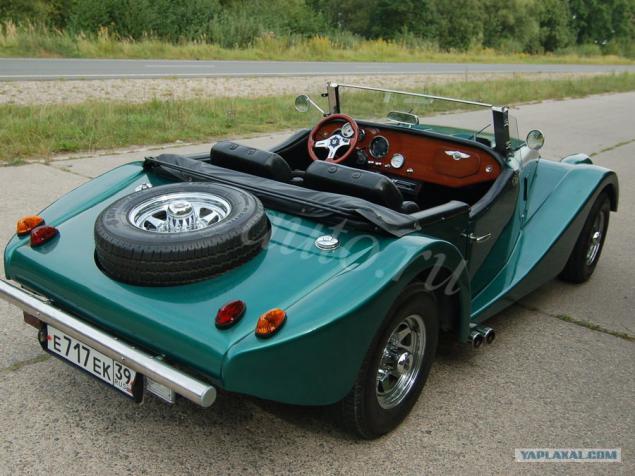 Morgan almost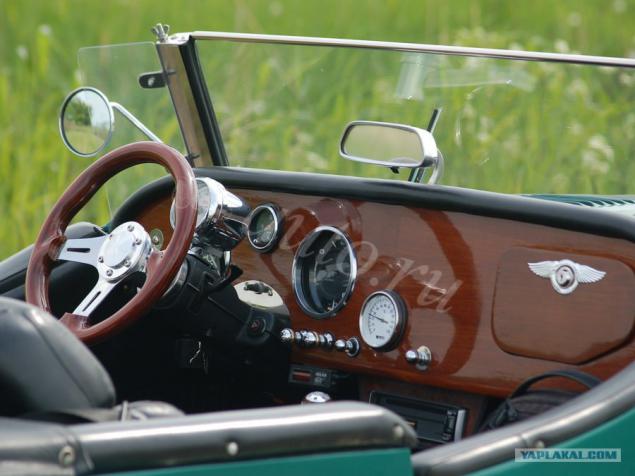 almost Morgan.
It is easy to discern the "Zhiguli" items.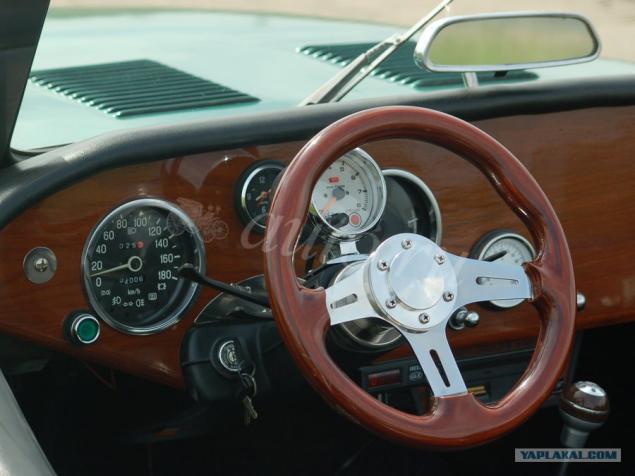 But this Homebrew no luck. Having a car, they legalize it and could not. In general, then - the first person.
"Get ready for attacks on nature for himself from 1999 to 2008. We thought we live in the country, but it was in the ass: registered in 2009 could not - there was no regulation on homemade, at the moment there are regulations, we came up against the high cost of environmental review. There are drawings, receipts for all parts and assemblies. Correspondence with the US Federal State Unitary Enterprise. »
The body consists of an all-metal frame and the cladding. The frame is a spatial structure, welded steel pipes of square and rectangular cross-section. The base frame is made of steel square tubes 60h60h3.
The body panels, front and rear fenders are made of steel sheet thickness of 1, 2 mm and after flare attached by welding to the frame. The roof and door panels are made of steel sheet thickness of 1 mm, and roof gutters are made of steel sheet thickness of 1, 5 mm. All exterior panels soldered joints.
The power unit assembly with CAT and transfer case UAZ - 31514 and the engine ZMZ-24D. Fuel tank - from GAZ - 2410 70 liters.
The front and rear axles - from the UAZ-31514. The steering mechanism used by UAZ-469. The car has alloy wheels. Tubeless Tires "Kama", the dimensions of UAZ.
Lighting, corresponding UNECE Regulations and standards of the Russian Federation: Front
 - Lights and direction indicators on the wings - indicator lights, rear - block lights with parking lights, direction indicators and brake lights and reversing lights and license plate illumination.
This car, amateur manufacture, meets the requirements of safety and can be allowed to participate in road traffic in the positive results of the technical condition of the requirements of GOST R. If we expand the front and rear seats get a "flat floor».
In general, very well-designed model is a pity that it was not possible to bring it to its logical finale.
But you can try. 600 000 you will sell this car in the hero-city of Tula.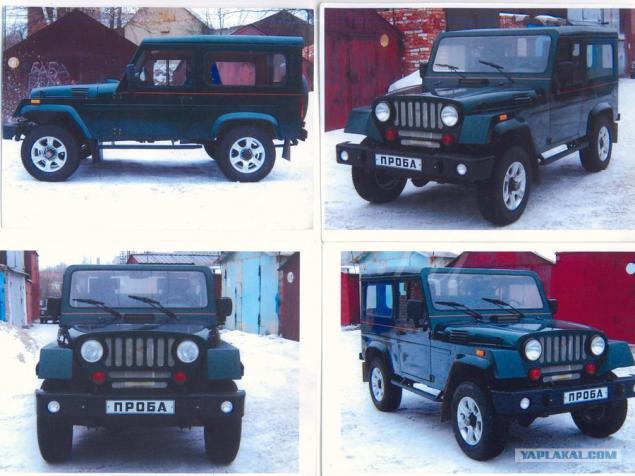 Jeep from Tula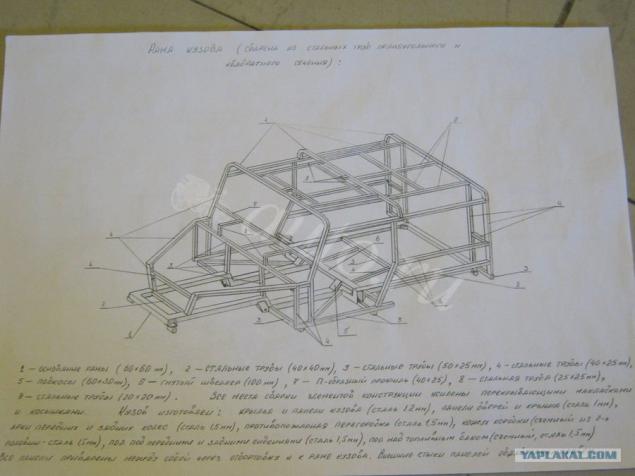 Jeep from Tula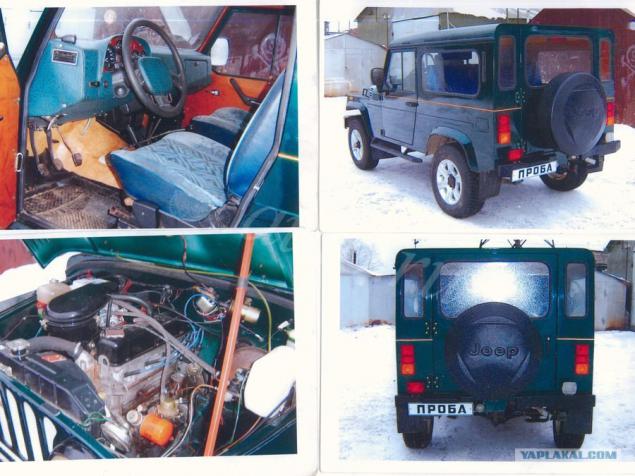 Jeep from Tula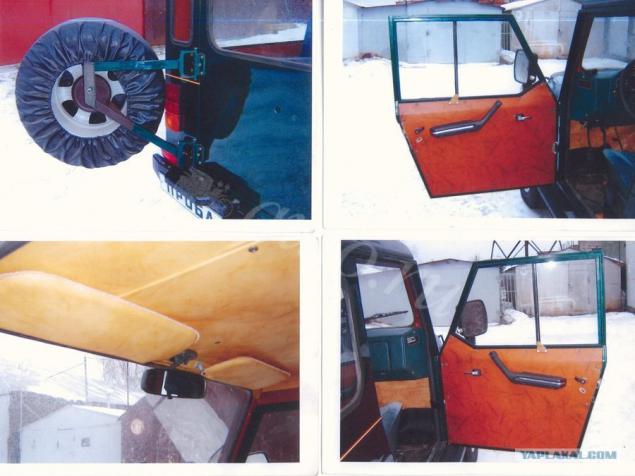 Another version of "Hammer," based on the GAZ-66. It is less quality than the one we've seen. Nevertheless, for 450,000 rubles wooden ever it can be yours. If you have an excavator or loader on the basis of ZIL 131, you can offer it on exchange.
It is a pity that the little pictures, I would like to see this samopal from all sides.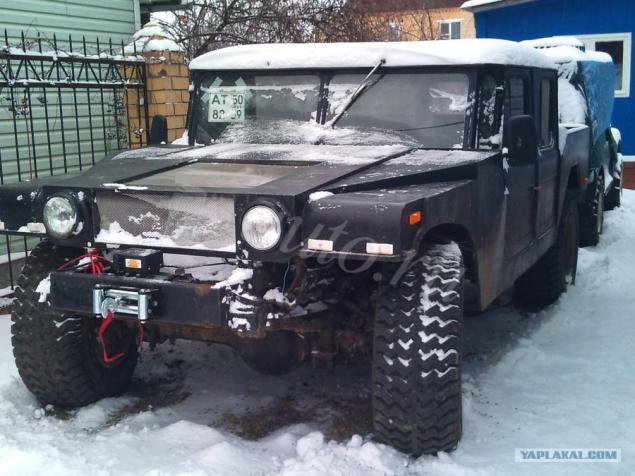 Another hammer.
Final soon.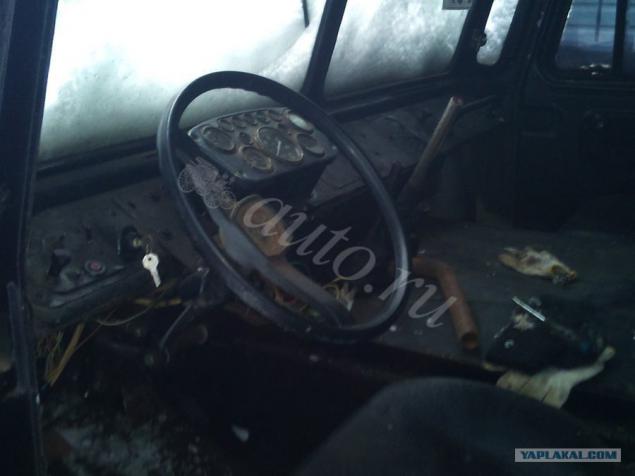 Some samopaly evoke a sense of admiration, some - chuvsvo bewilderment. But looking at this, I can only exclaim, "Well, why !!!" In general, judge for yourself.
Operation in autumn 2010 and autumn 2011. Changing the engine and the body in 2009. Engine and Gearbox enumerated in 2011.
Thank you for attention.
Source: