Geneva Motor Show, taking place in these days in the heart of Europe, sets the style and fashion dictates to the giant car market in the territory stretching from the Atlantic and (after Russia's integration into the global automotive industry) now to the Pacific Ocean. It was in Geneva in the early spring for the first time show that on which many of us will go through a year or two-third. By law, the genre of the exhibition, mass product here peacefully side by side with the most exclusive and technology solutions, and tags (in euros, of course) may include both modest four and an impressive seven digits. Unites all one: the desire to automakers in that whatever was to surprise potential visitors and the whole world and bring them under its banner. In this case, Geneva 2013 discovered several new trends. Where is the automotive world, what cars we see on the roads and in showrooms soon - this Drom.ru journalists versed in six huge pavilions Palexpo fairgrounds before the official opening of the already 83 minutes on account of the exhibition.
85 photos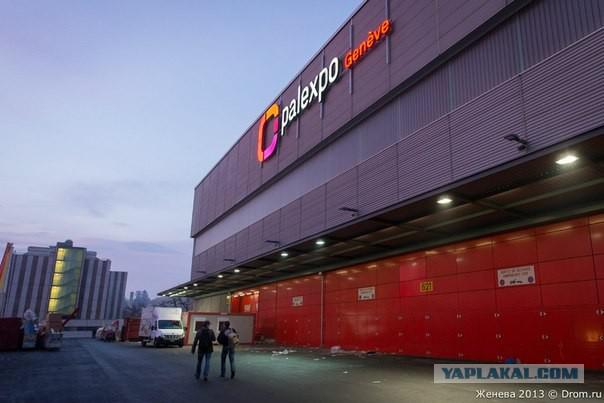 2.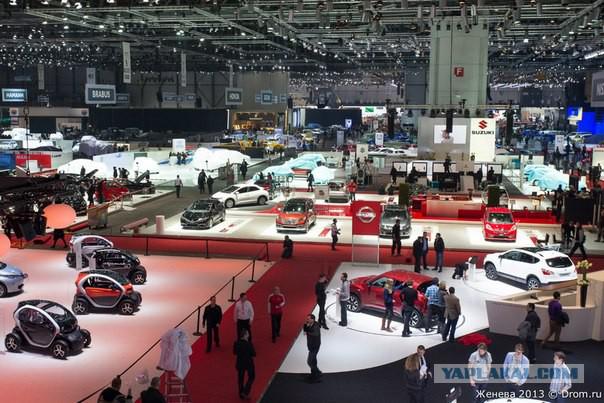 Surprising - carries
Global manufacturers within the Geneva show rely on one or two premiere, effectively stressing them against the background of other "extras." Accurate data on the organizers of this writing, not sounded, but the order of numbers like this: 65 global and 130 European premieres. Manufacturers salon to hide their innovations to produce the maximum effect on the audience, and pre-organized "leak" information only add fuel to the fire. But everything is not unique. For example, did not expect a lot happened facelift crossover Dacia Duster. But Chevrolet drove to Geneva not only promised Roadster Corvette Stingray Convertible, but it closed in coupe version. Counting Prime difficult and because of the difficulty of identification: if a new body shop can still be considered a modification of such (as, for example, it was with a new wagon Volkswagen Golf Variant), is it a full-fledged version of the premiere with the new motor? But, then again, a lot depends on the engine: how it changes the car? For example, sports modification hatchback Volkswagen Golf GTi Peugeot 208 GTi and hardly claim to be "premiere screening." But the Porsche 911 GT3 may well be worthy of special attention - because this version is not only unique in its engine performance, but also has an improved chassis and changed appearance ... And premiere premiere of discord: some of the featured models at all for the first time demonstrated at public (for example, the new mini-crossover Peugeot 2008), and others until the last moment remained in the dark about their appearance and even the name (a new generation of crossover Suzuki SX4). Is it possible to consider the premiere of a car that is almost ready for mass production, but for some reason, the number concept? But such models in Geneva, too, were many: it megaekonomichny, but hardly claims to large-scale production Volkswagen XL1, and "dark horses" showroom - wagon and crossover created from scratch mark Qoros.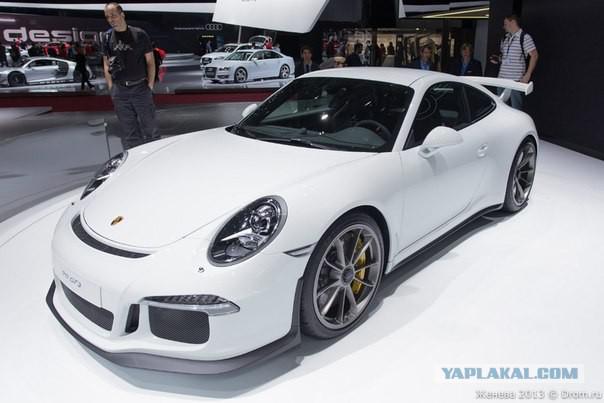 4.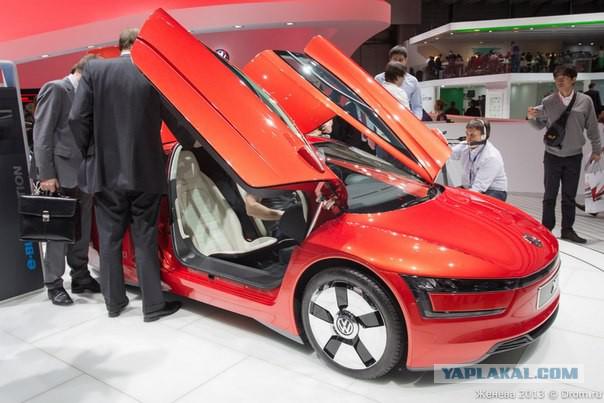 5.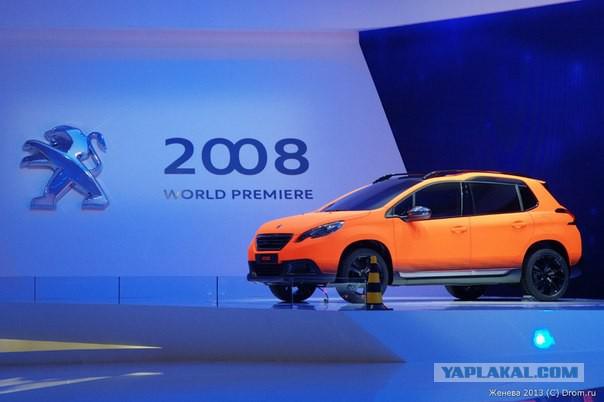 6.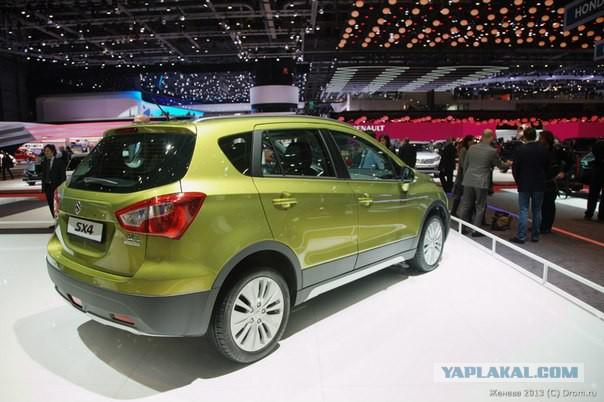 One way or another, but in Geneva was quite a lot of new cars. On most of them, we are told in our news. But some interesting still remained behind the scenes. In particular, the European version of the new mikrovena Nissan Note. The novelty in general retained its proportions and name recognition as Note, however, has become a modern stylistics and chassis settings have changed in favor of active drivers. Yes, and internal content increased due to technical innovation and multimedia - such as a proprietary system Omnidirection Around View Monitor, or complex security Nissan Safety Shield.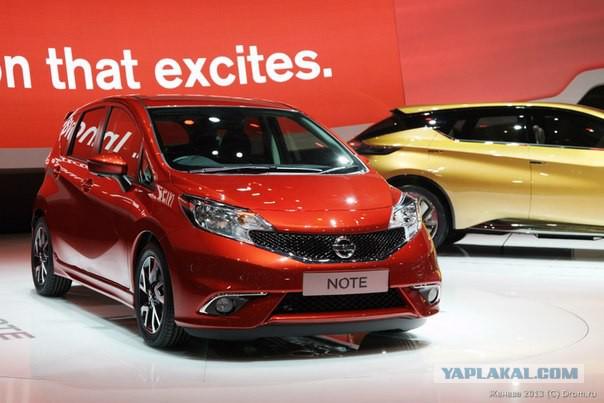 8.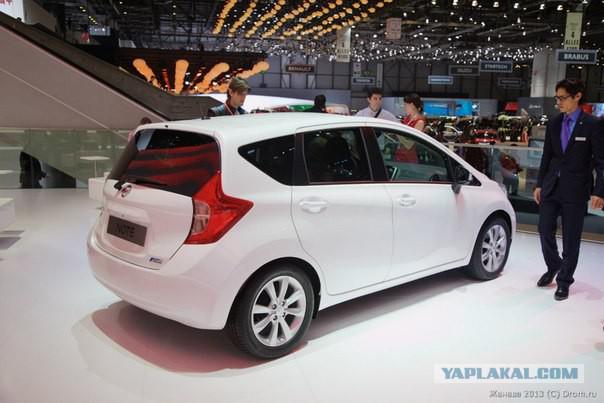 Attracted the interest of journalists and some exotic for the Russian market model, which debuted in Geneva. Such as Alfa Romeo 4C sports coupe and convertible Opel Cascada. Alpha in general has become almost the main star of the show (hopefully not only because of the spectacular girls-models). Known for its sporty cars in Russia fame and respect she had not earned. But in Europe, its products are always attracted considerable interest. Especially when talking about this for a rare automobile sports coupe with a mid-layout and classic rear-wheel drive! As they say, these machines today do not ... do not do nearly as well as the Alpha still came and captivates his fans not only elegant and pleasing design, and specifications: 240-horsepower engine capacity of 1, 75 liters, acceleration to 100 km / h in 4, 5 seconds and a top speed of 250 km / h (limited force). This novelty was immediately presented in a series of special Launch Edition limited to 1000 copies. And in this new production of Alpha do not plan to stop ...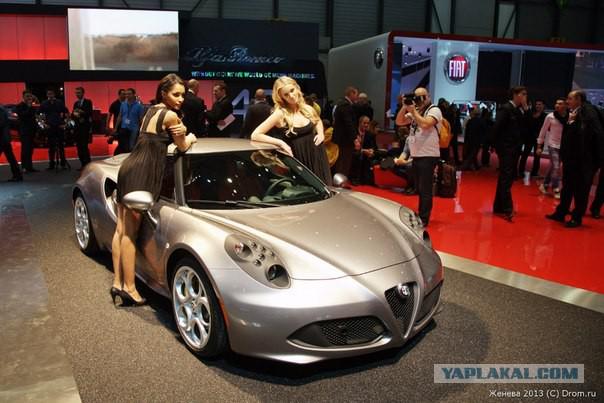 10.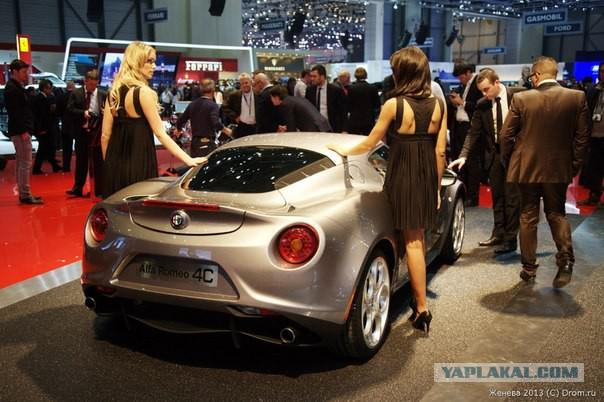 What to Convertible Opel Cascada, this model - detached on-demand version of the Astra marketers with an open body. The main feature of Cascada become soft roof hardtop against most competitors. Tilt can be raised even at the downstream of 17 seconds (assuming that the vehicle speed exceeds 50 km / h). But on the part of the equipment from Cascada fundamental differences from the "Astra" no.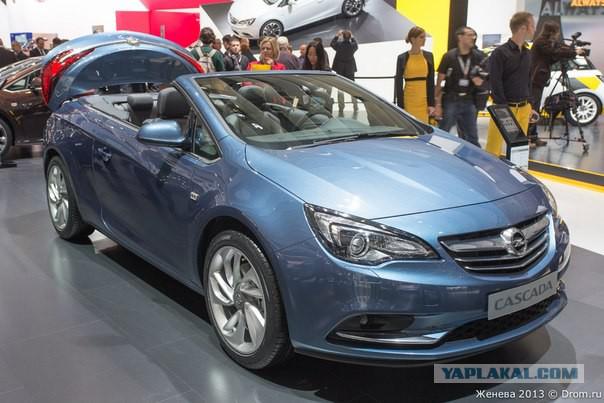 12.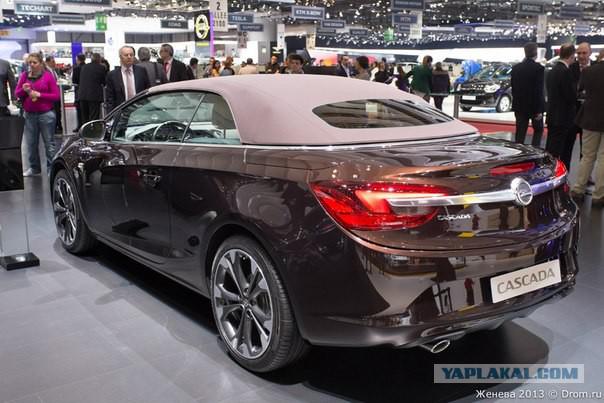 Honda on the main podium of his booth set wagon Honda Civic Tourer Concept, but in no hurry to disclose details. While it is known only that the model will not collect until 2014 at the plant in Swindon (UK), and the range of engines (including diesel) will remain on the hatchback.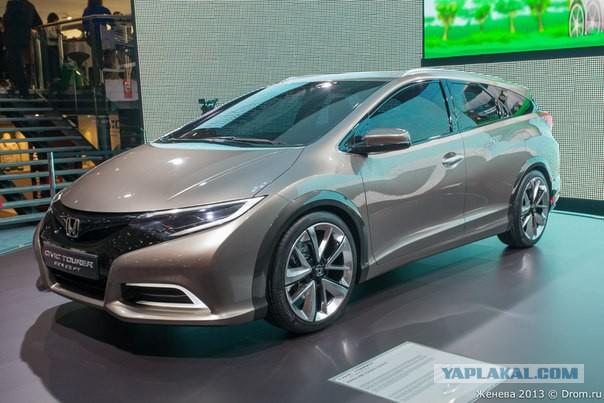 14.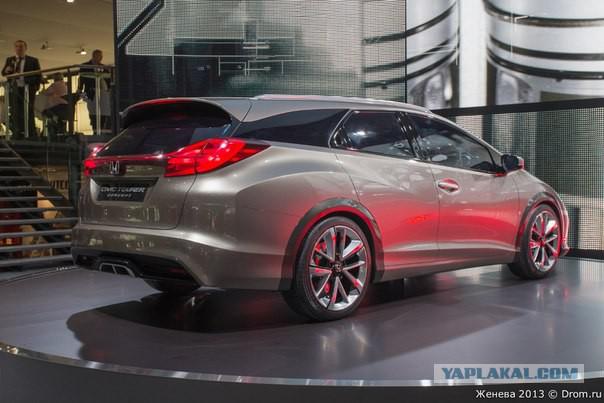 Prototype of a new Tribeca Subaru showed a concept Viziv (Vision for Innovation - A look at the innovation). Perhaps the most surprised by the company are hybrid: 2, 0-liter diesel Boxer, continuously variable transmission Lineartronic, front electric motor-generator, as well as two independent rear electric motor.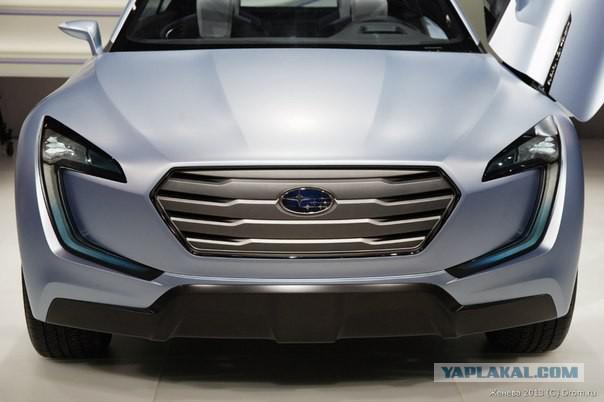 16.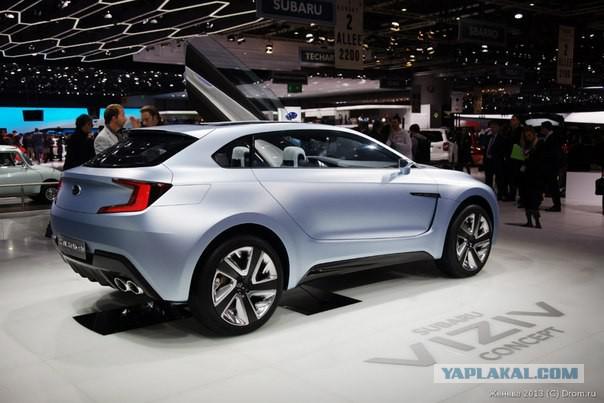 As for the Russian car industry, it is not something that the Prime Minister and even the presence of domestic producers in Geneva could not be found. Apparently, to make available to the general range of the Geneva background - this is somehow frivolous. Yes, and the European market for AvtoVAZ (which in the spirit of the trend could show electric ElLada), in fact, lost: in 2012, exports fell by almost a third - up to 4313 cars, and this figure only managed to keep the expense wheel-drive vehicles.
But the holy place is never empty: Geneva 2013 brought the premiere of a new brand with a delicious name Qoros - symbiosis of Chinese capital and the Israeli enterprise. The Chinese could not get to Europe through the open door - decided to go through the emergency exit. Qoros - a brand owned by the company Chery and Israel Corporation. All serious (as far as can be felt at the motor). Created Shanghai technical center, where collected by long-term contracts leading experts known European car companies. Presented at the exhibition Qoros 3 is about to begin in China and sold at the end of the year in Europe. Take a conservative market of the Old World tradition Chinese dumping plan, but the promise competitive level of consumer qualities. In the sleeve they still wagon and crossover, which were presented concepts. Intrigue!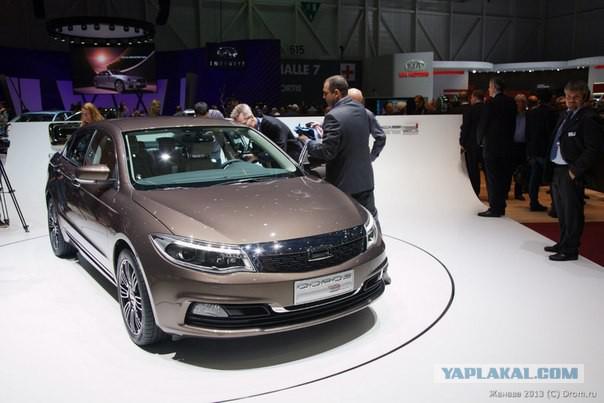 18.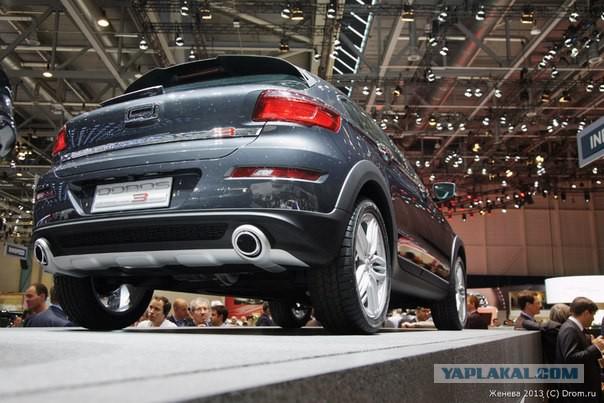 City infantry
It seems that the popularity of crossover enters the next level, but here the people of fashion class with respect to the veterans of the genre (Toyota RAV4, Honda CR-V) slightly "blown away" in size and slightly slumped in the lines - just like a balloon at half-mast. It seemed that the Nissan Juke with its provocative just fooled around, but the model suddenly became fashionable - and has begun! Last year, global automotive community was represented by multiple serial and conceptual mini-crossovers: a little less original than the Juke, Mini Countryman and a couple soplatformennika from GM - Opel Mokka and Chevrolet Trax (the last one in Russia will be sold under the name Tracker, but the beginning of sales marketing reasons postponed at least until the end of this year). All these machines in their basic versions are only drive the front wheels. Yes, and they ground clearance (and sometimes overhangs) is not off-road. As a result, in effect, a mini-crossovers often represent a high compact hatchback - as departing from the scene Ford Fusion or not gained recognition in Europe Toyota Urban Cruiser. Our Renault Sandero Stepway, as well as shown in Geneva the new Sandero Stepway, from the same cohort of high hatchbacks. And they are not so high on the body height as such, but on his landing on the road.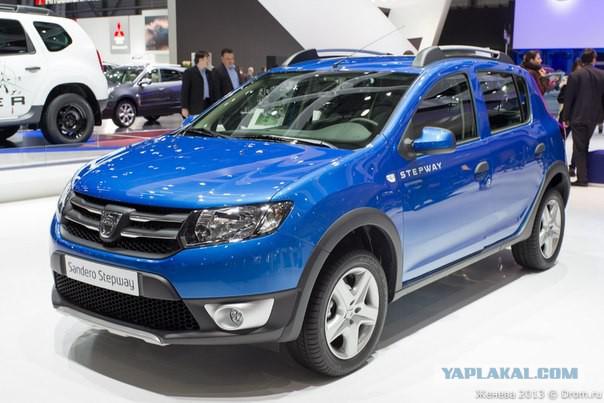 20.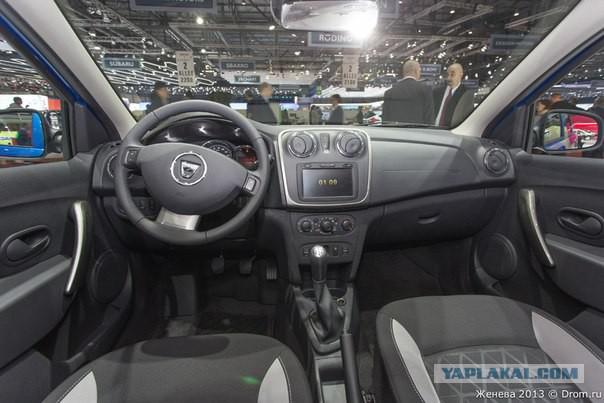 In Europe, this "pseudo-off-road» is of interest - here's an example as off-road city car Volkswagen Cross Up !, whose Unlike conventional Up! reduced to the additional plastic protective elements on the bottom perimeter of the body, some other such jewelry, but all the same increased ground clearance.
It turns out that the fundamental difference between a mini-crossovers from vysokosidyaschih hatchbacks - in the absence of the latter-wheel drive at least in the top versions. But this distinction is lubricated after visiting pavilions Palexpo Peugeot 2008, Renault Captur and Ford EcoSport. None of them never claim to have all-wheel drive transmission, most likely will not be such. That involves the use of a mini-crossover based platforms from compact hatchbacks B-Class, which in Europe only front-wheel drive. So what is so popular in Russia disputes on "GIP or GIP?" In this case your application. Only new Suzuki SX4, which are much larger in size (4,300 mm in length), can boast the presence of all-wheel drive as compared to those of Opel, Chevrolet and Nissan. With this new SX4, compared to its predecessor (which is still also remains on the market, although it is, in fact, a different car) to the mini-crossovers already difficult to attribute: its nearest competitors Mitsubishi ASX and Hyundai ix35, which were shown at the Salon in updated embodiments.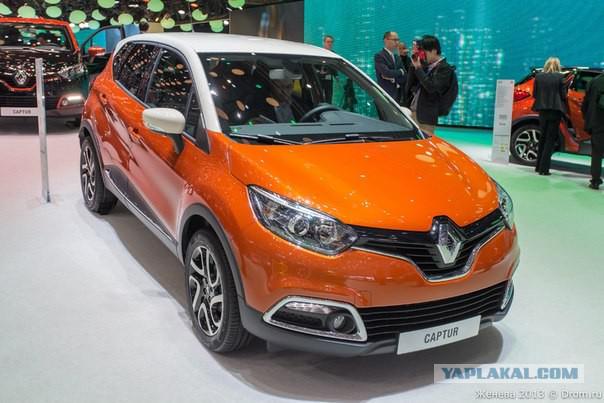 22.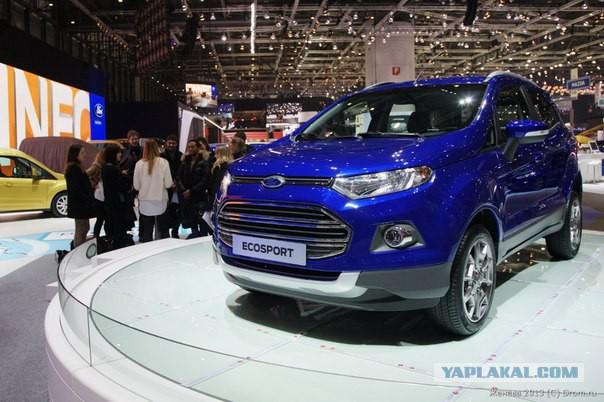 23.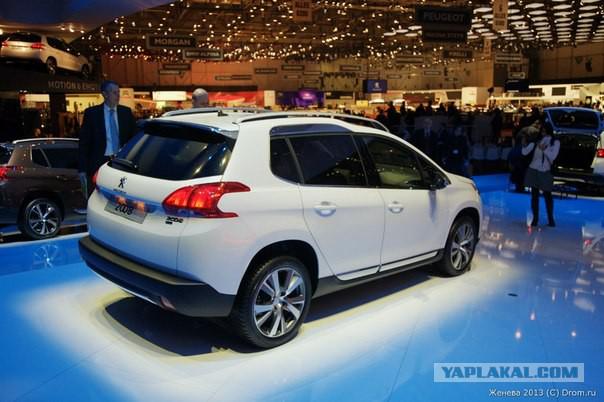 24.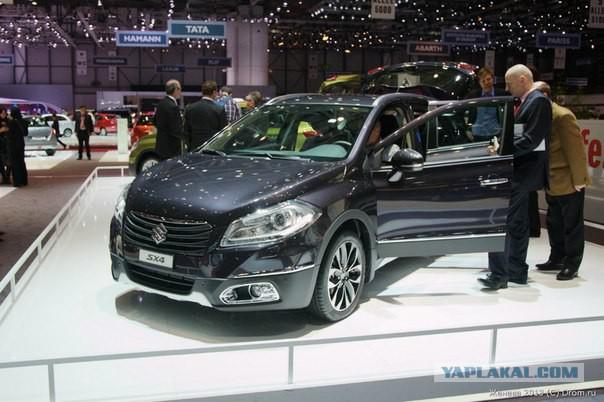 Green Horizons
Ecology theme dominates the minds automakers. 110 sq. M. meters Palexpo (that's about 8 football fields) literally permeated with the "green" theme. Almost every major automaker put its version of eco-friendly cars, decorating board the vehicle numbers CO2 content in the exhaust gases (one below the other).
The main trends - all-electric drive or hybrid installation combining classic engine and electric motors. Gaining momentum is the second category: one hundred percent electric cars at the Auto Show turned out quite a bit (here set the tone of an updated version of the serial Nissan Leaf and the new Mitsubishi CA-MiEV). The future (at least near) them for many automakers do not see. The reasons for this may be many - from a limited reserve, which can provide a modern battery to the high cost of both the car and its maintenance. Executive Director of Jaguar Land Rover Ralf Speth even stated that electric cars will never conquer the mass market - just because of the high cost of batteries. And this despite the fact that the UK is a leader in sales of electric cars, and the Land Rover recently boasted electric all-wheel drive Defender, in which instead of the classic diesel motor was (95 hp, 330 Nm and a power reserve of 80 km). However, Nissan has already sold 50 thousand. Leaf and, judging by what interest at an auto show enjoyed a second version of the model, to dwell on this does not intend to.
However, the finger on the pulse and keep manufacturers in the direction of "electrifying" cars work. So far, the biggest problem - providing higher capacity battery and increase power reserve, because the owner of the car right now, in fact, limited in their movements. A breakthrough in this direction made Mitsubishi, stating that the concept of CA-MiEV, which became the successor of the philosophy and technology embodied in the production model i-MiEV, increases compared to its predecessor reserve of 2 times - up to 300 km.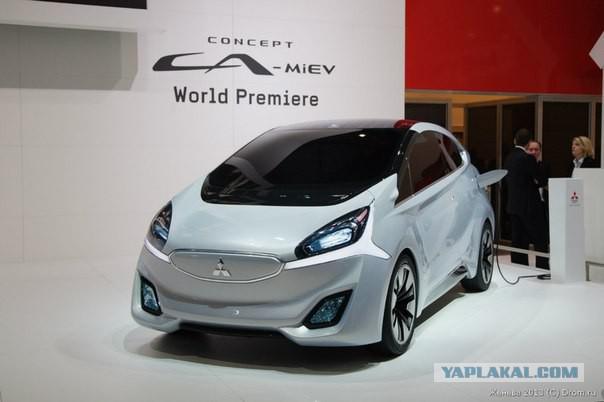 26.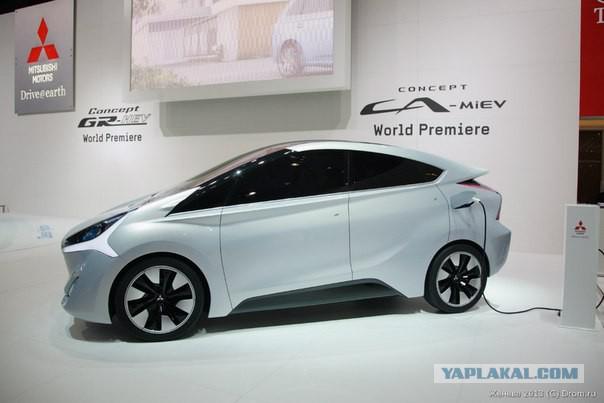 At Nissan, which presented in Geneva new electric car Leaf (about to start selling it in Europe), to tackle the problem of reducing the period of recharge. Now from home network it takes about 8 hours, but for a restyled version as an option will be offered a special 32-amp charger that will reduce this time by half.
28.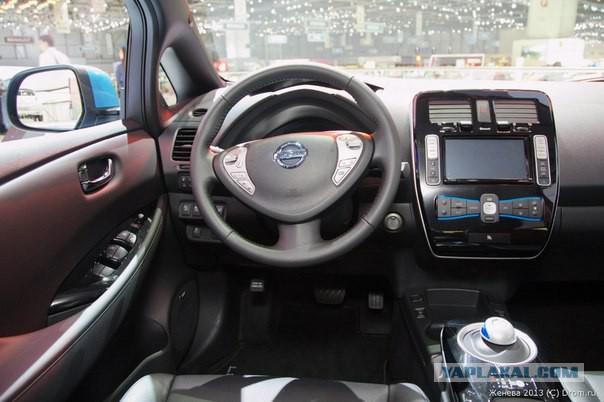 VW presented in Geneva concept electric van e-Co-Motion lifting capacity of 800 kg., Whose mission - delivery of goods (and subsequently the passengers) in the city. Concept is equipped with an electric motor with a continuous power output of 68 hp - It is located on the rear axle of the car. The peak power of the engine proposed for e-Co-Motion, - 115 hp at a decent torque of 270 Nm and a top speed of 120 km / h. For e-Co-Motion manufacturers offer three options set of batteries: with a power reserve of about 100 km (20 kilowatt-hours), 150 km (30 kilowatt-hours) and 200 km (40 kWh). The plans translate this concept into a series of no one spoke, but the design of the prototype implies the ability to create on its basis of various modifications and variations on the body type and the amount of duty.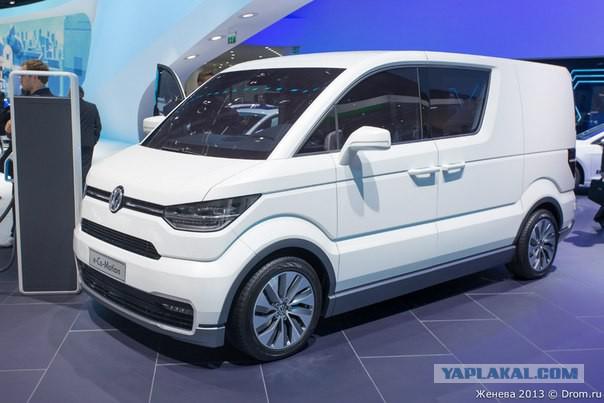 30.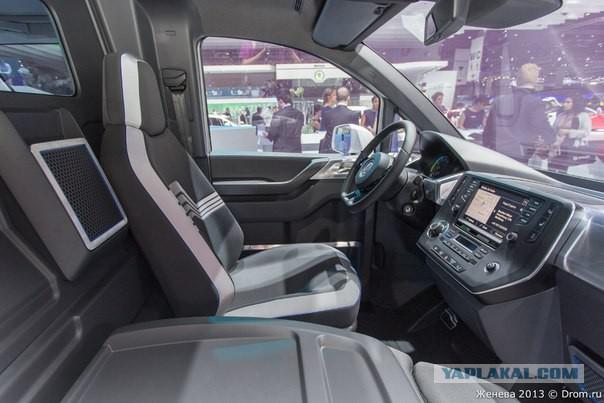 Together with VW stepped into the niche of large electric cars and Mitsubishi, presenting the most spectacular appearance hybrid - a concept pickup GR-HEV, which can still be perceived as a prototype of L200.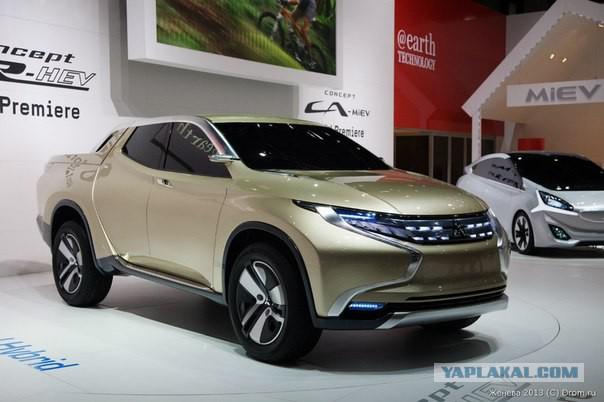 32.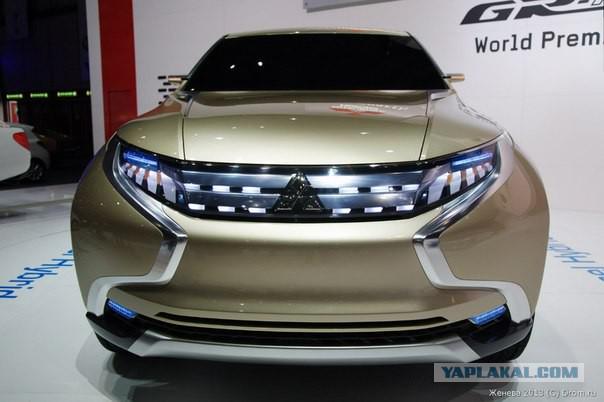 With hybrid technology in general is much more energetic and promising: in the model number have at least one car (at worst concept), equipped with a bi-motor traction, becomes almost a rule of etiquette. Ahead of the rest, of course, tandem Toyota / Lexus. First shown at Geneva another of his model, which went into series with hybrid installation - a new wagon Auris Touring Sports. A Lexus, among which are generally difficult to find non-hybrid model, shown in Geneva new IS300h.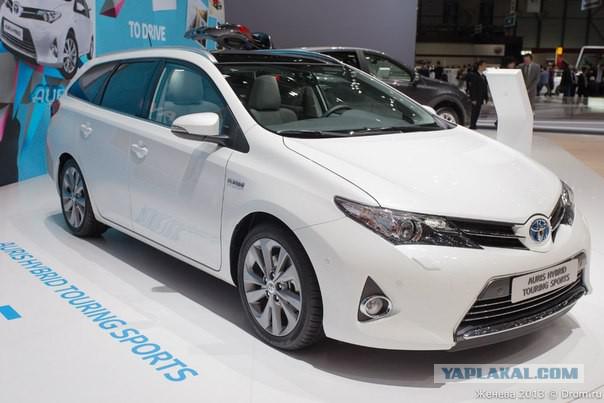 34.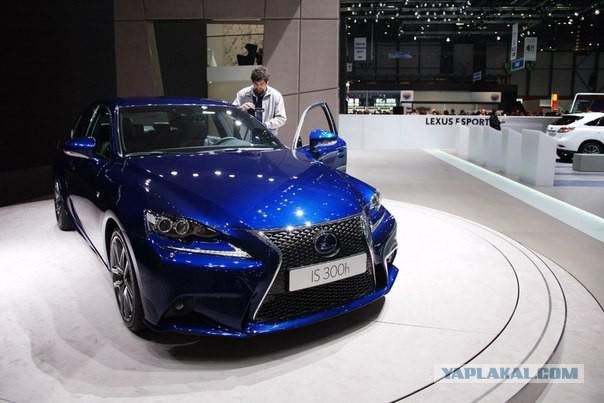 The producers continue to improve their hybrid installation, reducing CO2 emissions, trying to increase the range of the machines on the electrical components of power plants, experimenting with the layout of components and assemblies. Against this background, an innovator made Peugeot, equipped its premiere 208 hybrid technology Hybrid Air: alternative energy source it appears not electricity, and compressed air!
So that there is a large manufacturer of automotive industry even newcomers entering the market, necessarily having in the arsenal of hybrid models. Established in Geneva became Qoros, introduced the concept of a crossover just tandem with the classic internal combustion engine and an electric motor.
By "friendly solution" can be attributed concept electric vehicle Toyota i-Road - another variation on the theme of "agile as a motorcycle, comfortable as a car." After the start of Renault in Europe selling its Twizy, Toyota rolled out at the Geneva podium "symmetrical response" in the form of i-Road (on two huge exhibition concept shared by only fifty steps). Pros "Hay Road" compared to "Tvizi" - smaller size in width (2350h805h1445 mm), which allows the car to accommodate two lane (and in the parking lot - three) auto / motorcycle, and a great maneuverability due to the wide rear pivot " rink ": turning radius of 3 meters. Weight - 300 kg. In turns this vehicle lurches almost like a motorcycle - these are the features of a design. Drive on the two front wheels, each with its own dvuhkilovattny motor. The battery is located under the seat. Reserve enough for 50 km at a speed of 30 km / h (maximum 45 km / h). On a full charge the battery takes about three hours. On the prospects of serial production toyotovtsy say cautiously, at best, two years after the tests. However, to provide such a «i» in the conditions of the Russian mentality, climate and road turns with great difficulty and at least with a smile.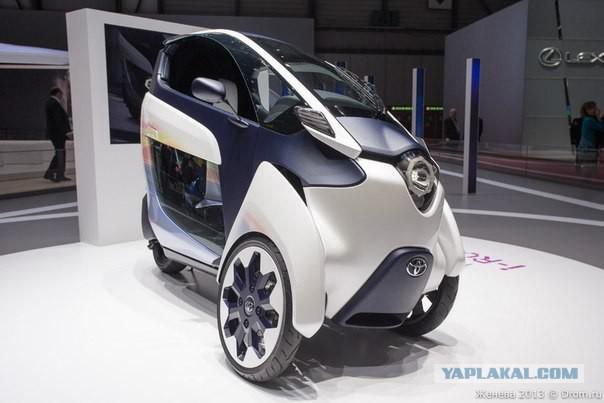 36.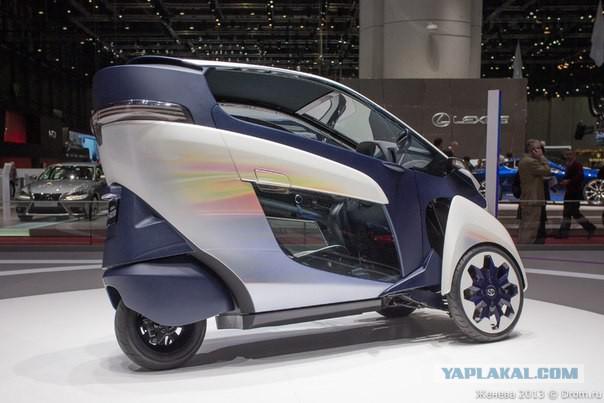 End of all restrictions
Even in the opposite element, where the savings and the environment is no longer think (in the segment of supercars), hide from the hybrids in Geneva fail. Manufacturers cult legends go on smashing the stereotypes, presenting potential buyers (and they are in this sector hundreds, tens, if not units) and more new solutions.
So, just two iconic brands - Ferrari and McLaren - brought to light new luxury sports cars, to equip them with a hybrid setup. LaFerrari premiere along with the monstrous 6, 2-liter 800-horsepower V12 under the hood was also a 163-horsepower electric motor. A McLaren released mid-engine model P1 - and also with a hybrid setup. The new supercar is powered energy 3, 8-liter twin, turbo V8 engine 727 hp with a torque of 720 Nm and an electric motor adds another 176 "horses" and 260 Nm of torque. The first hundred of the new McLaren reaches 3 seconds and a top speed limited to 350 km / h. In this case, McLaren emits less than 200g / km of CO2 - it is close in meaning to many civil prosport models.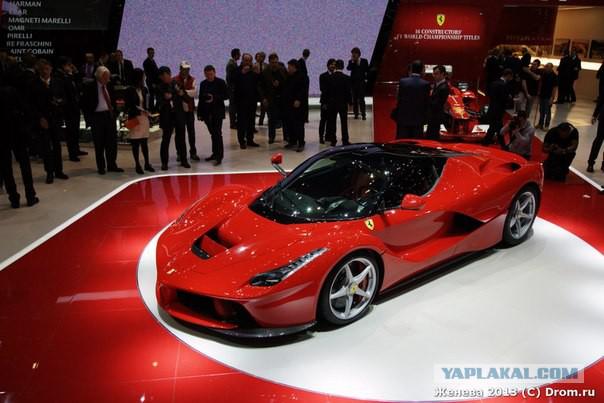 38.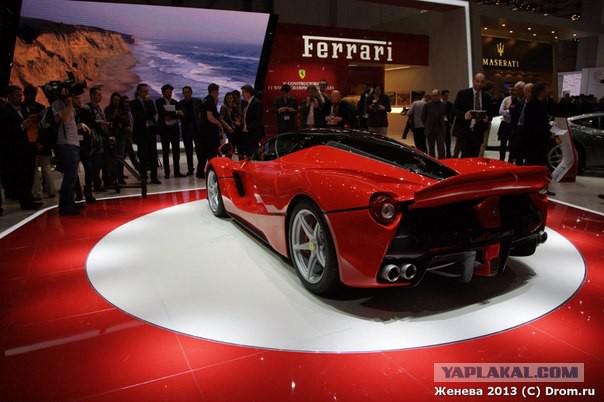 39,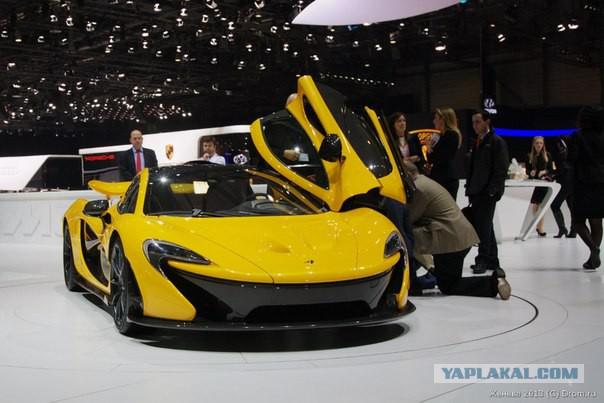 40.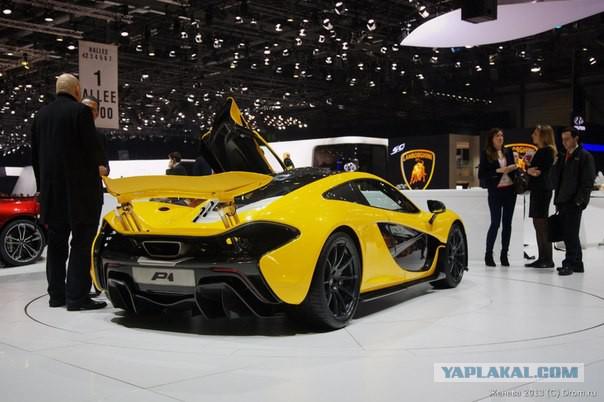 p.
Source: