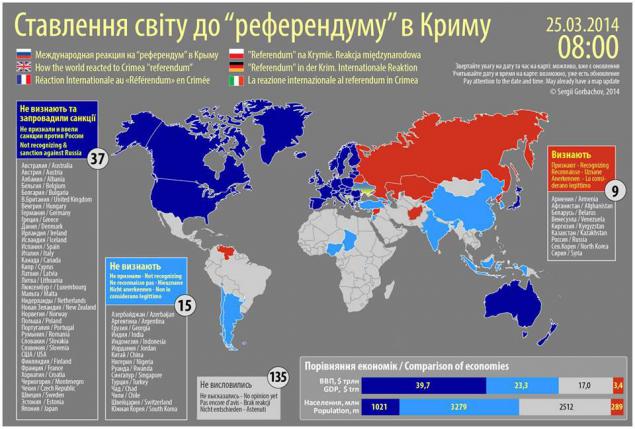 It looks like the world's attitude to the sham "referendum" in the Crimea on March 25.
This map presented on his Facebook page journalist Sergei Gorbachev, reports Tsenzor.NET.
For the map were considered as statements of individual states, and vote in the UN Security Council. The map is constantly updated. Also, check the information about the countries that have joined the sanctions against Russia
In addition to Russia, "referendum" recognized North Korea, Syria, Mongolia, Armenia, Venezuela, Kyrgyzstan, Kazakhstan, Afghanistan and Belarus.
However, for the imposition of sanctions against Russia because of the annexation of the Crimea currently favored 37 countries. Also did not recognize the "referendum" and expressed support for the territorial integrity of Ukraine for another 15 countries, including Azerbaijan, China, India, Singapore, Turkey, Georgia and Switzerland.
135 countries have not commented on the "referendum" in the Crimea.