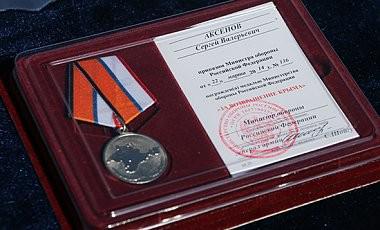 Ministry of Defense of the Russian Federation has established a new award - the Medal "For the return of the Crimea».
According to the press-service agency.
The first medal was a self-proclaimed Prime Minister of Crimea Sergey Aksenov.
Also received medals command of the Black Sea Fleet, the Russian marines and change the oath ex-special forces soldiers "Berkut».
Handing medals, Russian Defense Minister Sergei Shoigu, who visited the Crimea on the eve.
The prototype of the awards was the medal "For the liberation of the Crimea", which proposes the establishment in 1944.