Flowers, of course, not an option. With the development of modern agricultural industry and logistics tulips in March, one can not be surprised. They just have to be, and everything!
Your woman will be grateful bunch, put it aside and continue to look quite questioningly. Like, where the main gift something?
Therefore, we must prepare. It is best to advance. There's still time!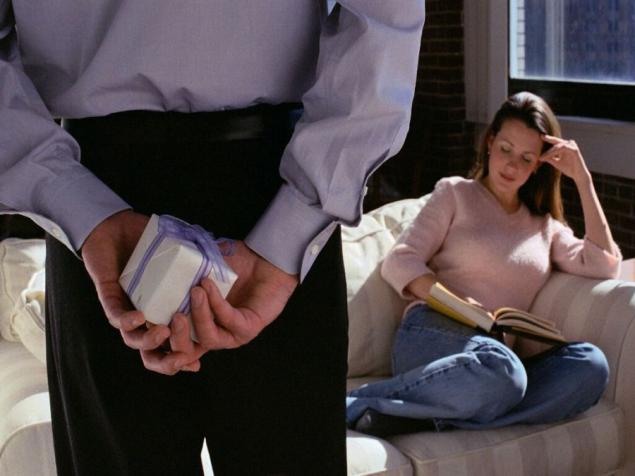 You can, for example, to make a gift, you received a symmetrical. To put it less pretentious as you tell us, and we will!
Deodorant - spirits.
Postcard - glossy magazine.
Cognac - martini and candy with liquor.
Socks - dress.
Thermo - French service.
Set for cutting fish - set for cutting fish.
The observant reader will notice that almost always be more expensive gift to a woman. This is normal. Women, as a rule, high self-esteem, and they are confident that they can and need to spend a lot of money.
Somewhere in the three years to him is the fairy godmother and says that they are not just girls and princess. Most real!
Therefore, not every woman will be pleased with all household utensils. (God forbid give punch or a rolling pin, it's just dangerous!)
It is necessary to relax the bonds restraining imagination.
Let's approach globally. Will choose a gift based on the fact that a woman wants in principle.
Surprisingly, Wikipedia is no answer to this burning question, and timeless.
When you're young, Bezus, pryschav and naive tempted to ask, so to speak, on the forehead. But in response to a woman mysteriously smiles, winks, languid sighs and murmurs, saying "guess myself!».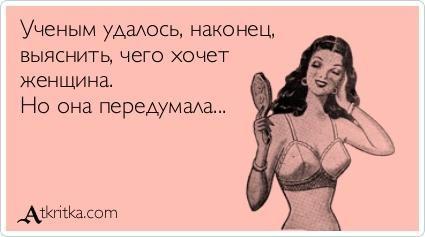 Yes, being a man is not easy! Go, to solve these hints, winks and grimaces! Or, as my father in law, "God forbid men share to anyone!»
But let's try to at least guess.
So.
First, a woman wants a real man. With that hardly anyone would argue.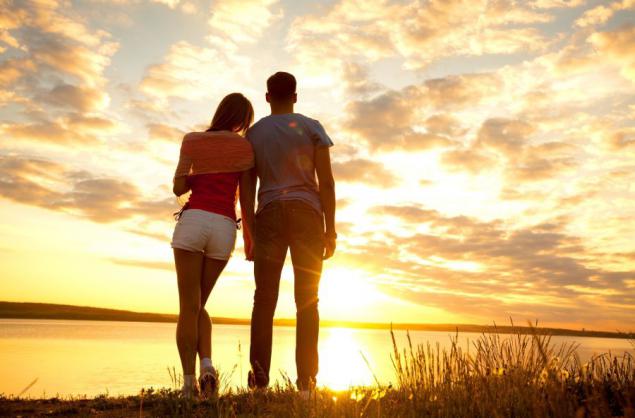 Initially, the image associated with the royal lineage, coupled with the ability to manage the white horse. When a woman umneet, it becomes clear that, rather, we need smart, strong and wealthy. Well, let's say, like Justin Timberlake, all participants boy bands or any character "Twilight».
In general, you can give a woman a real man. There are, however, some ease. Real men enough. As a rule, all of them are missing and gets most of mattresses, rags, goats and other brave representatives of the stronger sex.
On the other hand, you're, say, a woman gave Tatum or Putin, but they may not be aware of. Or in general against. Then the woman will be upset, and it is no longer possible.
And the criteria for a real man greatly blurred. Maybe your particular woman needs is not an alpha-macho, and simple home Statham. You can not guess.
Go ahead.
Every woman wants to leave. It is known that the most utter nonsense uttered in the Maldives, miraculously transformed into a declaration of love and passion. But there is no need to save. Birch Cottage, a tent in the Crimea, cozy beach Laptev Sea - this is not good! You need to peel a trip for sure. It is in the area of ​​women's "I", which is written a script about princess.
Bali, Bahamas, Seychelles, Ibiza, Fiji - yes!
Minsk Sea resort "Golden Cockerel", all the beds - it is not!
Third, women love all fluffy. Fluffy coat - the subject of dreams of many beautiful ladies. Coat, fur jacket - also good. Yes, at least the cap! Yes, I understand that it is still expensive, if not reindeer-fawn fur. But you and the woman the way, is not it?
If finances do not allow to turn around and buy her a furry animal, and promised that when they grow up, be sure to make him a coat. Women are susceptible to all the sweet and tied to small animals, as a family. It is unlikely that it will be to take a chinchilla for processing. Thus, it is possible instead of a hike in the Snow Queen do frail kitten.
In general, the tendency of women to mimimishnomu (there is already such a word?) - Is the key to success!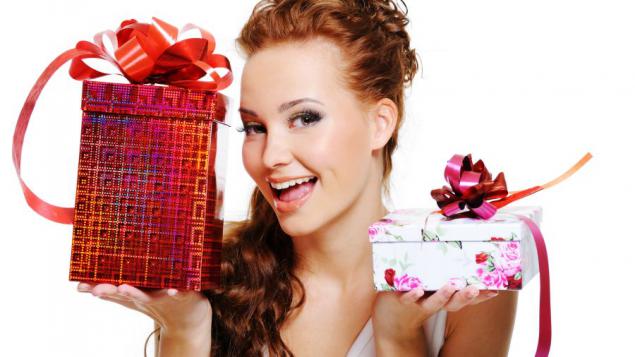 In addition to cats, it can be plates, jars of loose, jugs, dogs, bags, scarves, dogs in purses and scarves ...
However, not every male and plead that all of this mimimishnoe ceramics, and so, pour soup. Easy to goof. A call another woman to help choose a gift for the main - can not. This creates an ambiguous situation, which resulted in the two women might be offended. And you shall be no.
True, the woman then still remember about the gift!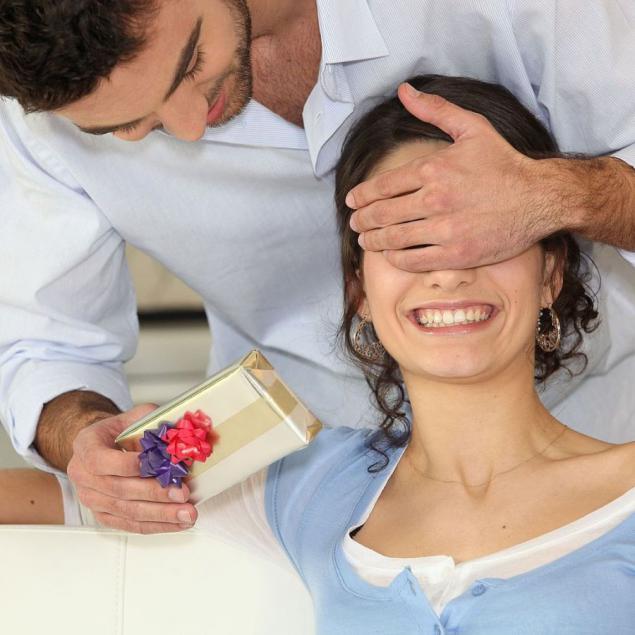 Yuvelirka! That is what exactly can melt any ice! Gold and diamonds are delighted all. It's like a balloon birthday. No one can be sad when he has a necklace with rubies! But this gift has the same drawback that a boat or car. He roads. It is unlikely that your woman would be delighted if you, presenting an elegant velvet box with dignity remarked: "Honey, take this humble gift. To buy it, I sold our apartment in Smolevichi! »
Well, something like that. Sketched options.
And all this seriously only to a certain extent (although you can never guarantee that someone is the way it is).
What actually does a woman want - so it's love. True love. And all that comes from it.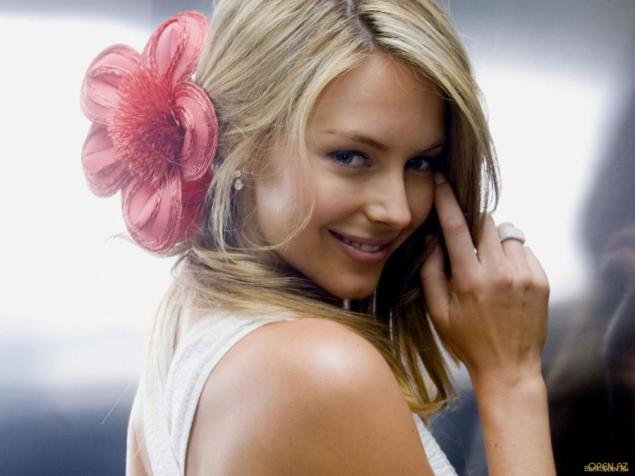 Wants and ardent passion, and warmth mature, stable relationship. Wants to secure support and protection. Wants children's laughter. Wants gentle caress. She wants romance, even if it is short text messages or call in the middle of the day, just to say "I love you." A woman wants attention. To her joy and her tears. That you shared and understood something, and more. Or just to make was near.
What does a woman want?
Hand on heart, I think that she herself did not really know. So present anything. But with all his wide men's souls! And with love. Always with love. Women are the only way.