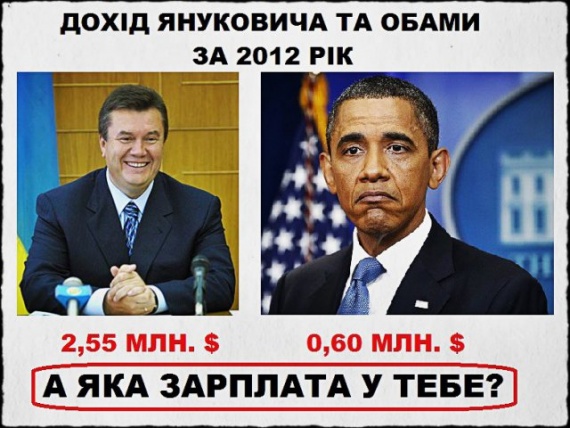 I do not know why people are surprised and indignant at the fact that the salary of the President of Ukraine not only more than the president of the United States, but in general is one of the highest in the world. In my opinion, everything is quite natural and logical. The President, after all, is not some kind of aytishny specialist or physician, who in more economically developed countries can offer a salary that way five times more than in our Palestine.
I would have spent another parallel here. Look: to simply talented footballer came to play in the Ukraine (or Russian), it is necessary to initially offer significantly more than he promised Western clubs. So that young talent. And if it is the player with the experience and reputation, promoted and confirm your class for a few years, he, of course, and need even more to offer. And so - why is it here to go to work, tell me? Him so bad live.
Now tell me: Viktor Yanukovych - the man with the experience? Even with what! On both sides of the fence. And this does not spend on drink and grocery store can not buy. Can afford to score at all, and not something that is to lead, and do not lift a finger to strike? Yes, easily. With the entire family. In the end, their own choices? Themselves. So why now blame then? I must say thank you tired man that finds the time and effort for us, ungrateful.
And for him it from us and thanks to an appropriate size should be. So all natural.