Writes zyalt:
This was my first visit to Novosibirsk. As I wrote in my blog that I wanted to visit the city, I started to give readers advice on what to see. Surprisingly, almost all strongly recommended to go to a Akademgorodok. As it turned out, this area is far from the city, about 20 km to the south. I have it right guard. What is this city so if you all are advised to go to a distant reservation for scientists? Yes, there really are dozens of research institutes, schools and research centers. There's probably a very clean, beautiful and interesting. But I have such areas are not associated with the city. I do not think that you can build Akademgorodok their opinion about Novosibirsk. Prior to Akademgorodok, I did not get there, there was no time, but in the center of Novosibirsk walked.
Here we have to make one more important digression. Do not take my post as a record of the city. I just walked two o'clock in the middle. I even called the post "walk". This is very important. I had no goals, no time to see the entire city. This post is not intended to be a guide. Another important remark. No, I did not have to specifically look for garbage goals. I can say that I'm specifically looking for something good. It turned out that the center of Novosibirsk is now trash. The city is incredibly dirty and unkempt. Local residents, for some reason, try to give 100 reasons why the city is in such a terrible state. And winter snow they had, and I chose a bad time, and the stars are not so rose ... In this case, no one tells how to change this situation. This happens not only in Novosibirsk, it happens everywhere. Dirty sidewalks not because of what you have bad weather, but because they are not removed. Roads are bad, not because the climate is harsh, but because they steal and break technology in construction. Sidewalks half-meter ice build-up not because of an abnormally snowy winter, and due to the fact that none of these sidewalks never cleaned. In this whole situation I was more surprised at how residents are constantly re-elect the Mayor Gorodetsky, who cherishes his seat in 2000 and brought the city to such a state.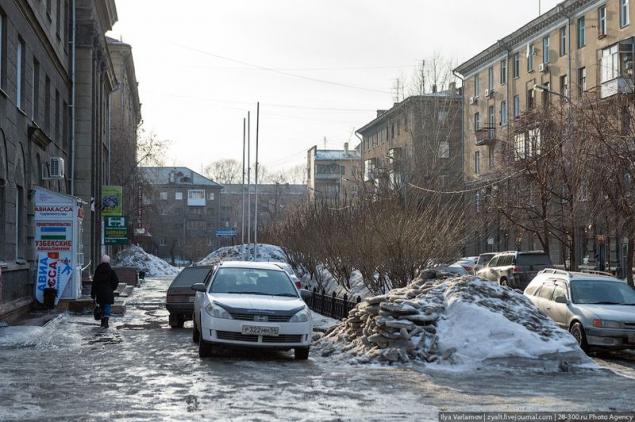 As elsewhere in Russia, Novosibirsk motorists wanted to spit on parking regulations. All throw their cars wherever convenient.
Although it is difficult to understand where the pavement ends and the road begins.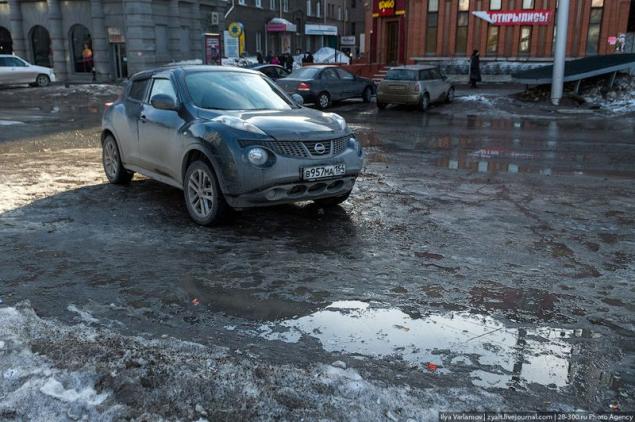 All sidewalks are covered with a thick layer of ice. Only when it begins to melt, you know that the snow here never in the winter is not removed.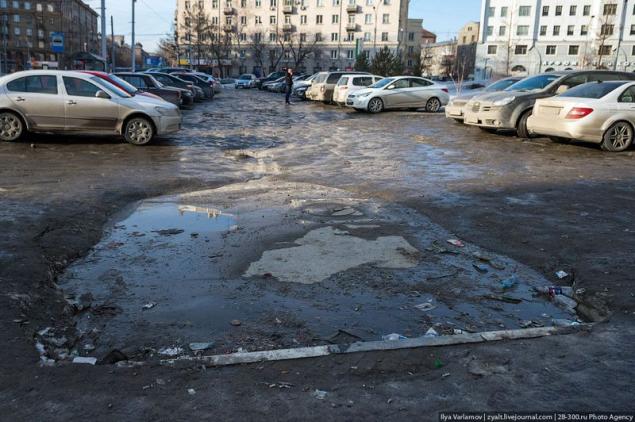 Generally, in terms of snow in trouble simply.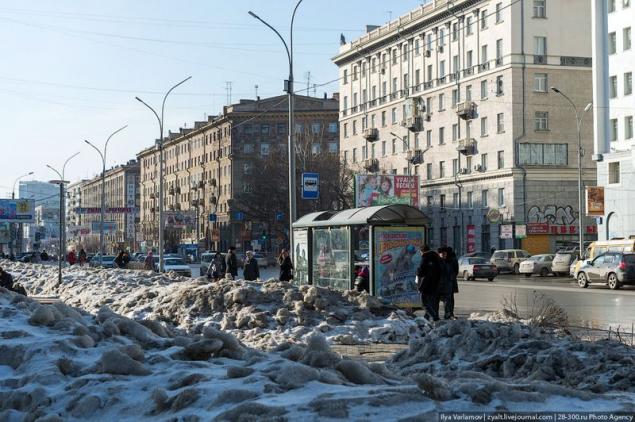 Icy sidewalks and parking pass into mud puddles on the bumpy road.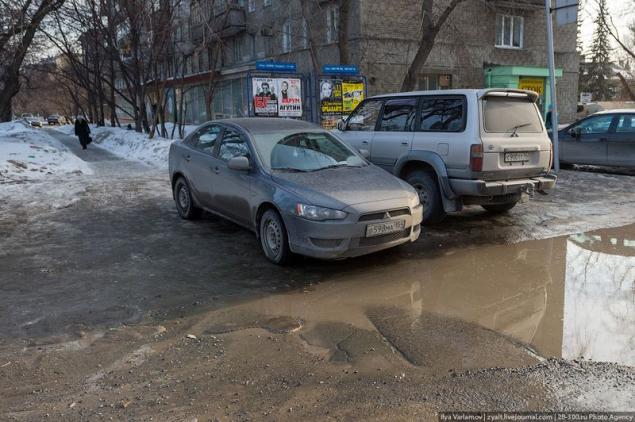 Dirty streets largely due to the fact that motorists throw their carts right on the lawns.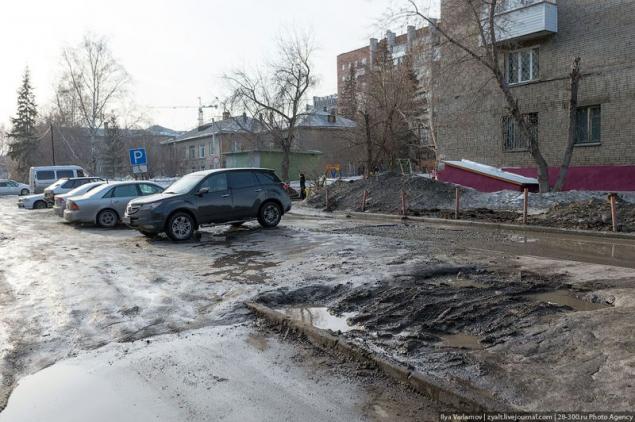 Many roads are broken.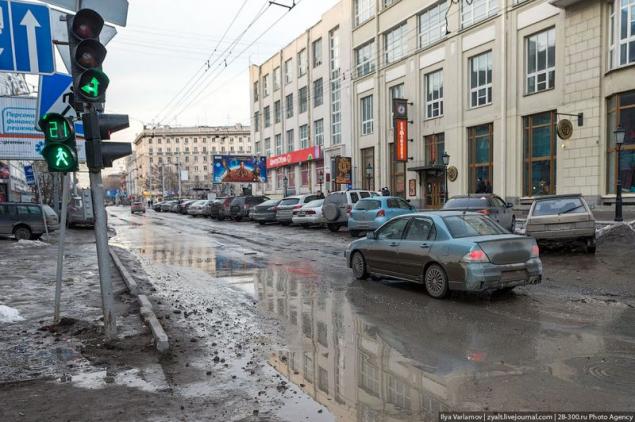 Everywhere terrible mud. The city center is just lying land along the borders. These streets no one has ever cleaned, apparently.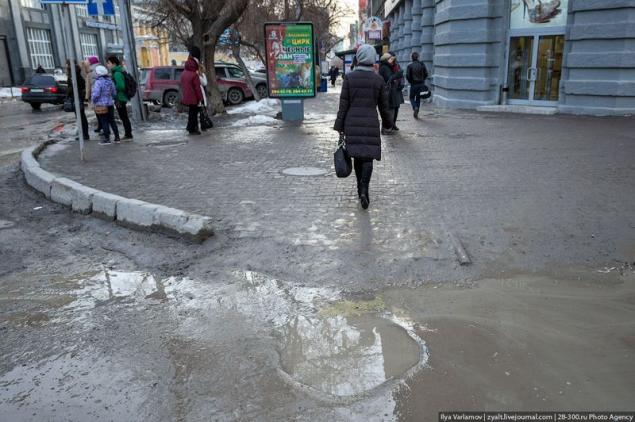 As elsewhere in Russia, Novosibirsk do not appreciate their yards and turn them into parking lots. Yard, the most precious thing in the house. On private land, no one comes to mind to park your car on the front lawn in the center of the living room or in the house. People are trying to build a detached garage or take a special place on the site for the machine. In the common yard all at once forget about the space and throw his wagon to where convenient. Parking of private vehicles in the courts should not be. Only the minimum number of seats for guest parking lots, driveways and machinery for all. Yard - a place of recreation for residents of all ages. This is a place for sports and children's playgrounds, a place to meet pensioners, walks with children and games. It is because of the fact that we have made in the parking yards, people can not communicate, meet, young people are forced to sit in doorways and drink beer. The only entertainment in the city remains trek to the mall.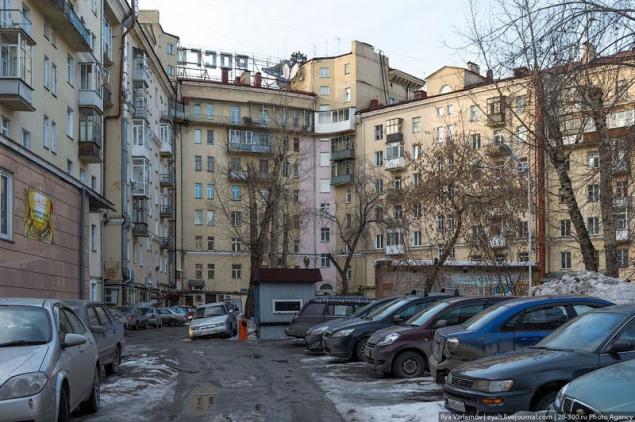 Where there are parked cars - snow. I have the impression that in Novosibirsk pending snow removal - just take off his huge piles on the lawn.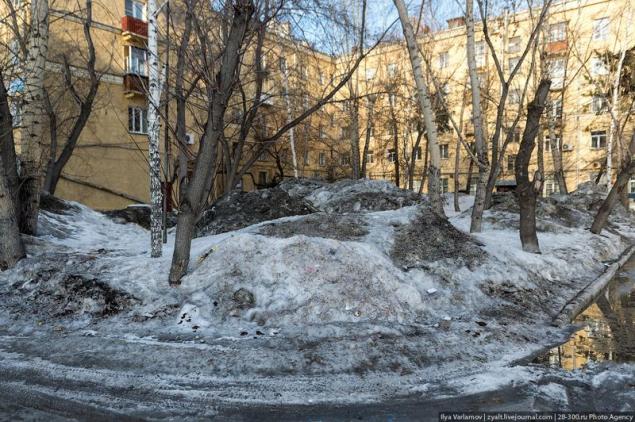 Apparently, a lot of cars not in use. This is another problem households. That is why I believe that for parking in the yard must take charge. Small. For example, take the money if the car is worth more than 12 hours. So now do many shopping centers - charge a fee if you are standing more than 3 hours. If you use a car, you will pay nothing. And if you decided to throw it in the yard for the winter - pay every day for 300 rubles. People need to think about where they will park your cart. In Soviet times, before buying the car all the worries of buying a garage. Of course, if it was done due to the fact that the street was dangerous to leave your car. Now leave their cars on the streets are safer, so many so simply throw in the courts for their clunkers for many months. Now imagine that the fee for parking in the yard will collect and submit to its residents for improvement. Agree?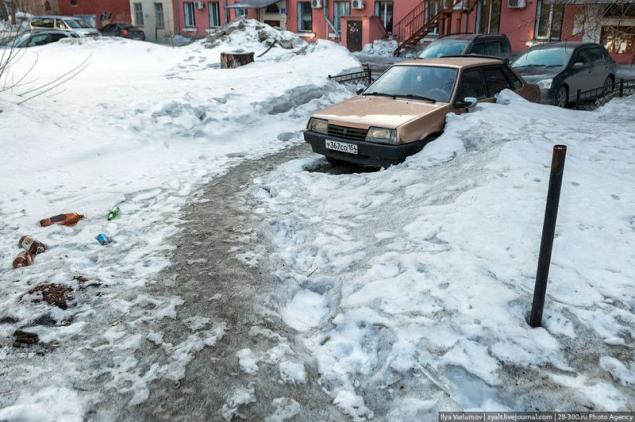 Many sidewalks are flooded.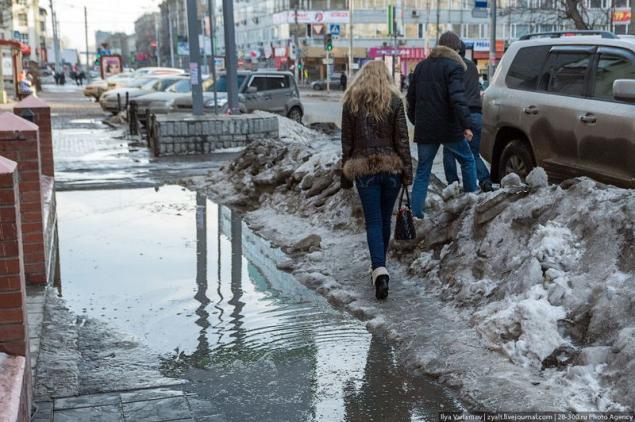 Snow began to melt and exposed mountains of garbage.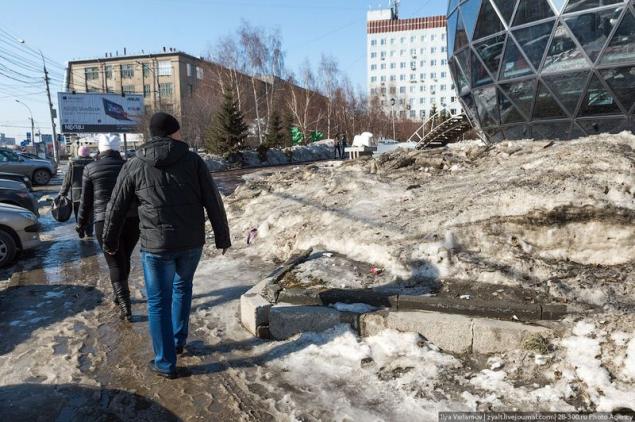 It's amazing how in these icy sidewalks and paths go girl on high heels.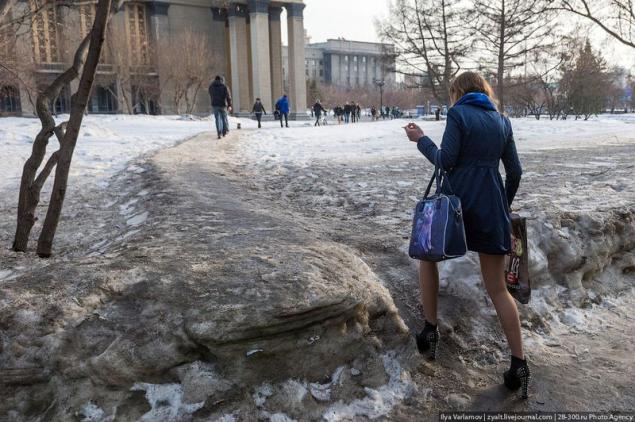 Greetings from Novosibirsk Tomsk fans.
Stop. Two-meter drifts across the city.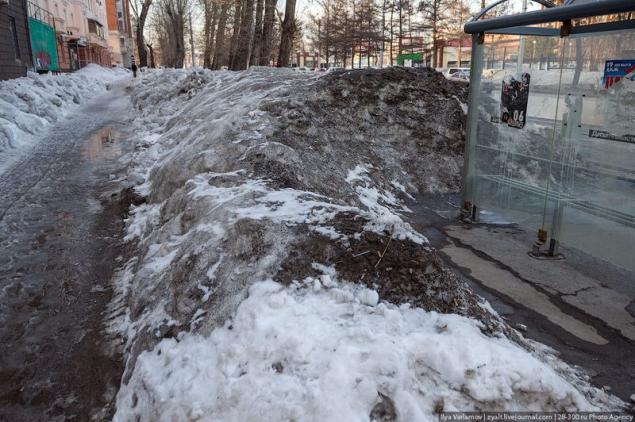 This Novosibirsk sidewalks. The mayor of the city, Gorodetsky, sitting for 3 terms. I think this is the picture may illustrate the line of biography Gorodetsky: "He is vice-president of the International Association of Cities (MAG), Vice-President of the Union of Russian cities (AWG), a member of the Board and a member of the Presidium of the EAP Congress of Municipalities of the Russian Federation. He was awarded the medal "For Service to the Motherland» II degree, the medal "For Services to conduct census of the population", the Order of the Russian Orthodox Church of St. Sergius II degree. In 2003, the first of the mayors of Russian cities, V. Gorodetsky became a Knight of the Golden Honour sign "Public recognition».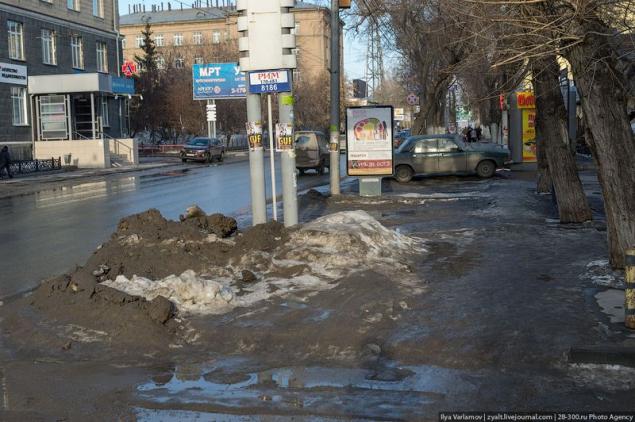 Of the benefits can be noted that in all the sidewalks in the center have ramps. Done, of course, all wrong, but still, this is great progress. In Moscow, it is not. By the way, tile in Novosibirsk lies well almost everywhere. Well done.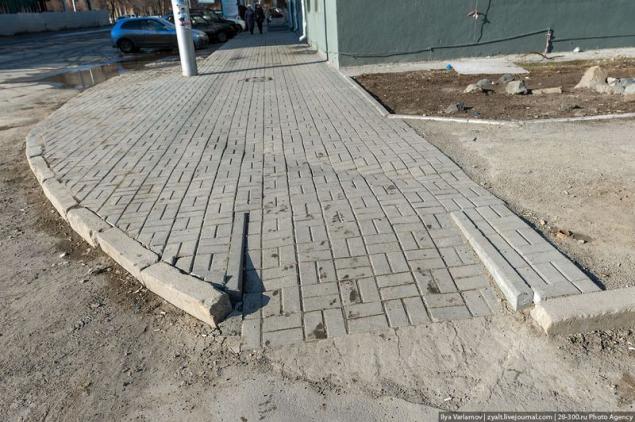 I lived in the Central Hotel. Nice place. Floor butler at the door warned that girls can not drive. Specifically, it is possible, but only therethrough. She also said that at 11 pm to bed and closes the floor. I can give good advice - go around the Central Hotel for three quarters. Nearby there is a good Hilton.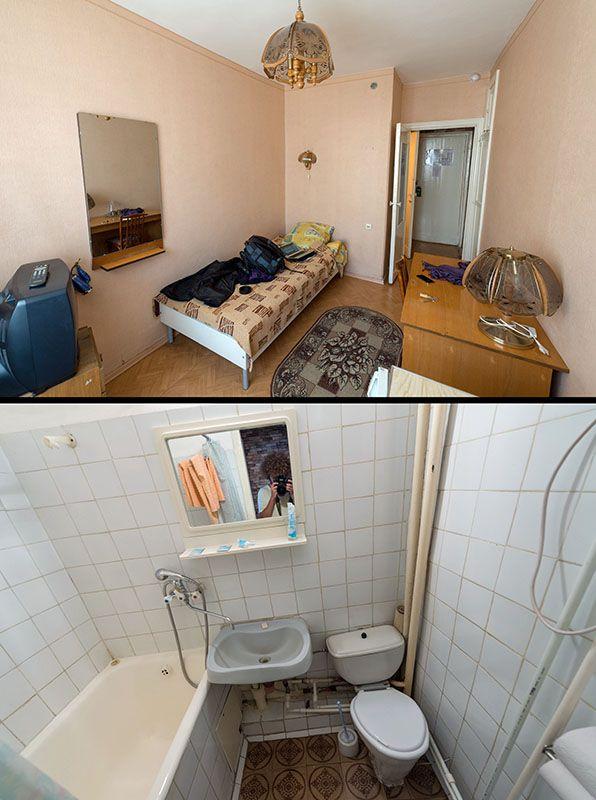 In Novosibirsk bus route print large windows.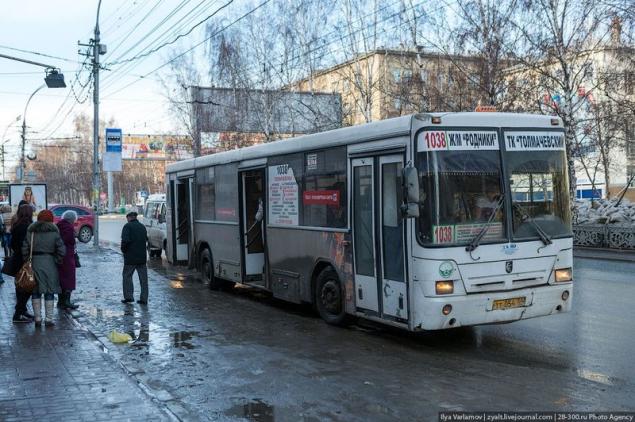 Beauty.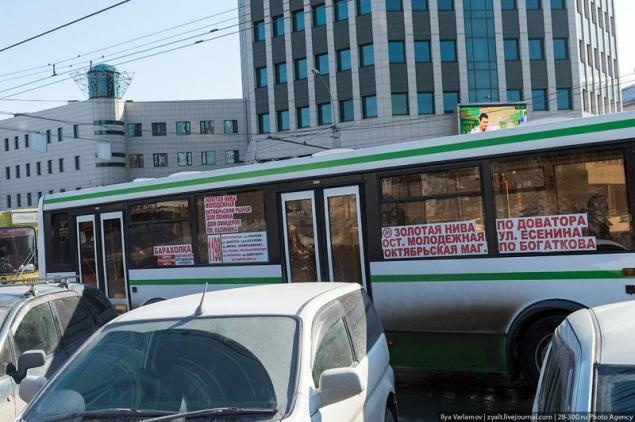 In Novosibirsk believe that this metal box - modernized tram. It is urgent to send them a book about the trams. It's been 30 years, as "it" tram stop calling.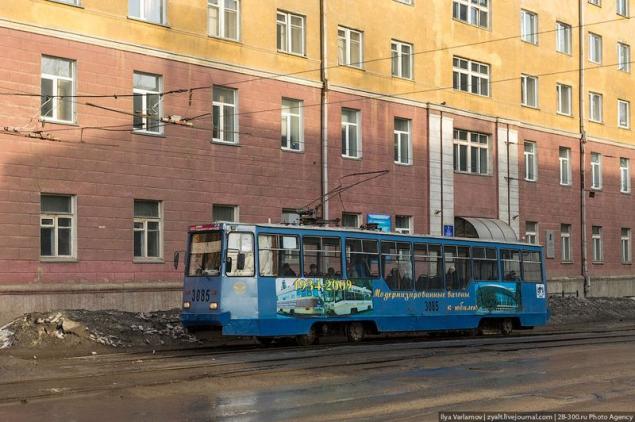 Surprisingly, very little in Novosibirsk illegal advertising garbage on the streets. Very unusual to see clean the glass on the bus stops.
However, the lack of advertising of illegal garbage in the city compensate legal.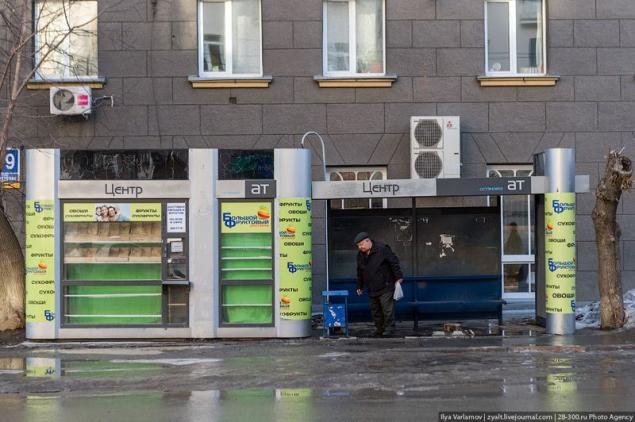 Sponsored prohibitively here a lot and it appears in the most unexpected places.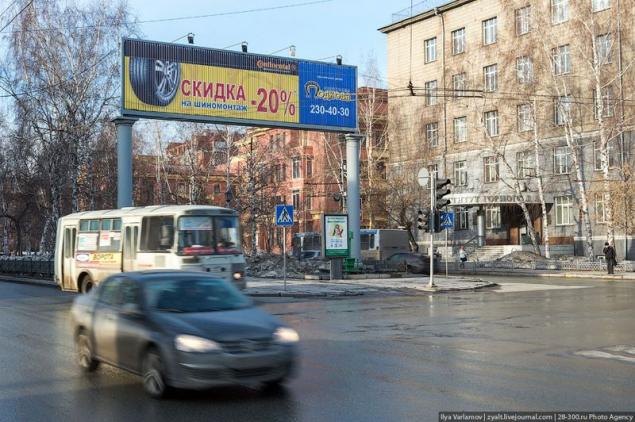 In the center are the police booth. None of the booths is not working. I do not know whether they will work, but scribbled tags and advertisements plastered booth says a lot about the Novosibirsk police.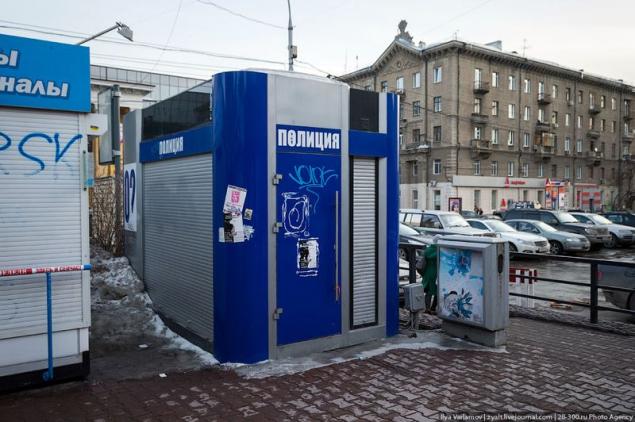 Another closed booth.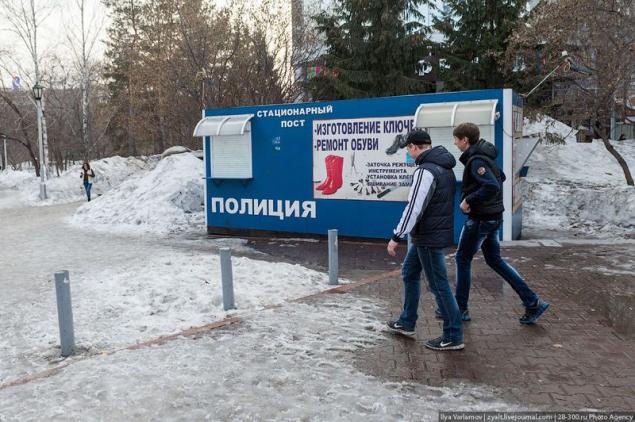 Good public toilets. Doors are locked in them. I do not know how to get there, but apparently they look quite bearable.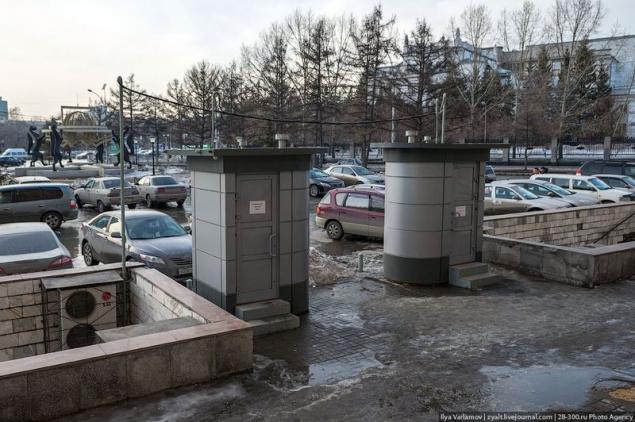 Instead, open a toilet. During that any city should be ashamed.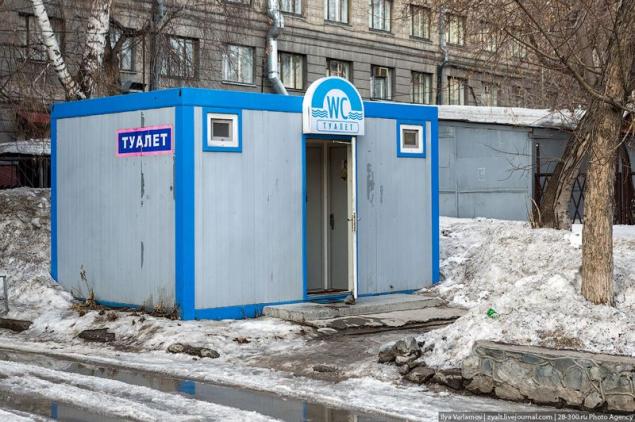 In Novosibirsk, charming garbage.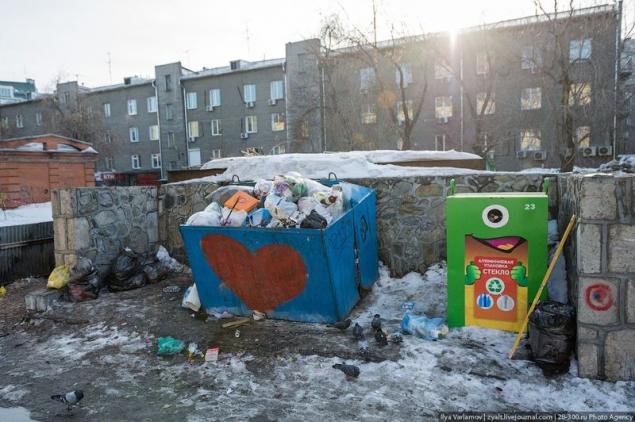 City of modern technology.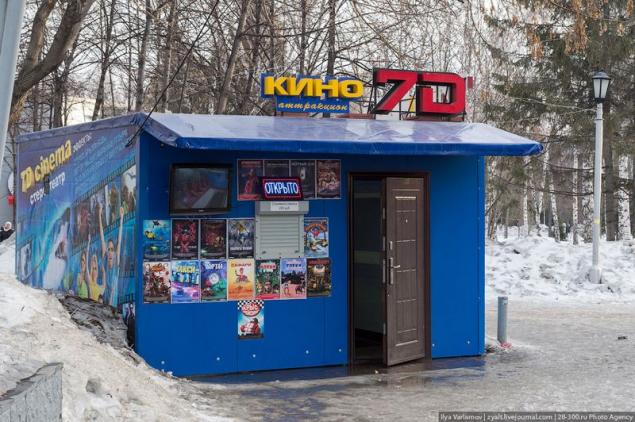 Pride of the city - Opera and Ballet Theatre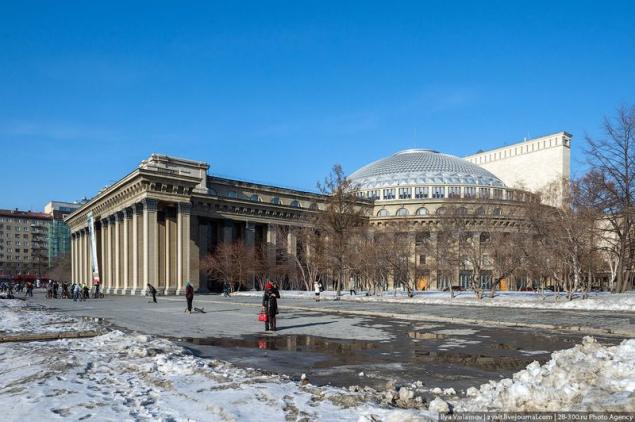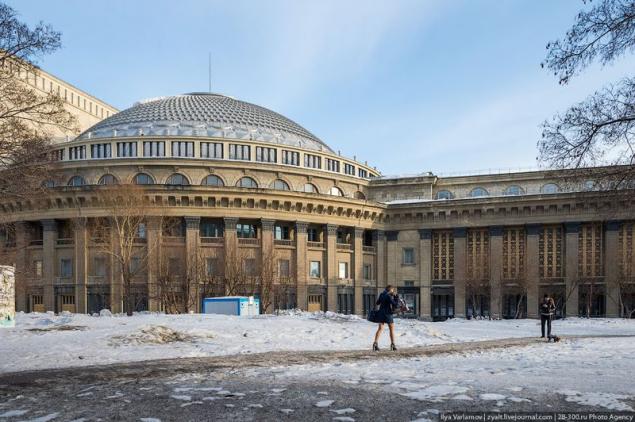 Theatre "Globus»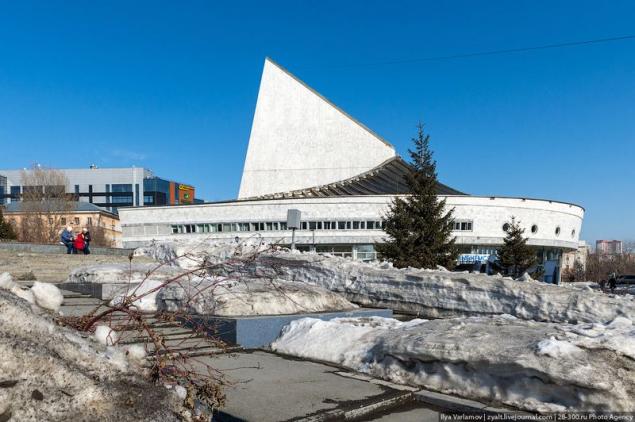 Like most cities in Siberia, Novosibirsk is the geographical "center of Russia." Last time I showed the center of Russia in Krasnoyarsk.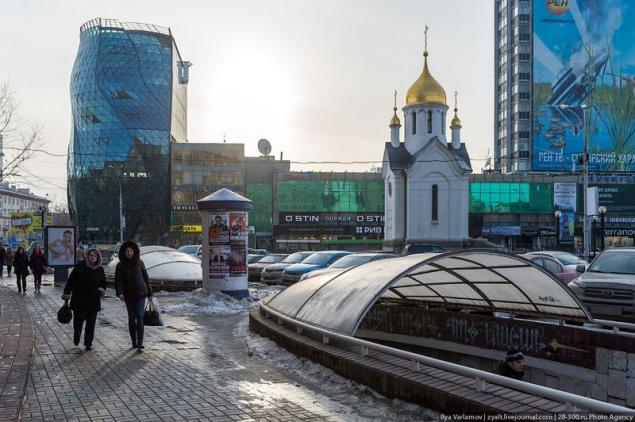 There is a very nice building. Sovetstkih architecture.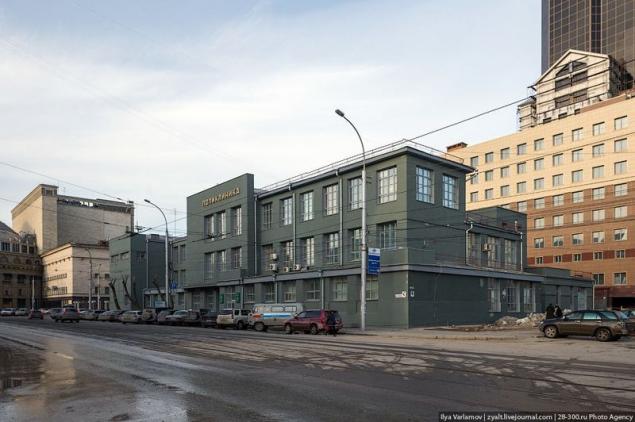 Modern architecture.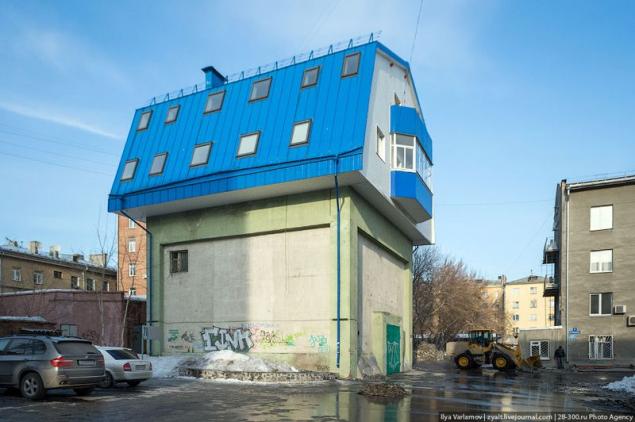 When I come to power (never), the first thing is forbidden to use tinted mirror glass.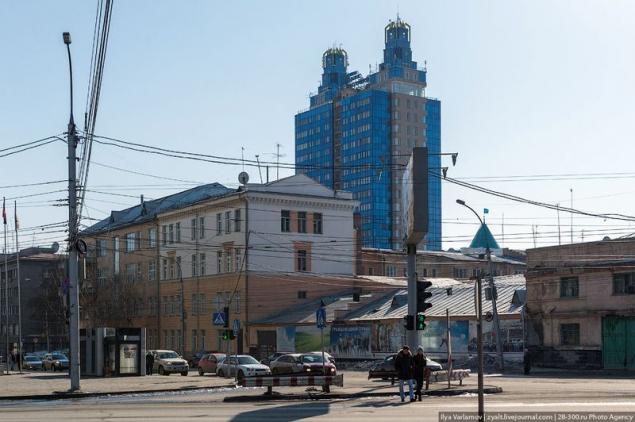 Ball.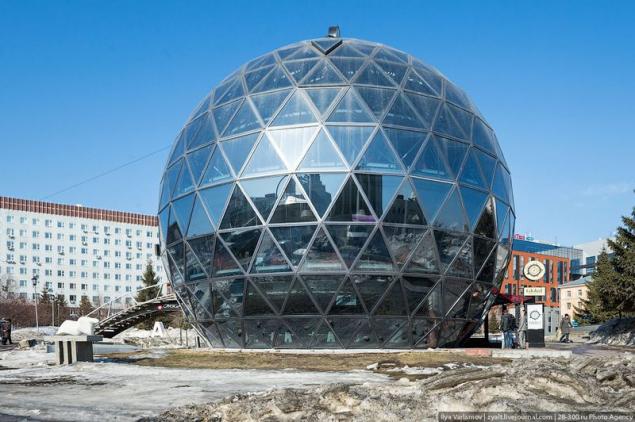 Speaking of modern architecture. Novosibirsk lucky. There seems to be a good customer who was not afraid to build something unusual and modern. It is evident that money is not sorry. Unfortunately, as is often the case, good customer facing a bad architect. This building could get a very good and become a symbol of the city. As a result, a minus 4. Who designed it?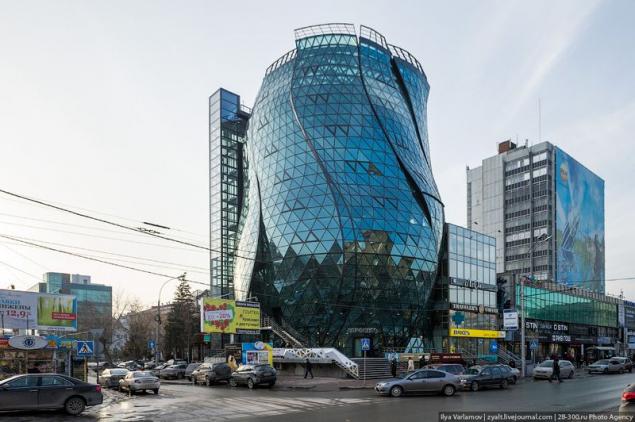 In the event of war, many shops erected near their entrances anti strengthening.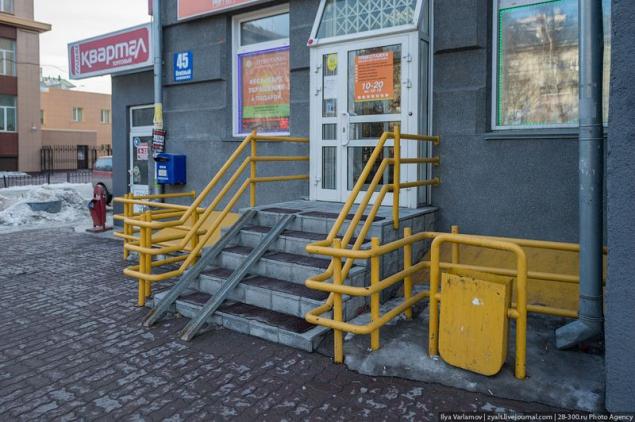 Entrance to the subway. Unfortunately, there was no time to ride the subway. They say that in Novosibirsk can pay for travel on a mobile phone and generally very clean subway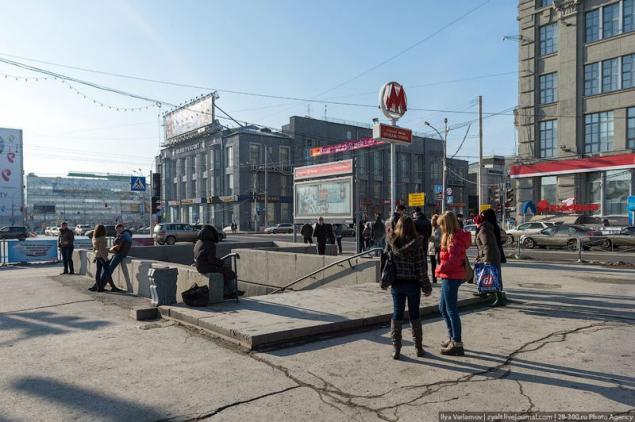 Not all survived the winter.
Something like that. The general impression of the city - very dirty. Yes, I understand that he came not in the best time of the year, but that does not justify what is happening on the streets. In this post, the word "Novosibirsk" can be replaced by any other city in Russia, and no one will notice the trick, unfortunately. This is a common problem of all our cities and it is caused by the indifference of the inhabitants. Puddles and mud on the sidewalks do not surprise anyone. People fall, stain your clothes, they have nowhere to go for a walk with your child and meet with friends. In this case, everyone is looking for justification of the situation. After all, "winter we had a very snowy" and "you chose a bad time to come." Novosibirsk wish finally pay attention to what is happening around you. The city has a lot of potential, he is very nice and beautiful places. It is just necessary to wash, clean and tidy. I hope when I come next time, I will not send to the Academic and say "Take a walk through the city center or the waterfront, we became very good!"
Source: zyalt.livejournal.com