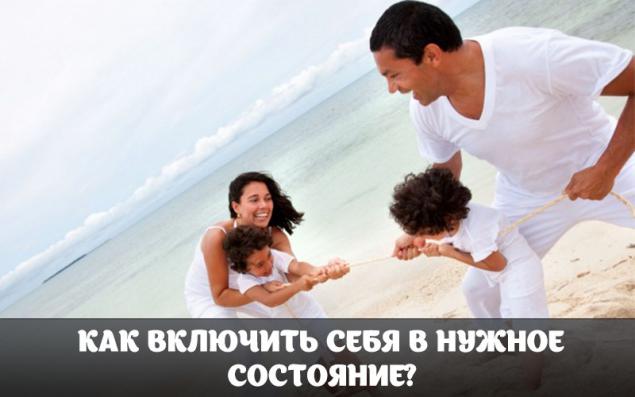 This practice gave me Norbekov.
Imagine that you have a neck hangs the thread on which you can hang pearls.
Each pearl - a certain state. When you are tense, you can "activate" the pearl, which stores a state of relaxation. When you laziness and apathy, you choose the gem that will solve this particular problem.
How are my pearls?
1. For me there is nothing better contrast shower! Cold water, hot water, cold water, hot water ... Intense sensations improve concentration, invigorate and give great energy to move.
2. Music. Try to include «We will rock you» and remain in the previous state! It is virtually impossible! Look for his songs that are instantly include you in the right state, forced to act or, on the contrary, help to relax.
3. If I need to be involved in working condition or to absorb energy in order to continue the hard work I go out onto the balcony for some fresh air. Just like that! Minute "meditation" in the fresh air gives a good start, at least for an hour!
4. Place of power. This is not necessarily a temple or stones in Kolomenskoye park, it's your own place where you feel good. I've been very fond of Gorky Park and I have more in the arsenal of a few such places. When I come back, I feel good, I get into the right state. Remember where nearby there are places where it is good for you personally? Park, cafe, a friend's apartment, which you can drink coffee - anything!
Study yourself, look for their pearls that will rescue it for you when you need it. Collect them on the thread and remember that this is your real working tool!
Good Luck!