I'm sure many of you applying to any company at least once, but faced with unfair Service. This collection contains 9 examples concern companies about their customers. These companies really deserve admiration and gratitude! Lego
A new toy from Lego NINJAGO seven-year Luke Epps spent all their Christmas savings. But, as it happens with all the children have lost one of the minifigures during the trip to the store. Then, on the advice of his father, he decided to write a touching letter in support of the company.
The service employee said outside the box, he chided the boy that he would not listen to his father, advised not to take the toy. But, while agreeing that Luke would be bad without it, sent him not only utryannuyu figure Jay, but "bad guy" that Jay could fight with him, taking the promise to be careful and listen to your dad. Reply letter got so pathetic that we decided to bring a few quotes:
"Usually we ask to pay the replacement of lost minifigures. My boss told me that I can not send you a new figure, because you lost your old one. But I decided to consult with Sensei Wu, suddenly he will help me ».
"Luke, I am assured Sensei that the loss was a fluke minifigures and more you will never allow this. He asked me to give to you, Luke, your father - a wise man. You have to defend their minifigures as dragons protect Weapons Spinjitzu! Sensei Wu also told me that we can send you a new minifigures Jay and anything else beyond that, because anyone who saves Christmas money to buy Ultrasonic Ryder, a real fan of Ninjago ».
"Just remember what I said Sensei Wu: Save your minifigures as carefully as Weapons Spinjitzu! And, of course, always listen to my dad ».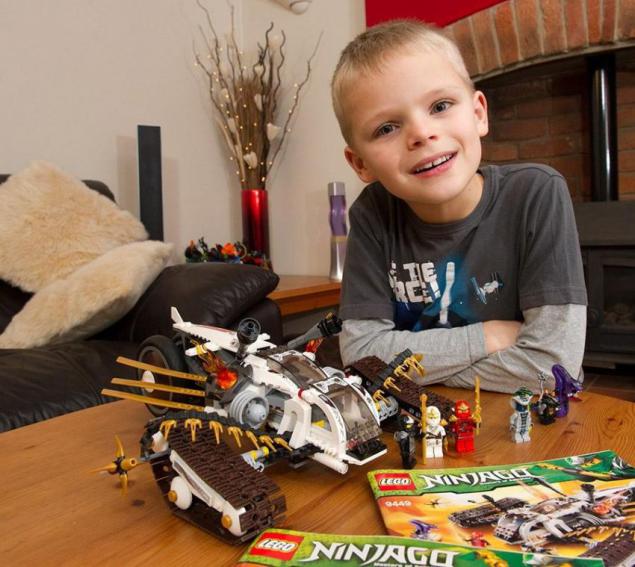 Morton's Steakehouse
Long flights strongly exhausting and flights on an empty stomach - even more so. Therefore, a well-known blogger and businessman Peter Shankman, being a regular guest network steykhauzov Morton's Steakehouse, jokingly sent a Twitter message asking you to feed him while he was waiting for transplants at the airport. What was his surprise when he was met by a waiter, breaking the 37 km to the airport, steak, shrimp and potatoes, without taking a penny for shipping.
Of course, since Peter became an evangelist of the restaurant, providing him a good PR at the expense of his famous blog.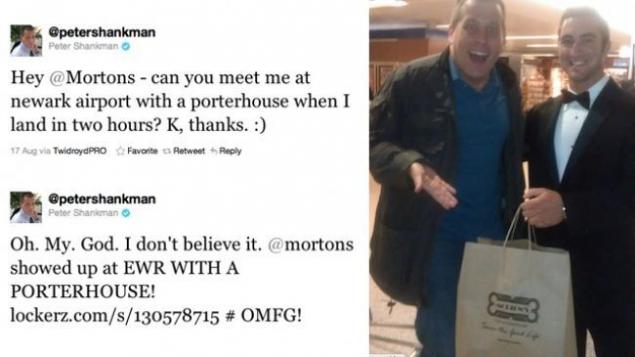 VKontakte
Support staff vk.com call themselves "agents of support", hide their names on the figures and daily answer thousands of questions users. Communication is organized in the form of chat, operators are responsible for any user questions, including about the meaning of life, the weather or what to feed the cat. Very many have openly troll agents, asking provocative questions. Support service talanlivogo took up the challenge of the rising generation, and we have an example of how work should support in today's Internet space.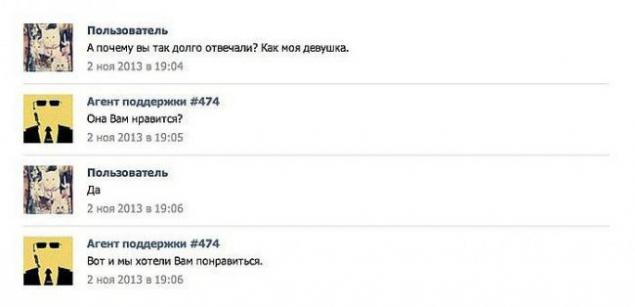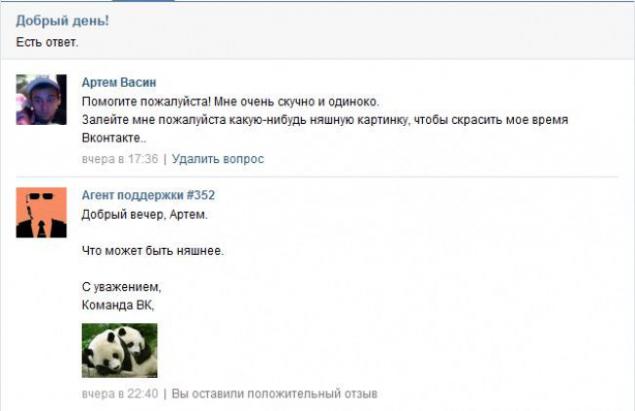 Online shop Zappos
The main criterion for evaluation of support services in the online clothing store Zappos is customer satisfaction, rather than the response time or goods sold. In the absence of items in stock, the operator of the service desk is bound to find it at least three other online stores or retail stores, close to the customer.
The most famous story happened to a client when she could not order a pizza from the fact that it was already too late. Then it for fun call customer service Zappos, which is in another city. To her surprise, the staff is not even mentioned to me that Zappos generally does not deliver a pizza, and found the address and told her convenience pizzerias in her neighborhood.
This could be taken as a marketing ploy, if not miraculous event repeated. A participant of a conference in Kiev called the American support Zappos ask the operator of the local weather and received a detailed answer, did not even make an order!
Most mandatory hotel
When Dustin Ray ordered a room at the Woodlands Resort's on the Internet, it is a joke, in the "special requests" wrote the following: "3 pieces leave M & M red color on the table. One for me, one - for my girls and one half by us, if we suddenly get hungry in the evening. And a picture of bacon on a bed. I love bacon ».
The trip was to take place only after a month, and Dustin safely forgotten his wish.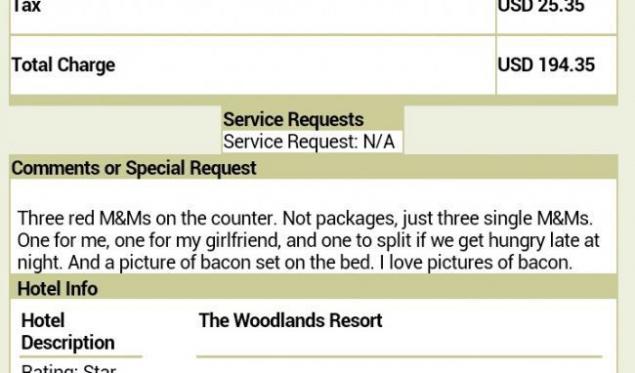 What was his surprise when entering the room, he found three red M & M candies on the table ...
... And a photo appetizing bacon in the box on the bed.
Such trivial things, but how nice!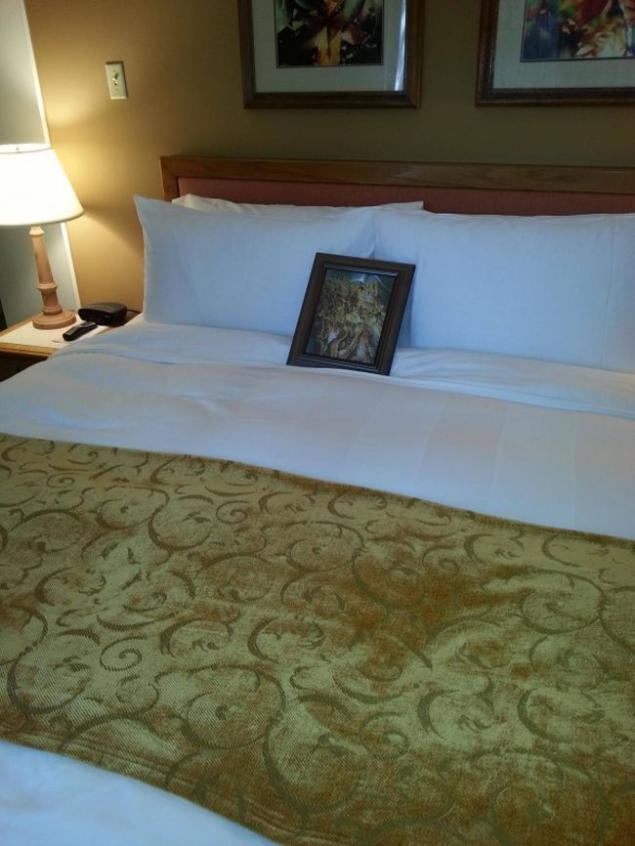 Manatee on the box
Once on the site superbrightleds one American and ordered a LED in the "special conditions of delivery" asked to draw a box on the manatee in the cylinder. After receiving the parcel, he realized that he would order goods from this site again and again.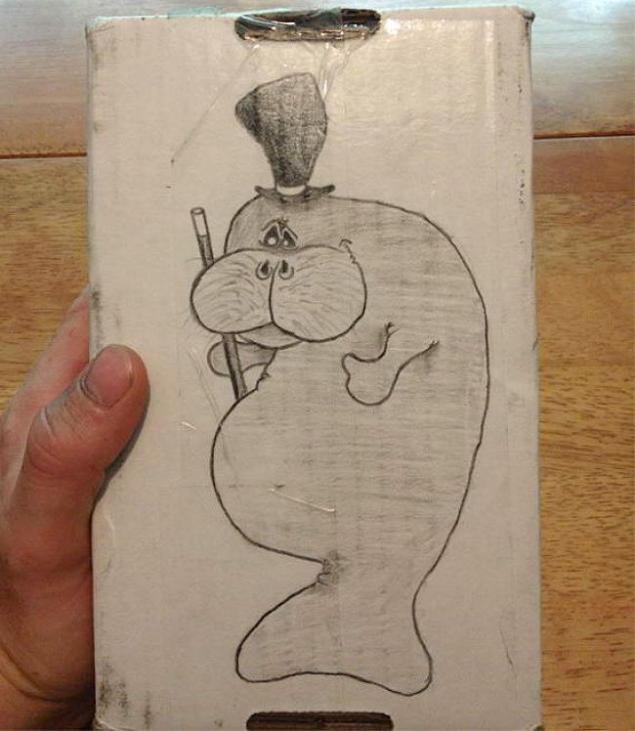 Right service Zippo
Silver Lighter Zippo went to reddit user site under the name Andratch from his grandfather, who carried it through the Korean War. Lighter older than himself: she '53. Steel wheel in it for a long time and broke the guy sent lighter repair. In the envelope he put a five-dollar bill, in case the company will need to buy some spare.
Zippo not only repaired free original box, but sent another, new, along with two spare flints. And brought back a $ 5 postage stamps, because postal envelopes can not send money.
Here is what was written in the covering letter submitted to the photo: "We got your lighter, it returned in good condition and return to you. We return you $ 5 postage stamps, since we had never took money for repairs lighters Zippo, regardless of its age and condition. Thank you for the opportunity to be useful to you. Infinitely yours, Zippo Manufacturing Company. »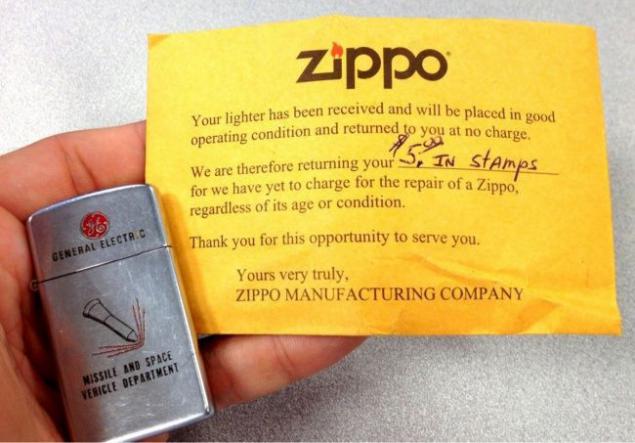 Roketbank
"Support Roketbanka - a Jedi domestic wit and guru of urban stress relief».
Mobile banking service, which saves customers from visiting the offices queues and completely replaces the classic bank. Communication takes place with the support chat, chat in the iPhone application. Operators not only solve the problem quickly, but also creatively. Perhaps this is the best support that we have seen among the banks, because it deals normal human language, not memorized mechanical phrases.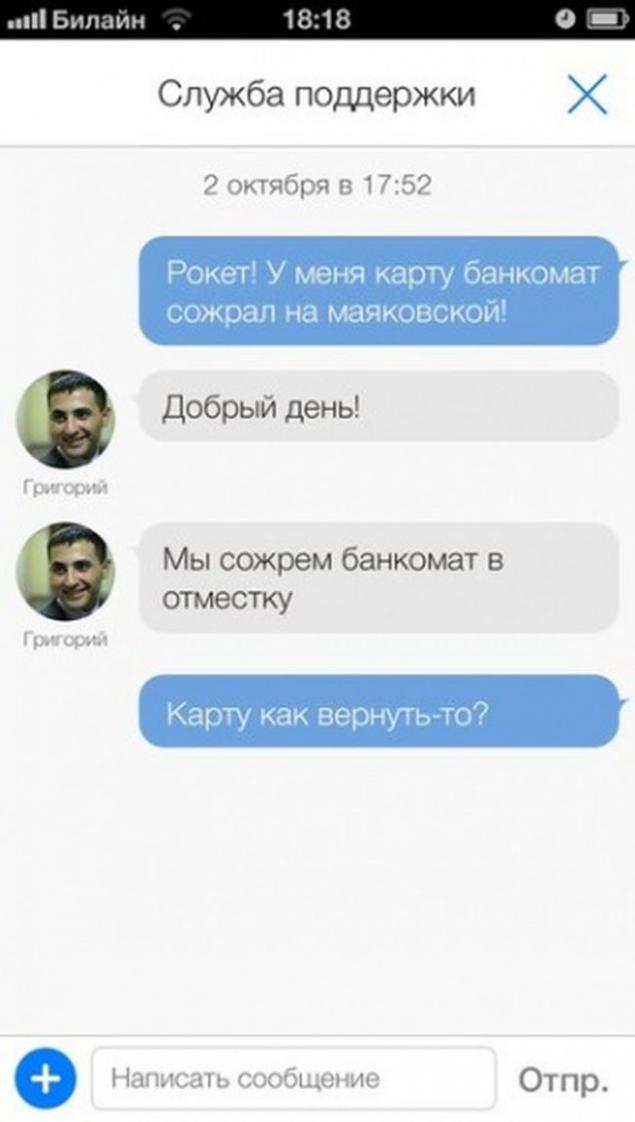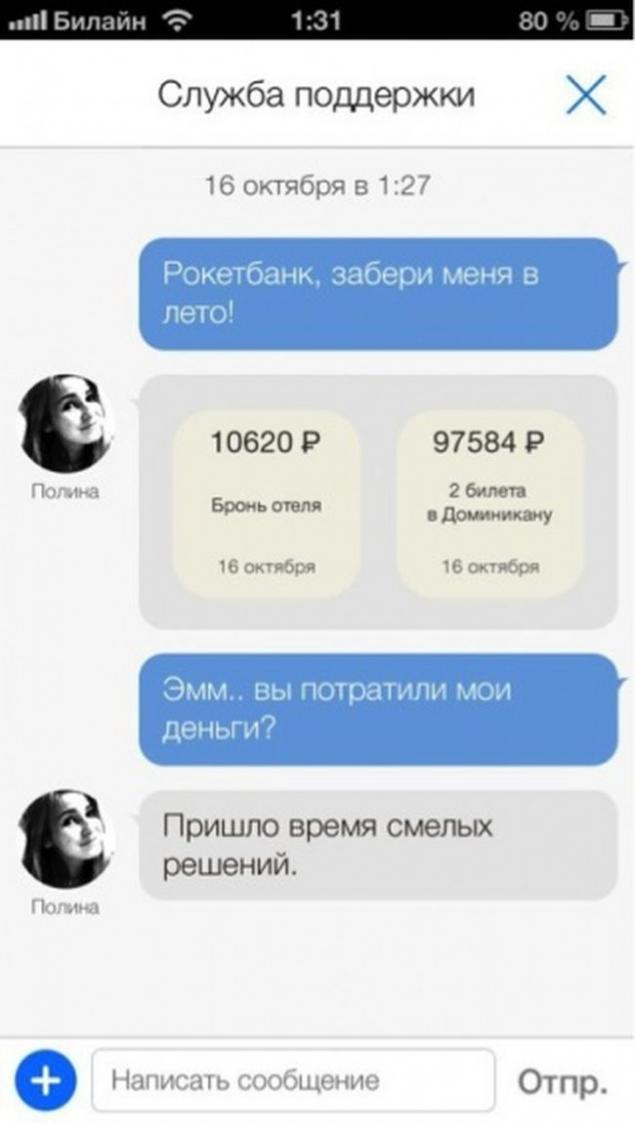 My favorite toy
My wife and kids spent a few days in the Ritz-Carlton hotel in Florida. Returning home, we found that our favorite giraffe son named Joshi stayed at the hotel. Many parents know how children are tied to a favorite toy. I had to lie a little son, "Joshi in the order - we talked to him - he just decided to rest a little longer».
That same evening we called the hotel manager Aaron and said that toy with them. I told him about the history, which had to reassure her son and asked him to take a picture Joshi by the pool owner to provide evidence. Aaron agreed and hung up.
Two days later we received in the mail itself Joshi and some photos: Joshi pool, Joshi and friends (other toys) and Joshi driving golf-mobile.
Not to mention that my family is now just stop at this hotel if you happen to visit in Florida. An example of such a service - that's what I always tell my staff: to create favorable conditions for the customers so that they simply could not tell my friends about it. The only way to achieve success in the service sector.
Chris Hearn, head of the consulting company Mercantile Capital Corporation (FL).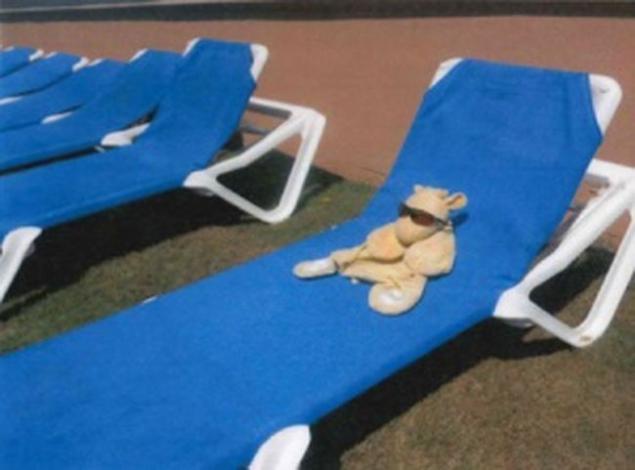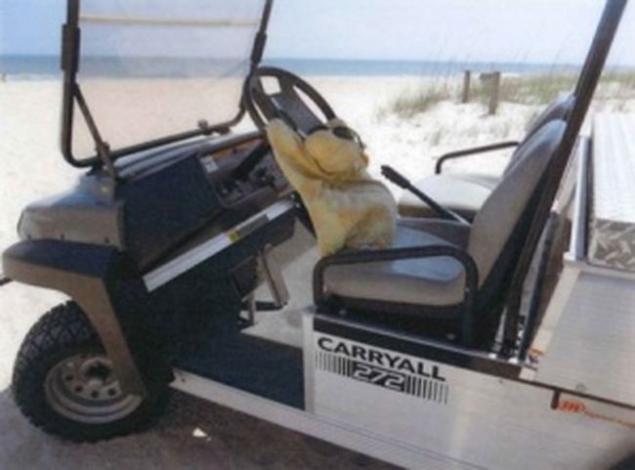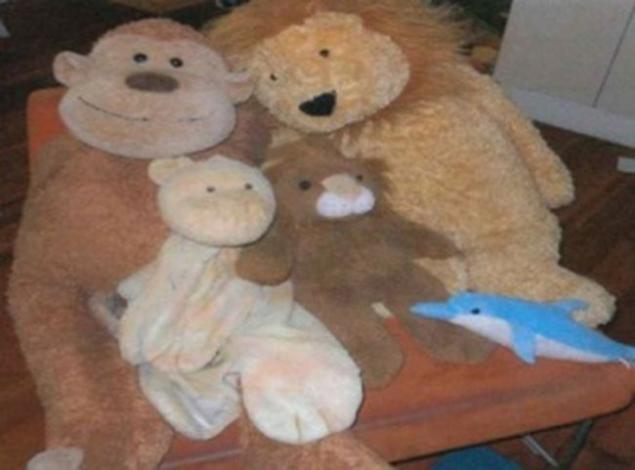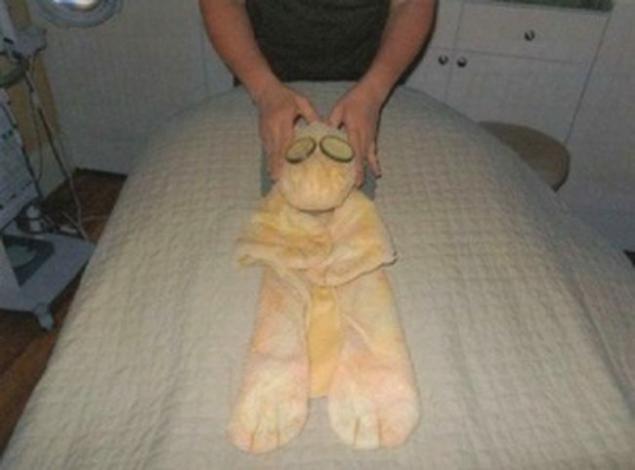 Source:
www.adme.ru