In this article we describe the 25 companies (from conglomerates to start-ups), who try to use
robotics
to address
сельского Economy
, and about what these companies are doing, what their products will be available (or already available), and how much they will cost.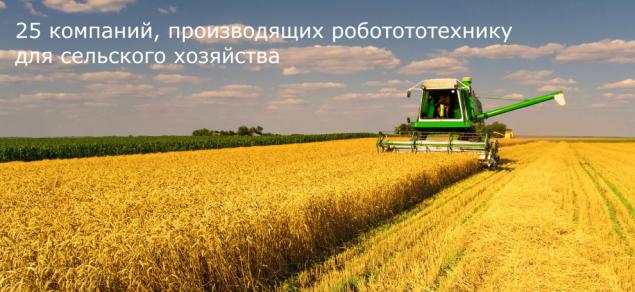 1. Company: ISO Group, the company Flier Systems, Gameren, Netherlands. B> h5>
Website: isogroepmachinebouw.nl
product: RoBoPlant - robot for planting flowers and semi-autonomous robots for transplanting plants.
Application: the entire territory of the EU.
Function: semi and fully automatic machines for greenhouses and vegetable production protected ground. Robotic system for planting flowers takes peat plants, separates them and sits down at a pre-selected pattern.



The robot is to plant flowers RoBoPlant, developed by ISO Group.

Test: constant testing and development.
Availability: product sales began in 2002.


2. Company: Autonomous Tractor, Fargo, North Dakota. B> h5>
Website: autonomoustractor.com
product: a modular robotic tractor without a cab control.



Application: hay producers in the United States.
Function: hay. There is a possibility to increase engine power, depending on the type and size of the apparatus. The functionality will be extended to other crops, as well as other industries that are not related to agriculture.
Test: constant field trials.
Availability: in 2016 is expected to enter the market and delivery of pre-orders.
Price: should be two times less than the cost of tractors and agricultural machines using the same power supply.


3. Company Blue River Technologies, Sunnyvale, Calif. B> h5>
Website: bluerivert.com
product: LettuceBot2 (2nd generation) for thinning lettuce.



Application: lettuce fields of California and Arizona (up to 80% of the production of lettuce in the United States).
Function: thinning and spraying weeds, iceberg, Roman and lettuce.
Test: has been recently completed field testing machines of the 3rd generation; used selective weeding to improve the germination of crops.
Availability: began to be used for the treatment of space in 2013.
Price: processing cost per unit area depends on the configuration of salad crops, but the cost is lower than that required for the payment of manual labor.


4. Company: Agrobot, Huelva, Spain. B> h5>
Website: agrobot.com
product: Agrobot SW6010 and AGSHydro, hydroponic system of growing and harvesting strawberries.



Agrobot harvesting



Application: picking strawberries in Oxnard, California.
Function: the collection of ripe berries of hydroponic systems.
Test: final testing of collecting strawberries will be held in January; After a season of testing for several years.
Availability: mid-2015.
Price: $ 250,000 for a sweeper with 60 robotic arms. According to the farmers who grow the berries, Agrobot - it is a good investment in some cases. For example, when using it, you can remove the crop for less than it did before, and more - when using it collect the fruit where it is not enough manpower. In the latter case Agrobot it pays instantly, because if we can not harvest their crops, the business is worth.


5. Company: Agribotix, Boulder, Colo. B> h5>
Website: agribotix.com
product: drones for precision farming - Agribotix Hornet Drone.



Agribotix Hornet Drone





Application: US Midwest (Colorado, Kansas, Montana and so on. D.).
Function: agricultural drones leased to cooperatives, agronomists, consultants pruning, farm managers and large-scale industrial agricultural corporations; They take pictures and high-resolution maps with a variety of sensors and process them, and develop maps to identify which places a greater need for the application of fertilizers.
Test: is currently being tested.
Availability: sales began in 2014.
Price: about $ 8,000 for the season, including training, the use of drones, RGB and infrared images, improvement of plants and the creation of maps. Agribotix offers image processing with pay per unit area for the development of maps as part of the annual contract.


6. Company: Wall-Ye, Macon, France. B> h5>
Website: wall-ye.com
product: Wall-Ye 1000 mobile - robot for cutting.



Application: Crop French vineyards.
Function: Autonomous cropping.
Test: is completed in 2013.
Availability: for the sale and delivery of services.
Price: $ 30 000.


7. Company: ecoRobotix, SR-Pete, Switzerland. B> h5>
Website: ecorobotix.com
product: light autonomous robots for weeding; Field robot ecoRobotix.



Application: field test in Switzerland; in the next year - in Germany.
Function: robotic platform for weeding flower beds, which works on the basis of advanced recognition algorithms weed is fast robotic hand, advanced sensor technology, wireless communication and demonstrates high energy efficiency.
Test: is currently tested on weeding sugar beets, but it is planned to extend the scope as rapeseed, sunflower, corn and soybeans.
Availability: the first cars will be available by the end of 2015.
Price: about 15,000 EUR.


8. Company: Energid, Cambridge, Mass. B> h5>
Website: energid.com
product: robot for harvesting citrus - many arms combine with tug



Application: Florida citrus orchards; oranges (at the beginning and end of the season), and grapefruit.
Function: harvesting, primarily for juice.
Test: testing will take place during the harvest season in the 2015-2016 biennium.
Availability: will appear in 2016.
Price: $ 300000- $ 400000.


9. Company: Harvest Automation, North Billerica, Mass. B> h5>
Website: harvestai.com
product: mobile robot HV-100.



Application: forest nurseries (berries, tomatoes, and so on. D.).
Function: loading and unloading, movement of containers, thinning.
Test: HV-100 testing completed.
Availability: sold in 2013.
Price: $ 130,000 for a team of four robots. Harvest Automation Company also leases a team of four robots for $ 30,000 for 3 months. Driving the rental is very well-proven. All those who took harvesters lease - are subsequently acquired.



Driving automated planter robot company Harvest Automation




10. Company: Clearpath Robotics, Kitchener, Ontario, Canada. B> h5>
Website: clearpathrobotics.com
product: Grizzly RUV (robotic SUV without cab) and Husky UGV.



Application: implemented research institutions for the development of applications for agriculture.
Function: harvesting, mowing, garbage, research.
Test: are tested on asparagus with a laser scanner to detect stalks and circumcision in the soil; removal of manure from poultry during cleaning barns; certain areas of the field where the cows make urination for subsequent tillage to grass continued to grow; mowing the area between the rows of fruit trees in the gardens; freight wagons with hay / straw into the barn and back; Transportation of chemical fillers to places of spraying; removal of manure.
Availability: is currently sold only academic and research organizations.
Price: from $ 12,000 to $ 100,000 depending on the configuration.



Clearpath Grizzly RUV, pulling equipment


11. Company: Autonomous Solutions (ASI), Peterborough, Utah. B> h5>
Website: asirobots.com
product: Forge Robotic Platform, robotic platform for the operation of a mini-excavator in standalone mode or with a remote control.





ASI: versatile, fully stocked car

Application: vineyards.
Function: pruning and spraying.
Test: field trials in the states of Kansas and Texas.
Availability: mid-2015.
Price: $ 75000- $ 150,000 per unit (includes stocked mini-loader and a set for the driver), depending on the configuration of a mini-excavator


12. Company: Wageningen UR (University and Research Centre), Wageningen, The Netherlands, and Agritronics, Sint Annaparochie, Netherlands. B> h5>
Website: wageningenur.nl and agritronics.nl
product: research to develop intelligent systems for high-quality harvest for commercial research partners and suppliers.
Application: in the Netherlands peppers, apples and grapes in Belgium, spraying attachments in Slovenia and spot spraying in Italy.
Function: harvesting and spraying (spot and attachments).
Test: tests were carried out on sweet pepper in July in a commercial greenhouse; on apples and grapes - is completed. Field tests were completed spraying. The new harvester with a visual quality control and monitoring system for broccoli developed in conjunction with the startup Agritronics Sint Annaporochi Netherlands.
Availability: will take several years to develop.





13. Company: Vision Robotics, San Diego, Calif. B> h5>
Website: visionrobotics.com
product: decimator salad Vision Robotics 6-Line and pruner for vine.



Application: Calif.
Function: testing pruned vine; decimator salad already on sale.
Test: testing and development pruner for vine can be completed in less than 18 months, depending on funding.
Availability: decimator lettuce is already available; pruner will be available in early 2016
Price: decimator salad - from $ 140,000 and up (depending on configuration); secateurs are likely to be sold at the same price.


14. Company: Precision Hawk, Raleigh, North Carolina. B> h5>
Website: precisionhawk.com
product: Lancaster UAV with various options of connected sensors and Datamapper.



Application: of Ontario, Canada.
Function: providing data to researchers, agronomists, consultants, farmers and ranchers for making management decisions on farms.
Test: field testing within the specific consumption of liquid fuels Transport Canada for several years. Most of the research and development carried out in Ontario, Canada. Over the past six months I have received a number of state licenses from the Federal Air Transport Agency to conduct field trials and studies in the United States, together with institutions such as the University of North Carolina, University of Texas A & M, Kansas State University and Cornell University.
Availability: 70% is sold in different countries. He took part in several projects with US companies for specific research projects.
Price: basic platform Lancaster $ 15,000 plus sensors and other advanced options.


15. Company: F Poulsen Engineering ApS, Hvalsey, Denmark. B> h5>
Website: visionweeding.com
product: ROBOVATOR thermal and / or hydraulic cultivator.



Application: 30 cultivators are already working in the United Kingdom, the European Union and Canada.
Function: weeding and thinning lettuce, cabbage, dill and onion.
Test: in California (spread to North America).
Availability: on sale in 2011, after 8 years of testing and development.
Price: 5-row configuration that is sold in Europe for 80,000 euros ($ 100,000).


16. Company: Kinze Manufacturing, Williamsburg, Iowa and Jaybridge Robotics, Cambridge, Mass. B> h5>
Website: kinze.com and jaybridge.com
product: automated system for harvesting row crops - Autonomous tractors and grain carts.



Application: harvesting of corn and soybeans, Iowa and Illinois.
Function: your own Bulk grain from harvesting the container truck and delivers it to the fields.
Test: testing an autonomous system of harvesting is carried out since 2012; in 2013, three farmers from Iowa and Illinois rented system and used it on their own, without supervision by the Kinze. Kinze system has a set of standard components, including a module GPS, radar, laser sensors and video cameras, software, thereby determines the obstacles. Developed in partnership with Jaybridge Robotics.
Availability: Kinze currently sells a system of harvesting, but soon will release a processor on the market.
Price: has yet been set for the system, which includes a module unmanned control, navigation, route planning, due to the combine, and management software.


17. Company: Agrobotics, Little Rock, Ark. B> h5>
Website: agrobotics.com
product: AutoProbe, a system for taking soil samples.



Application: corn belt in the Midwest.
Function: AutoProbe - it towed unit which is attached to the tractor rear, to provide consistent, accurate and whole sampling of the soil. Device performance - more than 2,500 samples per hour.
Test: for over 7 years in the Mississippi Delta.
Availability: is currently available as a service for the collection of soil samples and for sale; conducted live demonstrations on various agricultural exhibitions in the United States.


18. Company: Amazone-Werke Gmbh, Hasbergen, Germany. B> h5>
Website: info.amazone.de
product: Amazone-Bosch BoniRob - easy field robot



Application: work on experimental plots of corn and wheat in Germany.
Function: field autonomous robots that can move in any direction, are designed to work in a "team».
Test: Universal lightweight robot for weeding, fertilization, control, developed by Robert Bosch GmbH.
Availability: only 2 ready; It was not announced plans to sell.


19. Company: Helper Robotech, Gimhae, South Korea. B> h5>
Website: helpersys.co.kr
product: BoniRob - field robot for grafting fruit and vegetables



Application: Korea, Japan and China.
Function: vaccination is the most common in European and Asian countries as well as in greenhouses all over the world where crop rotation is no longer applicable and all the free land is intensively used. Robotic vaccination is a relatively new method, although various mechanisms for grafting used before.


20. Company: AGCO Fendt, Dalut, Ga. B> h5>
Website: agcocorp.com
product: GuideConnect, SectionControl and VarioGuide.



AGCO Fendt GuideConnect - dual system



Automatic Control System AGCO Fendt VarioGuide

Application: Universal.
Function: SectionControl integrates different data and allows fully automatic control of the means of GNSS for ISOBUS-compatible sprayers, dusters and drills; VarioGuide - automatic control system for any time of day; newGuideConnect - development, making it possible to share two tractors, one of which is unmanned.
Test: GuideConnect is under construction, the date of the sale is not yet known; the machine is not equipped with its own system of obstacle detection - possibly because the product is still under development.
Availability: all configurations except GuideConnect, available in the EU and the US.


21. Company: Rowbot, Minneapolis, Minn. B> h5>
Website: rowbot.com
product: Rowbot multifunctional platform is unmanned and is able to move between the rows of corn. Used for: nitrogen fertilization, in accordance with the requirements of maize plants. It can also collect data from sensors for current and future work. GPS and multiple sensors allow the robot to do no harm to plants.



Rowbot in a cornfield.






















Source: geektimes.ru/company/robohunter/blog/250814/