Born in a family of contractor and housewives future actress Emma Stone has been very disruptive and a girl in 15 years began to work in television. After that, the young Emily (born girl) was noticed and was invited to play a tiny role in the series, well, then, as usual, on the rise ... Film, Film, Film ... Now 23-year-old Emma Stone genuine budding asterisk, who starred in the films " Welcome to Zombieland, "" Ghosts of Girlfriends Past "and" This is - stupid - love. " Most viewers tuned in relation to Emma positively, and criticism can no longer wait for a serious role of the actress, and then all the comedy, but horror. While it is certainly not among the elite of Hollywood, but it can dramatically change the two parts of "New Spider-Man", the first of which will be released this year, and the second in 2014.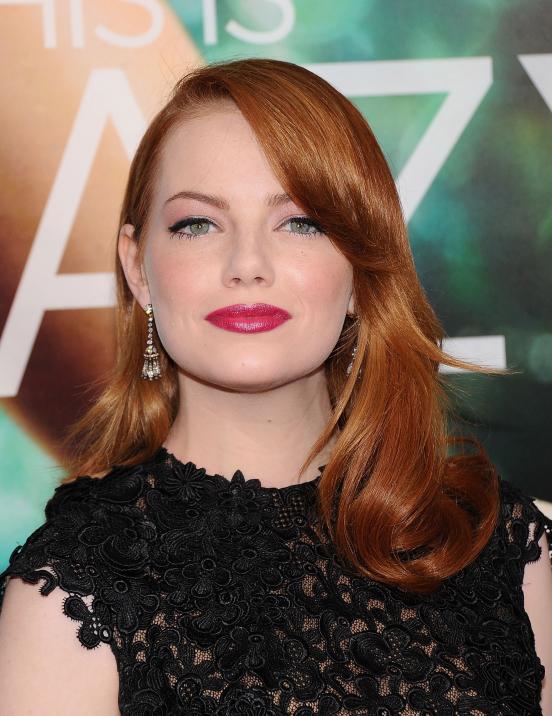 1. How far from Hollywood standards appearance of this girl ... But it's for the best, new faces - new experience. Emma's face is definitely interesting, but make up for it does not always look the same. For example, the make-up on the photo presented below, I do not like. Too much nakrasili eyes (black as coal, eyeliner + shiny bluish shade = bust) and not fully paint over the lips (only one loop is seen). Everything else, obviously the room was hot and all this "lepota" almost flowed ... But hair color she is definitely cool, and his eyes, like a fox.
2. Emma is very, very stylish girl, so I have to dresses are unlikely to be any complaints. But that's up on the next picture again gives perebarschivaniem. I do not know why the already bright Stone so zealously "marafet", but the shadows are so beautiful color, match the color of the hair, pulls right up to the eyebrows. Very much I do not like it, but for some it is a familiar and banal.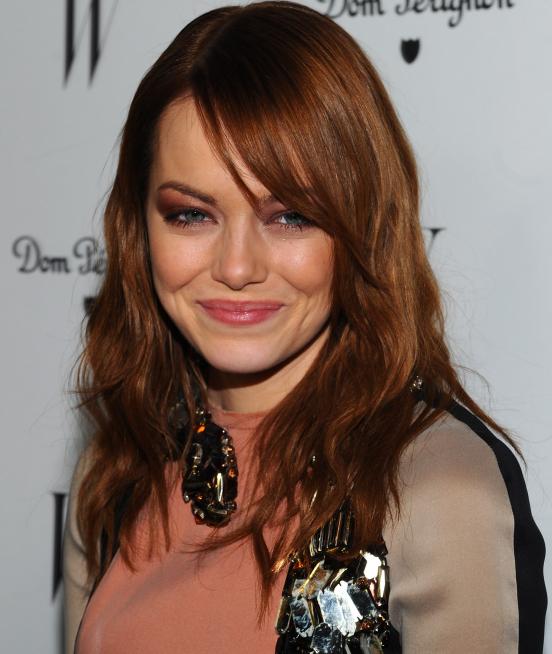 3. The image of a la Rose McGowan. Emma porcelain skin and I do not mind this, but still slightly tan need. With his white robe she almost merged. Two bright spots, saves the day - lipstick and hair. Of course, many fans of the Stone seems that I had to call it a "blood and milk" and keep up with, but there it was. By the way, in this photo she looks older than his years.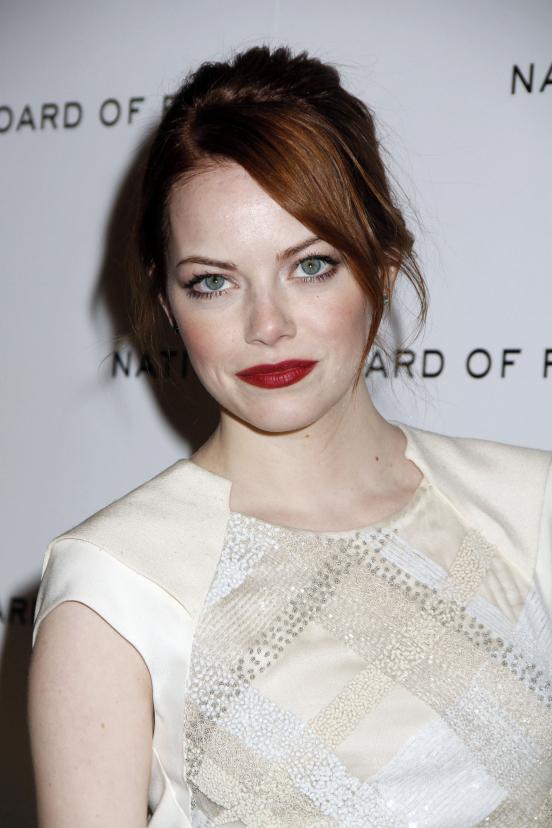 4. Yes, in the previous case background was obviously stupid, but here krasoten indescribable: Emma on a background of roses (white on red at all surprisingly wonderful combination). I madly in love and light makeup and Babette Color Stone, that's only one "but" - too conspicuous line of eyebrow pencil (although lengthen the edge as it is necessary, therefore forgivable).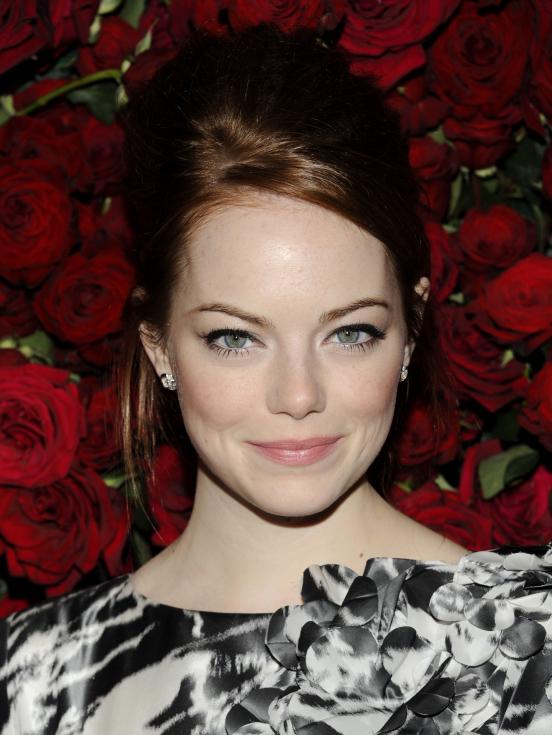 5. concise. Someone said that simplicity = beauty, but in this case everything is so simple that even boring.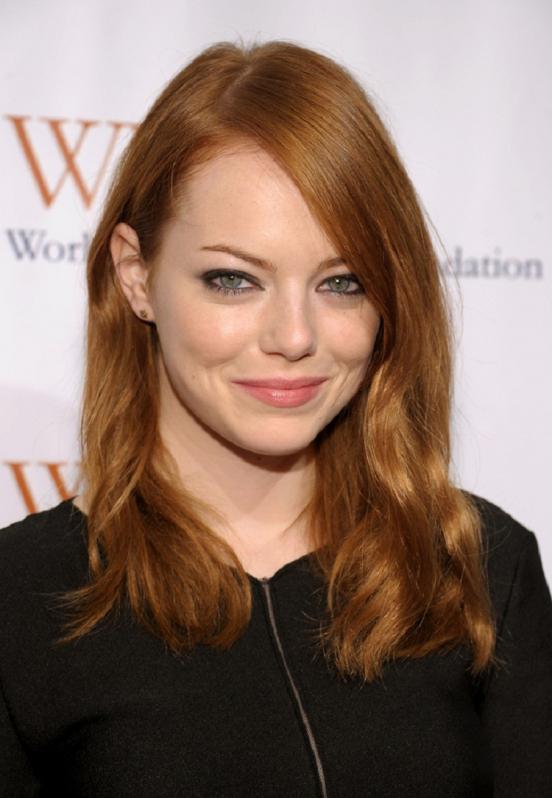 6. Bright photo, I love these. It Emma in a special sweet. Makeup is so-so, it seems to me that Emma bad shape of the eyebrows and this many problems with Meiko (worth it correct). Looking ahead to say that the 13 pictures from all eyebrows at times better.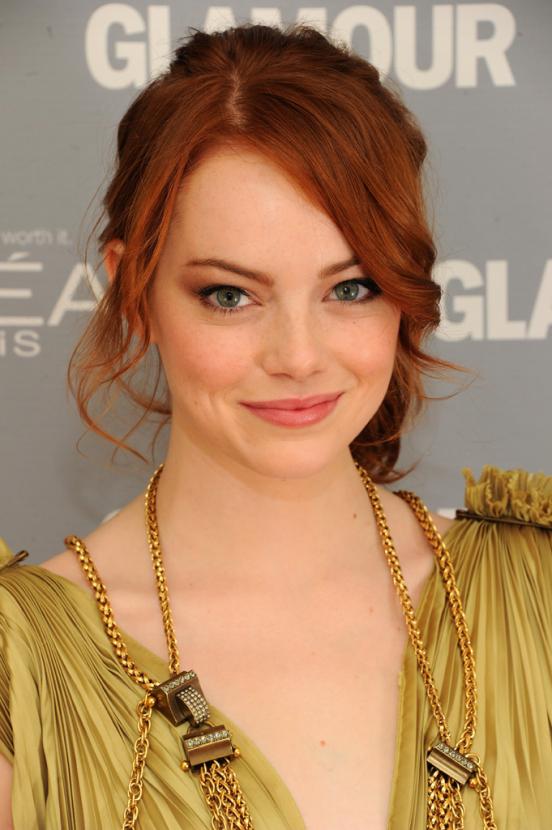 7. Call Emma until the end of the modern woman can not be too often she chooses dresses and accessories from "my grandmother's trunk." Abstracting from this "bow" to say that make a great - discreet, but you can see that it really is. Oh, how shiny her hair (silent envy :))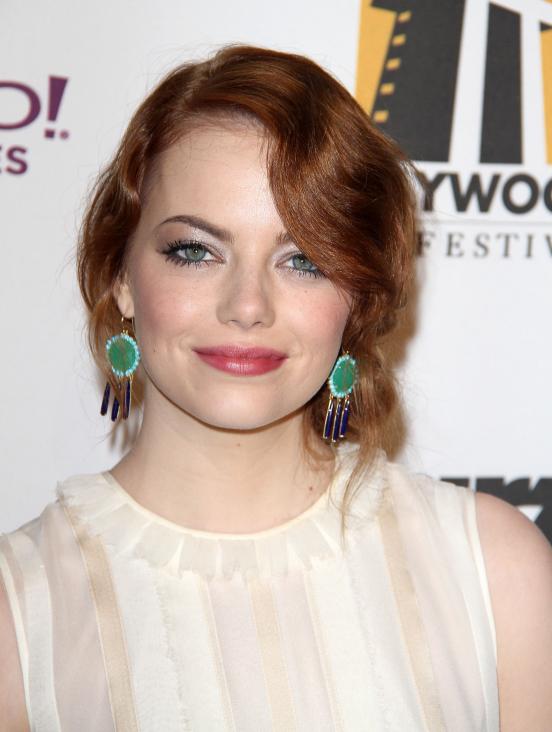 8. GREAT! Unmatched high hairstyle and improved version of the previous excellent wear make-up. Here especially like the fact that I did not love lipstick shade "whether cherry, or unripe strawberries" was replaced by pale pink gloss (very much it fits Stone).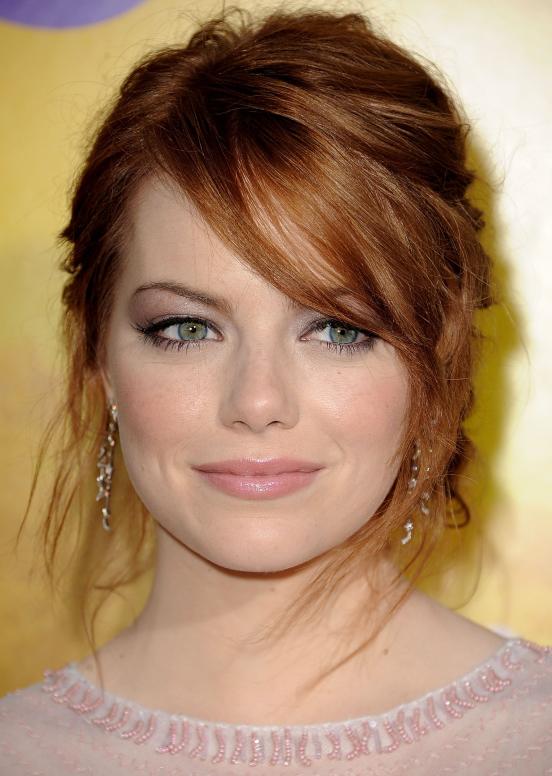 9. super hair, earrings class, well, just one eye diamond. That'S Perfect. Second show (eye estesno), will be even better.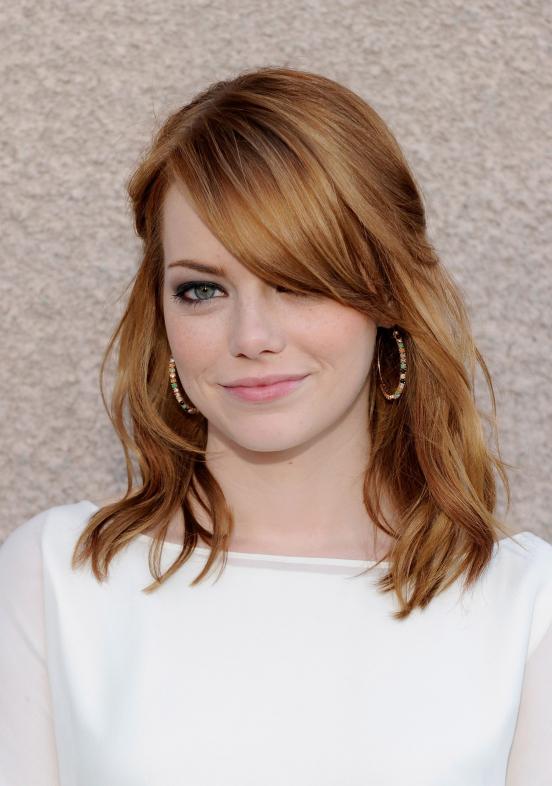 10. Look! It makes you want to call it "hitryushkoy" :) I think the arrow - a win-win, especially if you are in the red.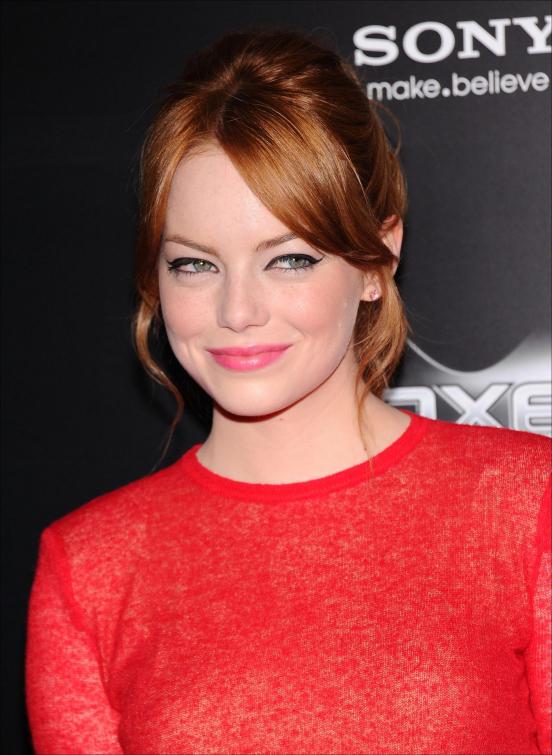 11. Luxurious styling! Yes that little things ... all luxuriously! Emma knows when to apply themselves. Makeup amazing two shades of eyeliner (gray and black), pale pink shade and a magnificent tone lipstick (though I'm confused as to call this tone). In general, the image of success.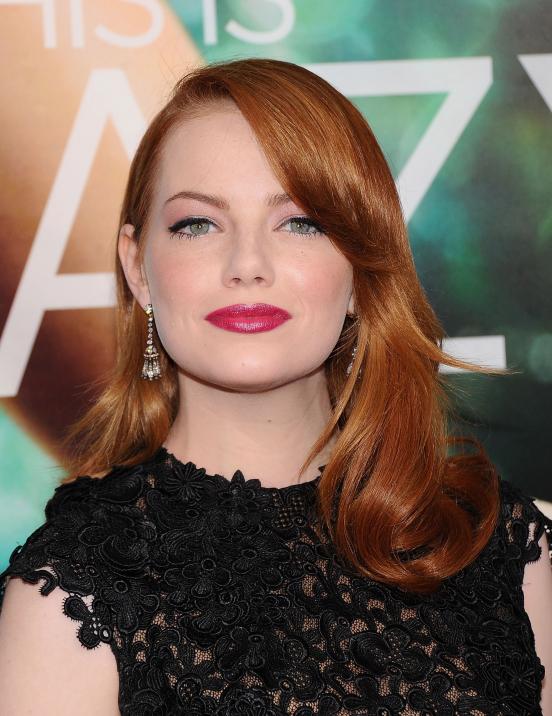 12. All in one color, but blue eyeliner. I do not know whether to be glad or sad by this. Still, it would be better, it was a different color ... By the way, Emma is very beautiful lips.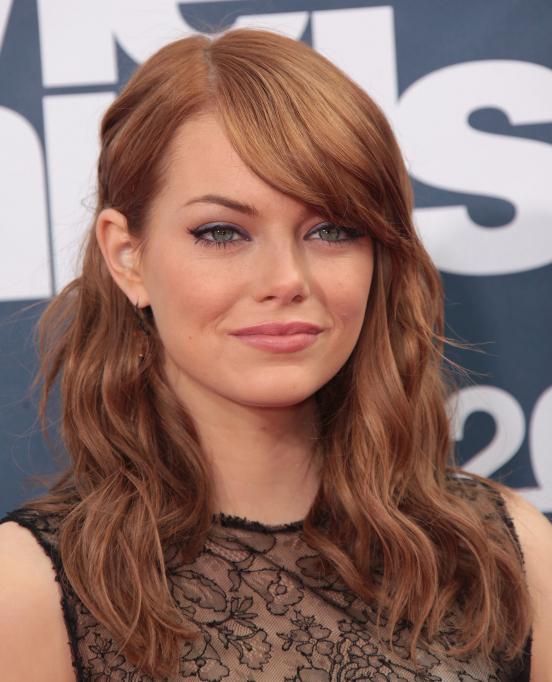 13. Blonde she does not go, and that's a fact. Immediately lost the girl, though image and beautiful. Meiko in this case leaves much to be desired: Okay lipstick (color subdued), but it could draw arrows equally (hand-packed, so forth and in a way, but sometimes there is simply no make-up inspiration for normal operation and no money save). < br />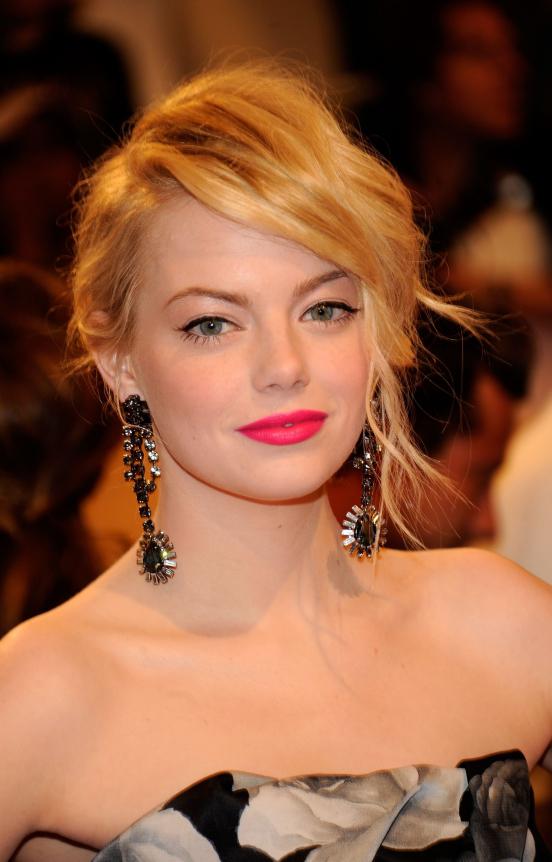 14. On this photo Emma something similar to Rachel McAdams, but that comes to be a blonde, but Stone no. Makeup not in cash.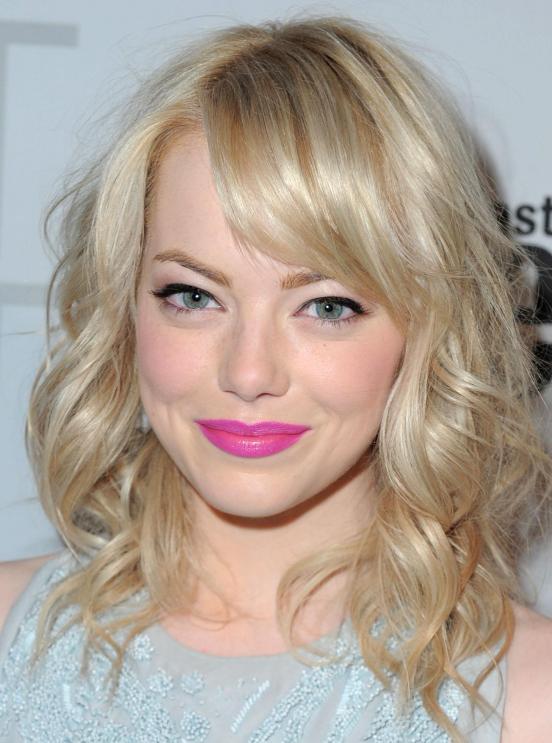 15. It is said that beauty does not spoil, but it's not true. Spoil, more like. Hairstyle I do not like a make a good (arrows emphasize its "playful" eyes). Here she get such big eyes, that she even scared me at first.
16. Brave hair color! The most it. Violet shadows just did the topic (only slightly smaller to them), eyes fill up with wild boar. Simply put it, but it seems clear.