1. In his youth aspiring actress Meryl worked as a waitress at a hotel in New Jersey and did not ashamed (many stars who worked as cleaners, waiters and bartenders, repudiate his past profession):
"You know, in my youth I worked as a waitress, and the best thing I could do was to serve eight tables simultaneously. I am very proud of it. Now, after years, almost nothing has changed. The same 8 tables - this movie, a lot of kids, a lot of families, a lot of things and things I should pay attention to. My family and my job - that is my prime today! »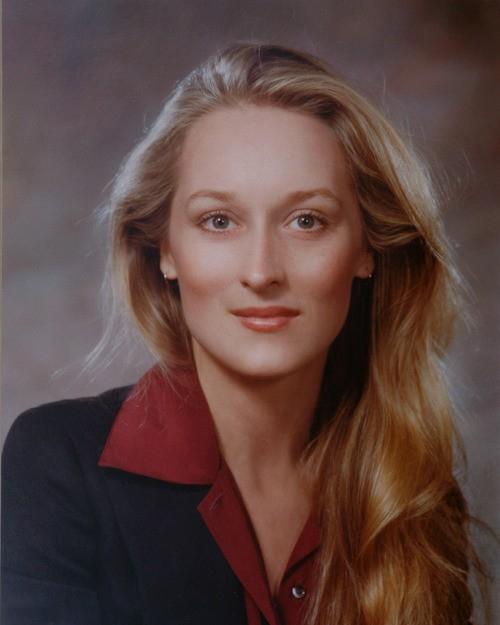 2. One of the best actress of our time, Meryl Streep is not only an idol of millions of ordinary people around the world, but is also a favorite actress of US President Barack Obama.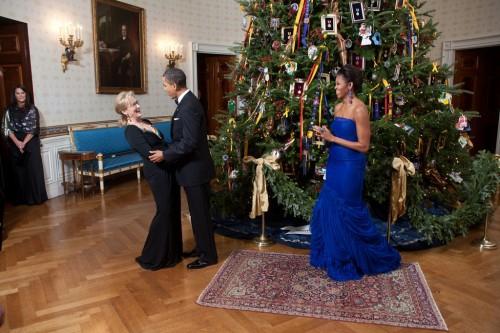 3. During the filming of the thriller "The River Wild" Meryl Streep literally sank (many scenes were shot in the water), and saved her just what she got entangled in fishing nets. The actress was saved and the first thing she did (after recovered) - to finish the scene to end. A true professional in their field!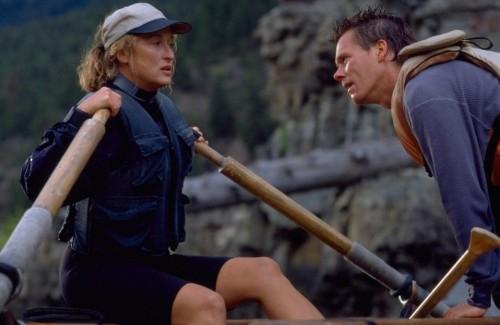 4. youth role model Meryl was a great French actress Simone Signoret, who died in 1985 at age 64.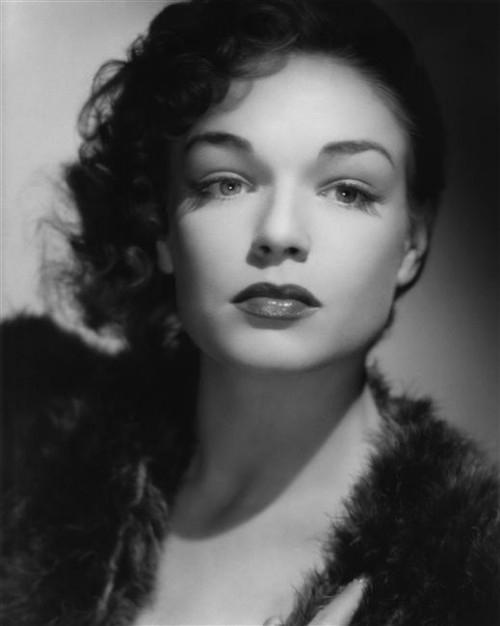 5. My favorite Russian writer Strip - Anton Chekhov. In an interview, the actress said that Chekhov saw the good in a very bad situation, just as she sees.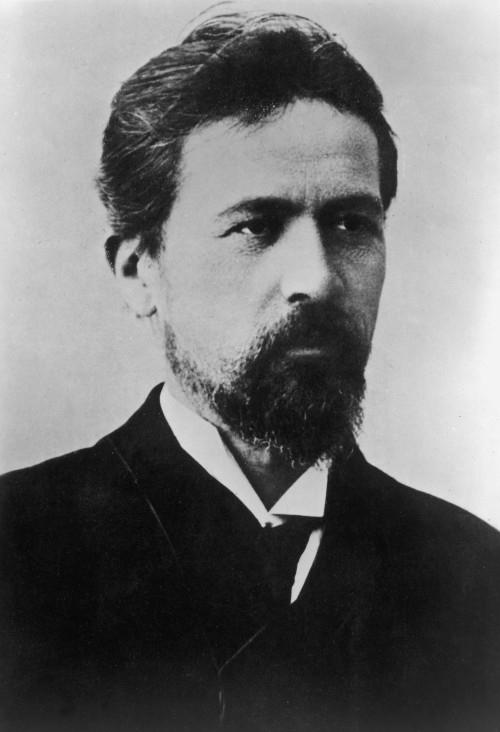 6. The ideal counterpart for filming Meryl calls Jack Nicholson, as this actor plays a stunningly authentic. It plays a role as well as breathing ©.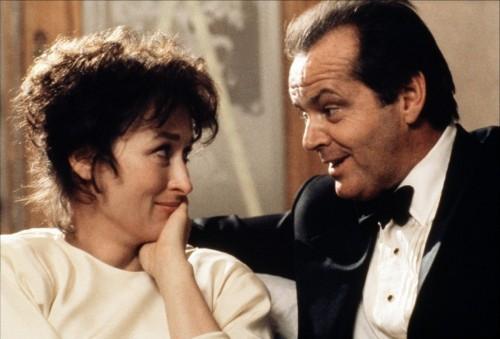 7. Strip seems that it is very similar to Sean Penn.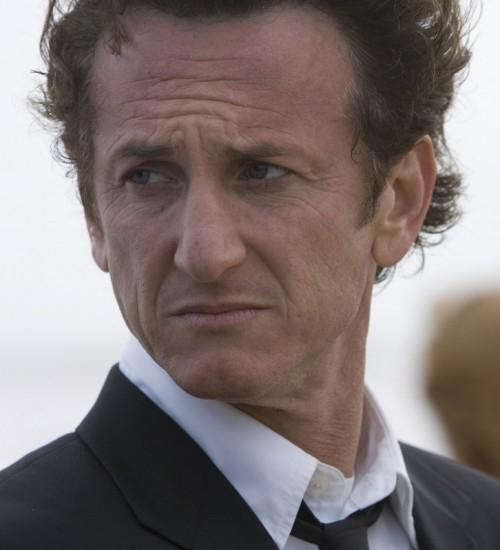 8. 64-year-old Meryl and her husband, the sculptor has four children: Henry "Hank" Wolfe Hammer, Will Mary "Mamie" Gummer Grace Jane Gummer and Louisa Jacobson Gummer. In the photo she is with her three daughters, who are very similar to it. We believe that talent is also transmitted (such genes!).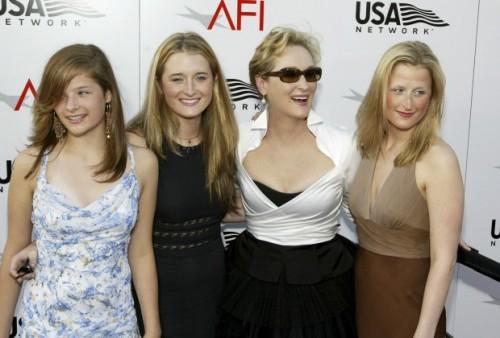 9. For the role in the movie "The Devil Wears Prada" Meryl had to throw around 8 kilos and she certainly did, even though life is not sitting on a diet, adhering to proper nutrition. By the way, this film Meryl wears a wig.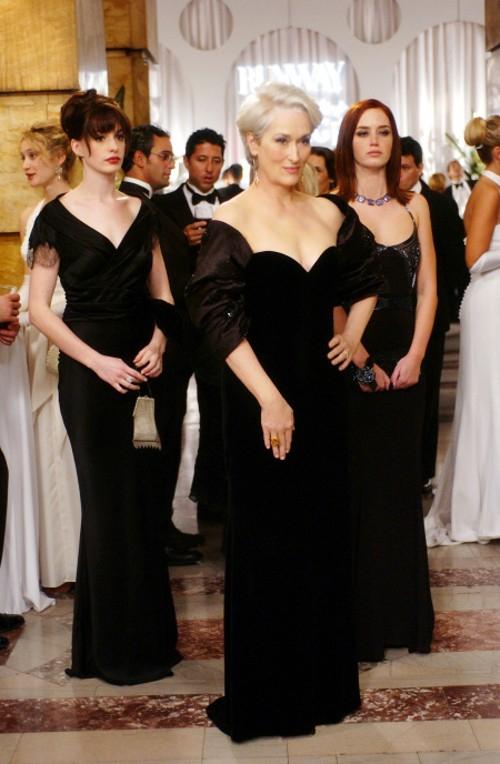 10. In a career Meryl 17 nominations for "Oscar", which is more than any other actor or actress in the history of cinema. It is amazing how a person we are living at a time! By the way, the Strip is the owner of three awards out of 17 possible (at the last ceremony, she said that no longer rise to the stage of the award, but I did not understand why ...).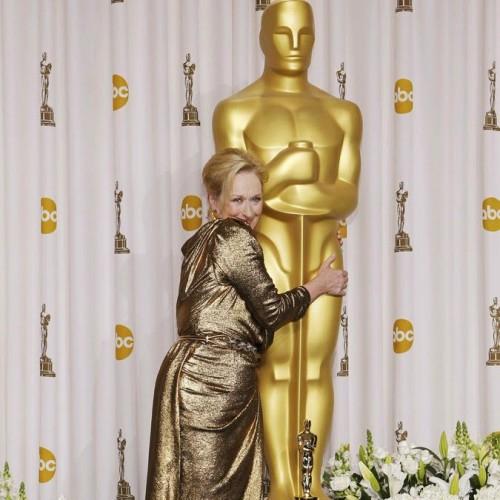 11. His first in the life of the statuette "Oscar" actress forgotten in the dressing room. But in 2012, his third award, she actually did not let go.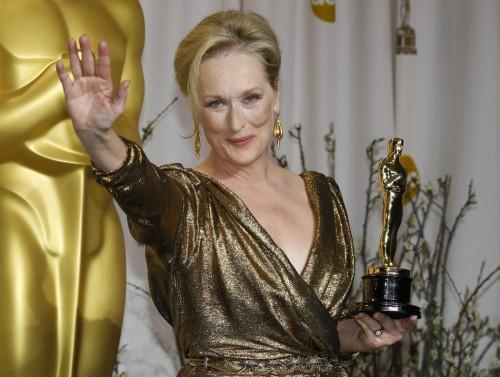 12. Meryl said that her beauty in films depends on the lighting. If the lighting is good, it is beautiful, and if not ... then there.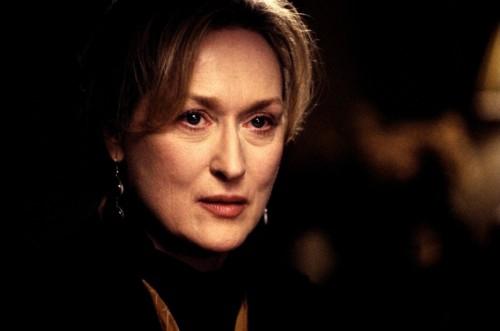 13. In several films Meryl played a lesbian herself in an interview, admitted that she is not averse to kiss a woman (but nothing else). In one of the ceremonies of these words has adopted actress Sandra Bullock and heartily kissed Streep.
14. In preparation for filming the movie "Music of the Heart," a film company, producer of films paid teacher-member Philharmonic that he drove every day 2, 5:00, was getting home and gave her Meryl violin lessons.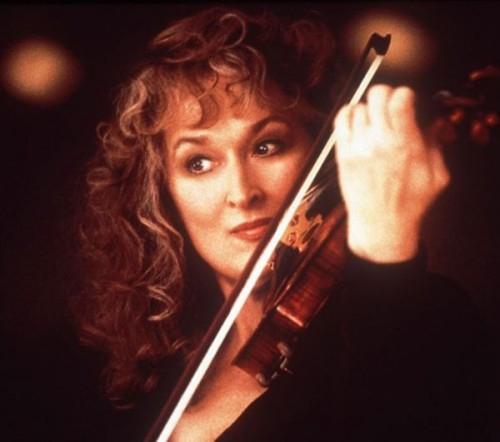 15. Long before the role of Margaret Thatcher in "The Iron Lady" Meryl admitted that indifferent to politics:
"I am a political junkie. Not in the sense that the party is ready to participate in the fight, but I like the house to watch the news on TV. I like the confidence of politicians when they come into power, but under any difficult circumstances - they are not seen and not heard. »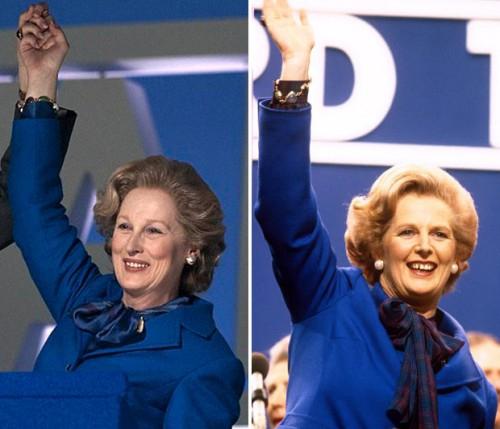 16. Gwyneth Paltrow - neighbor Strip.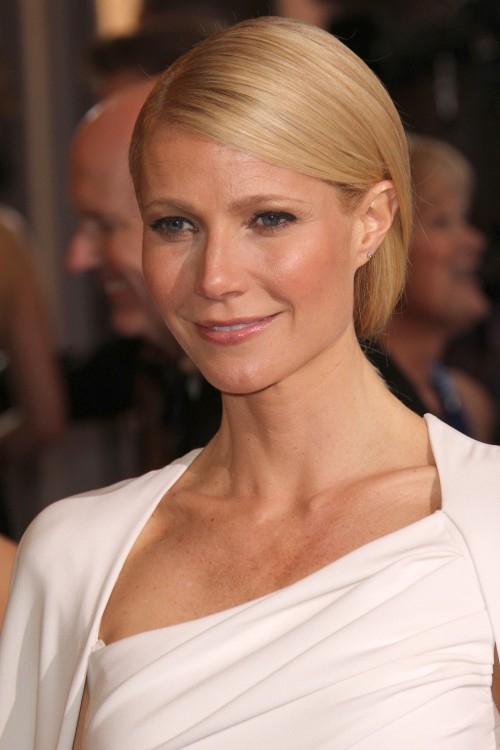 17. As a child dreamed Meryl British royal family. She dreamed that will grow and charm of Prince Charles, thereby becoming part of an aristocratic family. But she did not succeed, but regret it in vain, because now the Strip - one of the most respected actresses in Hollywood.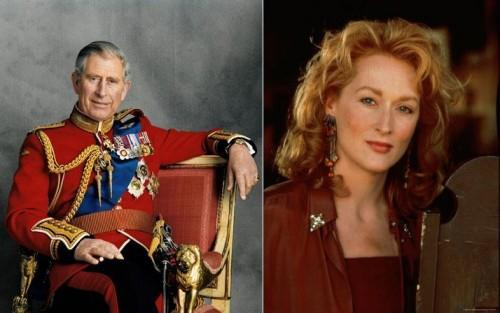 18. The actress never do plastic surgery and is not going to spoil the plastic of his face and body.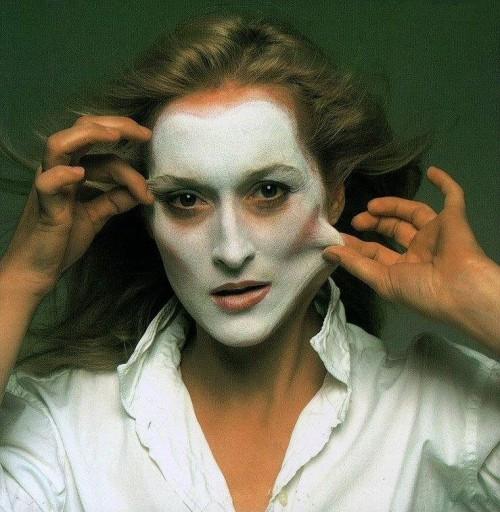 19. Meryl like to watch TV series "Gossip Girl" in the circle of his family.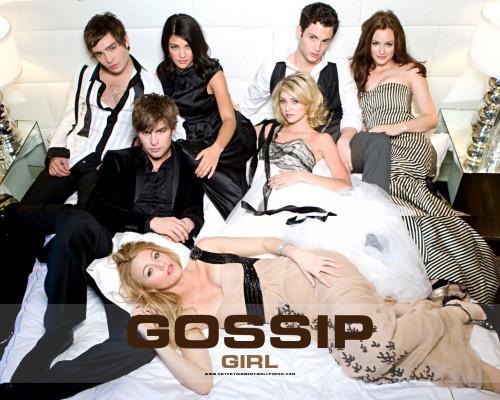 20. During the wedding Meryl burned his hand (some pyrotechnic reception). And she said to the astonished guests and Don, that she would do the same with him, if he would be a bad husband.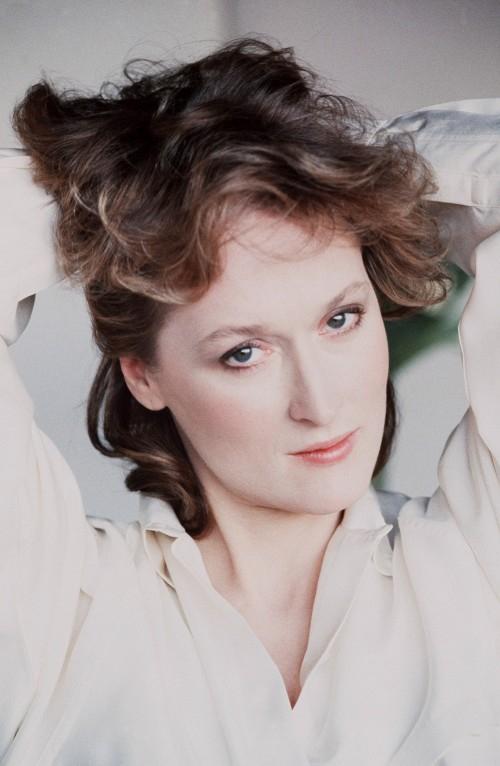 21. Meryl vegetarian.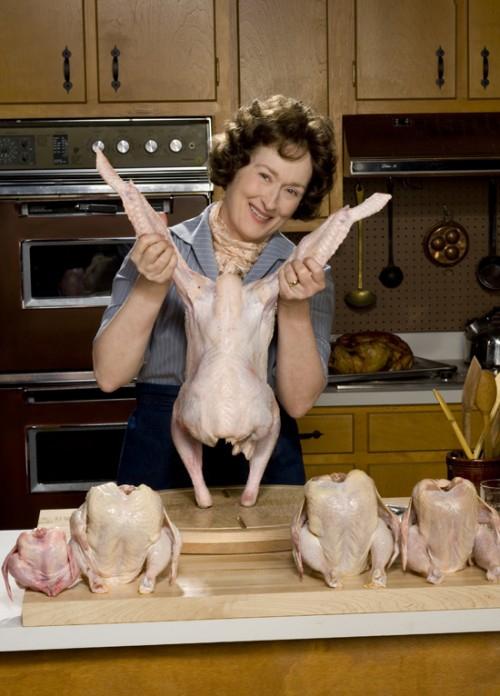 22. During his brilliant colleagues of acting gave Meryl nicknames such as: "Woman with a Thousand Faces," "Actress chameleon", "The most serious actress dreamland».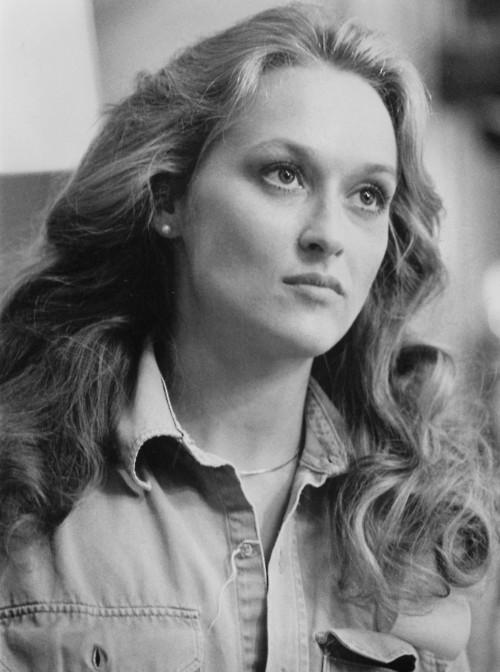 23. Meryl still friends with his colleague on the sets of the film "Death Becomes Her" Goldie Hawn (mom Kate Hudson). By the way, the Strip has repeatedly recognized that the process of filming she did not like. In the same film in an unusual role for us it brought Bruce Willis (I advise to look).