January 4
Miss' discovery of 2011 "leaves the television studio in London in a controversial manner. If the calculation was made on the convenience, the image, of course, great, but if the emphasis was on style, Lana is wrong with the choice of things. Blazer «Ferrari» is absolutely not suitable for ballet flats, put on it, so the onions get comfortable, practical, but not aesthetically pleasing. It would be possible to put together a jacket or cardigan jacket would be a very different conversation, but it looks like Lana not pretentious to his appearance and now it is not very important and the way it looks ...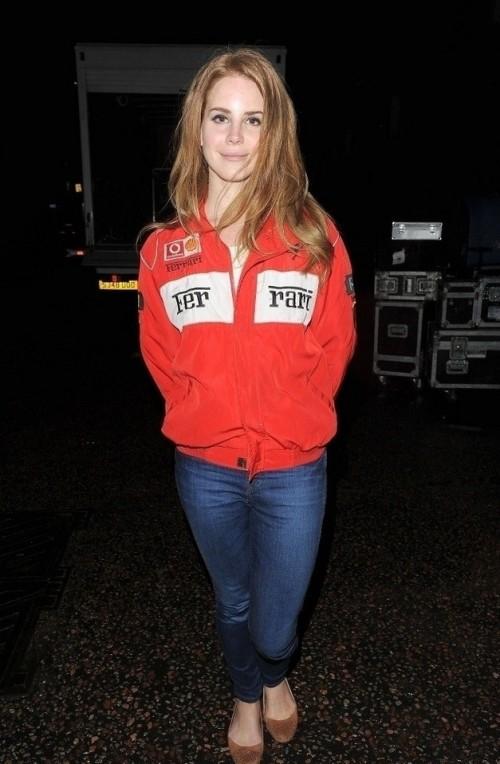 January 23
Near the BBC studios in London singer sips a cigarette and shows whether sports, or a glamorous image. Apparently it is an amalgam of styles, but I think Lana again missed because we have every second woman claiming to be a big word 'style', dressed the same way. I do not like, but Lana is only beginning to feel like a star and perhaps find stylists and replace wardrobe. What about cigarettes say that for the singer smoking - it is more harmful than the (so to speak) are not singers, since the voice can be specifically planted. I like the music of Del Ray and I would not want her to voice procuration.
January 30
Externally Del Rey reminds me nuts favorite childhood cartoon "Chip and Dale", and she is very sweet and charming. Lana time and sweet and charming, but she looks frankly cheap. Things probably cost thousands of dollars, but they look like a real consumer goods. While not denying that the singer wants to be original in everything, including clothes.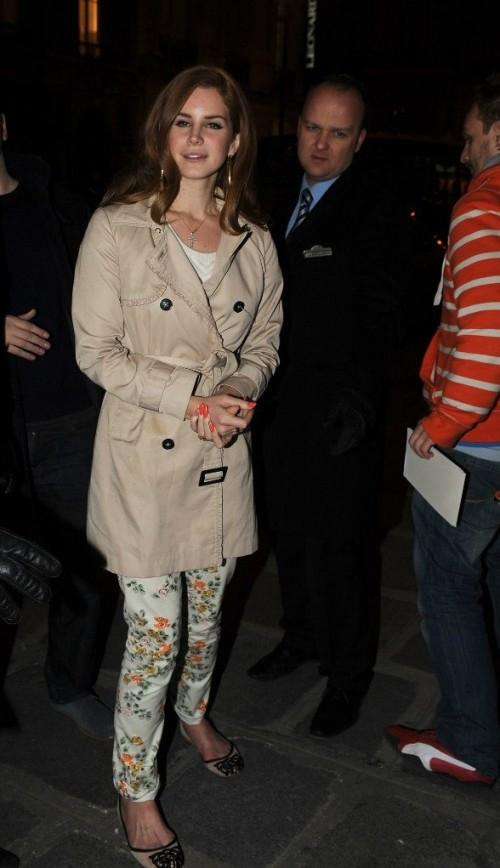 January 31
Lana leaves her hotel in Paris. France commits to look elegant and sophisticated, that Lana has decided to temporarily become Mademoiselle. To Paris Lana chose onion jacket sandy shade and a white scarf, which made the image a little more feminine than usual.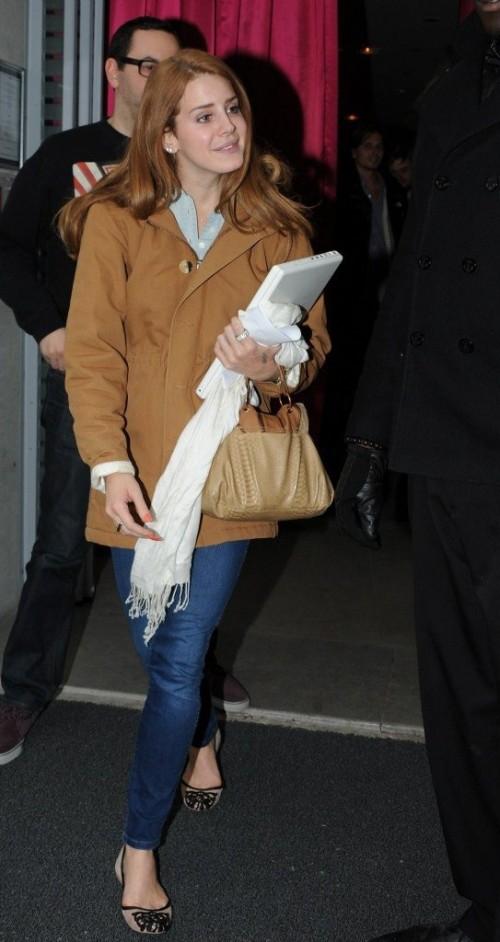 February 2
Singer outside «Letterman Show» New York shines in a white dress and nude shoes. To my mind the image of success, but the cap is not just mozhnobyloby and nuzhnobyloby removed.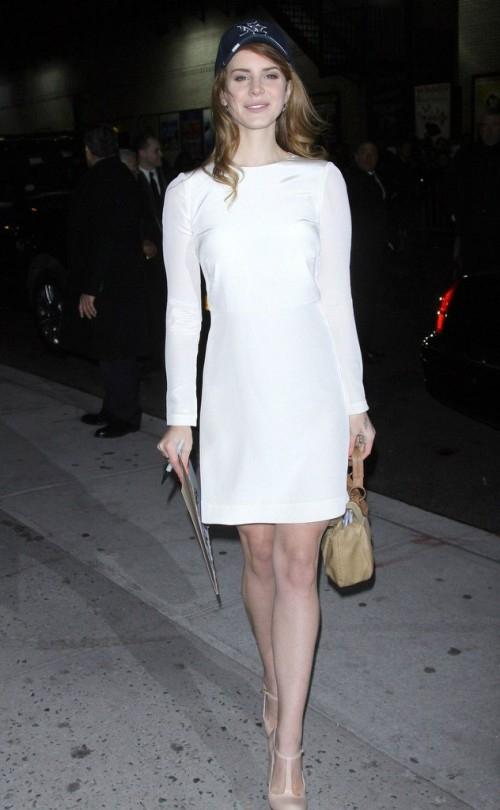 February 3
Just Lana came out of New York subway and has managed to get a cigarette, it is by no means paints. It looks by and large not as a star, but as a lover so his sports jackets, caps, handbags and glamorous ballet (and all this in one package). Strange onions, do not even know how to comment on it. Full bad taste.
February 12
Lana arrived in «Chateau Marmont» in West Hollywood. Here, everything is more or less looks at least like a woman, but a gold tooth for a woman - it's less strange.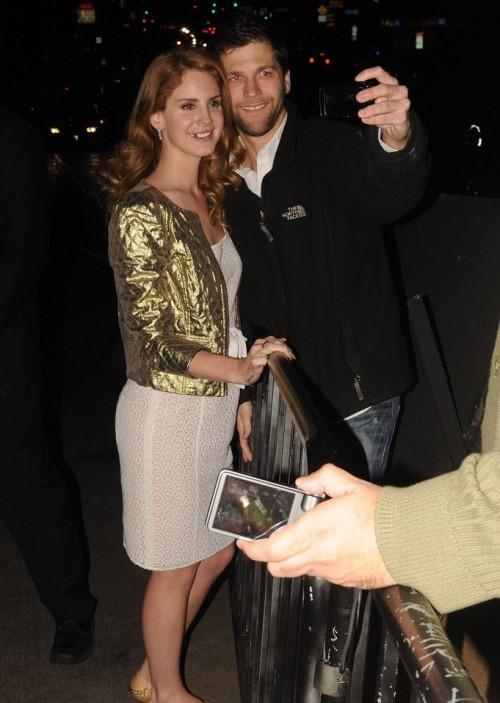 February 22
The singer returned to the London hotel. Here the image is really good - simple but tasteful. Classic fitted jacket, white blouse, blue jeans, bright red ballet flats and a cute handbag and, voila, the image is ready. It looks great and I am very pleased that the cigarette was replaced by cell phone. It is better to talk endlessly than smoke.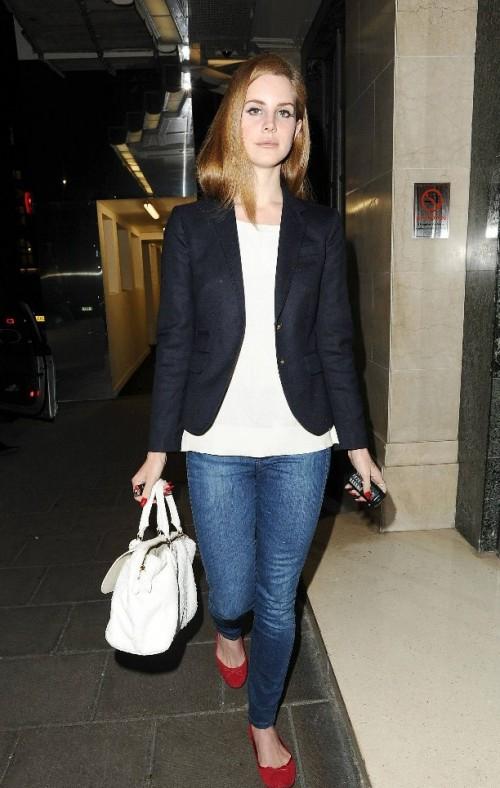 March 1
Tired eyes Lana - that's her shtick. Virtually no emotion, except for weariness, but that it does not look dull. Image frankly eccentric as its bearer. Combine white dress with ruffles and sneakers, albeit from Adidas, very original and originality in the bad sense of the word. In such an unfavorable light Lana head to the restaurant with his friend.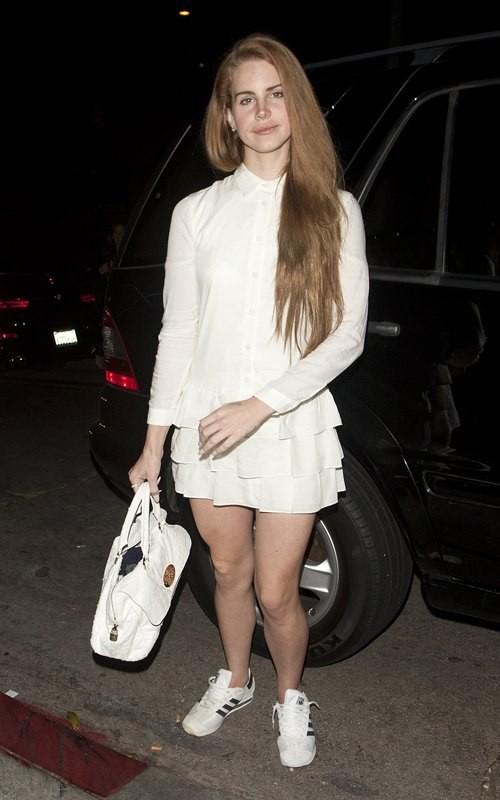 March 3
Marine theme is now almost at the peak of popularity, so Lana got to the point, wearing a long striped dress, dark blue cardigan and red ballet flats (for something singer wears heels). I like the way it looks, going to a restaurant. Very fresh! And hallelujah, she got rid of the gold pads on the tooth!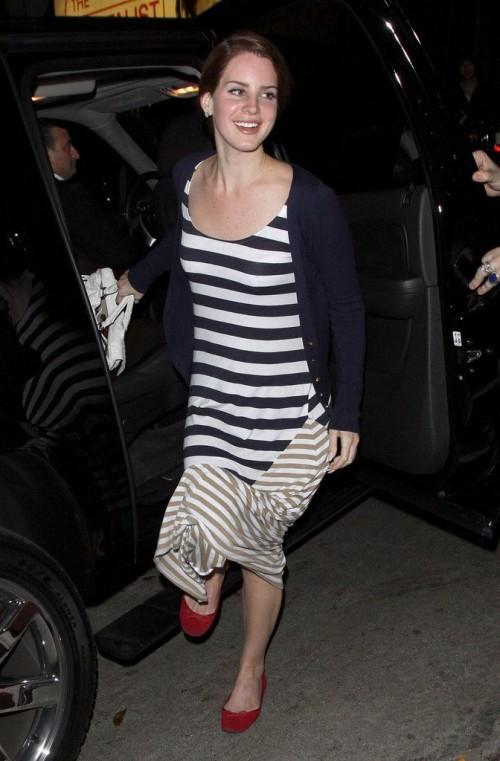 March 12
And Lana, by the way, not a bad figure ... I like that picture (man left a cute, sorry not Lanin groom) that the image of the singer. Bold and sexy. This sport bow better than many of the images in this post, so I vote for.
March 23
Lana in Berlin's airport ready to fly. To fly this way almost perfect. Available and comfortable, and what else is needed for ballooning up?