MTV Europe Music Awards ceremony completed series on MTV in 2012. This time, the venue of the event was chosen Frankfurt, Germany as well as the leading acted Heidi Klum (in my opinion, the obvious choice). As expected, the ceremony took place on a large scale - red carpet, rousing speeches, 6 outfits for the leading ... Well, go directly to the cause. Under the cut list of the best performers of the 2012 version of MTV and the fashion review with a red carpet event.

The best singer - Justin Bieber
The best singer - Taylor Swift
Best Song - Carly Rae Jepsen «Call Me Maybe»
Best clip - Say «Gangnam Style»
Best Pop Artist - Justin Bieber
Best Rock - Linkin Park
Best Alternative Artist - Lana Del Rey
Best Hip-Hop Artist - Nicki Minaj
Best Live Act - Taylor Swift
Best New Artist - One Direction
Breakthrough of the Year - Carly Rae Jepsen
The best fans - from One Direction
The best way - Taylor Swift
Best Dance Performer - David Guetta
Best American Artist - Rihanna
Best Russian Artist - Dima Bilan
Best European Act - Dima Bilan (!!! - he even beat One Direction)

And now more enjoyable. Apparel!
You can not imagine what was my surprise when I saw Rita Oru in this dress. Rita Ora, which usually appears on the red carpet eccentric suits and trouser suits ... and then in such an evening dress. A more elegant exit and can not think, but ... I could get used to Rita tried in a scarlet creation Marchesa, but I was not feeling that the dress is separate from his mistress. For me, this image can be described in one word - disharmony.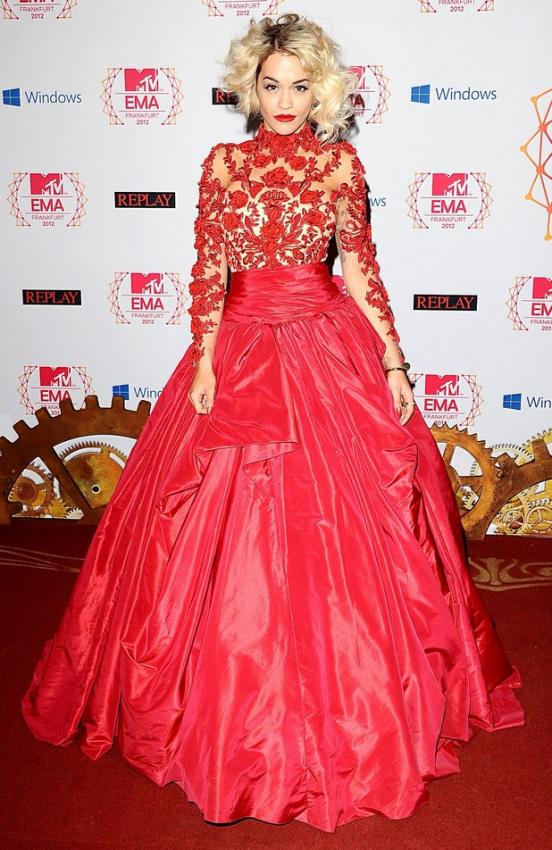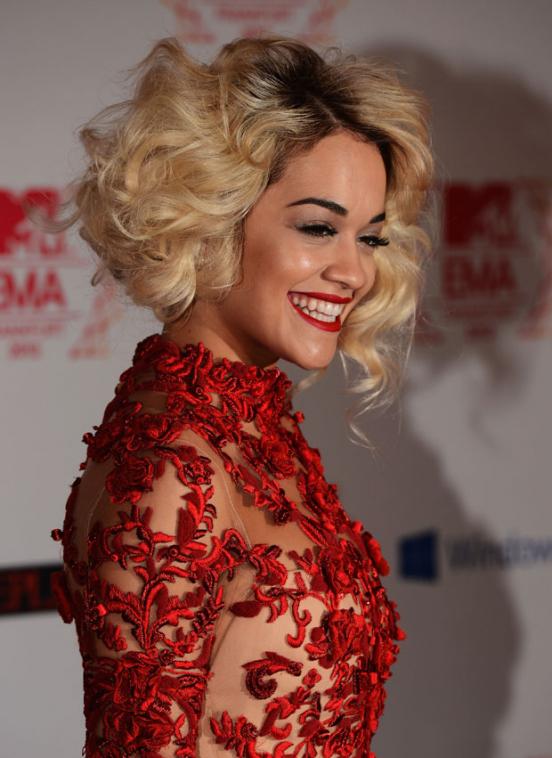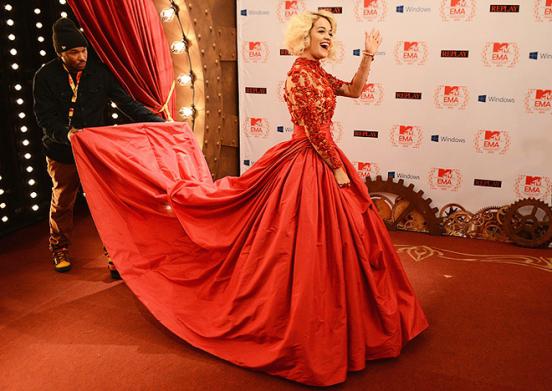 Another "illusory" dress from Stella McCartney showed us Alicia Keys. Of course, this style of dress is not new to us, but I can not help but notice a very beautiful and original green color that looks combined with dark skin Alicia is very unusual. In general, the colors in this image at the height - a grassy green and carrot and red create a unique effect, and dark silver and classic black muffle the combination to the required level. I like this outfit, but a necklace ... Why ?!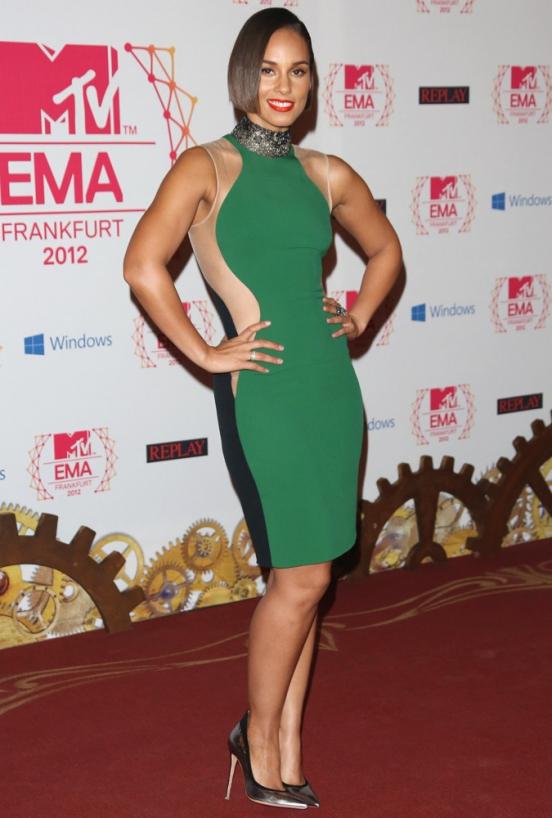 Triumfatorsha show Taylor Swift appeared on the red carpet in a dress of his favorite designer Gilles Mendel. Choosing the dress completely did not surprise me, but I still have to admit that the dress is simply gorgeous - a beautiful color and a great finish. I am glad that this release Taylor abandoned red lipstick, thanks to this image was very gentle.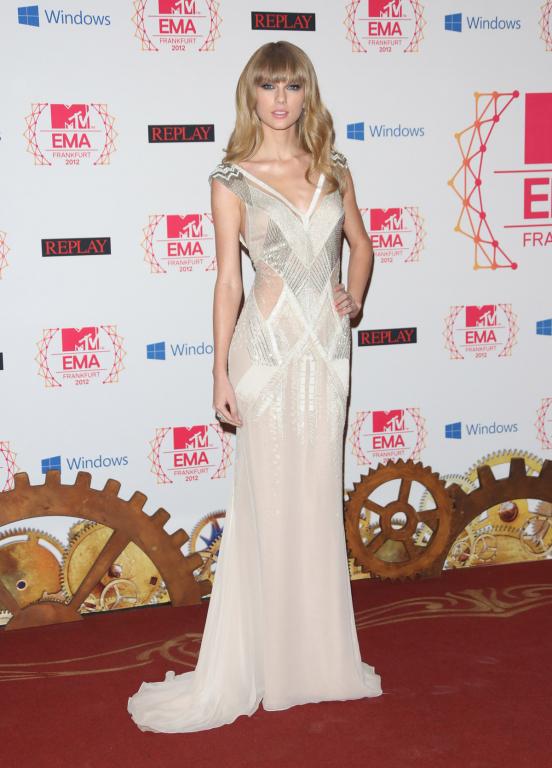 Anna Vyalitsyna walked the red carpet in a very, very controversial attire. First of all, I want to say that this dress fits perfectly into the style of our model, especially if we remember its past output - plenty of black, strange cuts, cuts in different places. But if we consider the dress outside her style, it can hardly be called successful. Yes, original and unusual, but it is cheap and old-fashioned.
Carly Rae Jepsen has decided to experiment for the first time in my memory that tried on the retro style. The experiment was a success! Romantic dress made of delicate silver lace with a small train and corset bodice perfectly approached the singer. Of course, there were the main attributes of a retro image - red lipstick and nail polish in her tone.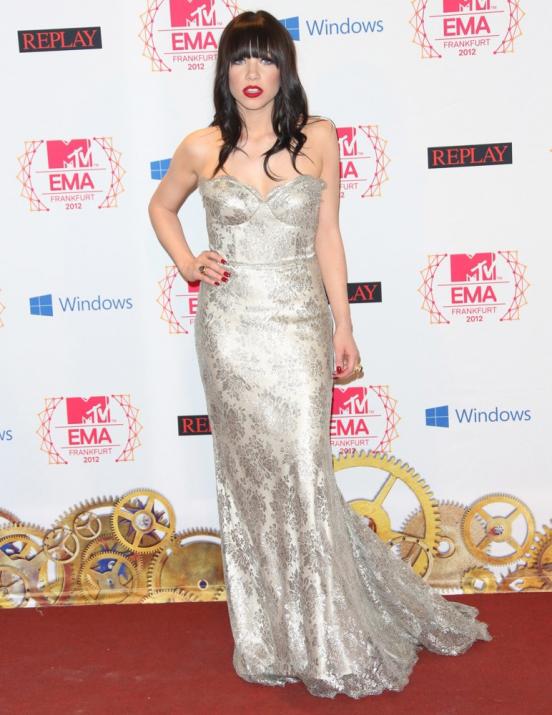 Each time Lana Del Rey outfits all dull and boring. This time, the winner in the category "Best Alternative Artist" appeared in front of photographers in satin gown, dark blue and black Below boats. Boring. The same can be said about all the other: Accessories - boring makeup - boring hairstyle - boring!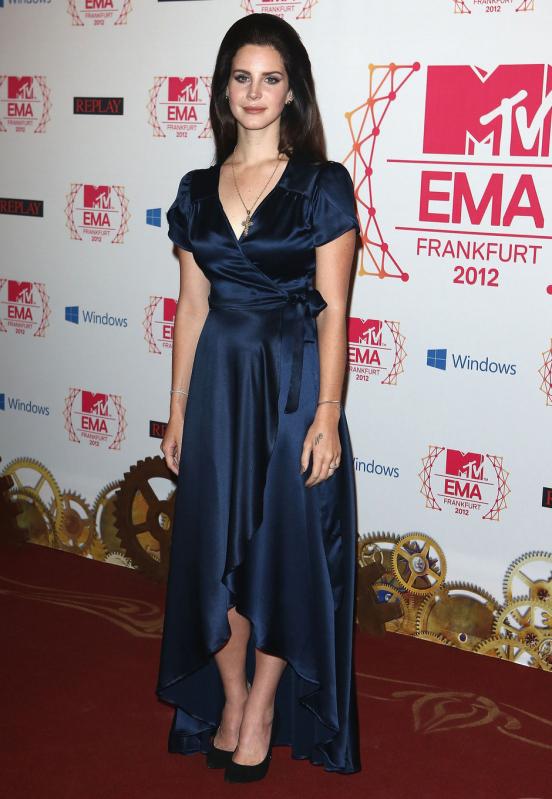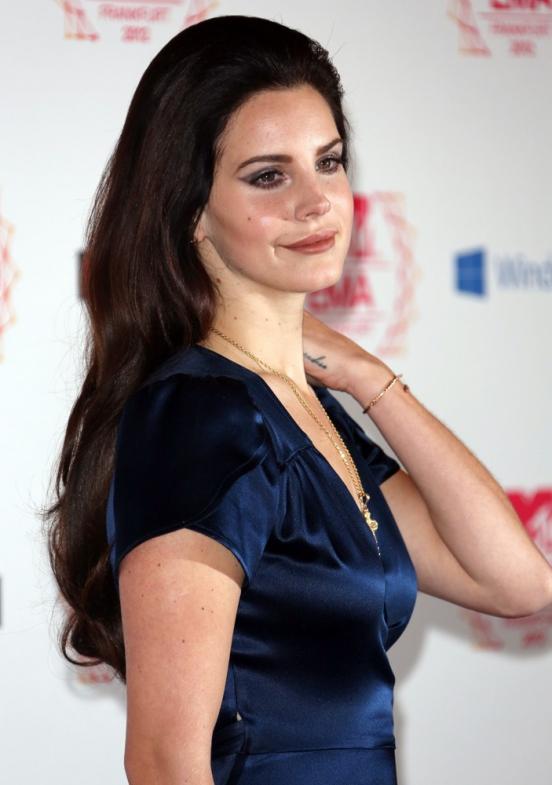 If Lana's all boring, then the winner of the last "Eurovision" Lorin whole lot of fun. Uncombed hair dry, wrinkled skirt floor, leather biker jacket over his naked body ... And what is it? White paint?
Kim Kardashian walked around the track in a black dress with a plunging neckline and a fluffy skirt with tail, the length of which is equal to the growth of the Kim. I admit, I was disappointed dress Kim - plume is clearly superfluous and synthetic trim skirt does not cause positive emotions.
Another outfit with a hint of originality - to Isabeli Fontana, which for that evening reincarnated in a rock diva. Brazilian model walked the red carpet in a tight leather jumpsuit with fringe, metal studs and zip the entire length. Well, this outfit has every right to exist, but only in the framework of the event. Otherwise, it will be associated with the costume for Halloween.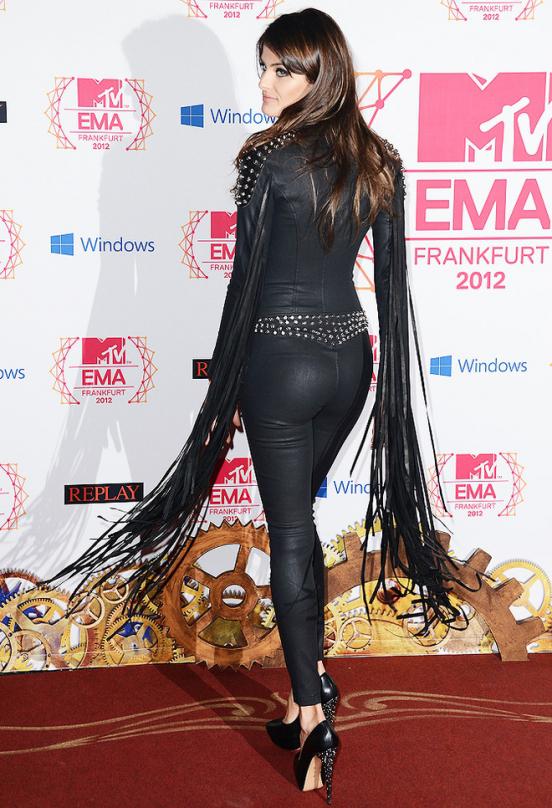 Pixie Geldof also not gone unnoticed from the red carpet. And all thanks to its wonderful clutches in a rustling candy packaging. Well, Hellouna spirit, indeed, even in the air. But seriously, the outfit Pixie was very funny - even without the "candy", which attracted worldwide attention, closed with an interesting print dress looks unusual.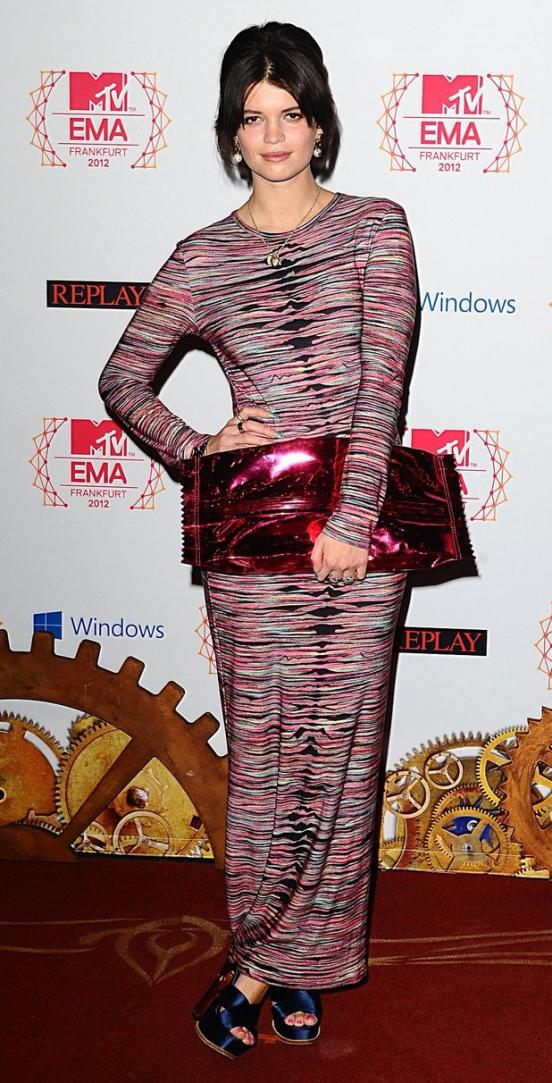 Heidi Klum in Versace. At the sight of this dress, I had the feeling that I was back in the 90s - so look dresses that fashion house Versace created at the end of the last century. But it's not in his old-fashioned, but the fact that this dress is really unfortunate, on all counts. Too many finishes, too many cuts and cut too much lacing. Do not be afraid of these words, but the dress looks cheap and tasteless. In addition, Heidi is high time to change your style to a more elegant, but not flaunting naked body all over the world.
From carpet attire failed to stage outfits. Let me remind you of the ceremony Heidi changed her six dresses, many of which were more successful than its misunderstanding by Versace. By the way, the vast majority of costumes and leading the work of the Italian fashion house.