Lana Del Rey recently incredible demand - only in the last month of the singer photo graced the cover of many famous glossy magazines (Rolling Stone, Fader Magazine, Madame Figaro). Not long ago, the singer became the heroine of the latest issue of the Canadian Journal FASHION Magazine in September. Lana has tried to cover the ensemble of Blumarine. Photographed 28-year-old singer Chris Nichols.
Lana Del Rey on the cover of FASHION Magazine
Not so long ago Lana released a video for the song «Ultraviolence», which put a veil and wedding dress, playing the role of a sad bride. In an interview he told Lana about her relationship with Barry James O'Neal (with whom she recently split), and how those relationships influenced her latest album songs.
About how her relationship with Barry influenced songs «Ultraviolence»:
"By itself, I - a gloomy character, but he is still gloomy. There was no point in trying to operate in these respects more consistently adequately within their dynamics. «Shades of Cool» is really about. »
By the way, the album Ultraviolence be the most successful in the singer's career. The album debuted in the hit parade Billboard, becoming the first disc of Lana, who led the national chart.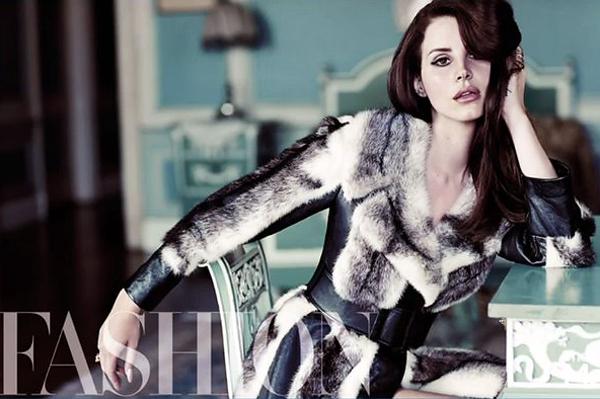 Lana Del Rey in a photo shoot for the FASHION Magazine
The work on the album with Dan Auerbach:
"The meeting with Dan Auerbach changed everything. It really brought back into my life entertainment. Between us there is a natural chemistry that was very noticeable. Dan was spontaneous. We went into the studio, taking the old microphone to record a rough version of the album, but in the end everything and left. Exciting »
Lana Del Rey in a photo shoot for the FASHION Magazine
That makes it more confident:
"Recently I was looking for comfort, individually talking to people backstage after his speeches, he spent hours with his fans. This provided me with energy. People who like what I do on stage is a kind of "go to x ..." to all those who ever doubted me. »
Lana Del Rey in a photo shoot for the FASHION Magazine
On changes in the style of her clothes:
"This evolution came to me along with the music. I like to go on stage in your favorite denim shorts, T-shirt, a gold ring and diamonds. This is freedom. Once on the scene the first time 4 years ago, I thought that I needed to wear a dress, look presentable, something ... »
Lana Del Rey in a photo shoot for the FASHION Magazine