Of course, reading other people's blogs and wrong is wrong, but certainly many of us at least once in their life to look like in the mind of genius and talent, or the corner of his eyes to look at their personal journals, the pages of which they are often poured out his soul. Well, today we have the opportunity. In my post collected diaries, notebooks, travel albums and dictionaries celebrities past and present.
Dictionary of Nick Cave, 1984. Australian musician at one time led the dictionary, where he wrote in alphabetical order unfamiliar words and their meanings, and these words were completely out of different areas. A very unusual occupation. Perhaps this dictionary helped him in songwriting or it simply this way increased their level of knowledge, but to be able to answer this question only the Cave.
I think that the author of these records will be easy to learn. This is one of the many notebooks of Leonardo da Vinci, the pages of which he developed mechanisms for its many inventions.
This road magazine Albert Einstein in which he took notes during his travels across America.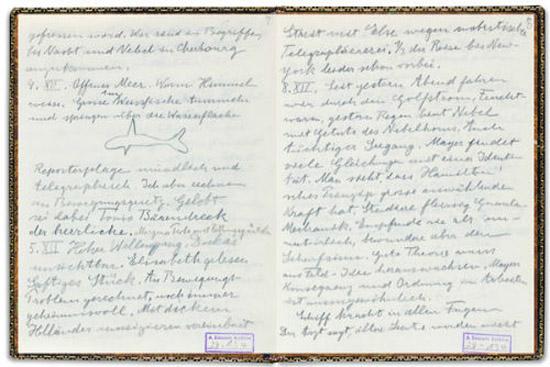 A notebook is a great poet and novelist Charlotte Bronte, dated 1836 year. Of course, with good intentions, it is difficult to make out anything (Bronte always differed very illegible handwriting), but perhaps we are looking at a draft of one of its legendary novels.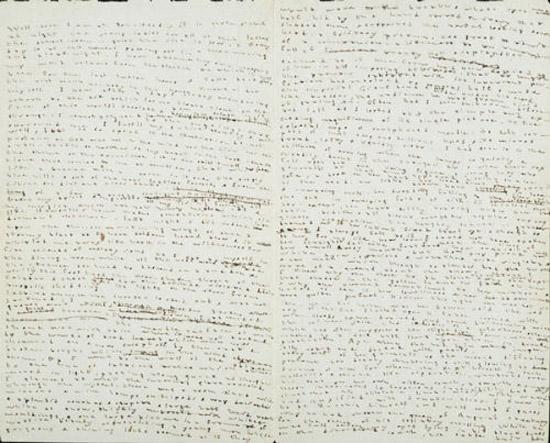 We have already seen Kurt Cobain's suicide note he wrote before the shoot, and now we can look at and a few records of his personal diary. At first everything is written very legibly and consistently (musician says that he has a lot of problems and he made a lot of mistakes, and it would be nice to make a list of these errors in order to avoid them in the future). On the pages of the second diary is going to some house: snatches of phrases, drawings, crossed records - all this surely suggests that the person was not himself, and suffered hard times. Although there is no deal with psychoanalysis.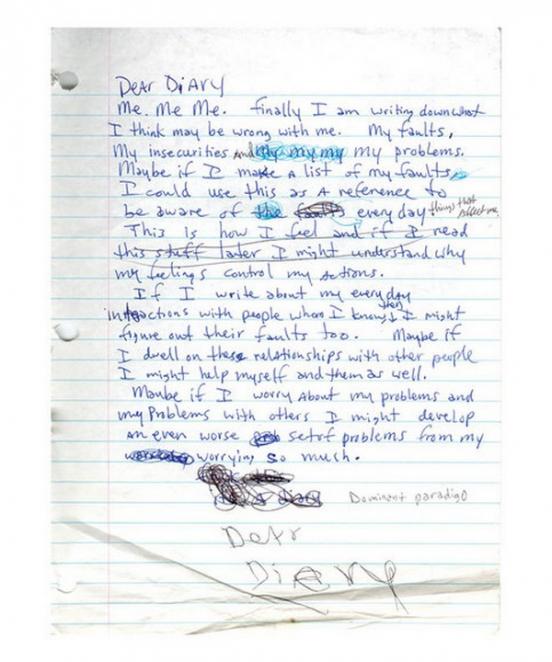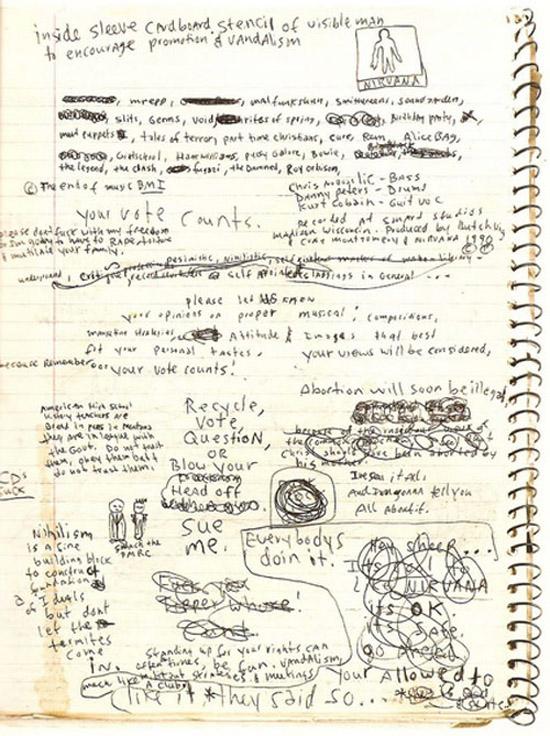 One can see that this blog belongs to the person of art. Entries Frida Kahlo are decorated with colorful drawings, the meaning of which is hardly given to understand the common man. Just as hard to unravel the essence of her famous paintings.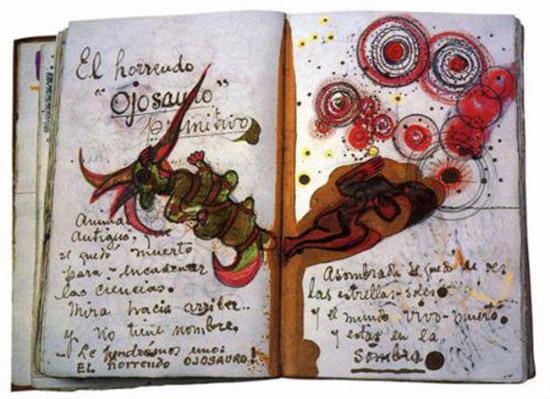 And it notes the American writer Jack Kerouac. Perhaps, in its pages, he took notes for his famous book "The Road" (the same, on the grounds that filmed with Kristen Stewart and Garrett Hedlund). By the way, I recommend to all fans of the genre road-book.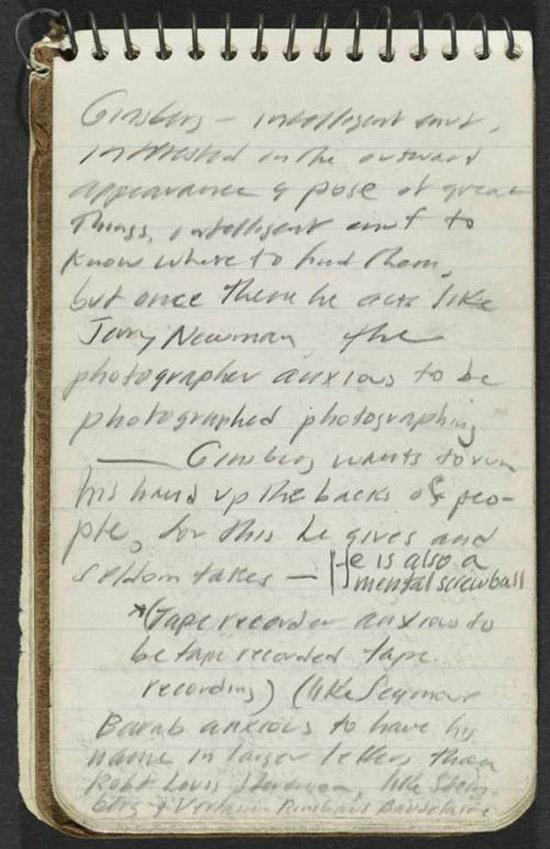 Personal notebook Mark Twain. It is difficult to make out, but apparently, this is the list of diseases (typhoid, malaria, cancer, etc.).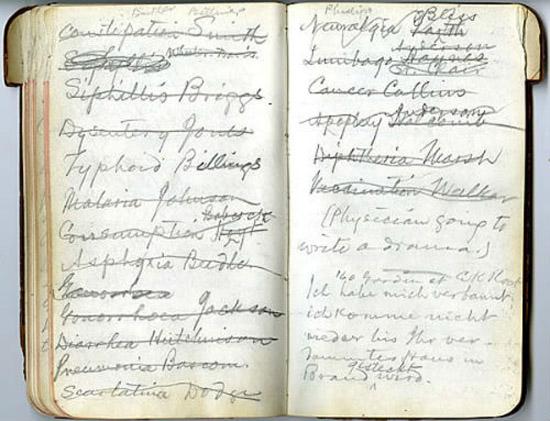 Positive blog Canadian singer David Foster, decorated with colorful emoticons. Unusually for a man.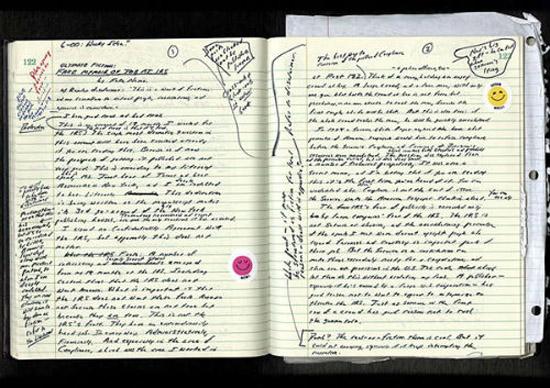 And finally, the diaries of Marilyn Monroe. Among them was collected a book called «Fragments: Poems, Intimate Notes, Letters», which consists of personal records, letters and poems of one of the greatest women of the 20th century. As stated in the book, all collected in it "provides a new way of looking at Monroe, get to know her personality and feel the tragedy of its destiny." In the text you can make out only a few words and phrases, so I enclose not only the scans diary Marilyn, and decoding written English.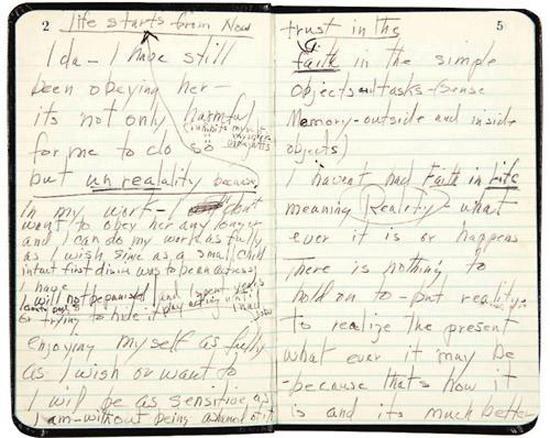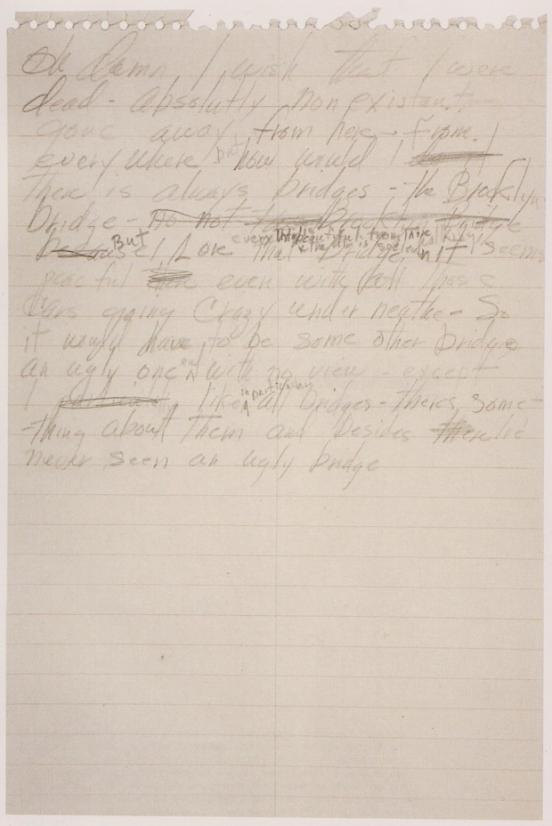 Oh damn I wish that I were
dead - absolutely nonexistent -
gone away from here - from
everywhere but how would I do it
There is always bridges - the Brooklyn
bridge - no not the Brooklyn Bridge
because But I love that bridge (everything is beautiful from there and the air is so clean) walking it seems
peaceful there even with all those
cars going crazy underneath. So
it would have to be some other bridge
an ugly one and with no view - except
I particularly like in particular all bridges - there's some-
thing about them and besides these I've
never seen an ugly bridge
On some pages, visible smudges, perhaps, they were tears.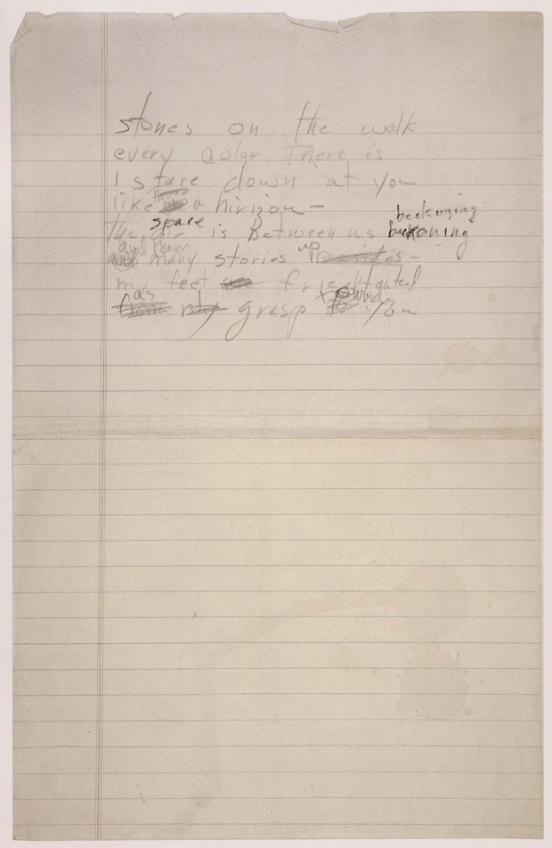 Stones on the walk
every color there is
I stare down at you
like these the a horizon -
the space / the air is between us beckoning
and I am many stories besides up
my feet are frightened
from my as I grasp for towards you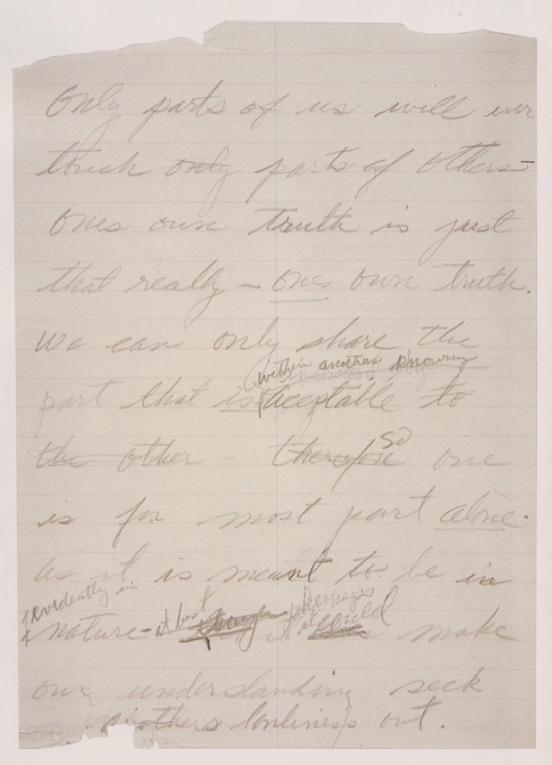 Only parts of us will ever
touch only parts of others -
one's own truth is just that really - one's own truth.
We can only share the part that is understood by within another's knowing acceptable to
the other - therefore so one
is for most part alone.
As it is meant to be in
evidently in nature - at best though perhaps it could make
our understanding seek
another's loneliness out.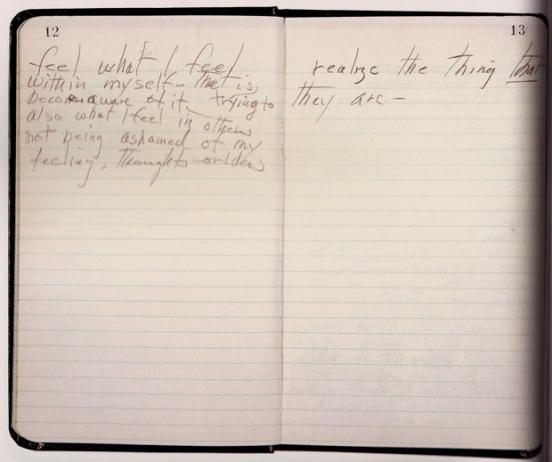 I feel what I feel
within myself - that is trying to
become aware of it
also what I feel in others
not being ashamed of my feeling, thoughts - or ideas
realize the thing that
they are -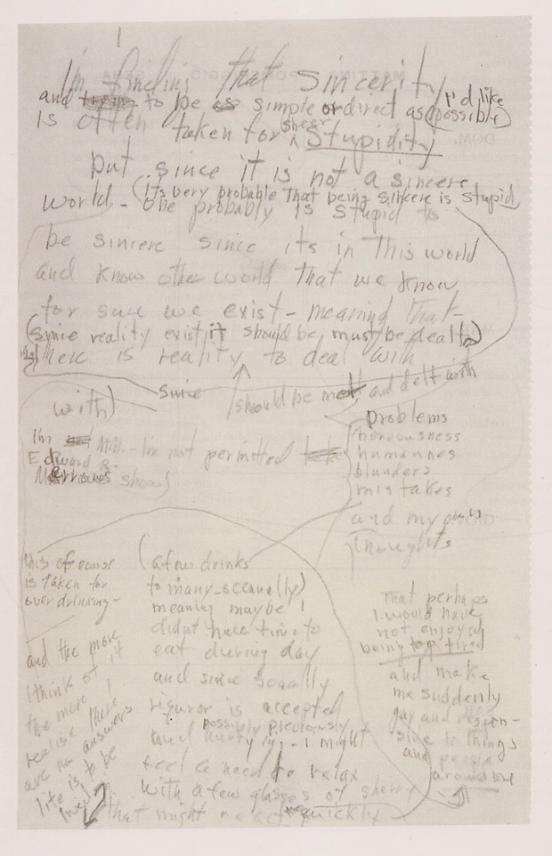 I'm finding that sincerity
and trying to be as simple or direct as (possible) I'd like
is often taken for sheer stupidity
but since it is not a sincere world -
it's very probable that being sincere is stupid.
One probably is stupid to
be sincere since it's in this world
and no other world that we know
for sure we exist - meaning that -
(since reality exists it should be must be dealt should be met and dealt with)
since there is reality to deal with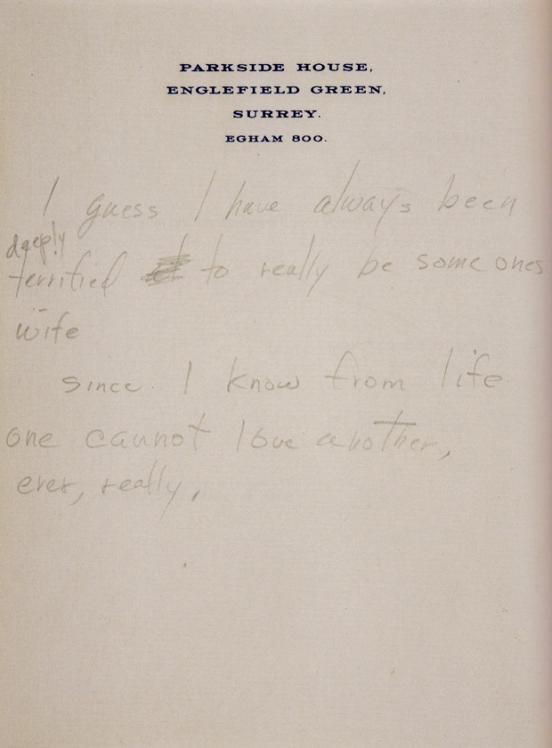 I guess I have always been
deeply terrified at to really be someone's
wife
since I know life
one can not love another,
ever, really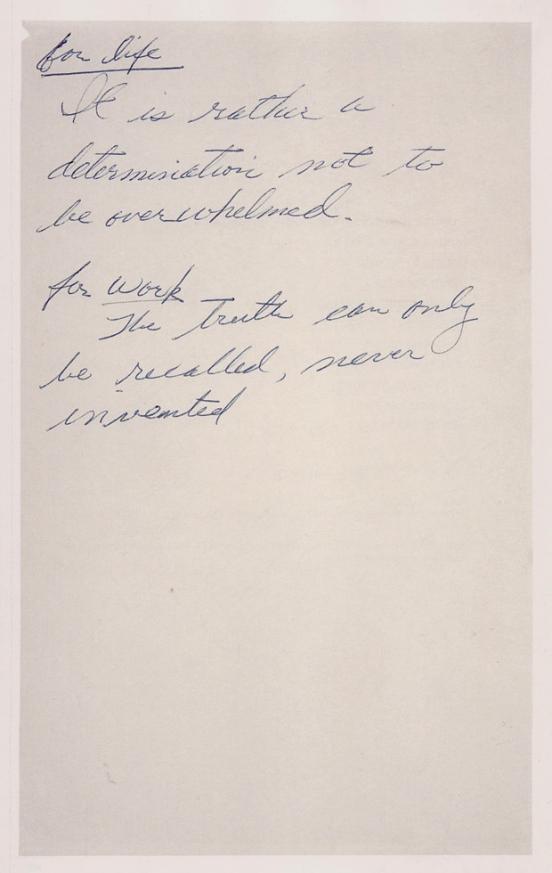 for life:
It is rather a determination not to be overwhelmed
for work:
The truth can only be recalled, never invented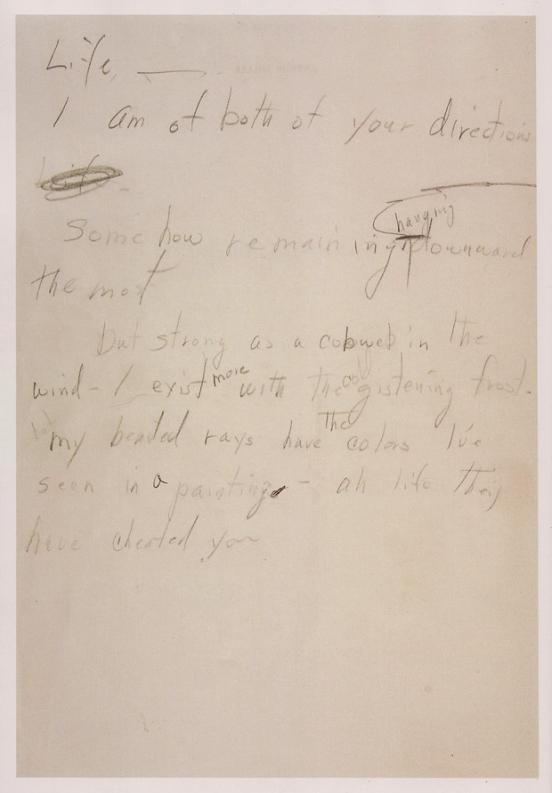 Life -
I am of both of your directions
Life
Somehow remaining hanging downward
the most
but strong as a cobweb in the
wind - I exist more with the cold glistening frost.
But my beaded rays have the colors I've
seen in a paintings - ah life they
have cheated you
Book cover.