Each fashion season brings its surprises fans fashion. Among the pleasant surprises of the season spring-summer 2014 - a large number of original and classic, daring and romantic, bright and tender boats, sandals, light and open shoes for spring, summer, autumn. Today - bright high heels 2014: Children's motives in summer collection Christian Louboutin, the process of creating iconic shoes Britton Kurt Geiger, the most pressing 6 pairs of shoes with heels by Manolo Blahnik and more ...
1. Children in mood summer collection Christian Louboutin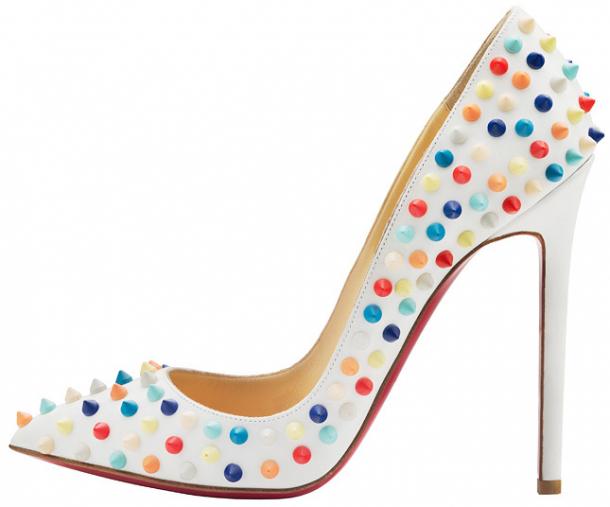 Shoes Pigalle
Already that the season is hard to imagine shoes from this brand without thorns. But spikes spikes strife, and every new Christian Louboutin shoes are fundamentally different from the previous ones. At this time in the summer collection of shoes designers put together seemingly incompatible brutal and bold spikes and cheerful, colorful, almost children's coloring. So once all metal jewelry shoes from the brand this season finally lost all his aggression.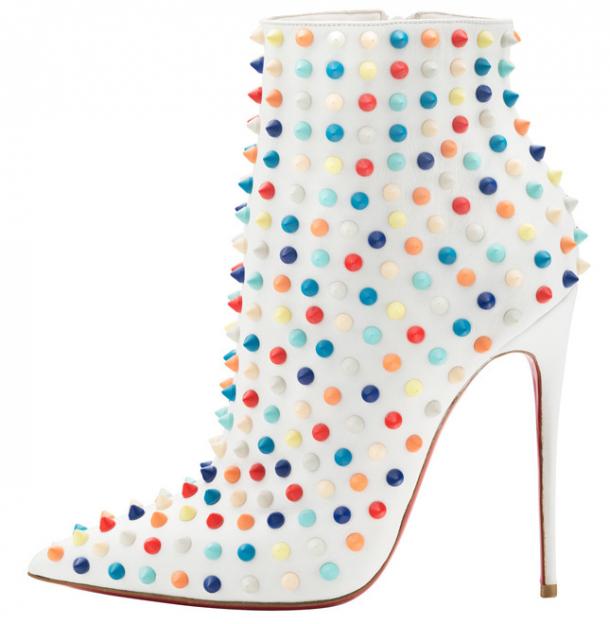 Now snow-white skin quality spikes adorn not in the best traditions of rock musicians, and plastic rivets in colors worthy of the Day and other toys. But all of that we so dearly love this brand, in 2014 remained in place. This bright red soles and smooth lines, and recognizable, always trendy shape.
Under a similar soft shoes and bright accessories: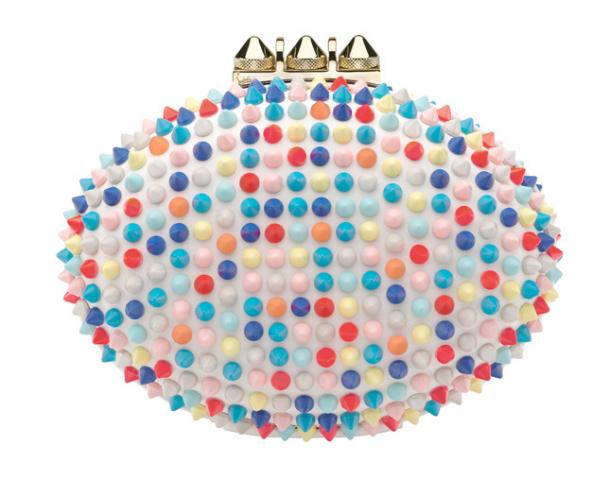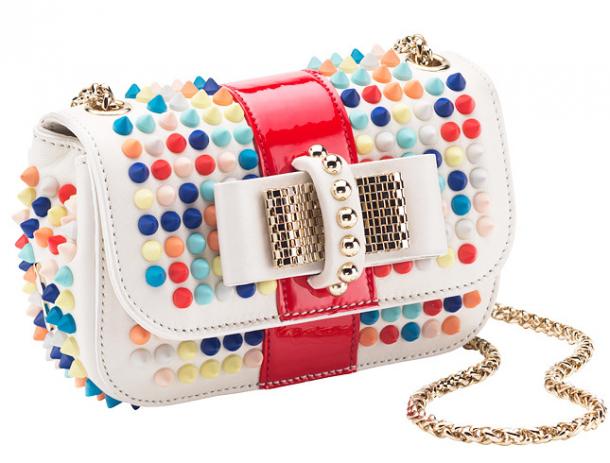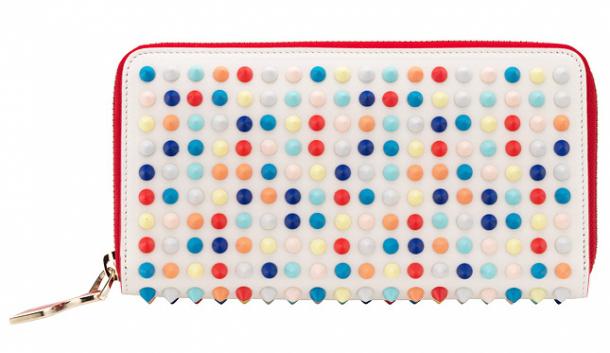 2. The legendary shoes of Britton Kurt Geiger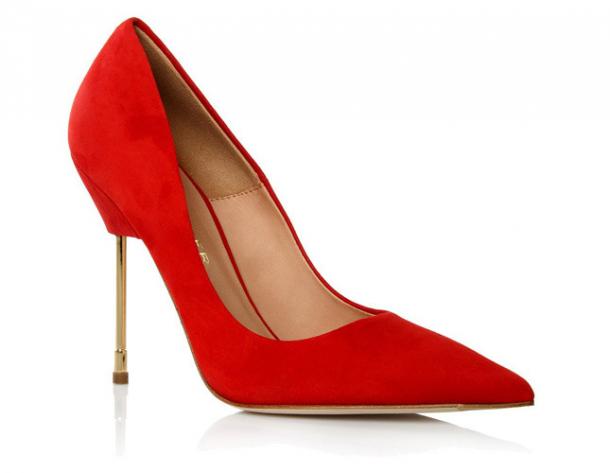 Notorious model boats Britton from the iconic British brand Kurt Geiger - Shoes, by which it is impossible to pass. Each season, each year changing textures, colors, materials, remain unchanged only incredibly feminine and elegant shape and a thin metal heel.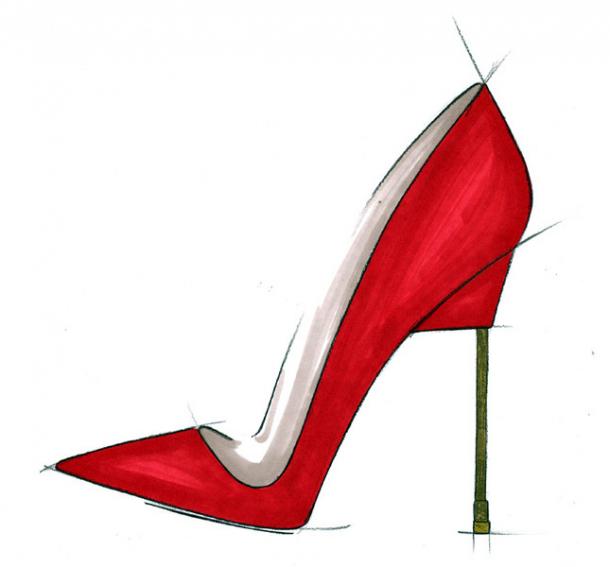 Notably, these classic pumps are manufactured in Florence, a city that has long been famous for its professional artists and the best factories for the manufacture of footwear.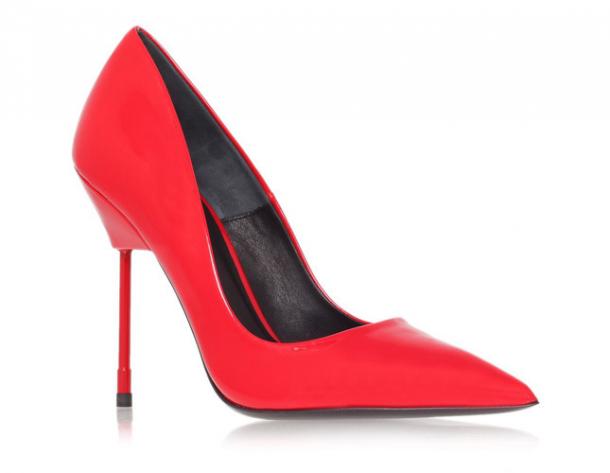 By the way, about the mystery of the creation of this incredibly elegant shoes in 2014 was filmed a small clip, through which you can fully experience the atmosphere of the Florentine shoe shop and feel the complex and multifaceted process. All this generously flavored subtleties shoe business, Florentine landscapes, tales masters of this difficult matter. All the fashion lovers must watch!
This season, the iconic brand has pleased fans of classic shoes is not only impressive rich red seed pans, but also models with animal prints, lacquered and matte, smooth and textured, beige and black.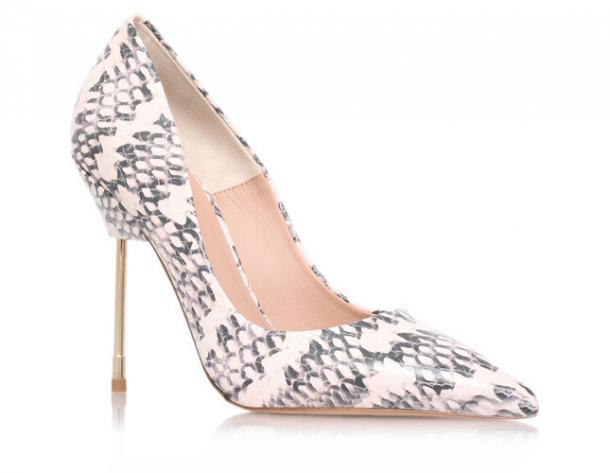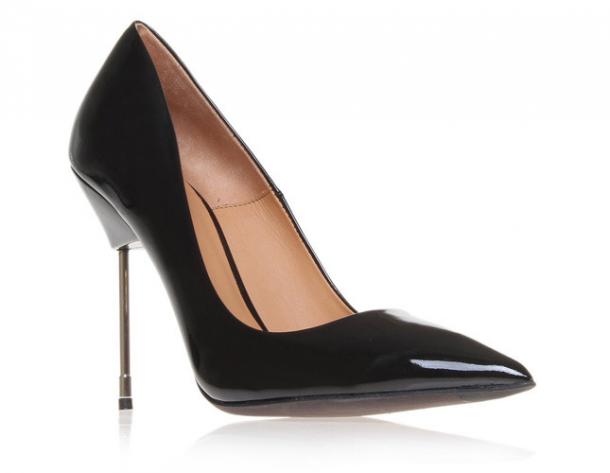 3. Immortal Elegance collection Manolo Blahnik SS14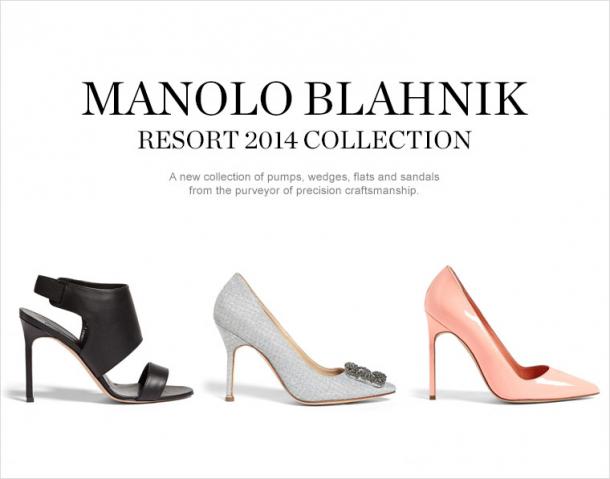 This elegant and feminine spring-summer collection 2014 takes us back to the era of the first third of the 20th century. Amaze luxurious fabrics, rich ornaments, bold color combinations and an abundance of decorative elements. All of this - a new collection of shoes from Manolo Blahnik, revived the dream of many girls.
The inspiration for such a beautiful high-heeled shoes were the pictures of the famous Italian painter Giovanni Boldini. In addition, it plays no small role for the brand became the classic mood of Spain, its culture and art. All this is reflected in their hands, fringe, intricate embroidery.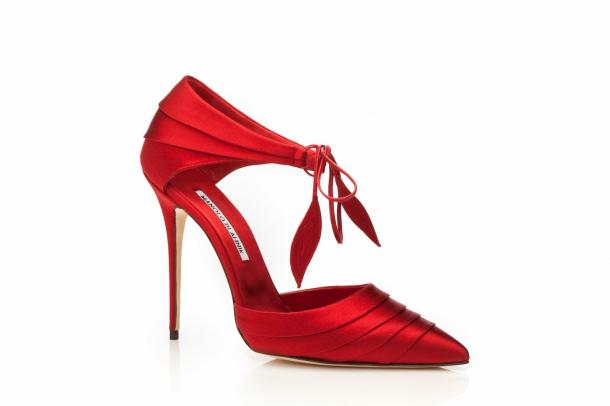 Below, one of the highlights of the new collection models. Blue satin shoes, which has gained its popularity due to the series. It is in these married the man of her dreams Carey Bradshaw.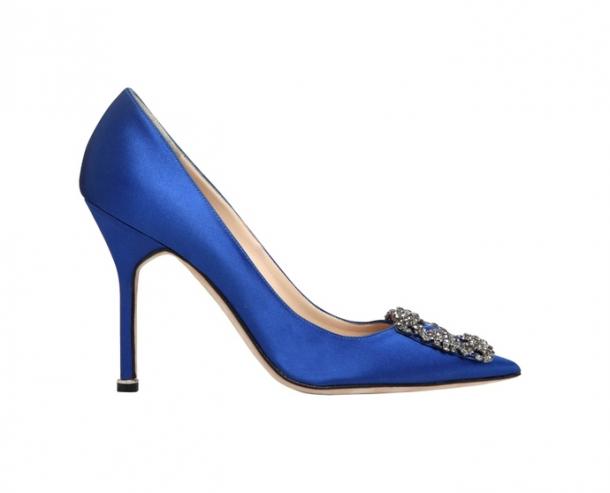 High-heeled shoes with fringe in 2014 again becoming popular. Vivid proof - these brown lightly in cowboy motifs sandals high heels. By the way, is another effective way to implement this trend in its image - select any accessory with tassels and fringe.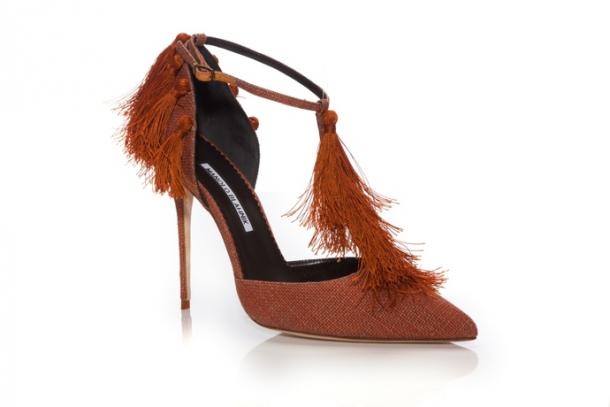 Fans of retro disco and turbulent '90s certainly appreciate another model from the new collection: bright, neon pumps, which are able to be the main focus of any outfit.
Add elegance and grace even to the simplest along easily with the help of just such classic boats with translucent lace inserts.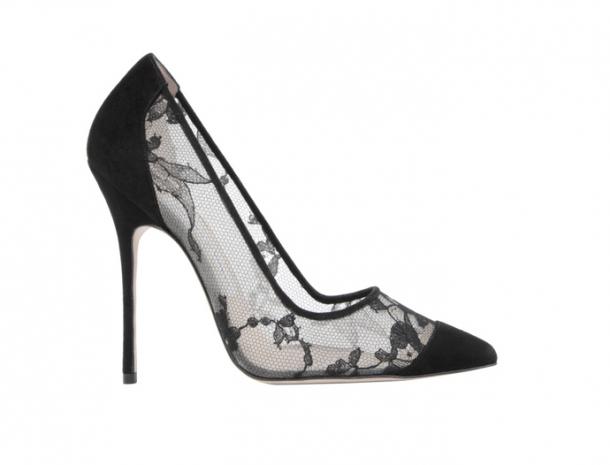 Well, where do without trendy floral motifs, which in 2014 is reflected everywhere, even in the shoe. As a result, there are such light that's open sandals heels decorated with polka dots and leaves a delicate colors.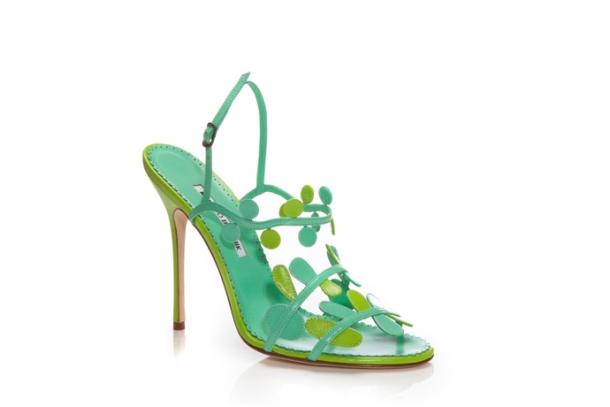 4. Actual shoe trends 2014
If with the boat more or less clear, then left, and other styles of shoes with heels, which occupied the podium spring-summer season. These are the two, known to many, a style that just beg to fill up your spring wardrobe.
1. Shoes-heeled clogs
Such shoes with high steady heel has become a universal trend model that blends harmoniously with the equally minimalist, classical and ethnic collections this season. Do not be afraid of eclecticism in spring-summer 2014! Choose really is from what: clogs with feathers collection Rochas, geometric heels of Celine, Stella McCartney or Kenzo, futuristic motives Iceberg ... Shoes, clogs on a comfortable heel - a valuable acquisition for the hot weather and long walks.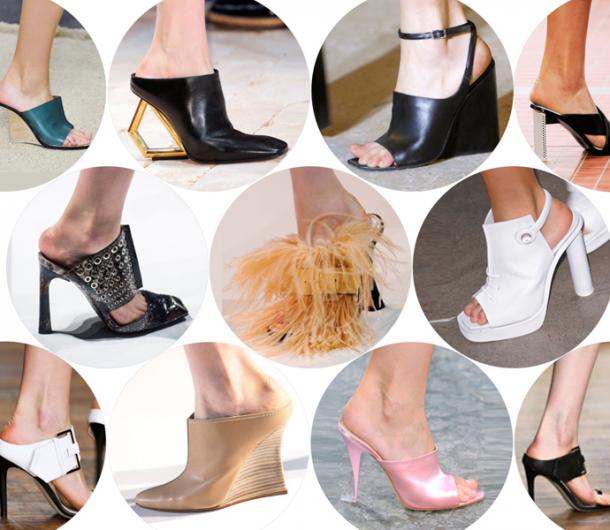 2. Flip-flops on a thin strap
Elegant and feminine spring 2014 decision - elegant sandals with thin straps: dense and graphical now like Fendi and Christian Dior, soft and thin, as in the collections DSquared2, Christopher Kane or Roberto Cavalli. All this with a comfortable heel and only the finest materials! A good choice for parties, bars and visits.