Fab Four once again returned to the screen! In the continuation of the blockbuster 2008 "Sex and the City" is waiting for us a lot of interesting things. Naturally, the main characters will delight us with new outfits. Still, after their "working" clothes cost the filmmakers more than $ 10 million. Carrie alone change clothes 48 times! And this for 146 minutes, probably a record :) Well, we offer you some of the most interesting outfits from the movie "Sex and the City 2".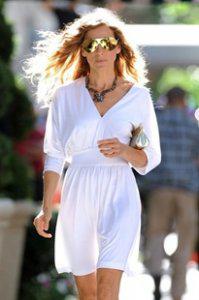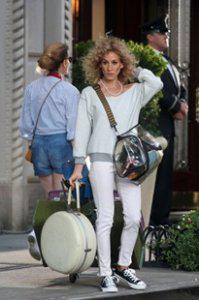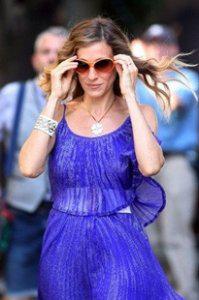 Carrie (Sarah Jessica Parker) knows exactly how to look stunning in a simple knit dress from Halston. She supplemented her image a pair of shoes Christian Louboutin, clutch from Chanel, stylish glasses and a necklace.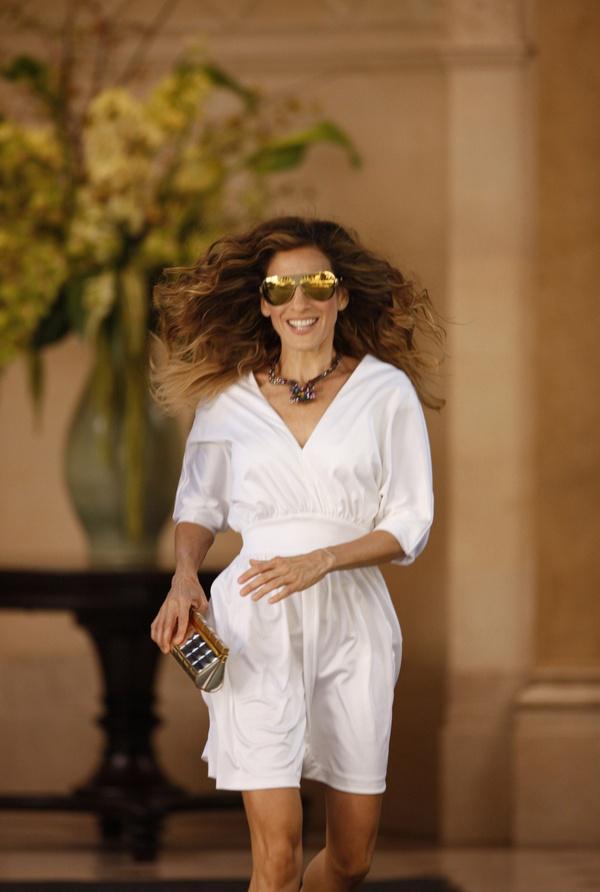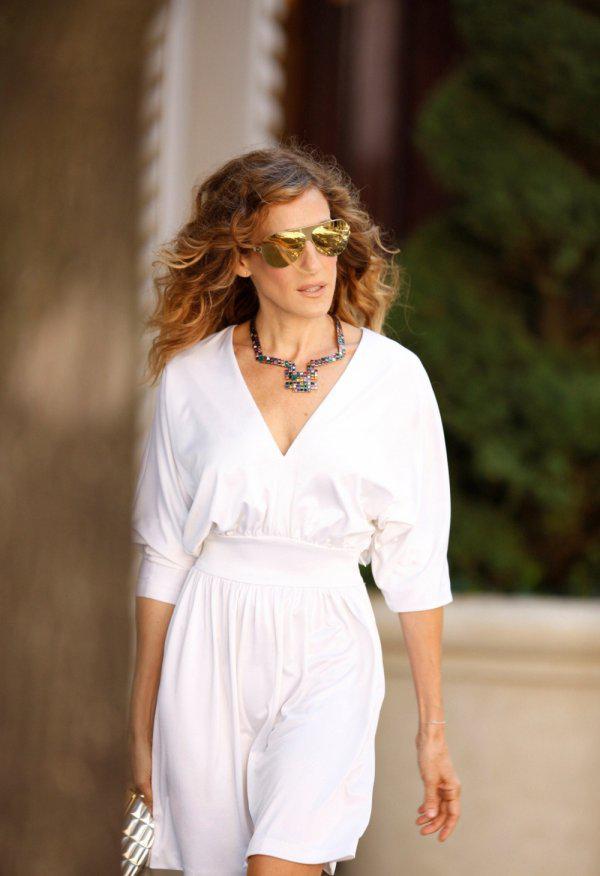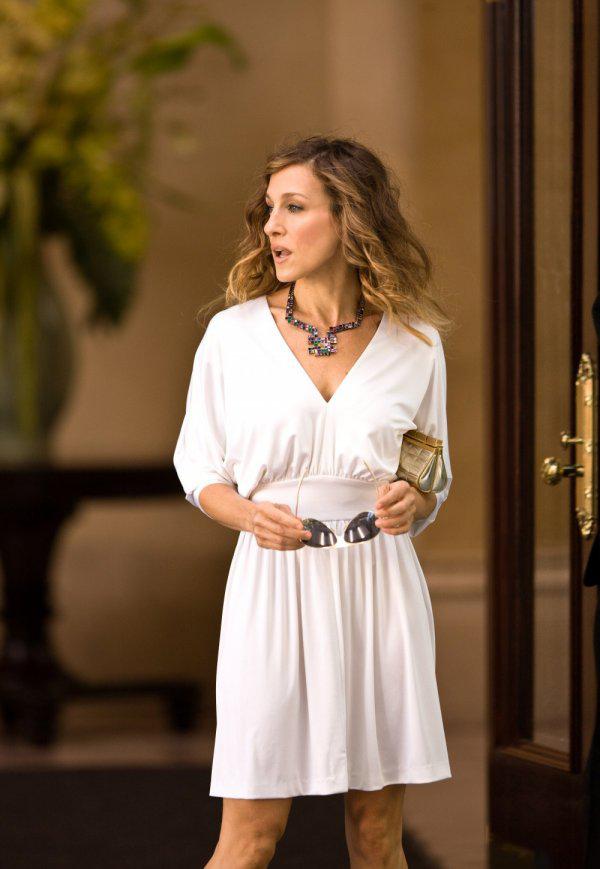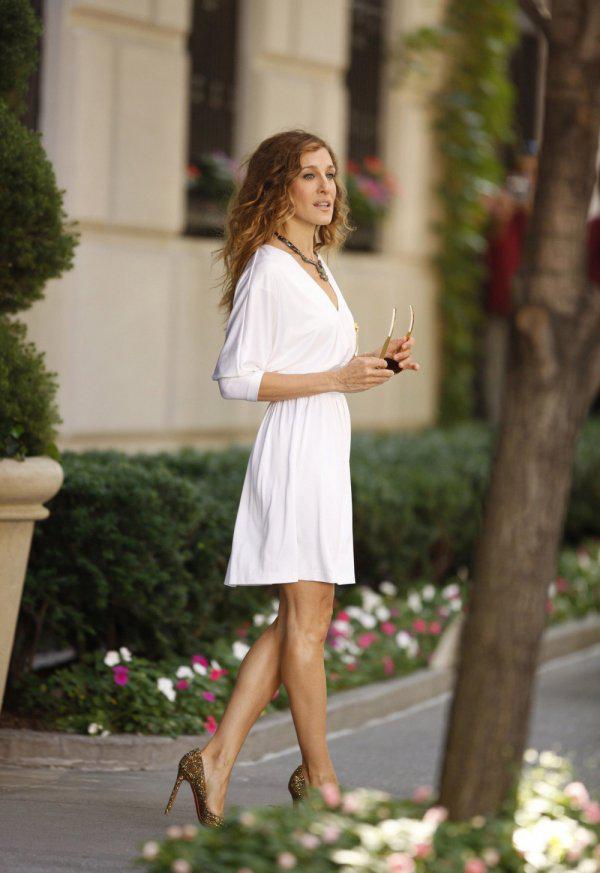 Charlotte (Kristin Davis) shines in a skirt and jacket from Christian Dior, with a pink leather bag Lady Dior. Complements white and pink sandals Christian Louboutin.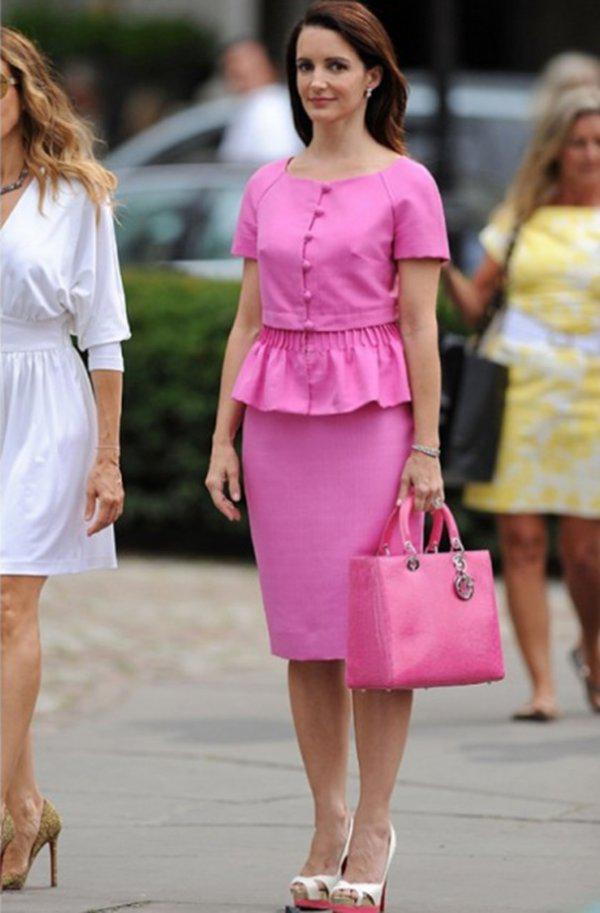 Samantha (Kim Cattrall) wears a sunglasses with a chic clutch by VBH. Of course, not gone unnoticed by her "little black dress».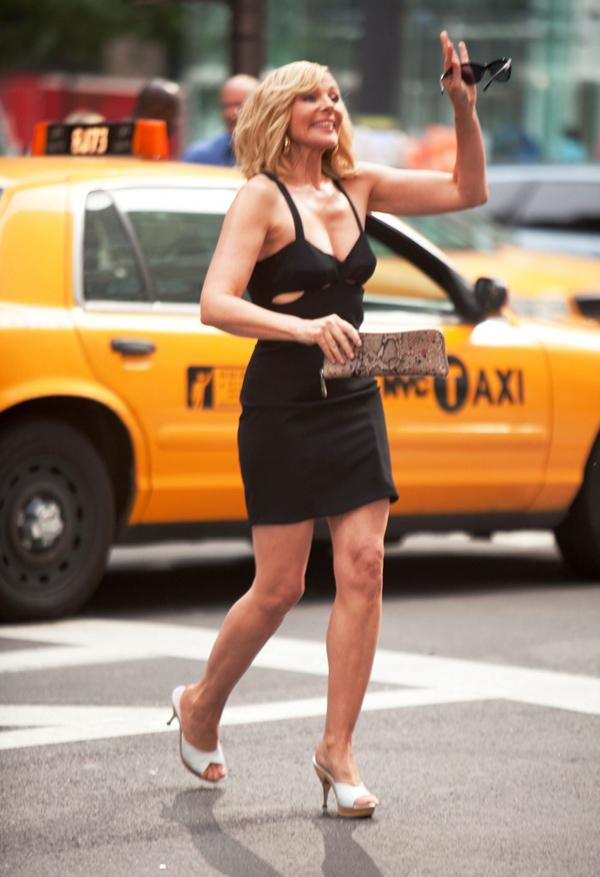 Miranda (Cynthia Nixon) posing in dress (note the times) mustard Bottega Veneta and shoes on a hidden platform by Yves Saint Laurent.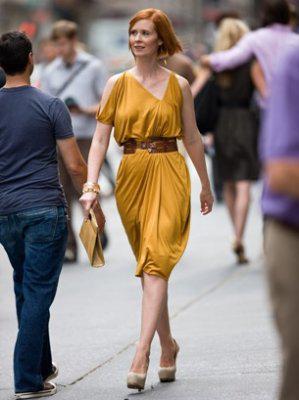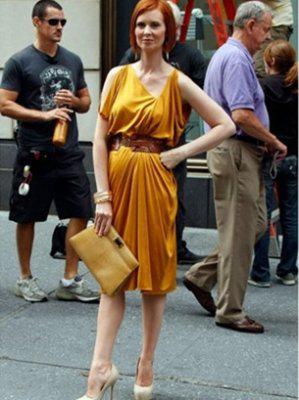 Bold fashion experiments are an integral part of Carrie Bradshaw. It combines J'Adore Dior T-shirt with a purple skirt. This is a subtle allusion to its "brand" pack?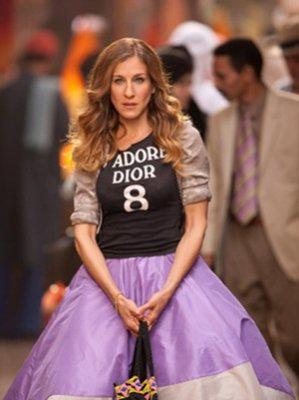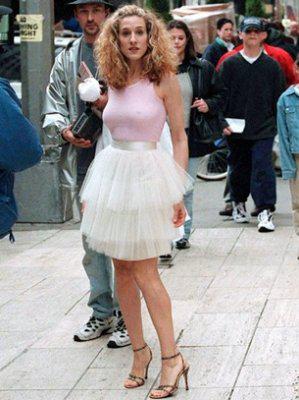 Fab Four in anticipation of a luxury holiday in Abu Dhabi - and they are dressed for the occasion. Ladies have combined their own outfits a la "Arabian Nights", using exotic prints, scarves, "pants Aladdin" and wide-brimmed hats.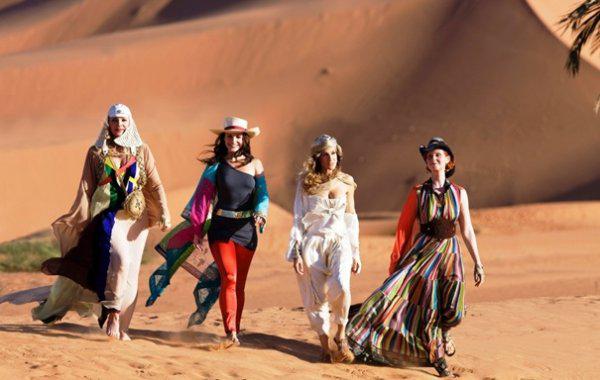 Choose a simple hairstyle and accessories, Carrie emphasis on bright colors, wearing a pleated dress from Halston. By the way, this year, Sarah Jessica Parker wore a similar version of this dress, only a muted metallic shades, the ball was organized by the Metropolitan Museum Costume Institute.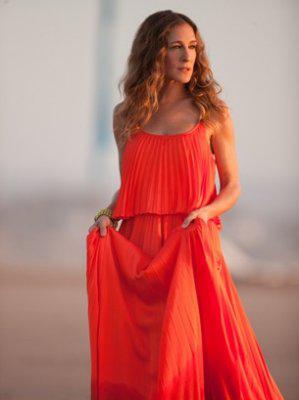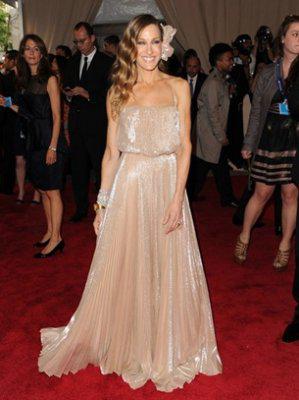 Samantha animates form-fitting golden dress flashy gold jewelry and a bag with python print. And, of course, the favorite accessory - a cocktail "Cosmopolitan»!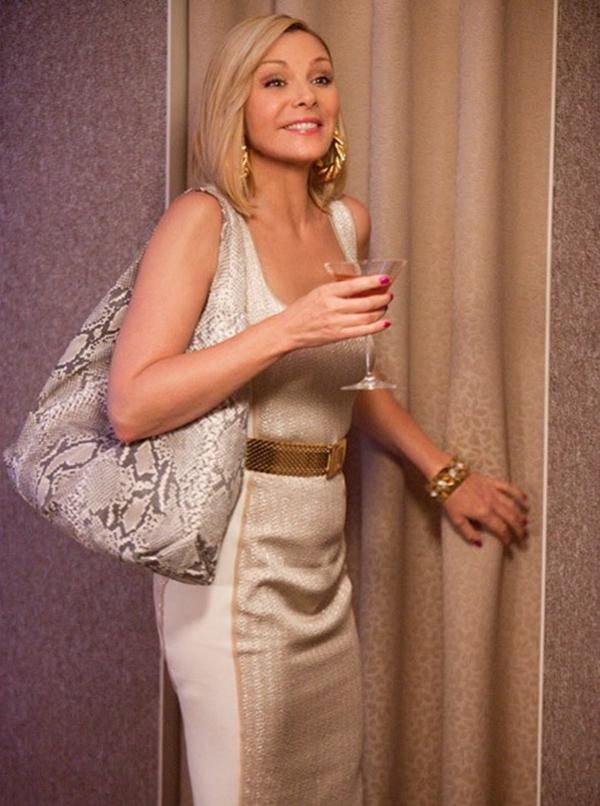 Carrie rushes to the two-tier pleated dress from Halston, sandals by Christian Louboutin T-strap prominent, with a big baggy handbag Christian Louboutin. The final touch - a gold pendant in the shape of a clover.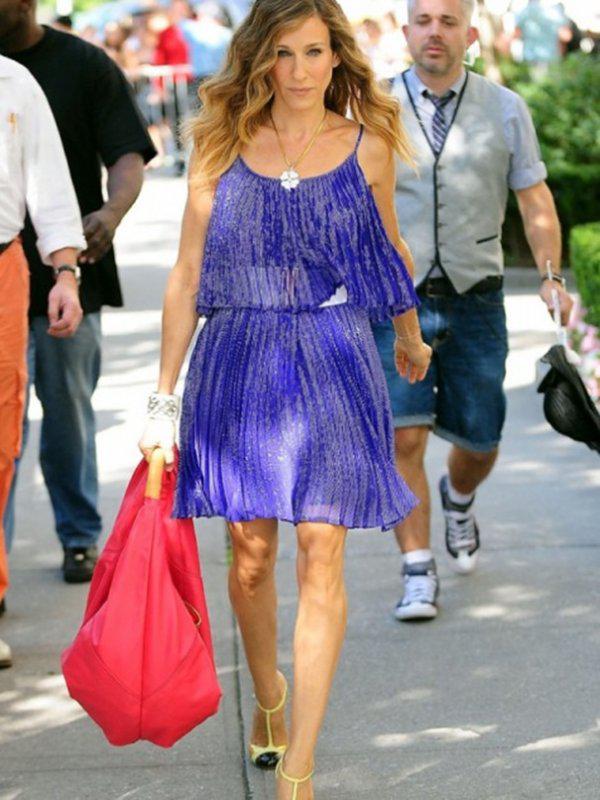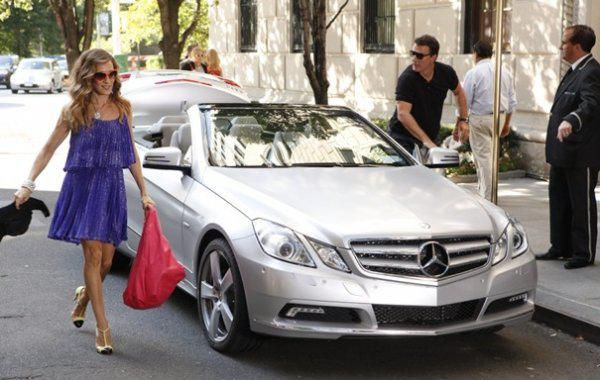 In one scene of the film, Samantha has become an absolute rocker. The actress wore a studded denim vest (Levi's), patterned leggings (Michi) and red boots with buckles (Fantasy).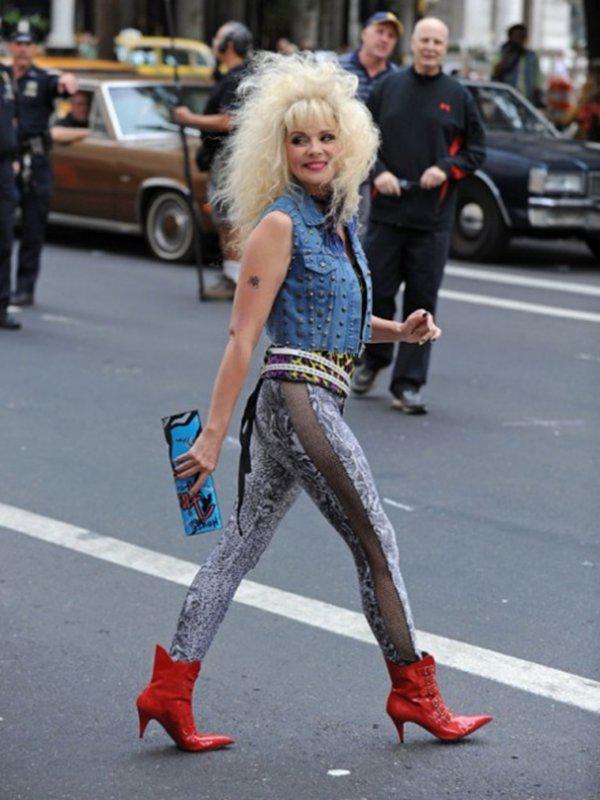 White Jeans (Jordache)? There is. Jacket without arms (Vintage)? There is. The fluffy hair? There is. Kerry is clearly trying to be like Jennifer Beals (Jennifer Beals) in the movie "Flashdance» (Flashdance).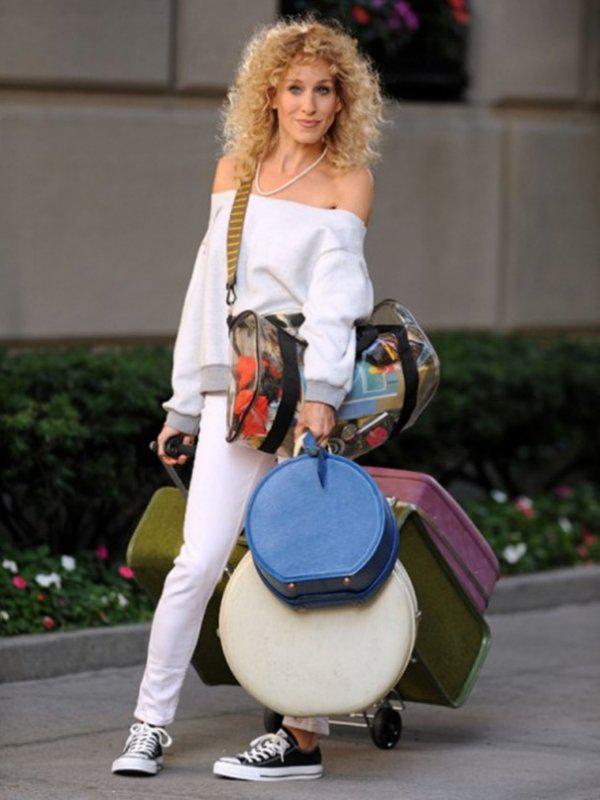 Another outfit in the style of the 80s - Carrie looks like Madonna, while Charlotte has a rather stiff appearance.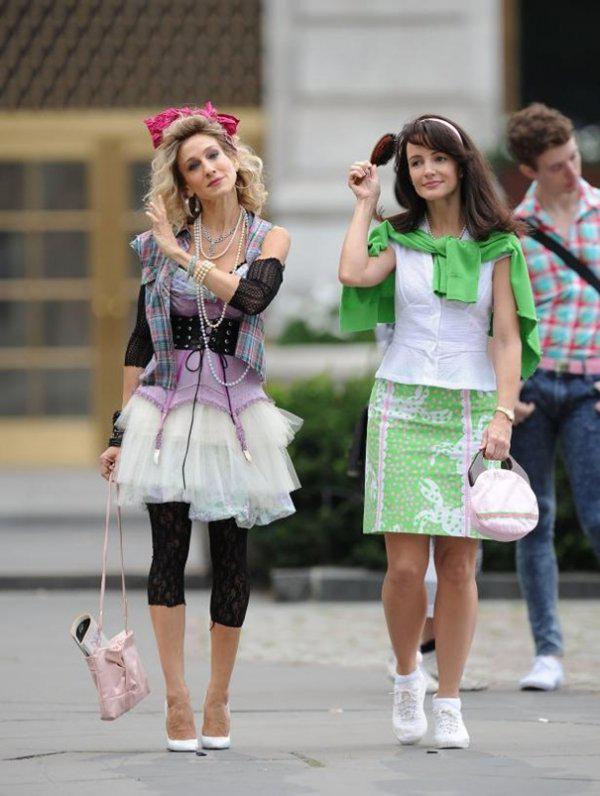 And in the distant '80s Miranda hurried to work. Young (and angry), she rushes into Reebok sneakers and white business suit by Vintage. Probably I put shoes in a bag.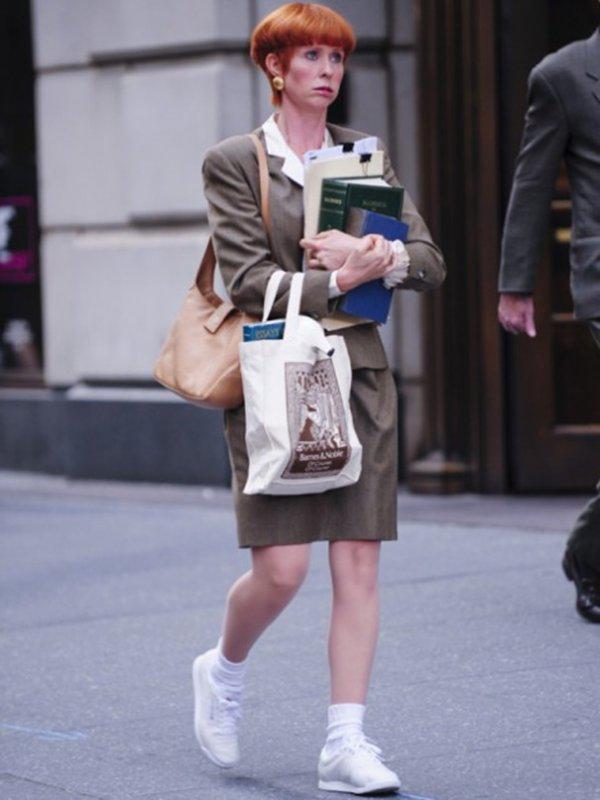 We are glad that now she chooses a luxury thing. Miranda looks stunning in a striped dress free from Zero and Maria Cornejo, laced sandals with cute baggy bag.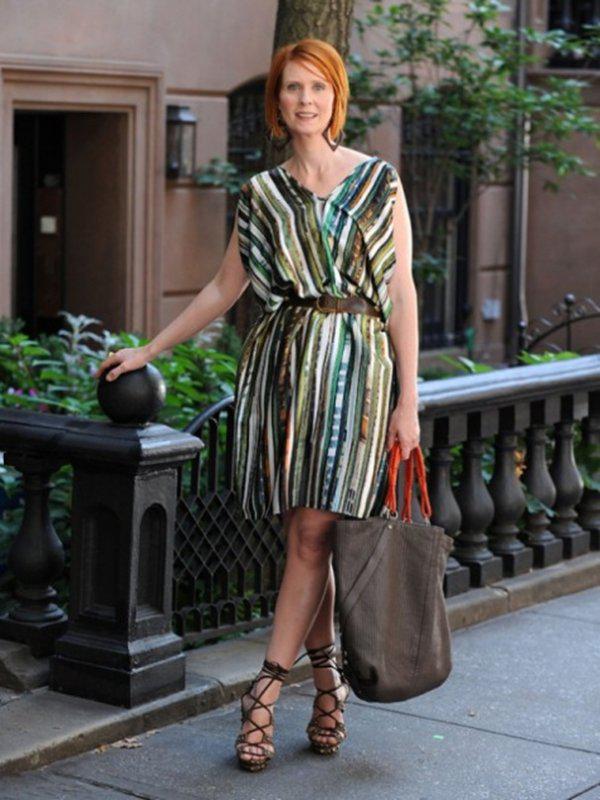 Some hate it when all the items of clothing is completely consistent with each other, but we do not mind that Charlotte always picks up the bag in the color of the dress. This outfit looks stunning (Dress: Oscar de la Renta, Bag: Nancy Gonzalez)!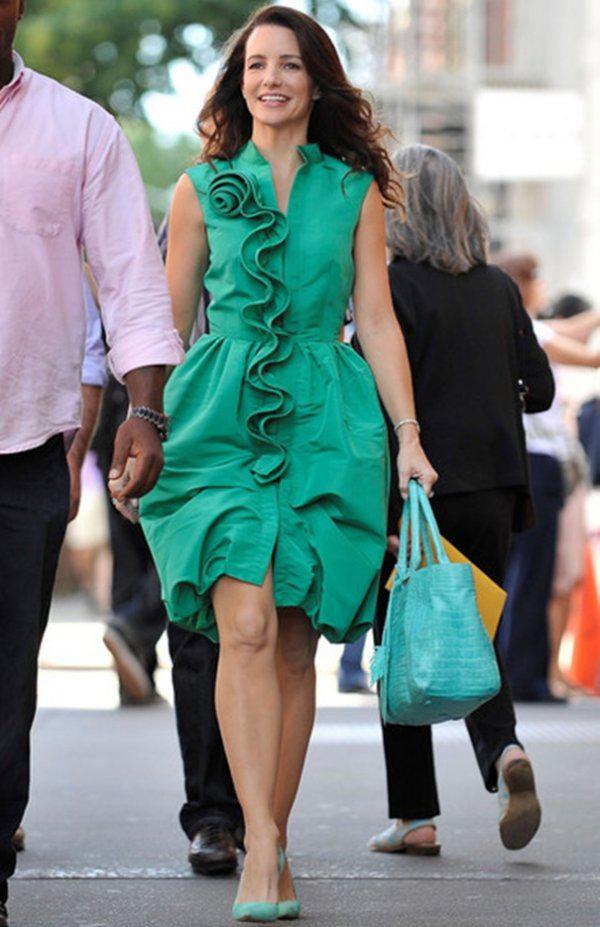 Samantha never avoided bright colors. Here it defiles in purple chiffon gown by Marc Bauer with bright blue silver belt. Her colorful earrings Rodrigo Otazu and glasses perfectly complement the image.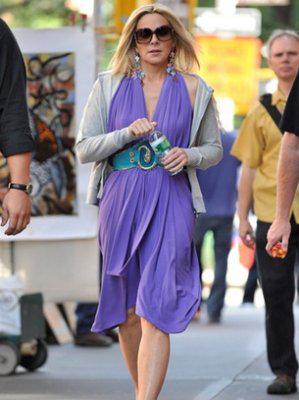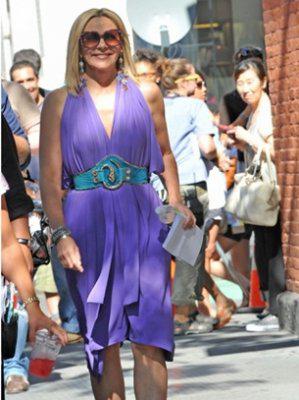 Carrie has combined bared belly "plaid» (Vintage) with tight-fitting cropped jeans (with zippers at the ankles) and studded suede high heels from Brian Atwood.