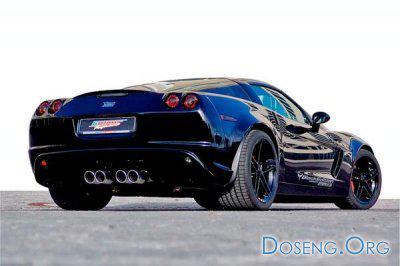 Geiger showed a 591-horsepower Corvette Z06 Black Edition
Long time was not like this. It's about "gaygirtsev" that despite such a powerful uprising "green", continue to cheat American punishments so sotochku extra horsepower. Thus, the novelty of the summer season - the exclusive Kubrick Geiger Corvette Z06 Black Edition.
It is worth noting that despite the same "green" in Germany in recent years has appeared a lot different there American peppers, and even some. The reason is simple - "small" and godforsaken dollar, which in relation to the euro and it seems a little "figinkim." Europeans can afford to buy overseas car for a relatively low price - a wheelbarrow on a ferry to Europe. Delshe done. Do you want to ride well, and want to look in "Geiger", where your "Americans" so will pump steroids that any radical amerikashki will envy you wiping the drool. By the way - and this is not the first time.
As I suggested Geiger for "six"? Firstly it is an upgraded 591-hp 7-liter V8-unit with a maximum torque of 660 Nm. To disperse hundreds - just what that there are 3, 6 seconds, and top speed is already 330 km / h. The recipe is so simple and powerful engine is quite typical. It is presented in the form of a powerful exhaust system sports, sports shaft, high cylinder special "jaws" and titanium valves. Complementing the package - a new "soft" for the control unit.
In the area of ​​chassis, the master of the studio gave "six" rigid screw chassis understated by 20 mm ground clearance, a package of spacers, powerful braking system and a package of exclusive titles in 19 or 20-inch format.
As far as the external appearance, there is of course the "trump card", you can highlight the deep black color of the body and underlining anger compact body kit.
Price newcomer Geiger Corvette Z06 Black Edition is not reported.