Frankly, this supercar does not require any intervention from the outside, but once this was done - talk. For example tuner Kicherer has presented its latest development of a modernized version of the supercar CLK 63 AMG Black-Edition, which received an extra couple of horses and pathetic carbon Style.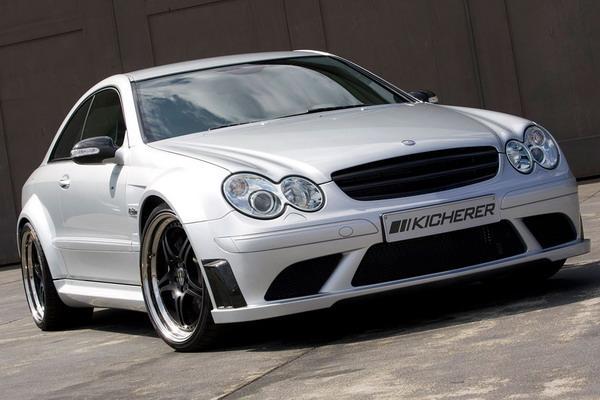 Under the hood "tselkashnika" works upgraded 540-horsepower V8-aggregate, which complete with sports suspension from the masters of H & R and "modestly" body kit, allows us to develop an ultimatum bolide top speed of over 300 km / h and accelerate to hundreds of almost 4, 1 second. As for the contact with the track, here at the time of the supercar fell 20-inch wheels Series «RS-1" with the corresponding tires of dimension 255/30 sport and 285.
The rest - carbon and leather.
Salonchik trends - an abundance of craftsmen carving carbon and skin. Specificity of motorsport will allow delegating the interior of super carbon fiber seats with leather trim excellent, with numerous applications all from the same carbon fiber and a couple of alu. To all this you can add on aluminum pedals, velor floor mats and a few pathetic intrigues, which in total translate into "client" in not sickly penny.
Summing up a little, I want to say that the original CLK 63 AMG Black-Edition looks better than this. Is that 33 horses are weaker and less than a couple of carboxylic inserts, as well - all the same, and most importantly - the original.
In short there can be many opinions, which of course is to express and discuss. Forward!