Company AMG decided: - "If you tighten the nut, then certainly for the full program", and presented the most awesome in its history motorsport sports car - 670-horsepower Mercedes SL65 AMG Black Series.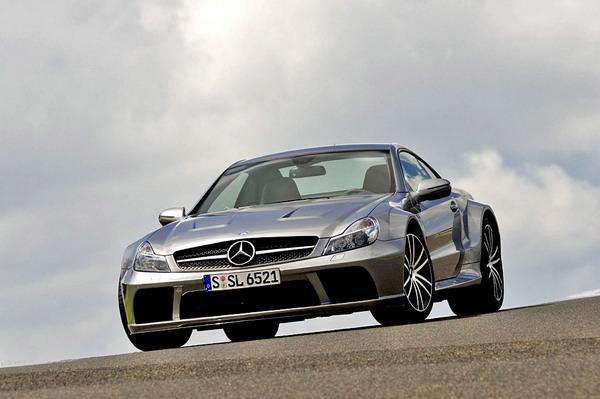 Yeah, that's the silhouette! "Aemgesovtsy" thugs course - do not sink into a crisis as BMW with its new "Seven". There is something to see and what to feel when you're in sports sidushku pressed inflated 670 horses and a maximum torque of Nm of 1 000 (original 1200 Nm. For security reasons, slowed to 1 000 Nm). Acceleration to "hundreds" takes only 3, 9 seconds and a top speed of as much as 320 km / h. Thus here!
As for the engine, here everything is simple. In the original version of the SL65 AMG is 612-hp and 670-hp here - thanks to a couple of modifications in the new supercharging and "software" for the control unit. In addition, the V12-burly recovered at the expense of powerful exhaust installation of a new fuel supply system (analogue systems Bugatti Veyron) and original SL65 AMG transmissions - five-speed automatic.
In detail.
If you disassemble a novelty in a couple of details and we look more closely, then of course we can not ignore the extreme muscle bold body kit, eye-catching due to the baggy wheel arches, air "gills" and the mouth of a giant cooler. There are small things - carbon diffuser so a couple of spoilers, one of which goes to the "tail" by pressing a button or automatically, as soon as the arrow will be on the mark of 120 km / h.
I would like also to stress and lose excess weight of new items - about 250 to 1870 kg. The main advantage of this course is to give to the use of carbon fiber bodywork and carbon fiber. It is supported by the whole mass of the mega-threatening due to the helical sports suspension, allows to adjust the dampers in the degree of expansion and contraction (in manual mode at the expense of a couple of tools, which is located in the trunk). Yes, more important detail worth mentioning wheelbase, which was a significant increase - became wider at the front axle by 97 mm and the rear by 85 mm. Well, if it is still powerful and reinforce braking system (original from SL65 AMG without changes), and the wheels in the 19-20-inch format with tires 265/35 and 325/30, then certainly - do not move and do not shake! < br />
The interior - the spirit of adventure and drive carbon.
Its emphasis is put sport seats, opportunistic small steering wheel, Alcantara trim, alu and carbon, as well as new instruments on the dashboard.
There are drawbacks - such is what sport seats do not have airbags, and this is absolutely not welcome in the United States, one of the major markets, as well as the full carbon fiber door trim. Therefore, for the US market will be released on his own special series with a couple of "extra" airbags.
Total AMG planned to release 350 models, which 200 will go to the United States and others should disperse throughout Europe and neighboring countries. Assembling the new Mercedes SL65 AMG Black Series will be carried out directly in Germany.
Price exclusive "toys" will be in Germany from 300 000 euros.