Hello dear friends. This weekend in Japan held a regular exhibition of cars Tokyo Auto Salon 2012. I was able once again to get to the event, and so I want to share with you pictures of these wonderful machines that were presented.
This time I tried to take into account all your wishes based on the theme of my last Tokyo Auto Salon 2011. Therefore, armed with a camera, and his wife handed a notebook with a pen, we tried to gather as much information about cars. But I want to disappoint you a little information that is presented on a stand next to the car was limited to only the model and size of the disk, sometimes I write the volume and power, so that the majority of vehicles had to take the Old from the Internet.
Photography lot, so everyone who is waiting for the completion of my post, I propose to view photos from last exhibition Tokyo Auto Salon 2011
Photography much the Internet is not very much, please be patient and do not break. On completion of the write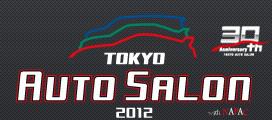 Lamborghini Diablo Roadster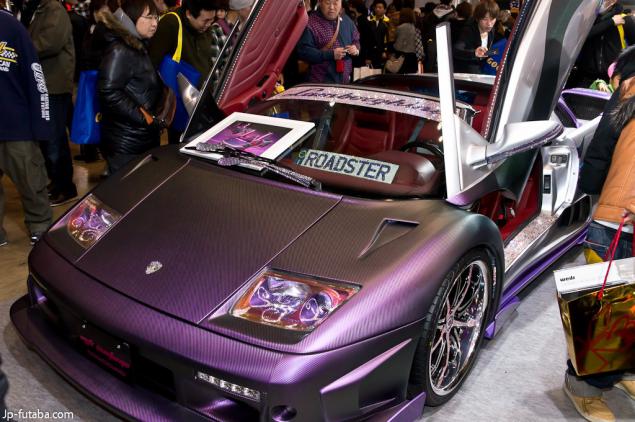 Lamborghini Diablo Roadster 2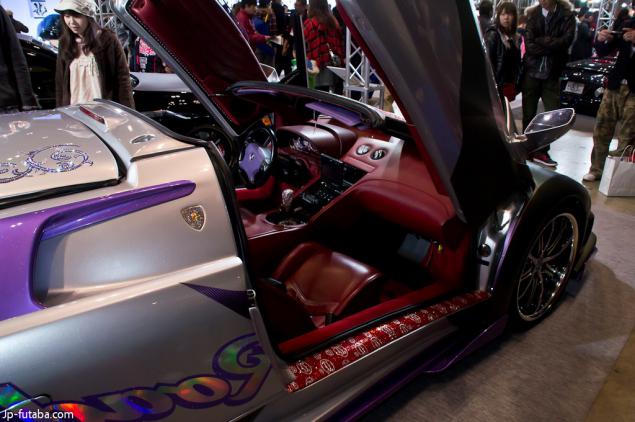 Lamborghini Diablo Roadster 3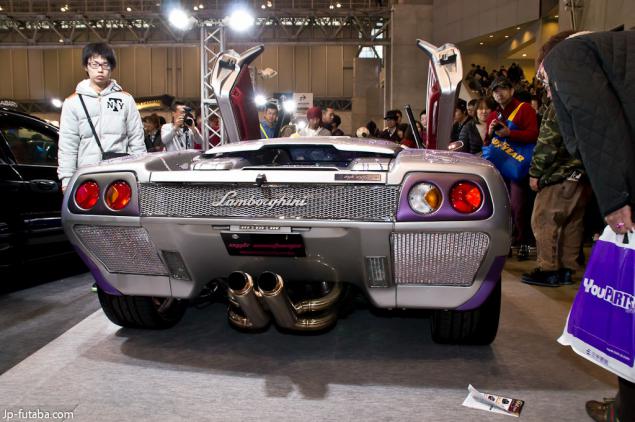 Chevrolet Camaro SS
Engine: V8
Maximum power hp / KWh @ r / min: 420/313 @ 5000 (LS3)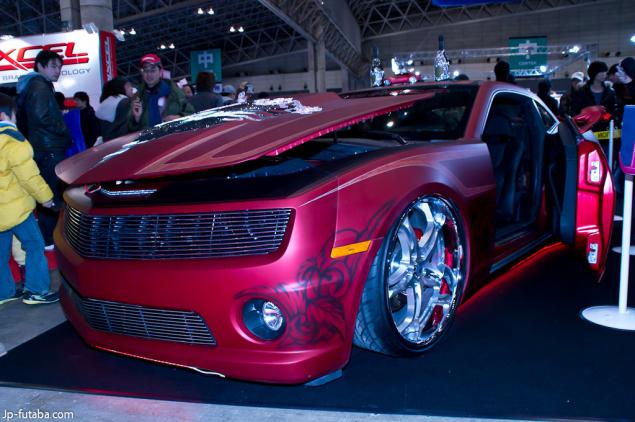 Chevrolet Camaro SS 2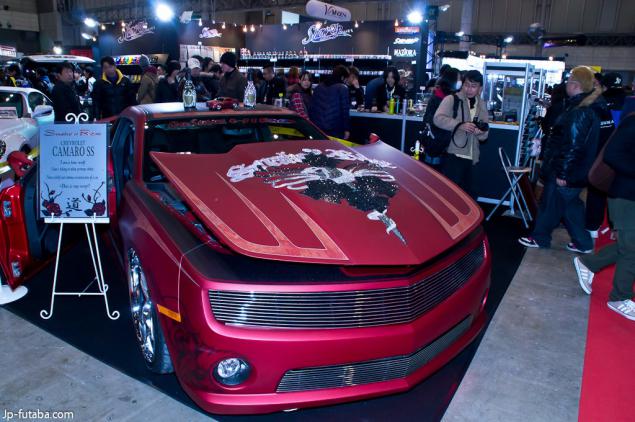 Chevrolet Camaro SS 3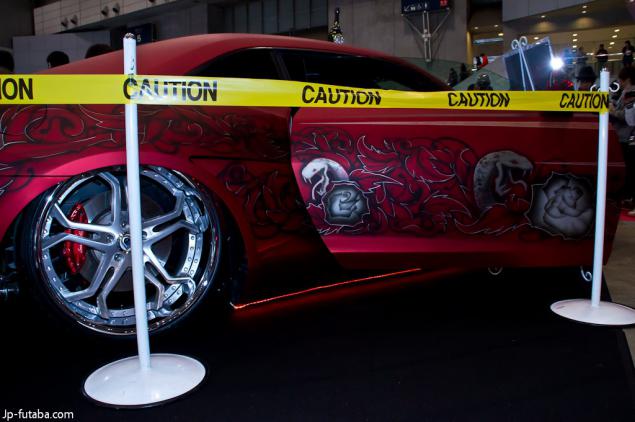 Chevrolet Camaro SS 4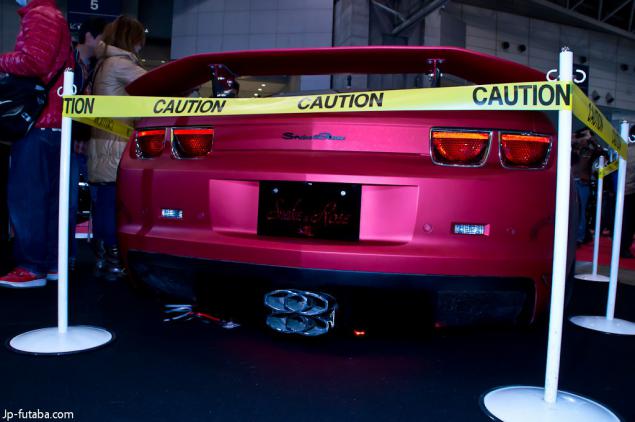 Nissan GT-R DBA-R35
Volume: 3799
Power: 530
Year: 2011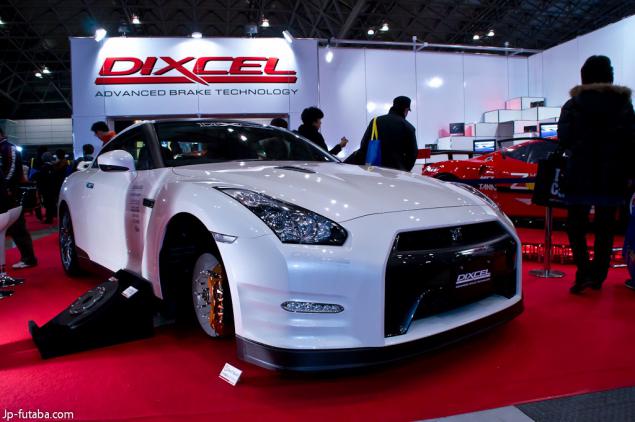 Nissan GT-R DBA-R35 2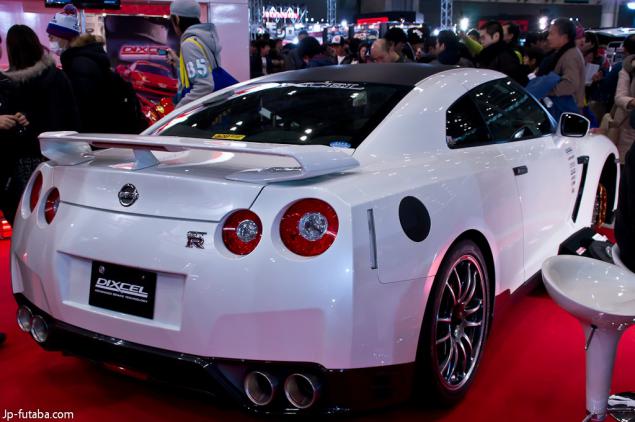 Toyota FJ Cruiser
Year: 2010
Transmission: Automatic
Drive: rear drive (4WD)
Engine: petrol, 4000
Power: 260
Fuel consumption: 14-18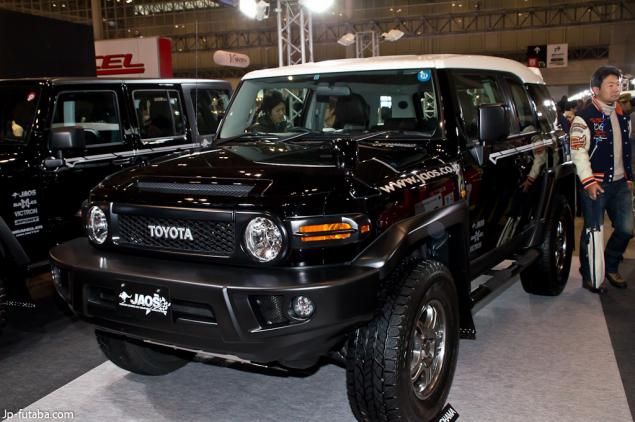 Mad Viper hybrid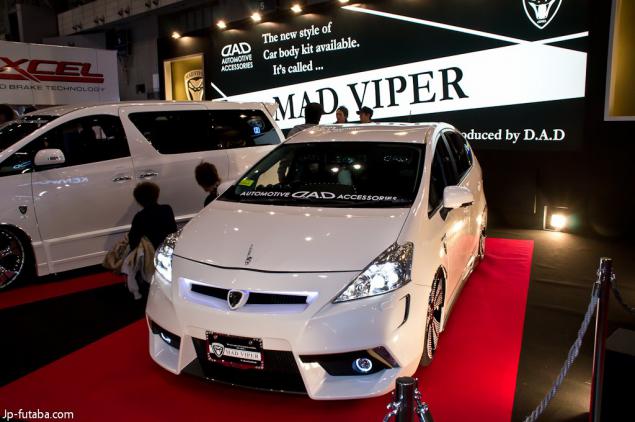 Mad Viper hybrid 2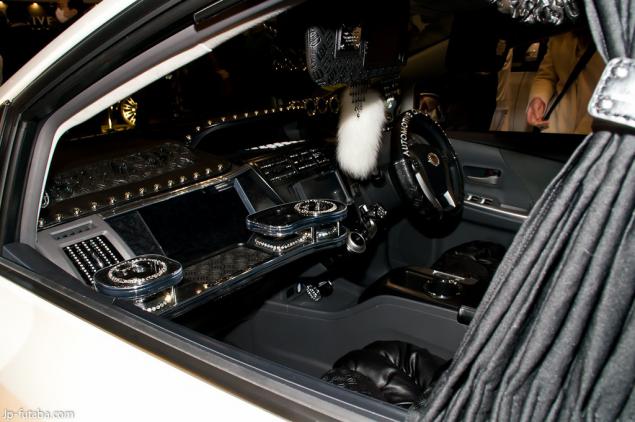 Mad Viper hybrid 3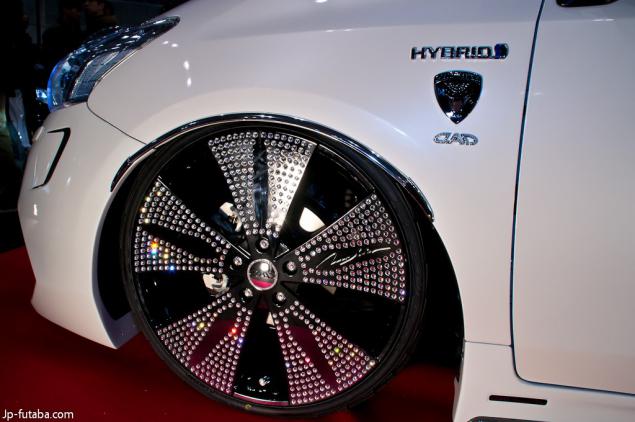 Toyota 2000 GT SEV
2000GT Solar EV - a unique solar-powered electric
Usually, the term "solar-powered electric vehicle" refers to a kind of one-place cardboard box with bicycle wheels, covered with a huge battery, and a student in an uncomfortable position behind the wheel. One team of Japanese engineers is not like the situation and they decided to show all that capable, modern "green" technologies
As a basis for creating your own machine to move on solar energy, they took the Toyota 2000GT - classic Japanese sports car of the last century. The car lost the old power plant, has got a lithium-ion battery capacity of 35 kWh, solar panels on the hood and the rear window in place (with sufficient clarity for review back) and an electric motor.
The new sports car interior is trimmed in Alcantara, other environmentally friendly materials and equipped with a full range of devices and gadgets of different devices, one of which even simulates the sound of a petrol engine. According to the creators, they have turned out quite a modern eco-friendly car, allowing two passengers to travel at speeds of up to 200 kilometers per hour. 2000GT SEV project was created with the support of Toyota and these days on display at the Tokyo Motor Show.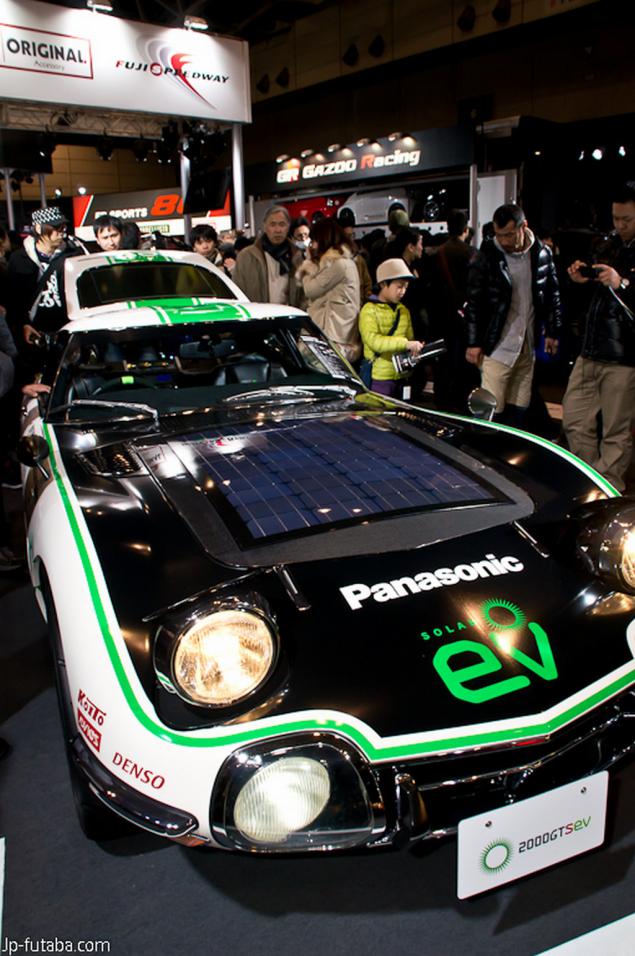 Toyota 2000 GT SEV 2
Please forgive me, because I have a photo is not very successful, taken from an Internet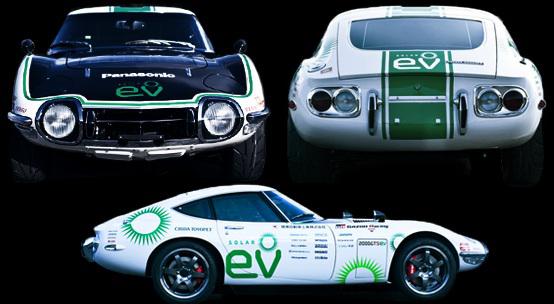 Devil's Mercedes SL65 AMG Black Series
Power: 670 hp
Acceleration to "hundreds" takes only 3, 9 seconds and a top speed of as much as 320 km / h.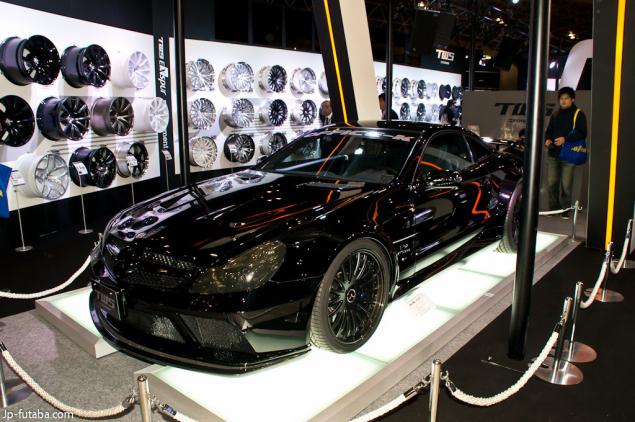 Mercedes SL65 AMG Black Series 2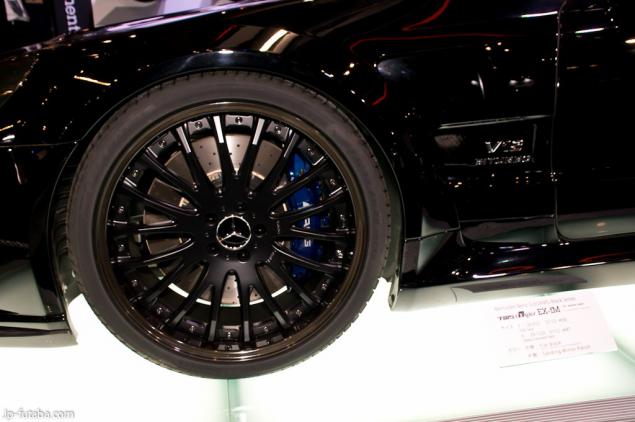 Mercedes SL65 AMG Black Series 3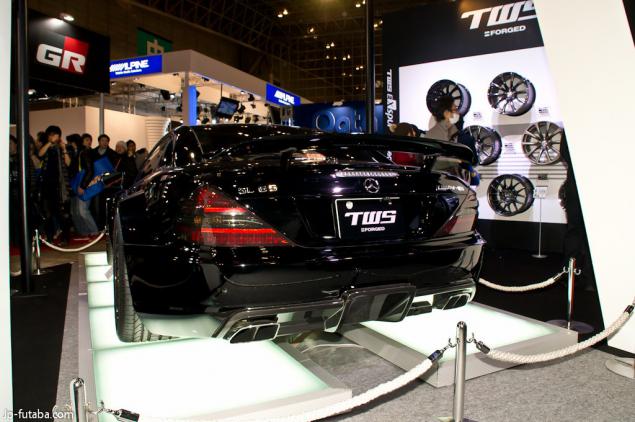 Lexus LF-A
Lexus LFA is equipped with 4 8-liter V10 engine capacity of 560 liters. s., working together with a six-speed robotized gearbox. In 2011, there was a version of the Nurburgring with uprated to 571 liters. from. engine and modified aerodynamics.
Estimated price for customers from Russia - 500 000 EUR.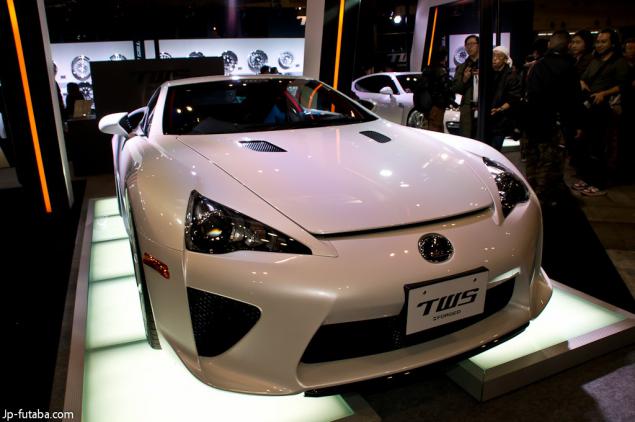 Lexus LF-A
2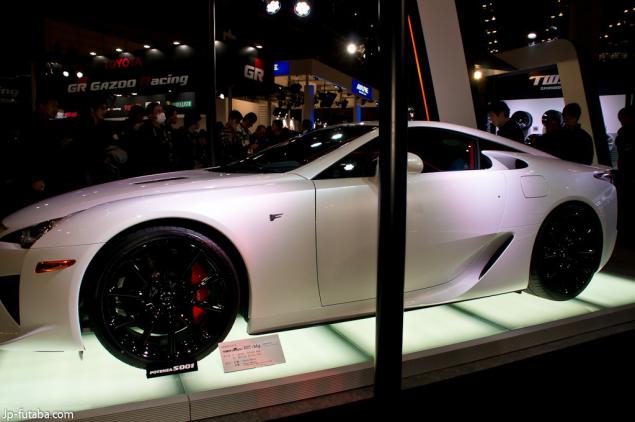 Lexus LF-A
3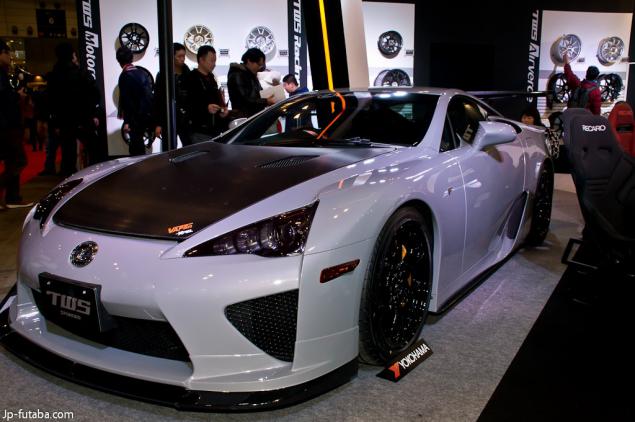 TOYOTA HIACE WAGON GL 2wd
The roof rises, thus increasing the height of the ceiling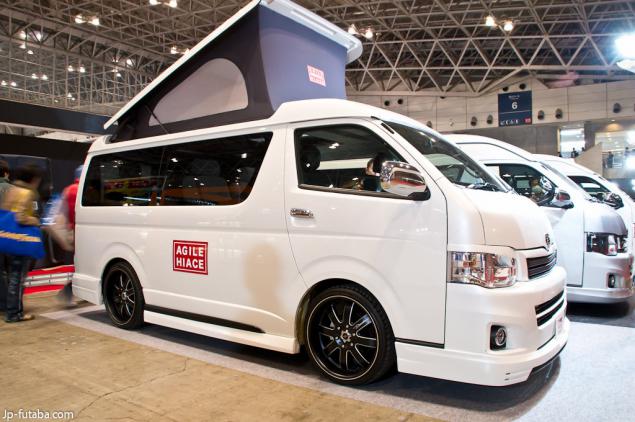 Blossom h6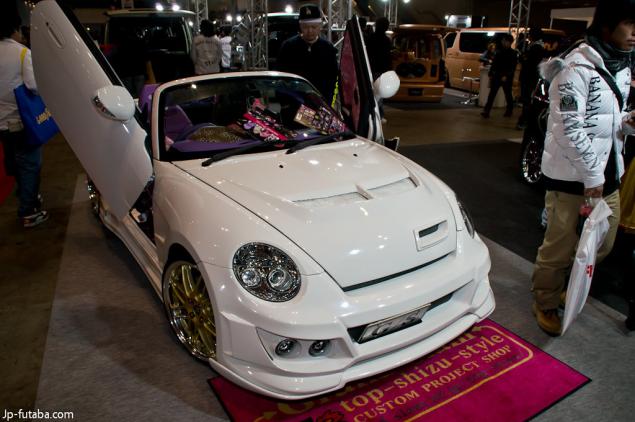 Blossom h6
2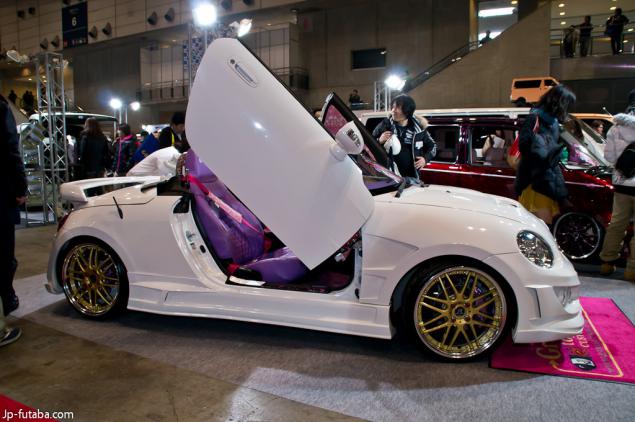 Blossom h6
3
Strangely, this car was the same stand and the inscription behind
so, Blossom h6 -)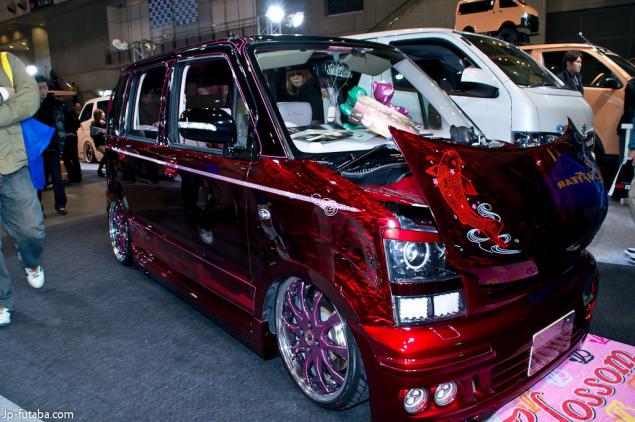 Then a couple of pictures designs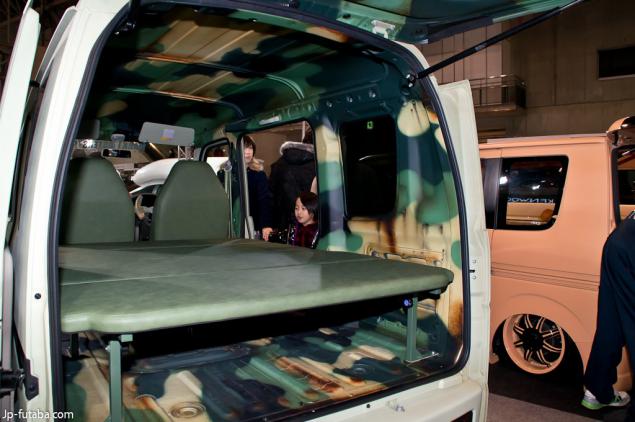 ,, 2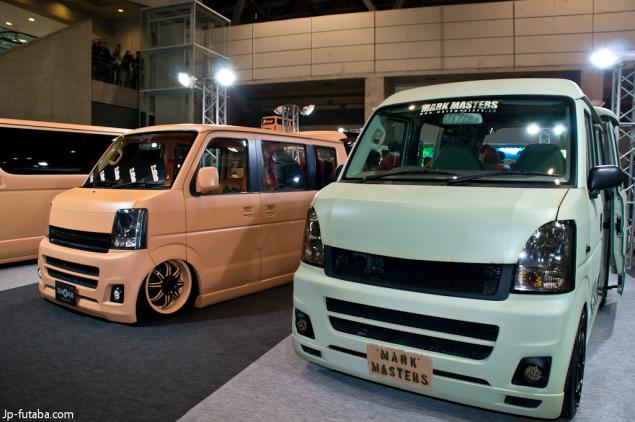 Three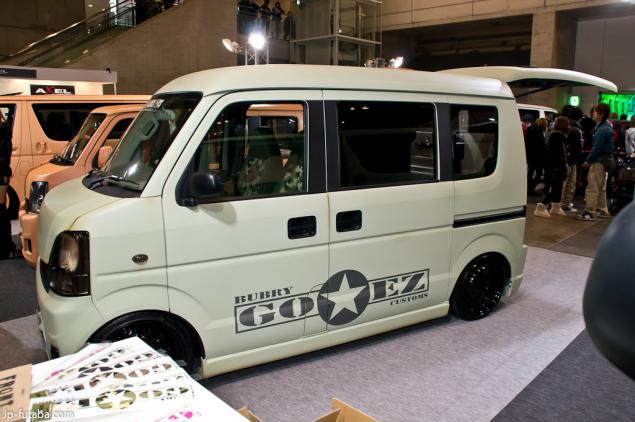 Relax cabin hybrid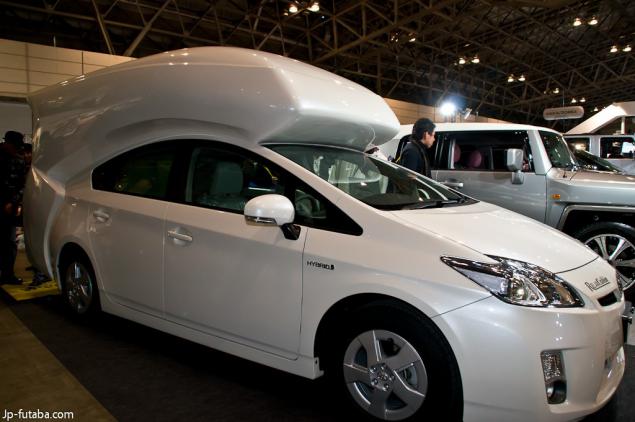 Inside, there are 2 Comfortable beds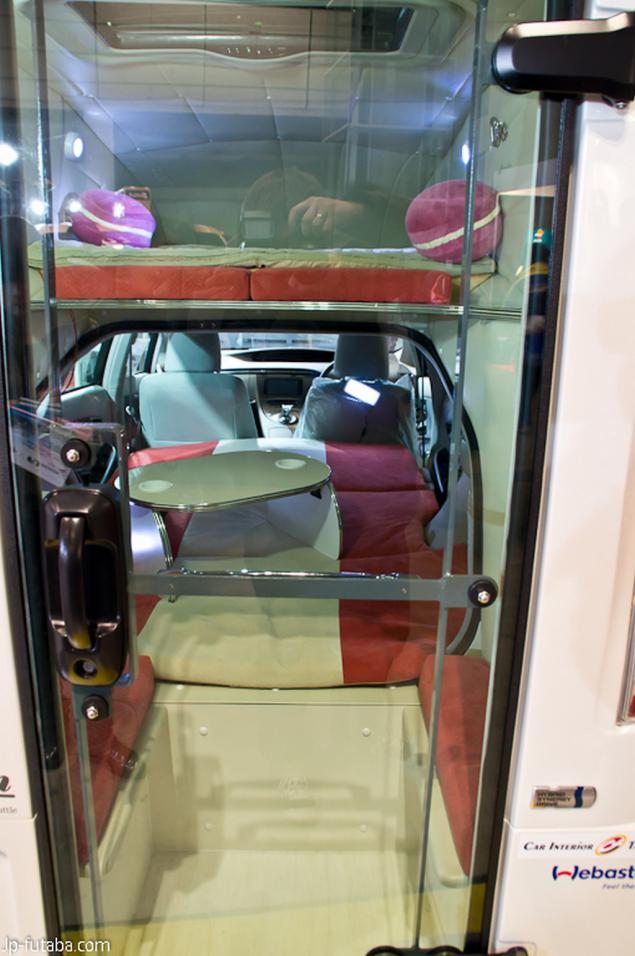 And the general view of the rear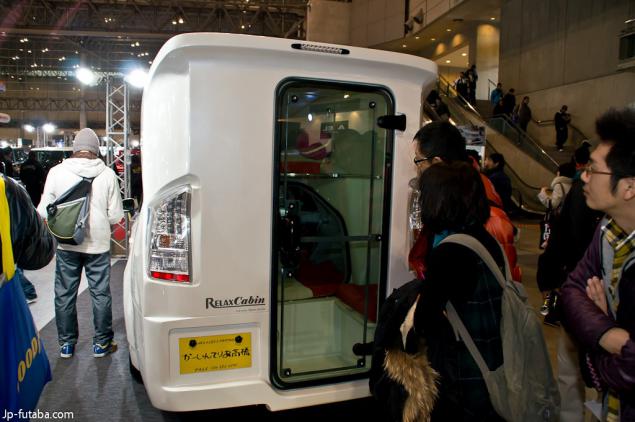 Toyota MTG Customize
Volvo ERST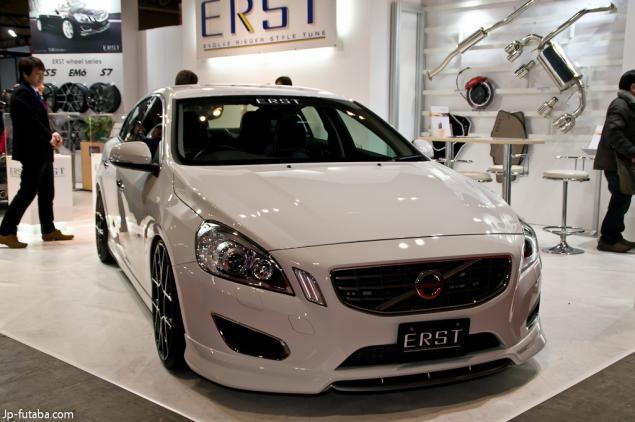 Volvo ERST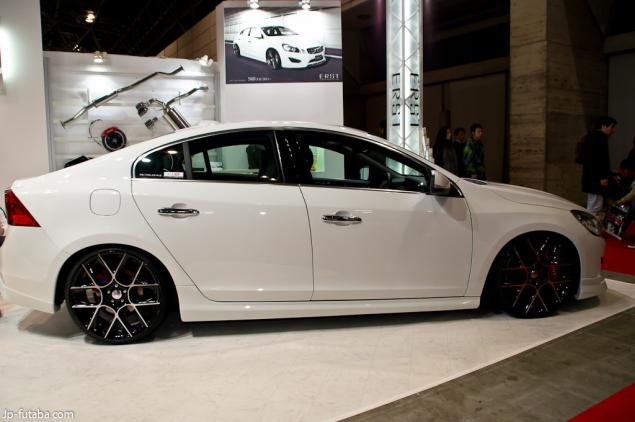 Mercedes-Benz SLS AMG
supercar successor to Mercedes-Benz SLR McLaren and ideological heir to the Mercedes-Benz 300SL. The world premiere took place in 2009 at the Frankfurt Motor Show. The car will be available in 2010 at the price of ~ € 175 000 sports car equipped with a 6, 3 liter engine V8 M159, developing power of 571 hp at 6800 rev / min and torque of 650 Nm at 4750 r / min. The engine is mounted with a seven-speed gearbox with two clutches company Getrag. As with the "grandfather» - 300SL - SLS have installed the door of the "gull-wing".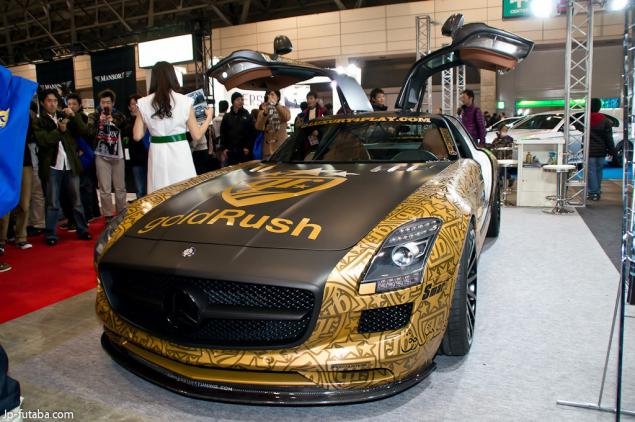 Mercedes-Benz SLS AMG
2
Ferrari California
Displacement: 4.30 l
Power: 338.6 KW / 460 hp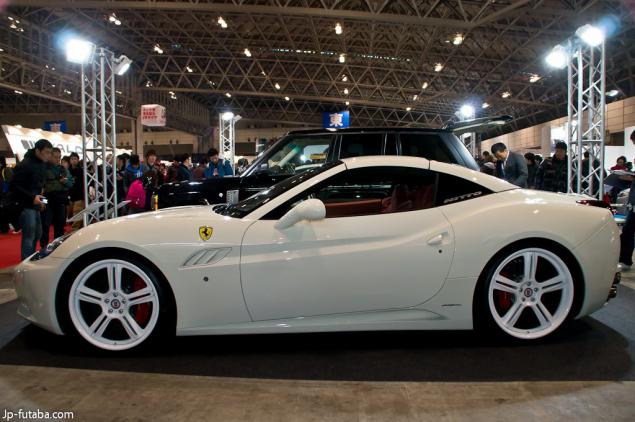 Ferrari California
2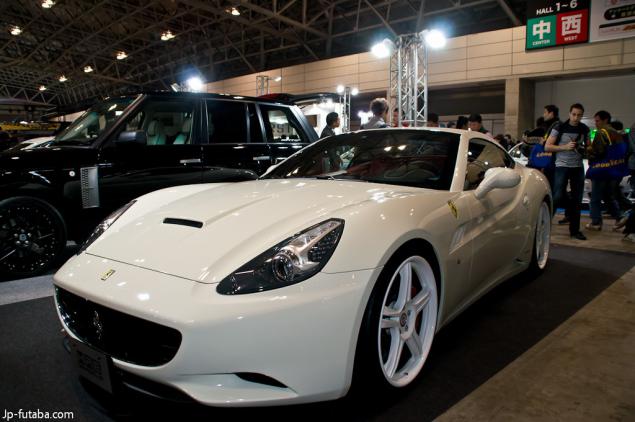 Maserati Quattroporte
the price of the Russian Federation: 5,971,000 p
Max. speed: 280 km / h
Acceleration: 5.0
Volume: 4691 cm³
Power: 430/7000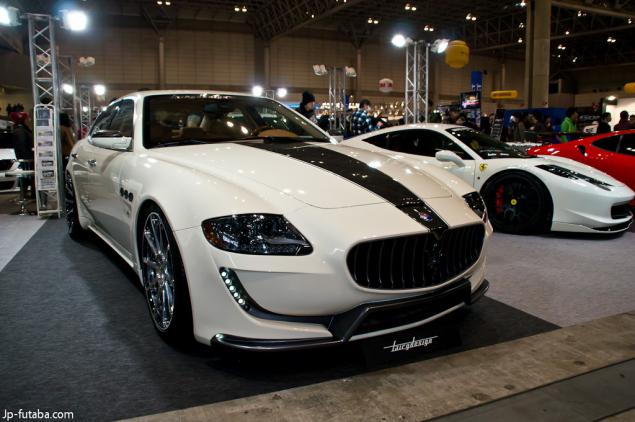 2011 Chevrolet Sonic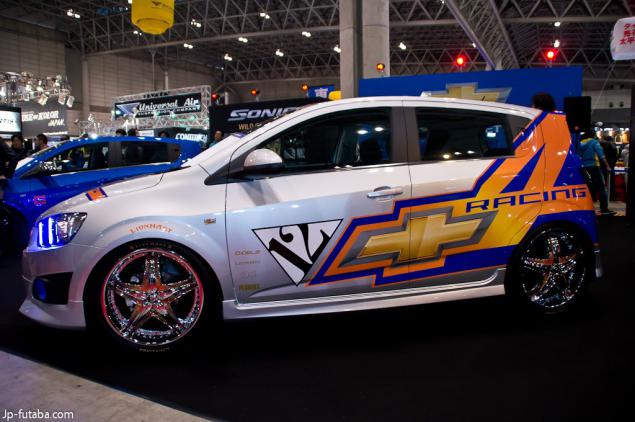 GTR -308 2R
GTR -308 2R
2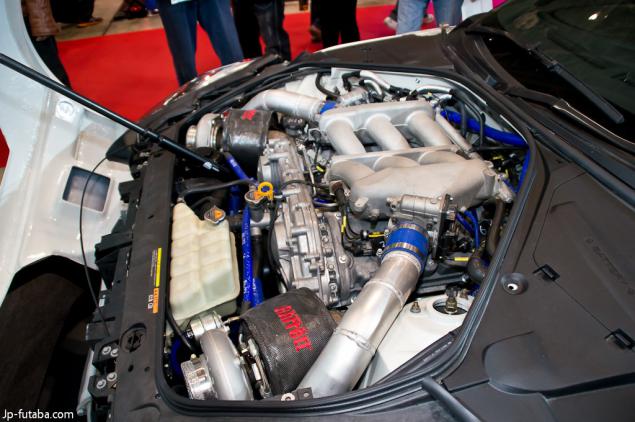 GTR -308 2R
3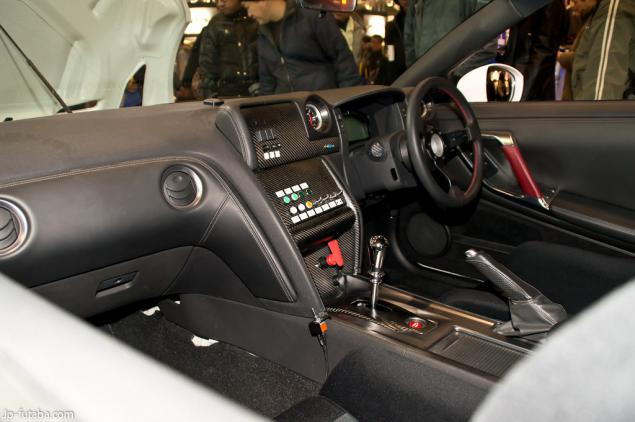 GTR -308 2R
4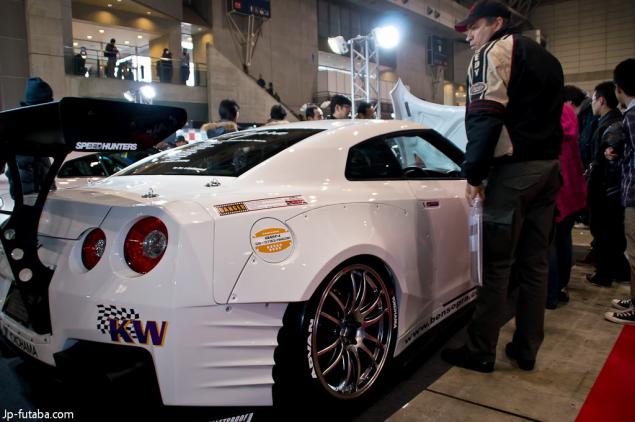 GTR -308 2R
5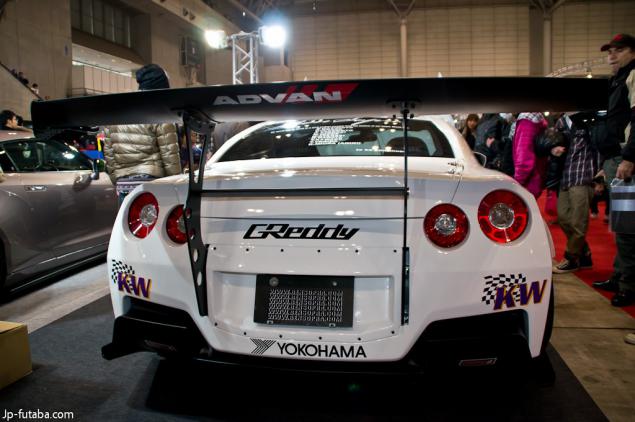 2011 Honda Odyssey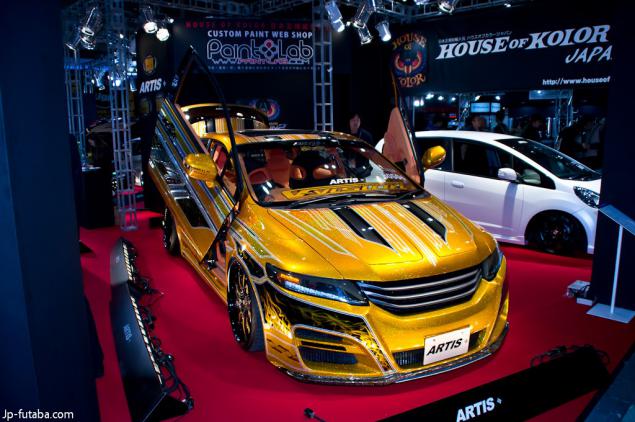 2011 Honda Odyssey
2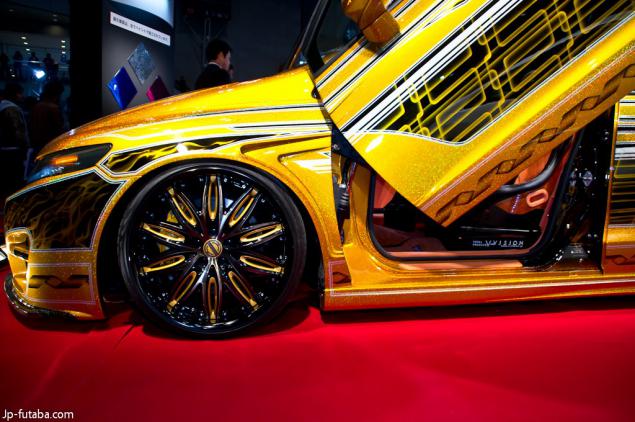 Chevrolet Impala 1959
cult American full-size cars manufactured by a division of GM Chevrolet as a model from 1958 to 1985, from 1994 to 1996 and from 2000 to the present.
The model number of the car took a different position depending on the year. Until 1965 it was the most expensive passenger "Chevrolet". From 1965 to 1985, "Impala" occupy an intermediate position between the price modification Chevrolet Caprice luxury and cheap Chevrolet Bel Air and Biscayne.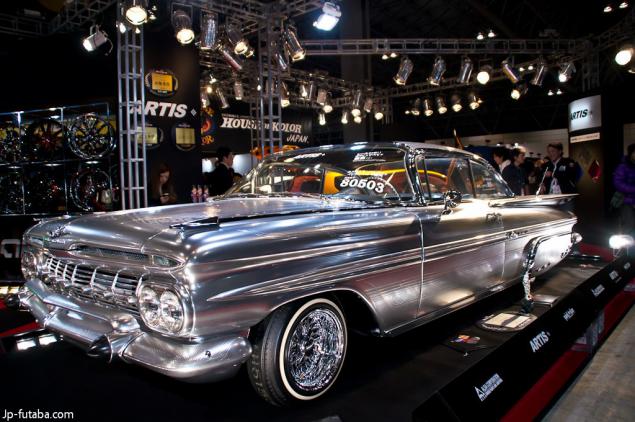 In addition, the modification produced sports Impala SS («Super Sport»). From 1964 to 1967, it was positioned as a separate model, but in other years, when it was presented - as a complete set.
In 1994-1996 he produced Impala SS, a former sports modification Chevrolet Caprice. Since 2000, the Impala name was revived for the car, replacing the Chevrolet Lumina, although large by modern standards, but much less large in comparison with the previous generation, in addition to front-wheel drive.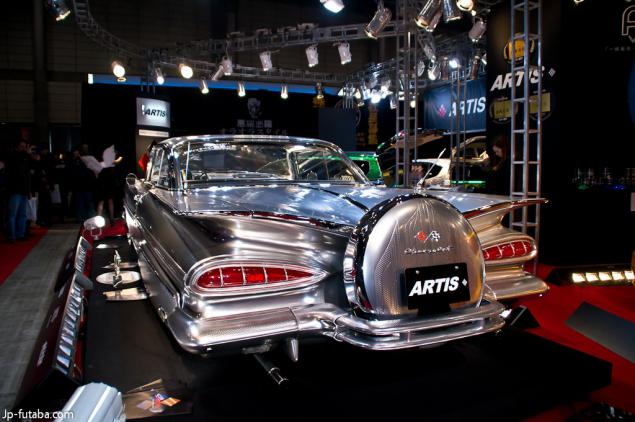 In 1958, Chevrolet introduced the Impala in the name as the name of the new configuration model Bel Air. Components feature more sportiness and luxury in the decoration, sold under the slogan "a luxury car that is available for every citizen of America" ​​(Ed Cole, the developer). In addition, the appearance of the rest of this year, Chevrolet car was different six-round rear lights, three on each side - instead of four; Various variants of this design used on many generations of models.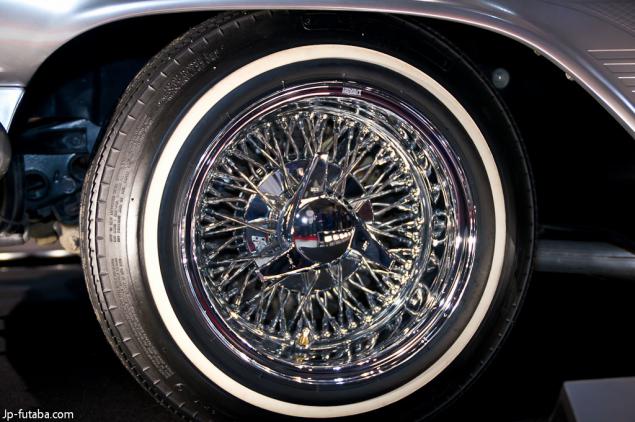 Since 1959 Chevrolet Impala became a separate model, and immediately - the most commercially upeshnym Cһevrolet. Model 1959 differed very expressive styling, the rear lights were horizontal drop-shaped. Four-door sedan had trёhokonnuyu sidewall and roof with a rounded back. Four-door hardtop also differed unusual flat-roofed platform, and the front and rear windows were panoramic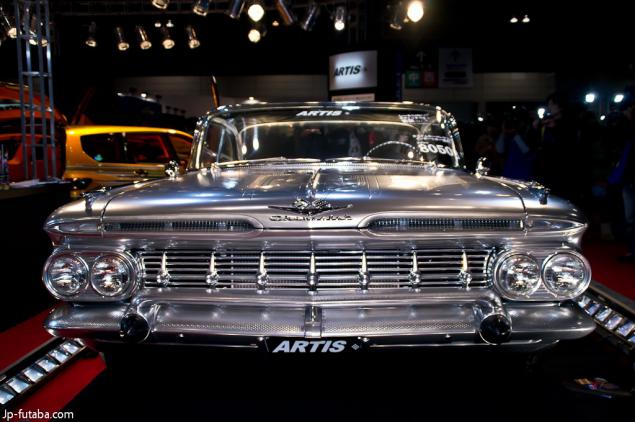 honda odyssey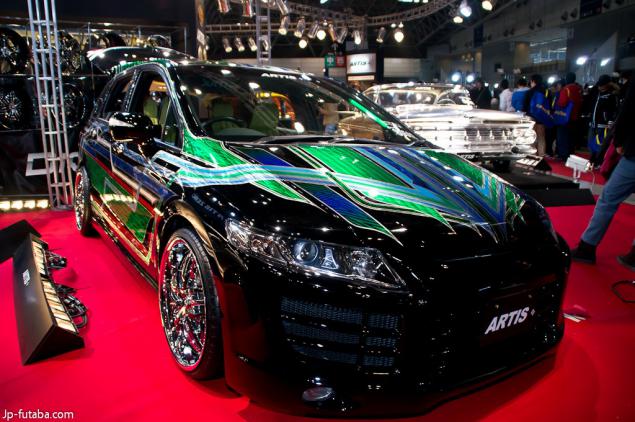 Honda Fit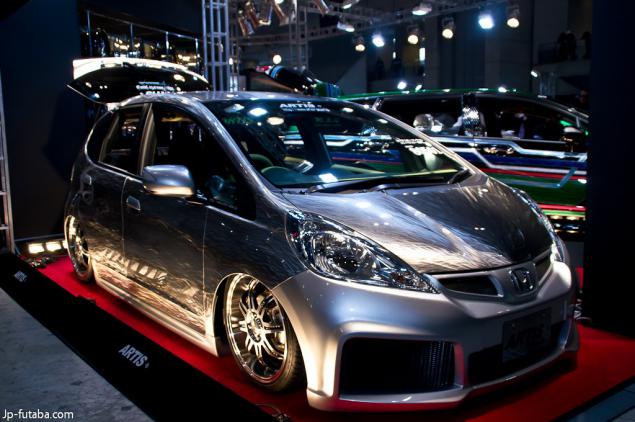 Toyota Tundra V8
full-size pickup, manufactured by Toyota Motor Corporation in 1999 (as the model 2000 model year), which replaced the Toyota T100. Although similar in size to the T100, the first generation Tundra had a more American look and feel of the engine V8, which was not at T100.
Tundra has been nominated for the award North American Truck of the Year and was selected Truck of the Year Motor Trend magazine in 2000 and 2008 respectively.
In the first generation Tundra had many similarities with the old Toyota T100 and less with the more popular Toyota Tacoma. The main similarity - is to use the 3.4 liter V6, which was a "top" in the line of engines from Tacoma and T100, and has become the main engine for the Tundra. Then Tundra in an option to install the 32-valve 5.7 liter V8, which eventually became the most desirable choice among buyers. The first generation Tundra was the basis of the model, which was built a full-size SUV Toyota Sequoia. Both vehicles share many common spare parts and accessories, including 5.7 liter V8, wheels, transmission and internal components.
Official sales of Tundra in Russia has not been and is not planned.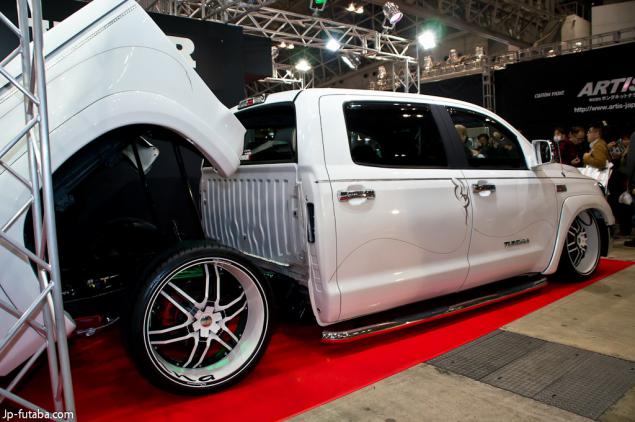 It was presented in May 1999, as a model year 2000, originally known as T150s. However, Ford decided that this title is very similar to the name of the leader segment of the Ford F-150. The subsequent lawsuit forced Toyota to rename the car in the Tundra (Toyota has never claimed that he was going to use the name in the production of T150).
For the Tundra offers a 24-valve 3.4 liter V6 rated at 190 hp (140 kW) with a torque of 298 Nm and a 32-valve 4.7-liter V8 engine capacity of 245 hp (183 kW), with a torque of 427 Nm.
In 2005, began to establish new engines: 4.0-liter V6 rated at 236 hp (176 kW) with a torque of 361 Nm, and the existing 4.7-liter V8 engine has been updated using the technology of Toyota variable valve timing VVT-i, then its power increased to 271 hp (202 kW), with a torque of 424 Nm. 5-speed manual gearbox gave way to a 6-speed manual and 5-speed automatic has been replaced by a 6-speed.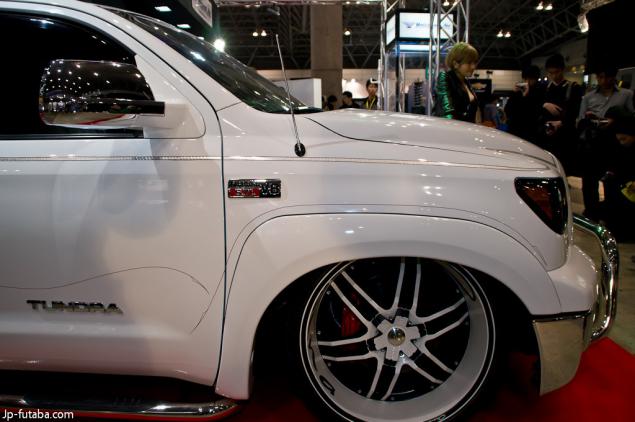 Hummer 6.5L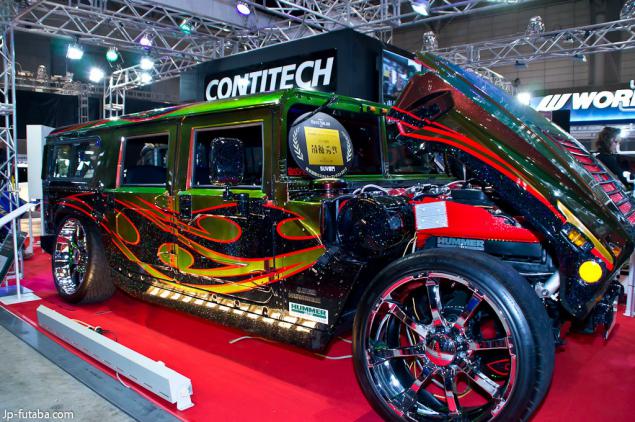 Subaru BRZ - a compact two-door four-seater rear-drive sports coupe, developed and produced jointly by Subaru and Toyota, formally presented in December 2011 at the Tokyo Motor Show. Equipped with four-cylinder horizontally opposed petrol engine with direct fuel injection working volume of 2 liters, 200 liters capacity. from. The basis of the engine block taken Subaru FB20, cylinder head Toyota D-4S. Aggregated six-speed automatic transmission or mehnicheskoy. For the sake of reducing the weight of the car hood is made of aluminum.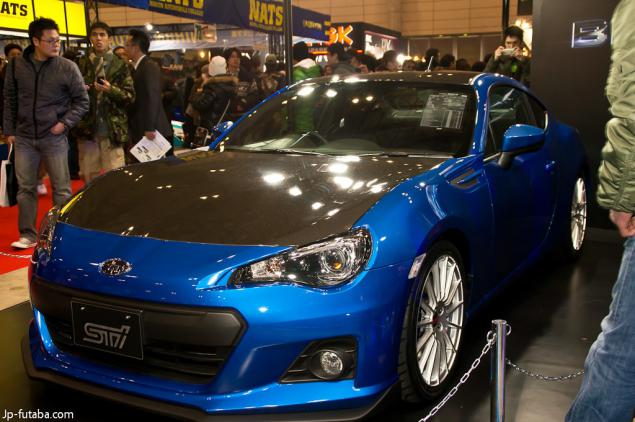 Subaru Impreza WRX STI R4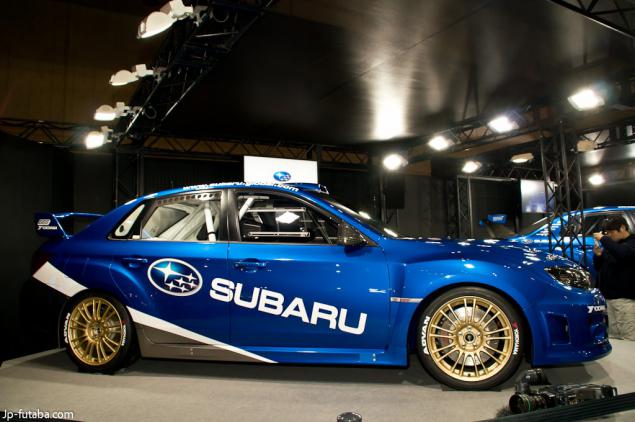 Subaru Legacy B4 GT 300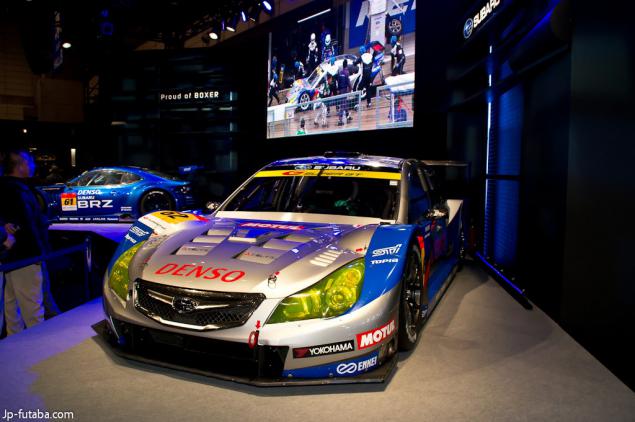 The engine of the Subaru boxer + Toyota D4S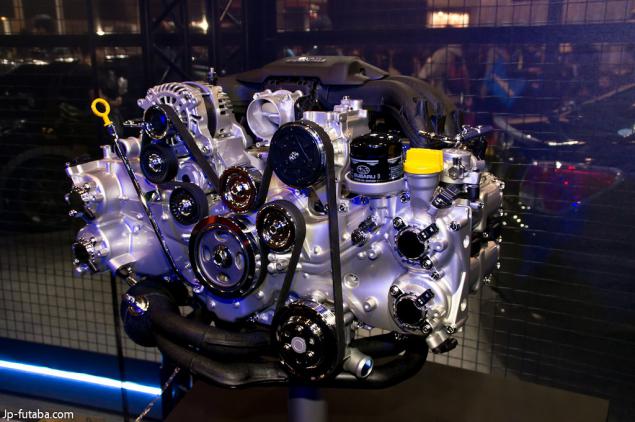 Subaru Impreza G4 STI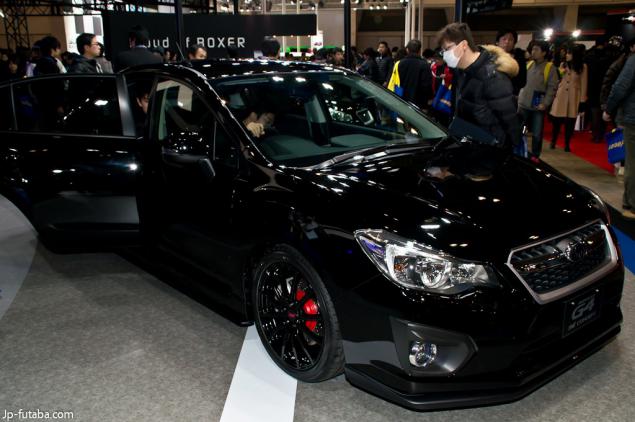 As a child, probably every one of us watching the film "Back to the Future" ride on a dream car of the protagonist. But dreams remain dreams ... It would ... Thanks to the Japanese master of auto-tuning, I was able to realize his dream today and sit in a "time machine».
If the movie "Back to the Future" was shot today, the machine would be just such.
PS: collected from a broken Peugeot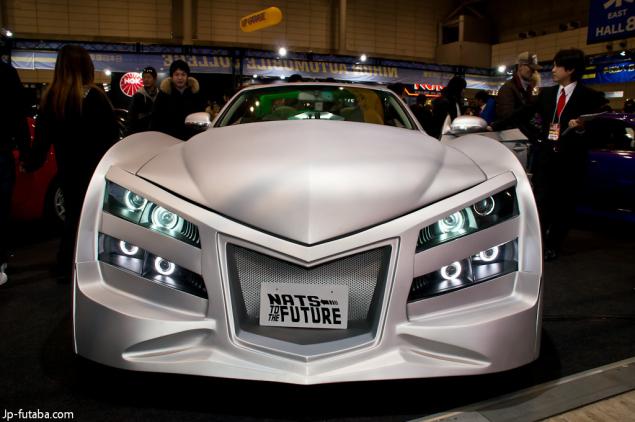 Two
Three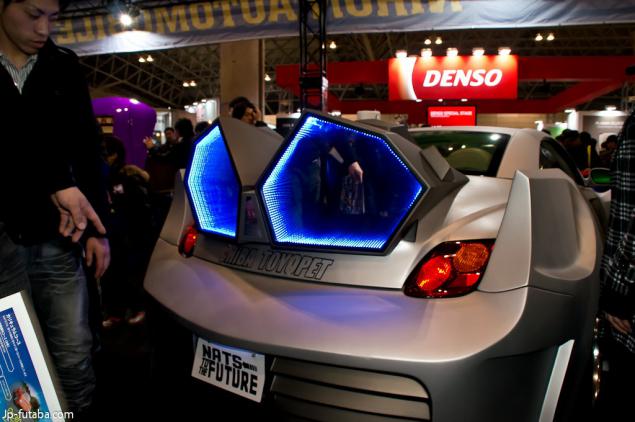 Four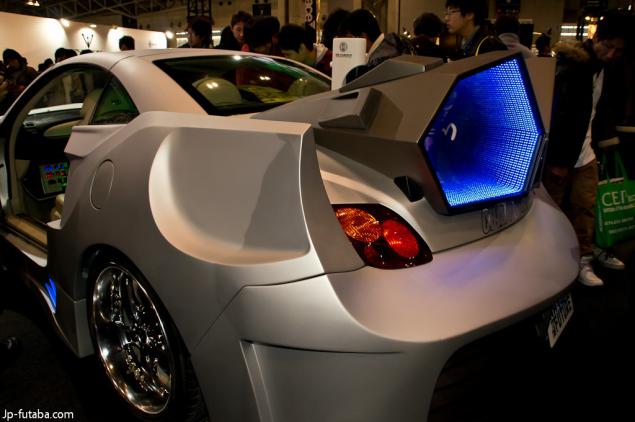 And the same time, the dial control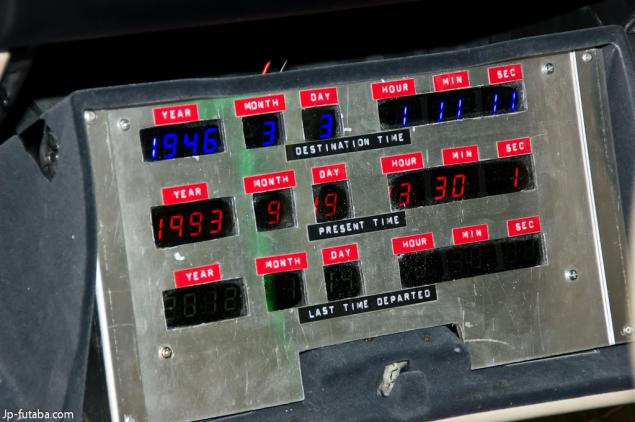 and the view in the back seat with a bunch of sensors and devices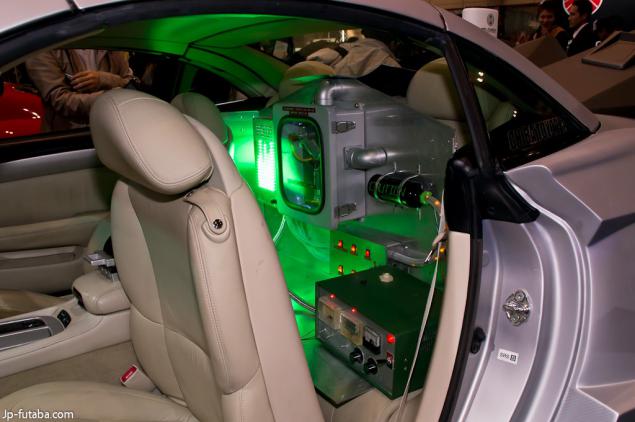 2012 Chevrolet Camaro
Since 2011 the National Highway Traffic Safety Administration of America (NHTSA) has introduced a more sophisticated tests and requirements for the credit ratings of five stars, which give more details about safety and accident prevention. Changes include side impact barrier with narrow vertical barrier that simulates a side impact with a pillar with a diameter of 10 inches at a speed of 32 km / h at an angle of 75 degrees in the area adjacent to the pillar on the driver's side.
Within the framework of the modified program Camaro coupe 2012 model year - the first car received five stars in each segment of the in-goal, as well as in the combined categories such as overall assessment of the car.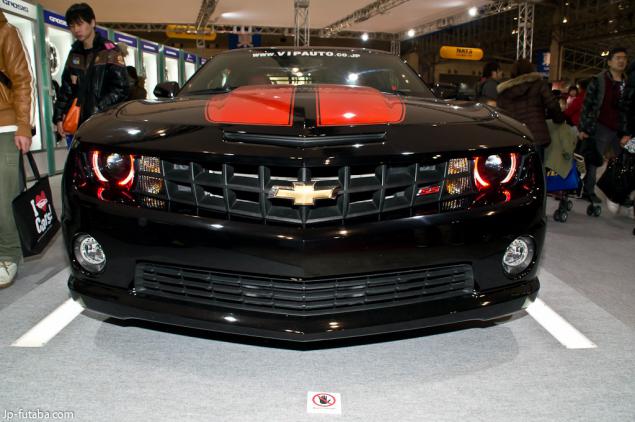 Chevrolet Camaro - is the most technically advanced car of all previously produced in this class. Launching new products is planned for early 2012. However, today we know that the car is equipped with a V-8 engine producing 550 hp Camaro ZL1 will be the fastest of all the Camaro, produced by Chevrolet.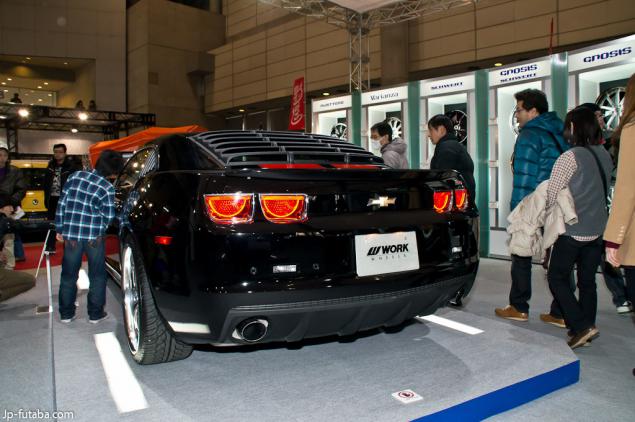 Three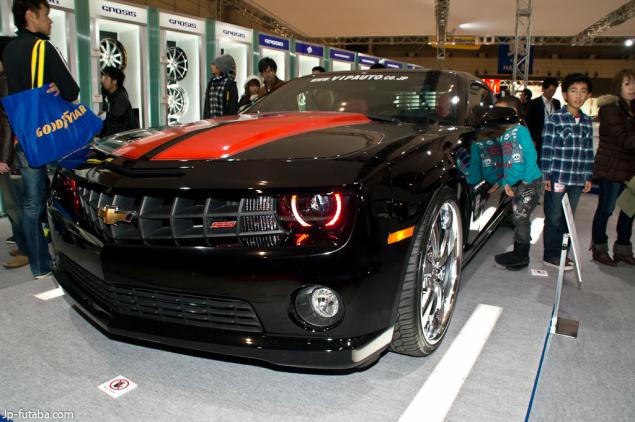 Suzuki Jimny
Jimny is the long-running model in the lineup Suzuki. This small all-terrain vehicle for the first time saw the light back in 1998. However, it was his unparalleled off-road performance combined with affordability and longevity were similar pledge.
By law, we have to admit that the Suzuki Jimny (Suzuki Jimny) - a car that has no analogues in the Russian market. This compact SUV boasts not only a real off-road wheel drive system and a classic appearance, but also a very attractive price. A sturdy frame ladder is a solid foundation for serious off-road performance, which, in turn, distinguishes it from most of the "parquet" competitors.
For Suzuki Jimny (Suzuki Jimny) offers only one engine option of 1 and 3 liters and output of 85 "horses". This power unit with two overhead camshafts, characterized by instantaneous response to the accelerator and fuel efficiency. As for the all-wheel drive system, it has established itself with the best hand, allowing the owner Suzuki Jimny easily to conquer the roads. In addition, the ability to switch to the 2WD mode gives the driver the opportunity to enjoy themselves on any hard surface.
PS: This machine attracted only because of the interior looked at me a few pairs so nice and warm heart eye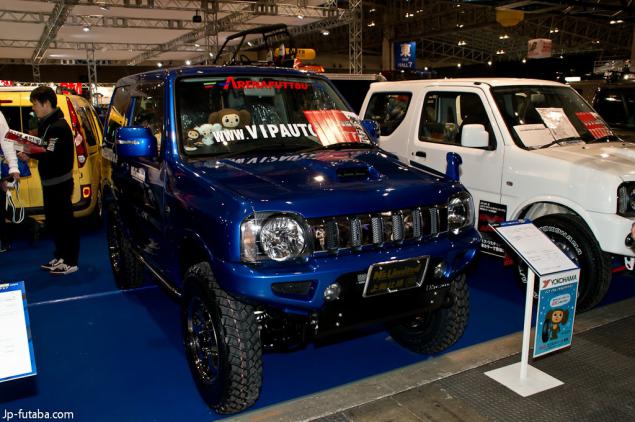 The new face of shin of "Yokohama»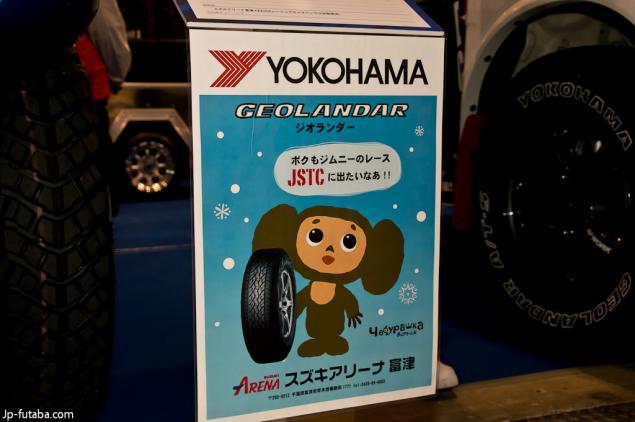 Audi R8 V10 - all-wheel drive mid-engined sports car class supercar, manufactured by the German automaker Audi, first presented in 2006 at the Paris Motor Show (Paris Motor Show).
Model R8, as well as a number of other models produced exclusively automaker Audi factory quattro GmbH - a subsidiary of the German company to produce cars Audi AG, which in turn is part of a group VG. The company is based in Neckarsulm near Stuttgart. Production shops are located in the factory ceased activities NSU Motorenwerke AG, the famous world championship in the use of valveless rotary engine in the 1970s.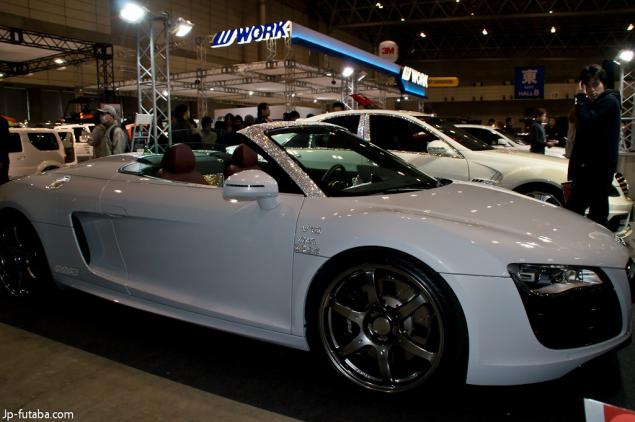 In the base Audi R8 is equipped with a V8 engine volume of 4.2 liters, using proprietary technology FSI, which develops a maximum power equal to 420 horsepower. This allows the car to accelerate from 0 to 100 km / h in 4.6 seconds. Maximum speed supercar for security is electronically limited to 301 km / h.
Optionally, customers can order Audi R8 5.2-liter V10 engine with a capacity of 525 horsepower. Regardless of motorization, power is transmitted through a six-speed mechanics or special boxes Audi R Tronic using the gear, borrowed from the Lamborghini Gallardo. Besides, R8 is equipped with all-wheel drive and an ultra-lightweight body based on an aluminum alloy. The design of the car was designed by the Italian car designer Walter de Silva and his design team. Of special exterior parts can emphasize the "garland" of the LEDs for the headlights, traditionally installed on virtually all modern cars Audi.
On the Audi R8 in standard installed 18-inch wheels with tires in the dimension 235/40 on the front axle and 285/35 on the rear. For a surcharge customers can also order the installation of 19-inch wheels.
Equipment Audi R8 includes a rear view camera for easier conditions supercar in an urban setting.
Length base supercar - 4.43 m, width - 1.90 m, height - 1.25 m. Audi R8 can accommodate up to two people and a small luggage compartment at the front of the car has a volume of 105 liters.
Shop supercar decorated with inlays in carbon and aluminum. Also, the car is equipped with a Bang Olufsen sound system with 12 speakers.
Prices for Audi R8 on the European market starting from 104 EUR 400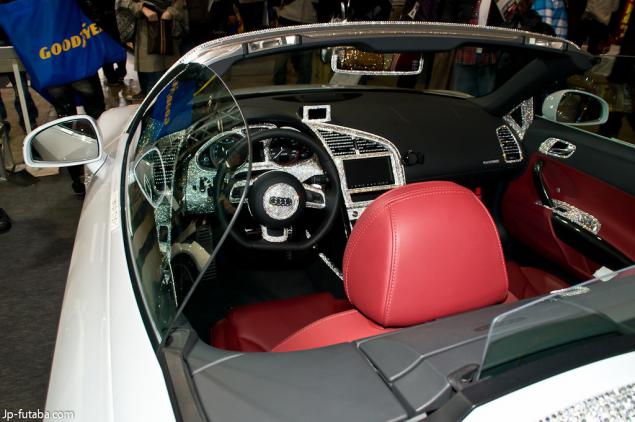 Four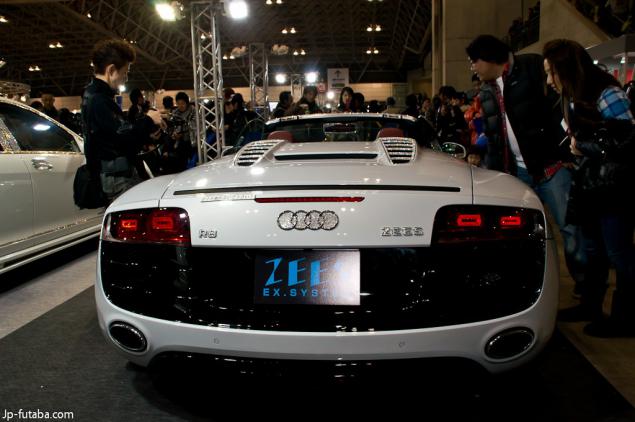 Mercedes-Benz S550
Engine: 5.5L, V8
Power: 387ps (285kW) / 6000rpm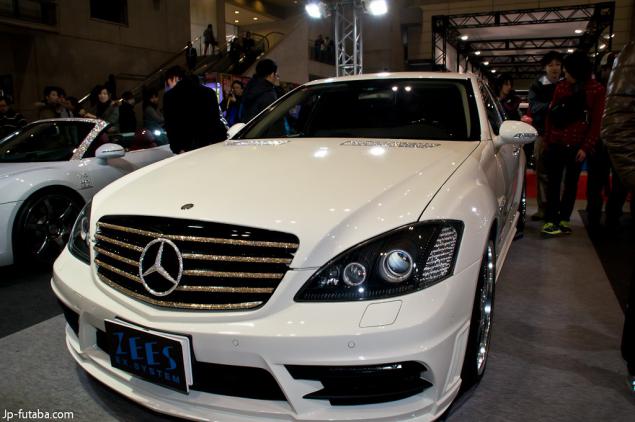 Mercedes-Benz S550
2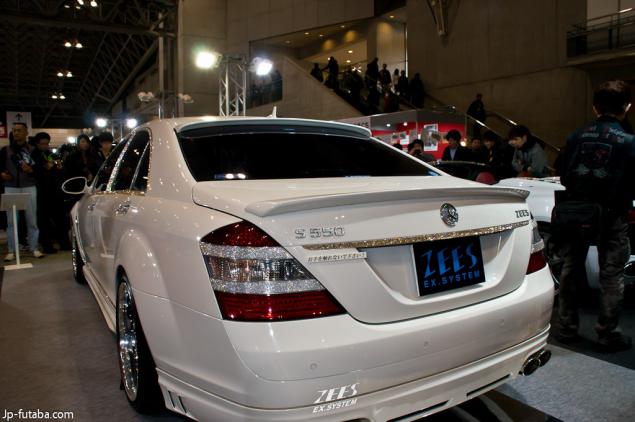 White convertible Rolls-Royce turned into the "black buffalo»
Japanese tuning house Wald is known for its "long-playing" Project Black Bison, in which the same name tuning package receive a variety of cars, from the BMW 5 Series to the Lexus LX570. Not escaped this fate and luxurious convertible Rolls-Royce Phantom Drophead Coupe.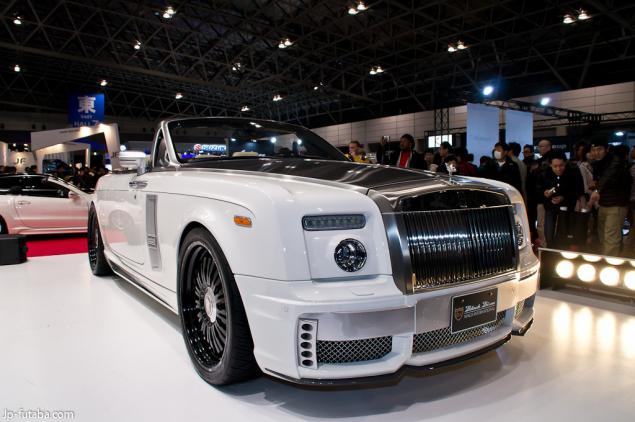 Outdoor Rolls-Royce supplied extravagant front bumper with tightened metal mesh vents and LED running lights, a new rear diffuser, door sills and modest rear spoiler on the trunk lid. However, in Wald it clear that a separate agreement may be equipped with a convertible vents in the front wings, carbon fiber accents and a lowered suspension. Not without a set of unique alloy wheels, on which the Japanese are masters.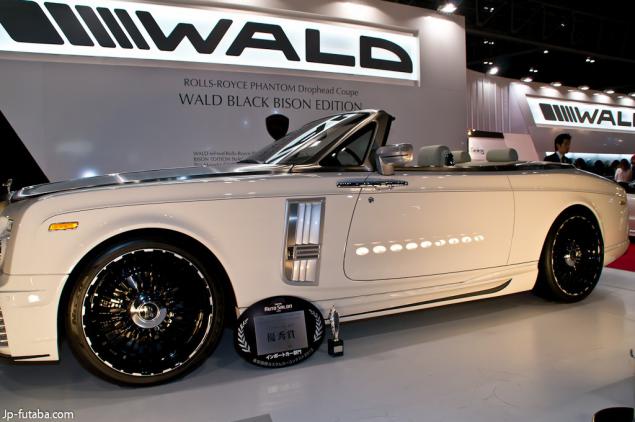 The Japanese company from Wald prefer to work with the exterior, without delving into the intricacies of technical editing of cars. Therefore, the whale, in whose name are the words Black Bison, often limited to a set for the modernization of aerodynamics. This also applies to British gig.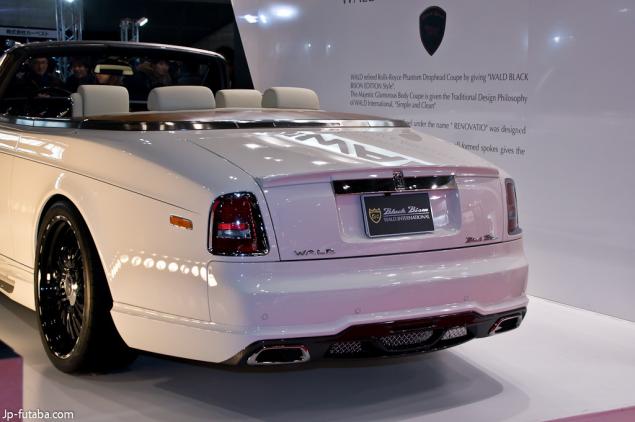 Mercedes R230 Sport line 2008
Black Bison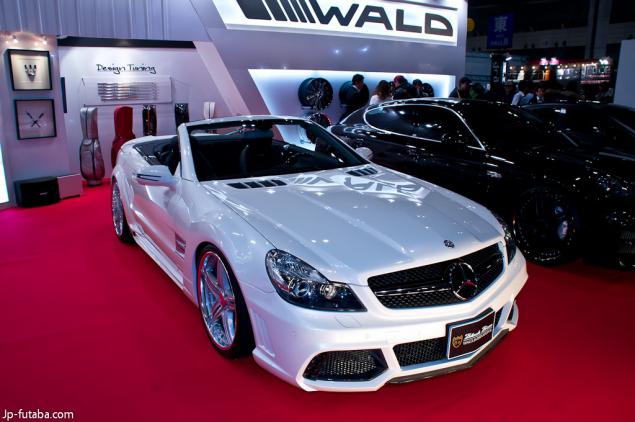 Toyota Air Bomber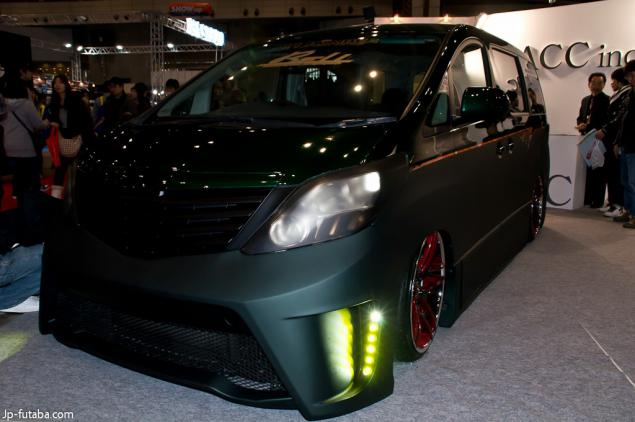 Toyota Air Bomber
2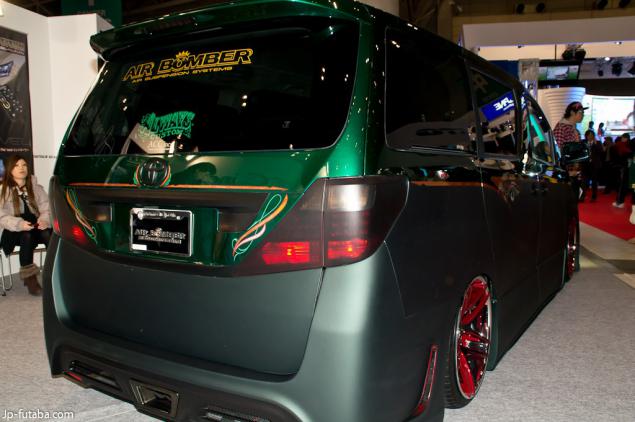 A few photos from the acoustics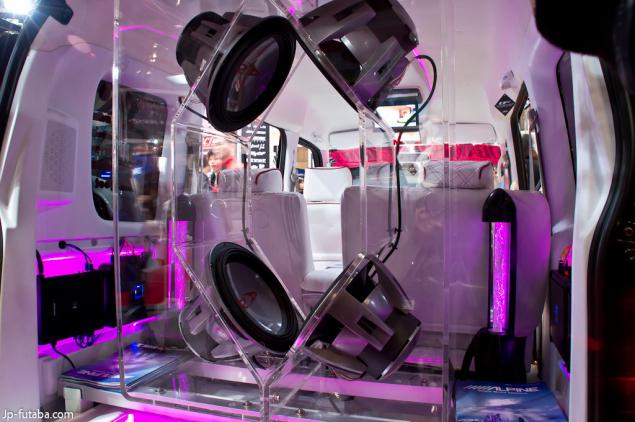 Two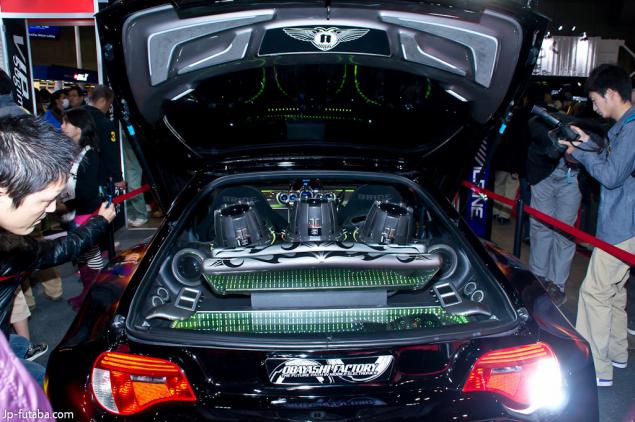 Three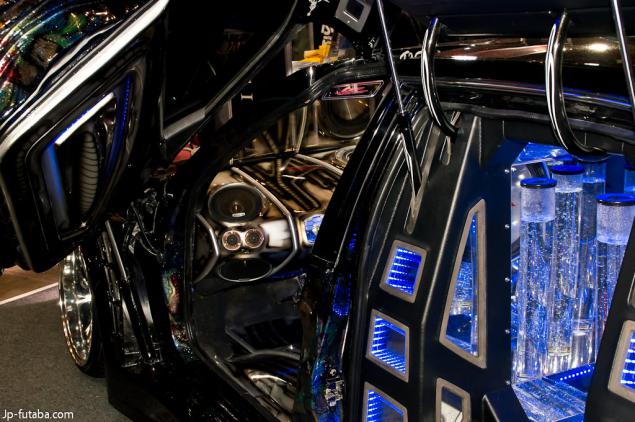 Toyota ae110
This generation Toyota Corolla Levin, released in 1995, has a more angular design - in line with changes in the design of Toyota vehicles in the mid-90s. However, the general concept inherited from the previous generation model. Just as before, the difference of Corolla Levin Sprinter Trueno is different design of the front and rear optics and presence / absence of the radiator grilles.
Like the previous generation, Corolla Levin is available only in coupe. The biggest changes were the engine, which is equipped with this vehicle.
Two
Three
Four
Two
Two
Two
Two
Two
Three
Source: