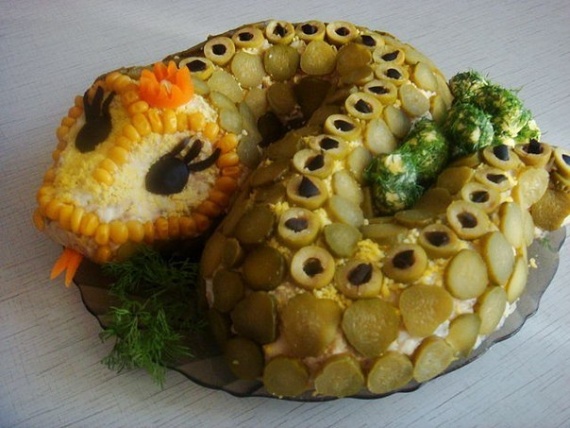 The original salad, easy to prepare and easy to design. On children's birthday party will be fun to look at the festive table, but in general, then, and for any occasion as well as possible kstati.Sostav salad:
4 medium potatoes,
1 jar of canned pink salmon,
3 eggs,
2 processed cheese 'Friendship',
1 clove garlic,
mayonnaise,
To decorate: pickles, another 2 eggs and greens, you can use canned corn and carrots
Canned pink salmon can be successfully replaced by boiled kuritsu.Retsept cooking salad:
Potato and egg salad in advance you need to boil, cool and clean. If you do not cool, they become when cutting into a puree, and
we do not need.
Ingredients Grate, spread in a salad bowl. Fish shred with a fork, remove seeds, spread in a salad.
Garlic is passed through the press, mix with mayonnaise and salad dressed with them.
Actually, the salad is ready, now we'll decorate it in the form of a snake. Put the dish on the snake salad, give it the shape of the crimped sausages. This is done easily because all the ingredients are grated and lots of well-molded. Sprinkle with grated egg snake for leveling the surface. If you are already an expert in carving, you can lay out a snake layers, the last of which will be grated egg, but note that neatly and beautifully layered salad in the form of a snake is much more difficult.
Cut into thin circles pickles and spread of these scales of a snake. Eyes and pattern of olives. I had a little corn from another salad and I have used it in the design of a snake faces. Sting and the crown of the carrots.
The remaining grated egg mix with garlic, mayonnaise and finely chopped greens and form balls of them - it will be a snake eggs, excellent snack for adults vysokogradusnye drinks