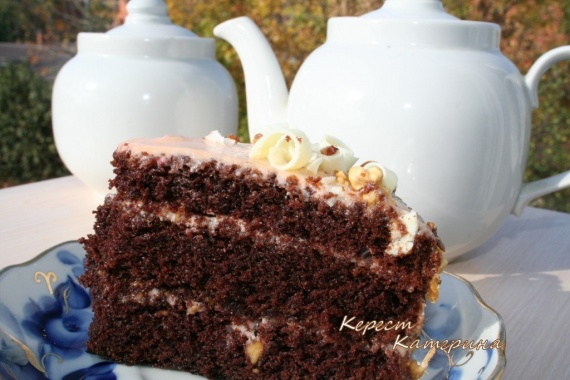 This cake has become one of our favorites. He just melts in your mouth, cakes turn out not dry, moderately moist and rich taste)
cup = 200ml
220ml glass =
You must:
KORZH
1 + 3/4 cups flour
2 cups sugar
3/4 cup unsweetened cocoa
2 tsp baking soda
1 teaspoon baking powder
pinch of salt
1 cup of yogurt
1/2 cup vegetable oil
2 large eggs
vanilla
1 cup of freshly brewed hot coffee (2 tsp coffee)
CREAM
Smetana 300-400 grams (the fatter the better)
1, 5 cups of sugar
walnut 50-100 grams (calcined I-fried in the oven for 6 minutes)
Preheat oven to 180 *. Grease the baking dish with oil.
 - Sift the flour, cocoa, baking soda, baking powder, salt and vanilla in a bowl, add the sugar and mix well.
 - In another bowl, mix the yogurt, oil, eggs.
Interfering with mixer on low speed, dry ingredients, slowly add liquid while mixing until uniform
 - Continuing to interfere with a mixer, add the coffee and stir a little
 - Divide the dough into 2 portions of two forms (I have one and I bake in two parts, but the cake is worth it)
 - Bake for 35-40 minutes, check the wooden stick
 - In the form of cool for 30 minutes, then remove and cool completely
 - After cooling, each knife cake divided into two parts
 - Fluff cakes with sugar whipped cream, nuts waking for a pleasant crunch.
You delicious moments)