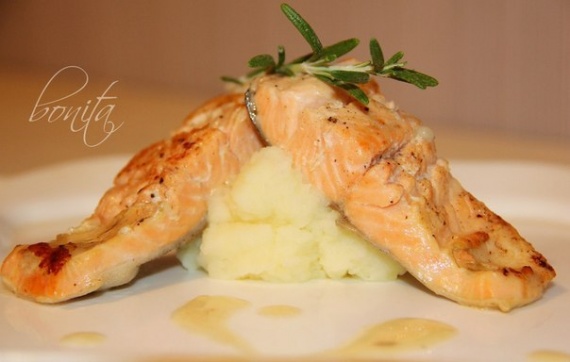 For the preparation we need:
700gr. Salmon;
salt and pepper;
For the sauce:
200gr. fish broth;
100g. butter;
100g. cream;
2st.l. starch or flour;
rosemary;
salt and pepper;
First, prepare the sauce. To do this, melt the butter with rosemary, keep on low heat for 1-2 minutes until the rosemary will not give up its fragrance oil. To the melted butter add the flour and fry lightly in a pan the resulting mass.
A thin stream pour the cream and broth followed them. All intensively interfere whisk until the sauce thickens our to desired consistency. Add salt and pepper to taste. Our white sauce for the salmon is ready.
Fish with salt and pepper. Fry in butter over high heat until a light crust. The fire must be strong enough to fish just grabbed browned crust, but inside remains moist.
Put the fish in the form for further baking.
Fill salmon with white sauce.
Send in a preheated oven to 200 degrees for 10 crumple, until cooked salmon. Bon Appetite!