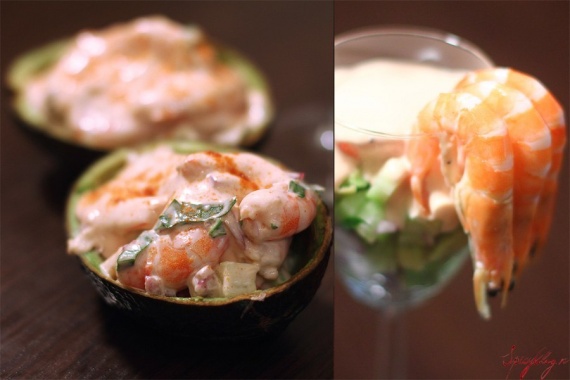 shrimp
avocado
red onion
cucumber
cilantro
ketchup
mayonnaise
cayenne pepper
lemon juice
salt
Shrimp cocktail can be coquettishly served in glasses, or suddenly put him in half an avocado. The more interesting, more fun.
Shrimp clean. Beauty leave for a couple of them are heads and tails. If you prefer, you can use other seafood.
Finely chop the herbs and red onion, cut into cubes of cucumber and avocado.
Honestly, I can not believe that I give this sauce recipe. Mix ketchup and mayonnaise ... The taste spice sauce with lemon juice, salt and cayenne pepper. Difficult?
Mix the vegetables with shrimp, fold back to where your enthusiastic dinner companion will eat, and fill the sauce.
Serve shrimp cocktail with a face like it's pasta with sausages. The effect will be.