This story of a traveler who looked a visit to Khanty young family who live far away in the forest.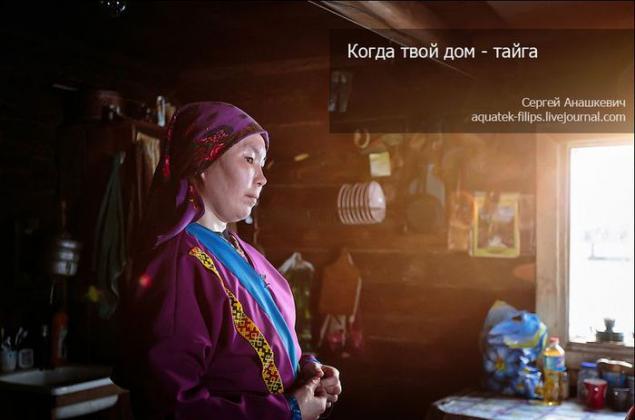 From yurts Kogonchinyh we are only a few hours drive (which is about 20 kilometers), but here it was completely different. A simple wooden hut, consisting only of the upper chamber, simple utensils, lifestyle very far from the familiar to us and what he had seen retired Kogonchinyh. That's right, according to the owners, are now living in remote settlements of indigenous inhabitants of these places ...
The road between the two settlements again wound on riverbeds, occasionally diving into the taiga forest and surfacing again at the next bend of the river ...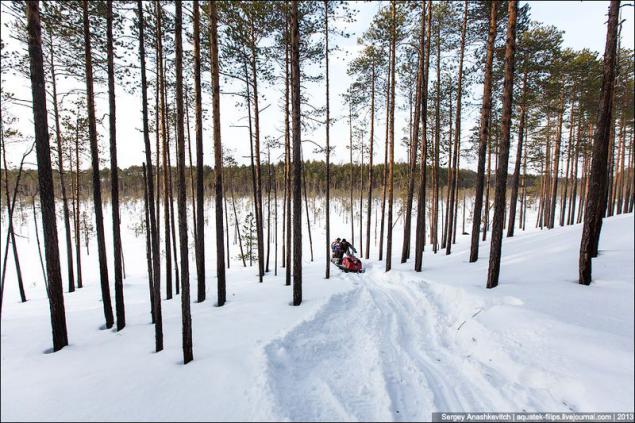 All of these roads through the forest in winter cut themselves Khanty, moving on "Buran" and "pits" between yurts and transported obtained skins and meat Ugut. In the spring they will not ...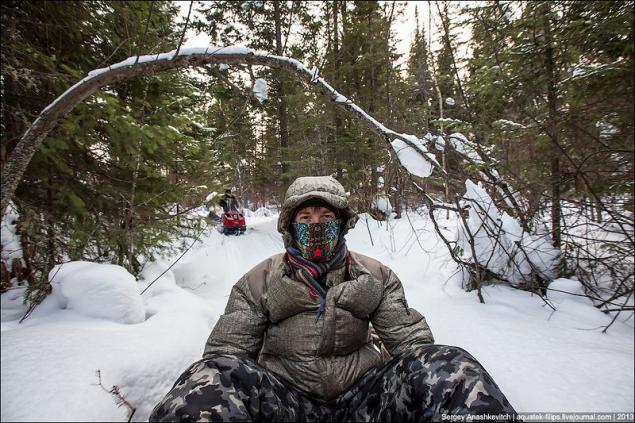 In a small village, where he lives only one family of four, we arrived just before sunset. In open spaces was still quite light, but in the forest almost can not see anything ...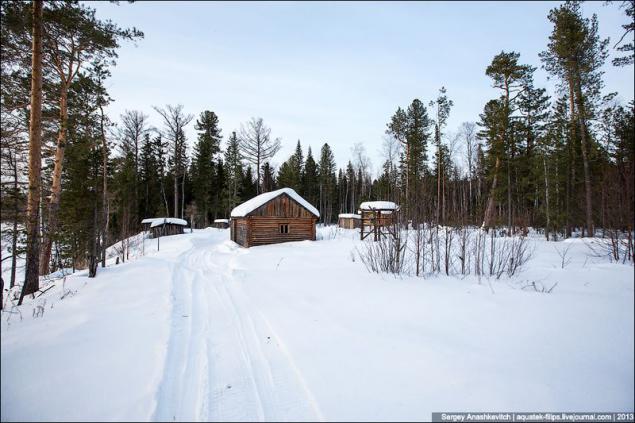 Just at the moment when we arrived, the owner of the yurt scooped dam in the river fish. Khanty know many clever ways of fishing. One of them is in the photo - in the ice cut into large shallow water well and there is such a dam is built - something like a cage. At the bottom catches something to eat, and fish rushes to open space with good access of oxygen, which is also fed ... Hence it remains only to bail out once a day a net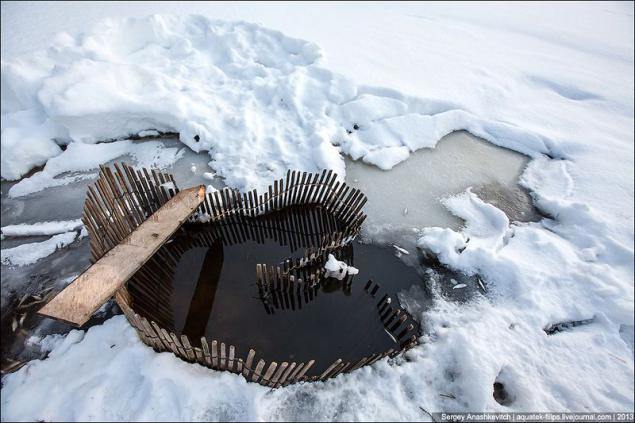 Catch can not be called poor ...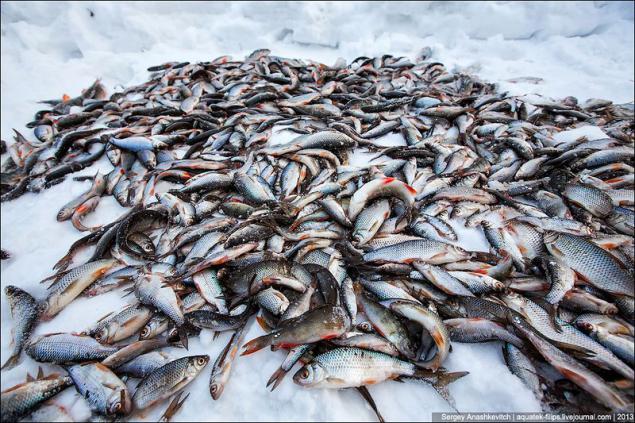 The sun sets over the influx of a large Yugana, on the banks of which are settlements. The owner Sasha is a big bag of fish, dredged from the cage-dam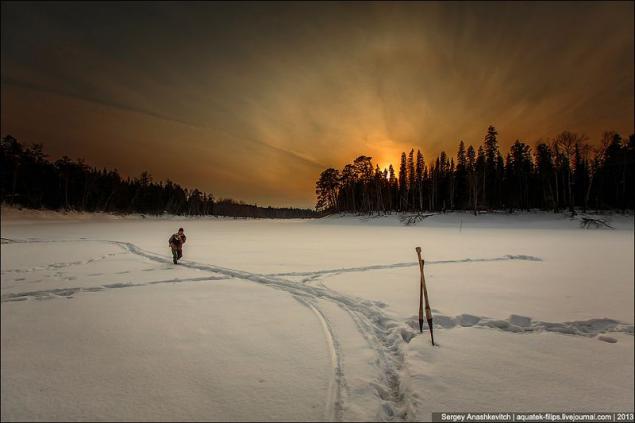 Cat right there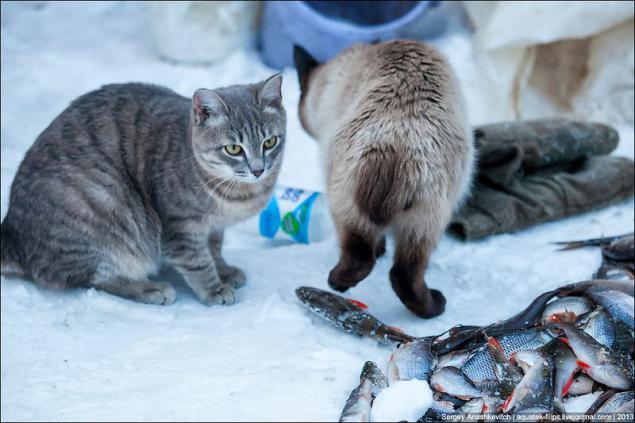 At the entrance we were met by a shy girl - it Sashka's daughter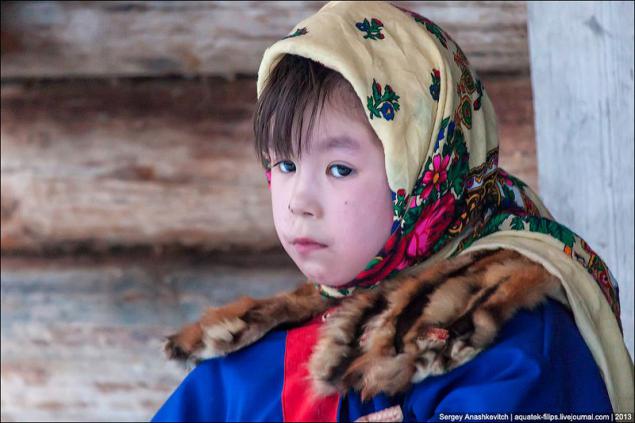 Wife Sasha - Oksana at this time preparing to get out of the oven baked bread.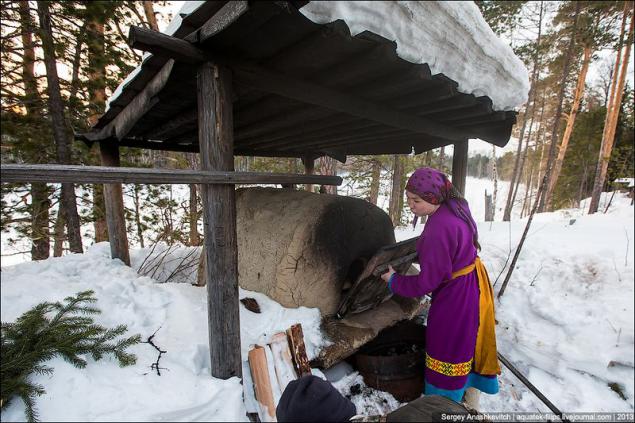 Khanty traditionally baked bread here in these streets furnaces.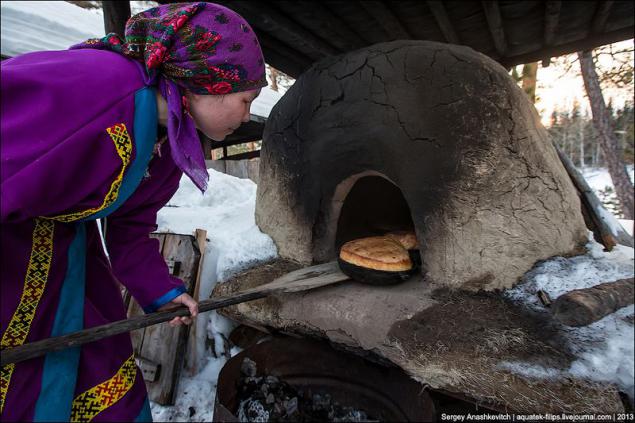 On the palate, it is very similar familiar to us bread. He has a thick crisp but slightly damp interior. Bread is baked every day. This reserve Sasha Oksana enough for a week.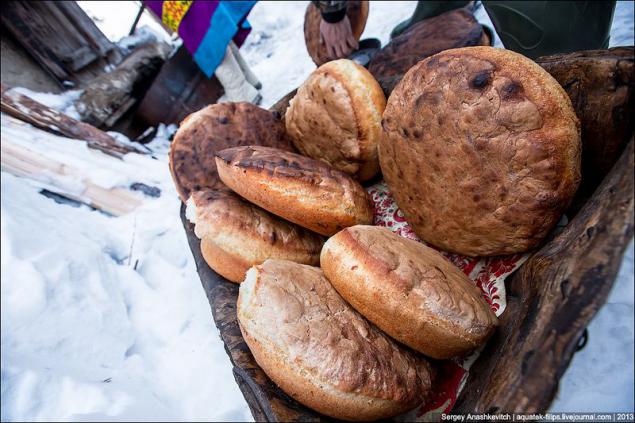 Bread and clay oven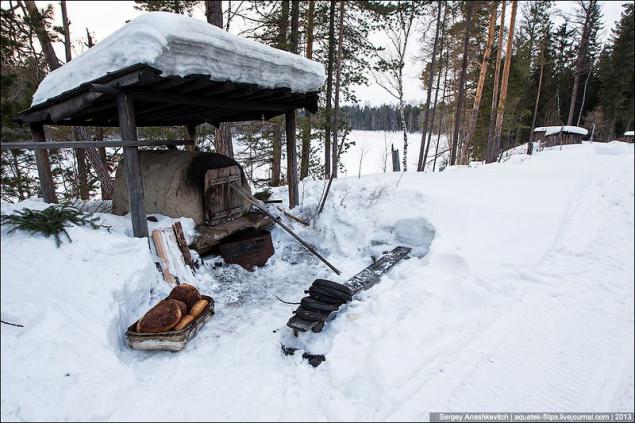 Oksana - pretty young girl. But quite difficult natural conditions in these places very quickly looks sostarivayut person. At Sasha Oksana two small children - a boy and a girl. Girl, as expected, shy and coquettish, boy - curious ...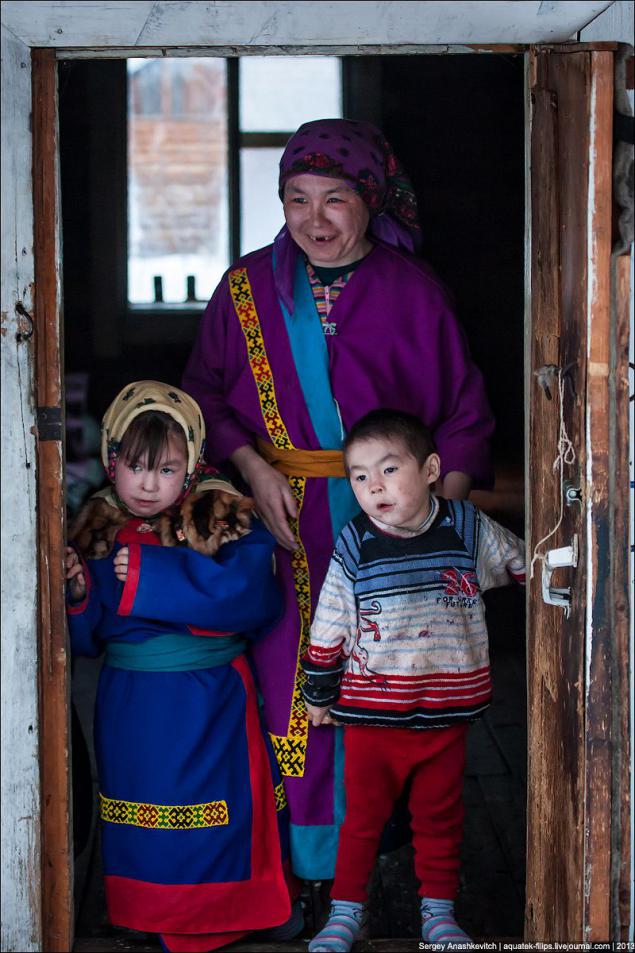 In the Upper Room. Simple wooden frame, no interior finishing. Wooden loft, stove, simple table ...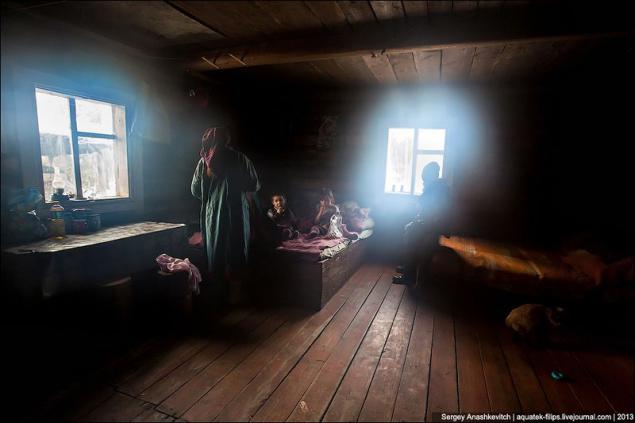 Indispensable attribute of Khanty dwellings - kerosene lamp.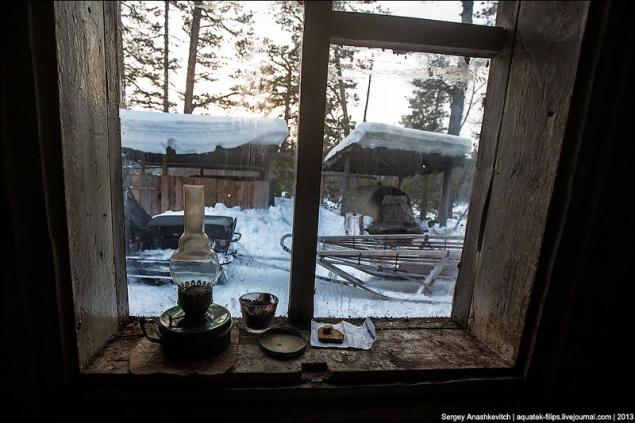 Children, these children ... Sweets and candy can have infinitely.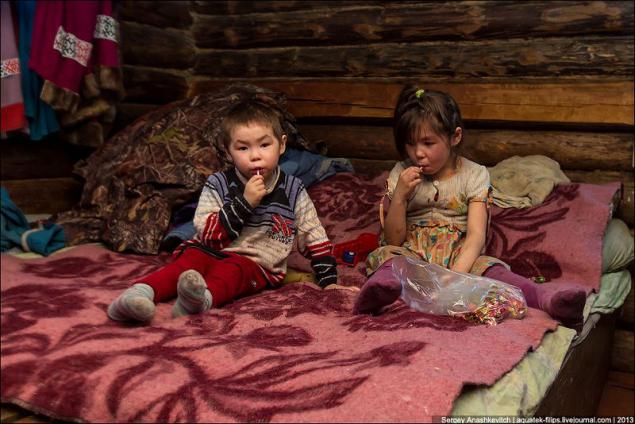 Evening and Sasha, dropping the curtain behind the house, is launching a diesel generator.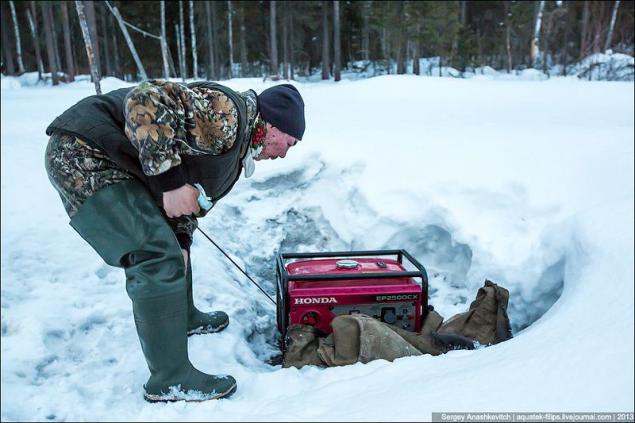 Let there be light ...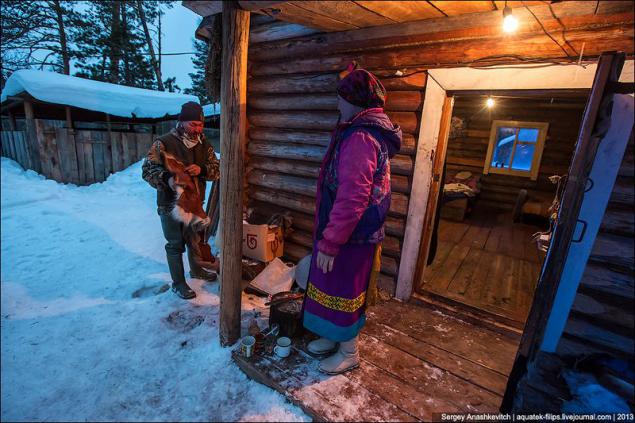 In the light bulbs we manage more carefully inspect the house in which the family lives. In the light of all is even more simple. There are no unnecessary things. Everything is just right. Left - the female half of the house, right - men. In Khanty made man and woman to sleep separately.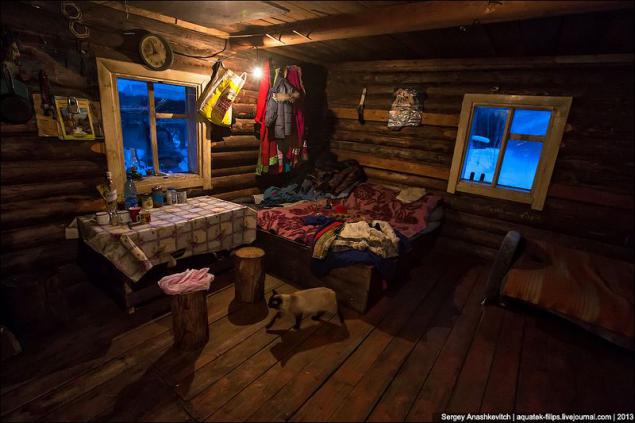 The male half. Simple sofa, it is unclear how brought to this place, a shelf with LCD-panel, a sewing machine and a wood stove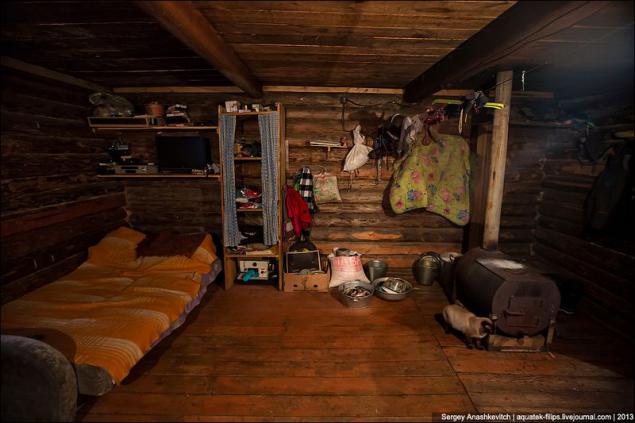 Thing a long time coming out of our items - VCR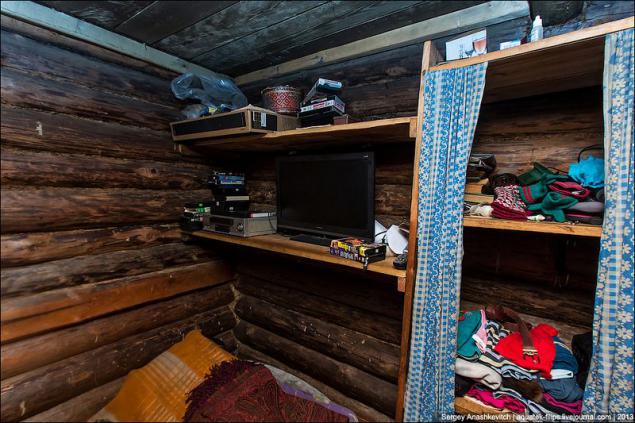 Dining table, over which hangs a left simple utensils for needlework and not only.
Scissors, frying pan, water bottle - all together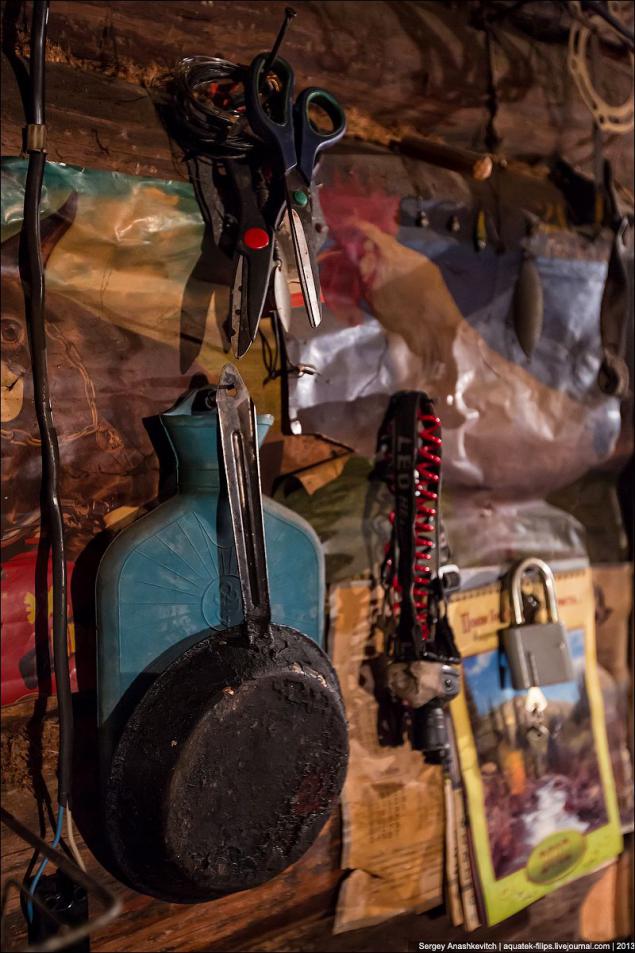 On the window mobile phones in a single position that allows us to take at least some signal. For me, it was a mystery for a long time in the forest can provide mobile communication - in fact the subscriber base is extremely small. It turned out the whole cause of oil. Mastering the field, and they provide a mobile penetration in the taiga places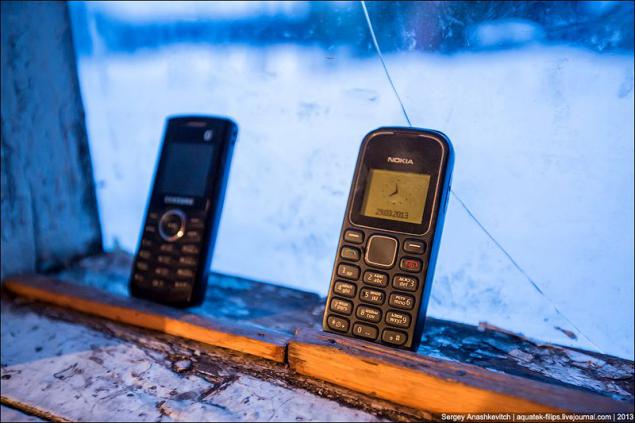 Crockery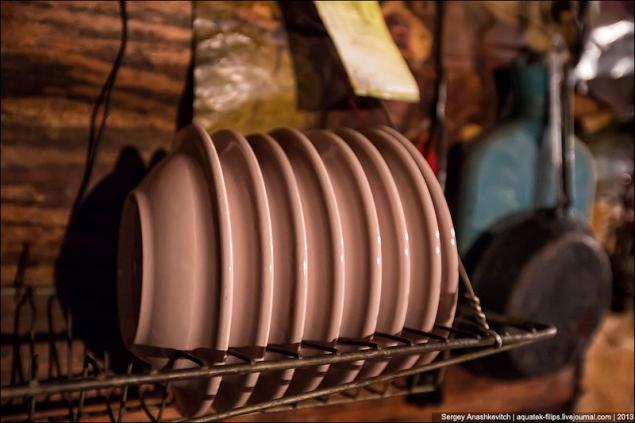 Grocery cupboard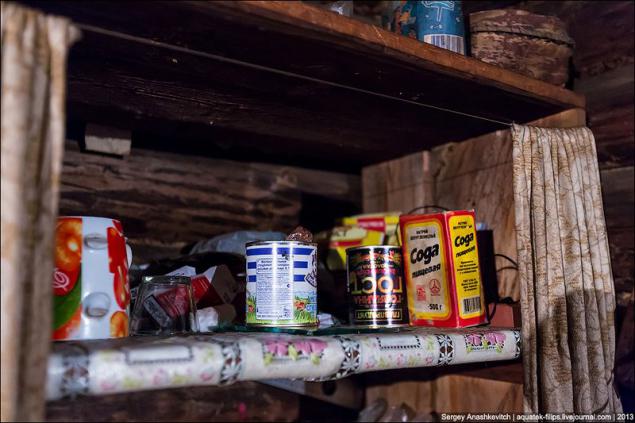 Here you and bathroom, and a storage room, and dining room for cats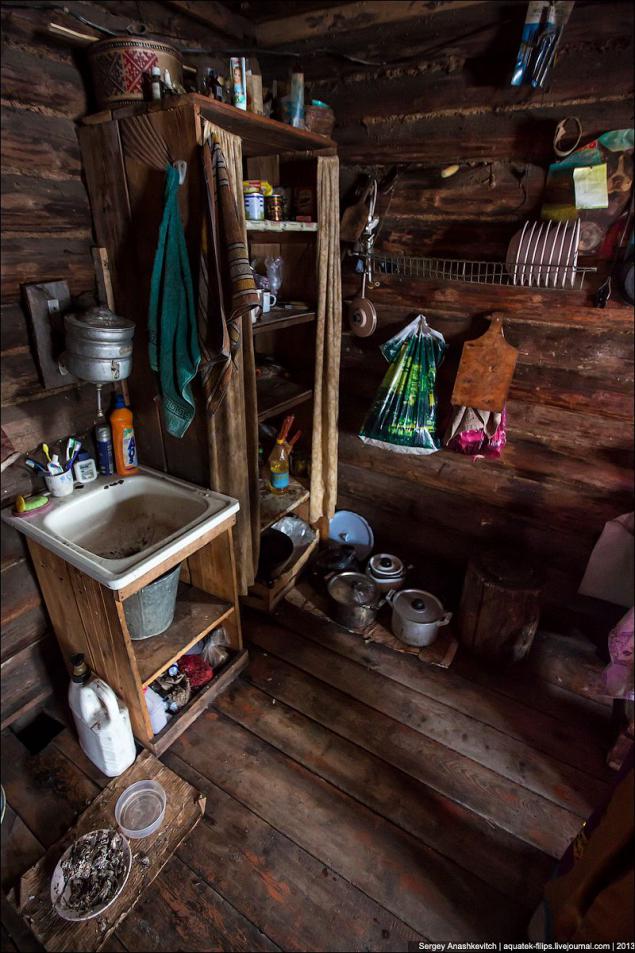 Here and shoes and wash basin, towels and ...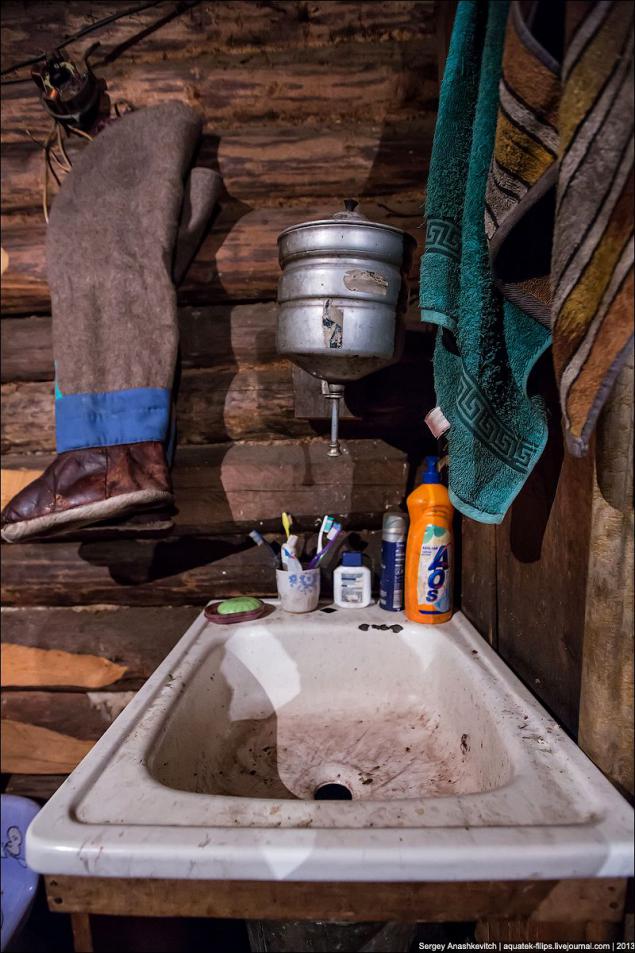 Nevertheless interesting to see how the life of people embodying traditional lifestyles, penetrate things from civilization - satellite dishes, cell phones, generators, toothpaste and shaving foam ...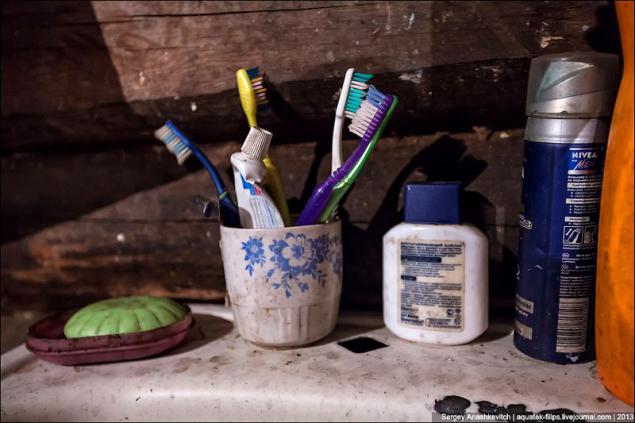 Evening ... the window will soon start to get dark, and we're going a long way back ...
Sasha and his daughter leave us off ... Ahead 5:00 bumps on sleds through the night taiga. In the village Ugut the day we arrived after midnight ...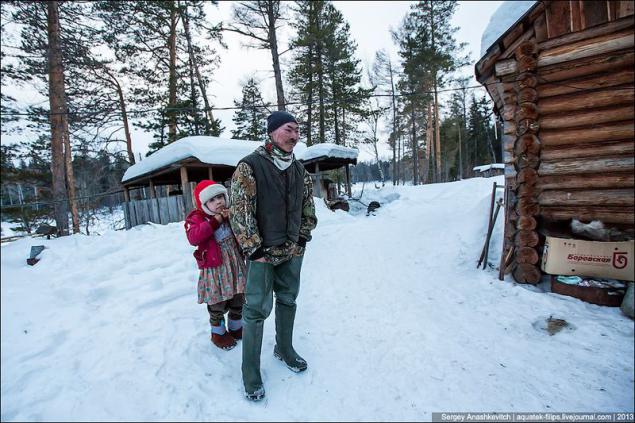 Source: aquatek-filips.livejournal.com