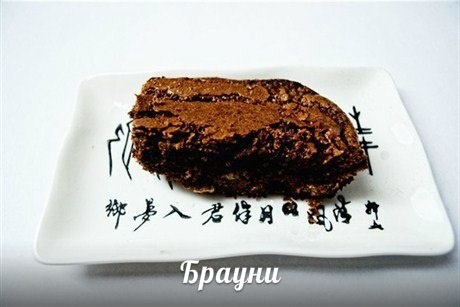 Ingredients:
Dark chocolate 100 g
Butter 180 g
Brown sugar 200 g
Eggs 4 pieces
Wheat flour 100g
Nuts 100g
How to:
1. Melt the chocolate and butter in a water bath. Chocolate dark, for this recipe is used with a 40% cocoa content.
2. Beat the eggs, slowly stir in the brown sugar.
3. All Stir chocolate and butter, beaten eggs and sugar, nuts and flour.
4. Pour the batter into the pan.
5. Place in a preheated 200 degree oven for 40 minutes.
6. Remove, let cool and cut with a knife for pizza (so the pieces are obtained smooth).
You can sprinkle with powdered sugar or serve with a scoop of vanilla ice cream.