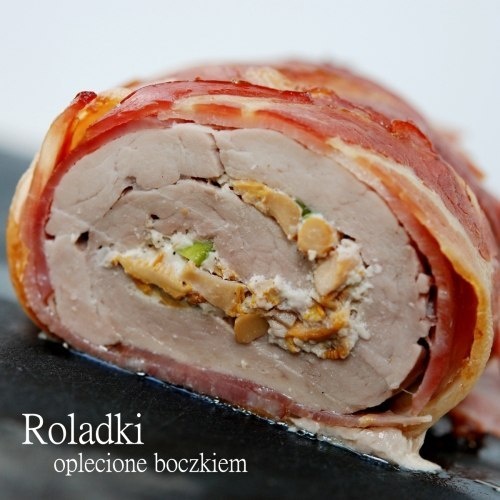 View used meat and minced selection depends only on you.
Ingredients: (2 rolls = 4 servings)
2 medium pork fillet (or 2 large chicken breasts, 1 small turkey breast)
20 slices smoked bacon
Stuffing:
1 cup sliced ​​mushrooms.
2 cloves garlic
2-4 tablespoons of cream cheese Philadelphia type
1 tablespoon chopped green onion
salt and pepper
olive oil
or other fillings:
 - With ricotta and pesto
 - Spinach and dried tomatoes
 - With apples and almonds
 - With barley porridge, apricots and herbs
Execution:
Prepare the stuffing. In a frying pan heat the 2 tablespoons of olive oil, add the mushrooms and fry for 3-4 minutes. Add crushed garlic, cream cheese and chopped onions. Simmer until until the cheese has dissolved (2-3 minutes). Season to taste with salt and pepper.
Fillet into thin repulse "rectangles". Every surface of the grease filling and a half fold. (Note: the meat is salted! Bacon adds quite salty taste.)
10 slices of bacon to spread as shown in the figure. In the middle (at the junction of slices of bacon) put meat and roll it oplesti bacon (just like in the photos).
Rolls put in a refractory form, drizzle with oil and insert it into a hot oven. Bake for 30 minutes at a temperature of 195-200 degrees.
Serve immediately as a lunch dish.