Today cook egg rolls Korean. Know why we believe these rolls wonderful? First, their preparation does not take much time, and secondly, it leaves scope for the imagination, thirdly, they can apply not only for Breakfast but also for lunch and dinner! And they are to place on any children's party. Your success is guaranteed!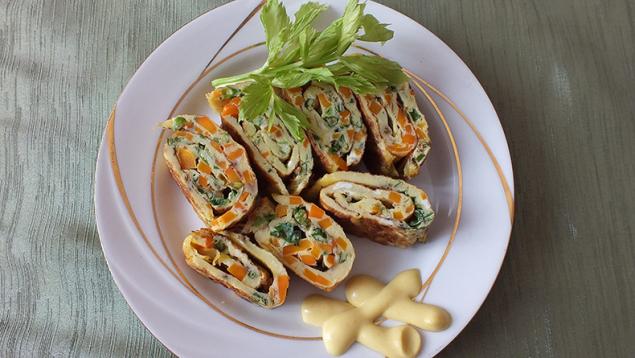 Ingredients:
3 eggs


1 tbsp milk


1 tablespoon chopped carrots


1 tablespoon chopped onion


1 tablespoon chopped green onions


salt and freshly ground black pepper to taste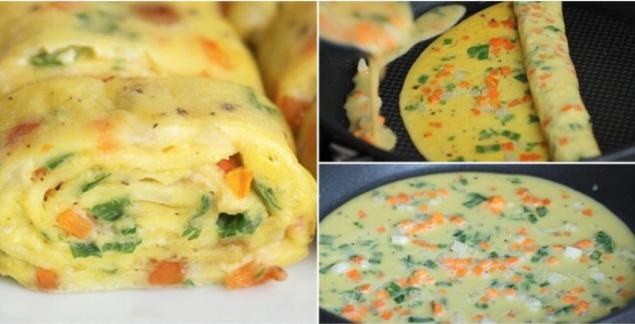 How to prepare:
Beat the eggs with milk and salt. Add the chopped vegetables and pepper.
Grease the pan with vegetable oil. Pour half (!) mix and cook until the bottom solidifies, the top will remain liquid.
Roll the omelet in the roll from the edge to the middle so that part remained free. To move the omelette like this to the left edge.
On the free part of the pan pour half of the remaining mixture and how to build a free, folded part of the omelet.
Just as you finish the pancakes when I failed to pour the entire surface of the pan. When completed part of the clutch, to screw her scrambled eggs and again to move to the left edge.
Pour the remaining mixture on the right side of the pan and again as if to finish the free edge of the omelet. When the clutch, to screw to the end. Put roll on a cutting Board and chop into small rolls.
Bon appetit! Cook with love!  
How to make Apple pie without sugar: 5 recipes10 recipes SUPER alkalizing beverages
Source: www.sethealth.ru/2016/07/09/%D1%80%D0%BE%D0%BB%D0%BB%D1%8B-%D0%B8%D0%B7-%D0%BE%D0%BC%D0%BB%D0%B5%D1%82%D0%B0-%D0%BF%D0%BE-%D0%BA%D0%BE%D1%80%D0%B5%D0%B9%D1%81%D0%BA%D0%B8-120-63-%D0%BA%D0%BA%D0%B0%D0%BB-%D0%BD%D0%B0-100-%D0%B3/