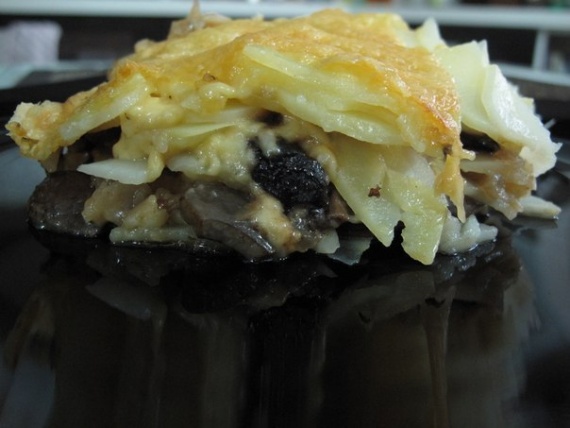 Preparation:
1. Peel and cut the potatoes into slices (Good if you have a shredder for cabbage, you can use it). Finely chop the onion, mushrooms, cut slices more, about 1 cm. Wide, clean garlic. Wash and dry thyme.
2. Cook the potatoes in boiling salted water for 10 min. Strain. Preheat oven to 200? C.
3. At the same time, heat pan. Add a little olive oil and butter, when butter stops foaming, add the onion, squeeze the garlic and cook until soft, then add the mushrooms and whole branches of thyme. Cook all together for 5 minutes, stirring occasionally. Turn off the heat and remove the thyme branches.
4. Put the potatoes in the bottom half of the heat-resistant dish, sprinkle with cheese, then add the mushrooms, sprinkle over cheese and top with remaining potatoes. Top again generously sprinkle with cheese. Place in the oven, bake 20-25 minutes.