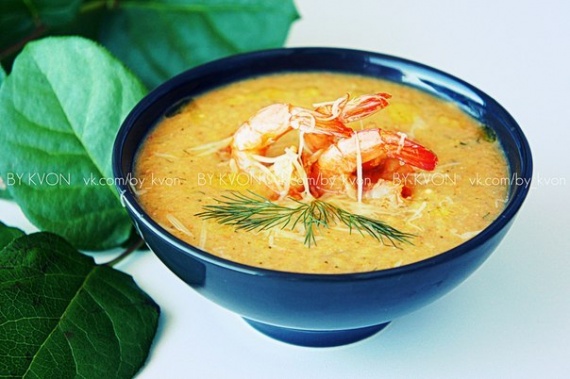 Preparation:
1. Zucchini cut into medium dice.
2. Broccoli pan, divide into florets, remove the hard part.
3. Carrots and onions chopped.
4. All the prepared vegetables to put in a saucepan, add water so that it almost covers vegetables. Cook the vegetables over medium heat for 7-10 minutes. After boiling, add salt to taste.
5. Cooked vegetables to put in a bowl with cold water. So they will not lose their color.
6. Cheese cut into small pieces, cook the chopped dill.
7. Pyurirovat vegetables with a blender.
8. Add the cheese to vegetables and herbs, mix thoroughly. If necessary, use a blender again.
9. Shrimp Boil for 2 minutes, cool and clean. Fry in hot skillet with the addition of butter, lemon juice and salt.
10. Serve vegetable soup with grated cheese and herbs.
Bon Appetite! Eat with pleasure!