Sergey from Chernivtsi decided to learn how to be dumb and 6 months kept a vow of silence. And now here already as two weeks walking with sealed eyes, leaning on a cane
Sergei Katrinin from Chernivtsi conducting various experiments on himself. His last invention - to try the role of a man completely unseeing. Student journalism for two weeks learning to navigate in space using a cane. When will the experience, he does not know, but in the nearest future a ride on a snowboard with your eyes closed.
At a meeting with us, Sergei came to Kiev from Chernivtsi on the train, which is also not out of the way of the blind. Leaning on a cane, with a tightly sealed with cotton and tape the eyes, the guy really gives the impression of a sick person. He told me that the train was guided not very difficult. The old man wanted him to swap the shelves, but said that a blind man, apologized and all the way to help. "Of course, I have to fib, - says Sergey - when asked what happened to me, I say I had surgery on the eyes. It's incredible to feel the emotions of people without seeing them. I feel like they come from the kindness, everyone wants to show compassion and help the needy. But I do not feel this experiment people, the first thing I check myself. I, too, become kinder ».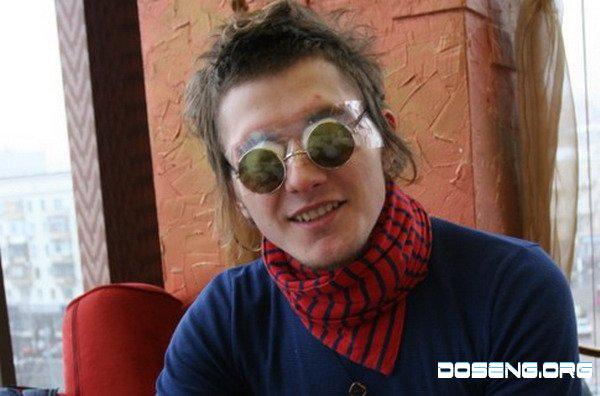 WALK AND DOUBLE. Passersby look back in amazement at the young "disabled" and compassionately offer assistance. So far, even with the help of sticks, Sergei slightly landmark, so it is all the time accompanied by a friend of Bob. He kept all the money Sergei: he is paying for the other in the transport and cafes, makes it move, and warms the other fragrant some tea from a thermos. Another "blind" is not mastered and handling banknotes. Is confusing icons: triangle - 20 hryvnia, the two strips - 10 Circle - 50. Bob says that he never discourages other from wild ideas, but on the contrary, provokes purposely doubt that the experiment will be able to trigger the activity of Sergei.
However, inactive Sergei difficult to call. He - the person popular in youth circles of the capital. All he is known as trolley buses. Sergei remarkably similar in appearance to the Moscow extreme, which rolled naked on the roof of the trolleybus. Video mad skating and now you can download on the Internet on the mobile phone. This trick made Muscovite incredibly popular. And when people began to recognize Sergei Russian counterpart that he became known as trolley bus, trying to usurp the little alien glory. And just as he puts on himself the experiments.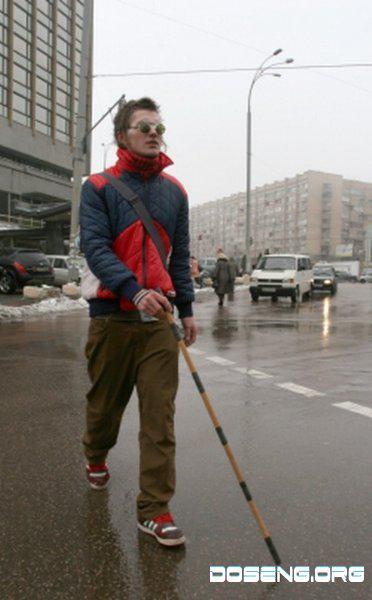 A AGAINST THE RELATIVES. Pets and friends do not understand the strange antics of Sergei, but my mother reacted to another idea - to stay blind understanding, even bought a cane for him. "This is the most difficult trial of all - says he, - I sometimes have to search long to touch a thing, if I forget where I put it. One could not find a phone and waited a long time until someone calls. By the way, before the experiment, I put a lot of different signals to different subscribers, and the maximum "voiced" button. But the worst thing is that I can not listen to music on headphones when I'm on the street. For the blind, the hearing - is the main sensory organ. " He admitted that now he has become much more acute hearing, smell and touch. "I'm going in a minibus and hear people in the three seats behind whispering about something. And the taste has increased - in fact I do not see what I eat, I can only smell it, or taste, very unusual sensations. Of course, now I'm preparing a mother, I can not do it myself, but I find the food in the refrigerator by yourself. " Always cheerful and carefree Trolley, deprived of understanding the problem from the inside became a different attitude towards people with disabilities. "I understand why they do not like to be pitied and often refuse to help - they want to be equal in society. And I realized that people can quickly adapt to any situation. " But the most ambitious plans ahead. Sergei plans to feel like to be deaf, and then connect together three flaw - be silent, not to hear or see. After all, the only way, in his opinion, he can truly feel the fullness of life.
FOR Silences became the most popular bartender first serious test for Sergei was an experiment with silence. Almost six months from September 2006 to January 2007, he did not say a word. "I decided to see what has changed around, if I suddenly stop talking - he says - but I also want people to take me seriously began. And when I began to be silent, my social circle was divided into those who do not understand me, they say, enough to grow stupid, and true friends. After all, a true friend, and you can be quiet. " To not automatically escaped, "hello", "thank you", "please", Sergei taped his mouth shut. "It taught me endurance. Once I waited for an hour until the door will open, "- he says on.- With friends communicated with using a pen, a notebook and SMS. And my mother, we agreed that a single-clicking on the phone - "yes", two clicks - "no." I learned sign language, it was quite simple. To this end, he met with deaf people really & quot ;. Teachers at the university did not like the fact that Sergei is going to take exams in writing. On the side of the student was only a university psychologist. And he was expelled. Now the guy to learn there in absentia. During the experiment, Sergei earned in one of the Kiev club. From there, he also fired several times for silence. And then the bartender was the muteness chip club. Above his head was a sign to show off: "Silent bartender," and the number of customers has increased significantly. Some of them offered to Sergey $ 300-400, so that he spoke. But the experimenter was adamant. When the experiment was over, the first Sergey rehearsed their ability to speak cat Anfisa.
"In 13 years I have killed a man," Seven years ago, Sergei shot from a hunting rifle shot to death six years Bogdanchikov. Friends playing with a hunting weapon Pope Sergei. The day before this fatal game Sergei dad pulled the same kid drowning in a sewer. In court acquitted a teenager, but he admits that he can not forget all of this. And spending time at home in Kalmintsah, always comes to the tomb of the boy. After the tragedy of Sergey 2 months undergoing mental rehabilitation. "I have long departed from the shock, crouch in a corner, crying and silent, he dreamed of me at night and even during the day in the crowd I saw and talked with the kid and asked him for forgiveness, - says Sergei - my father took me to Kiev away from the memories . And at some point I decided that I should be on their skin feel deprived. He started with dumbness. "