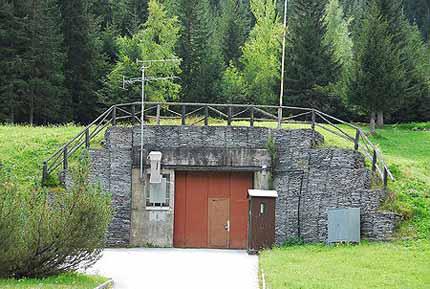 While Arab sheiks continue to show off and build on petrodollars whole island and for individual buildings, including hotels and up to seven stars (Burj Al Arab), quirky Swiss decided to play on the contrast.
In fact, in Switzerland is difficult to surprise and Aboriginal and visitors level of service and the number of stars in the hotels. So, sensibly judged wise people of the country hours and banks need to surprise price. Task, incidentally, is still the same, when you consider that just the price of this thing they have some of the highest in the world. But - yes will master trail running. The solution was found. And now Switzerland, in addition to chocolate, watches and banks can still boast the only hotel in the world without stars. (However, we think this is a very we could compete with them)
It's true, do not have separate rooms, and all fifty-four beds in the same room. There are also no options such as windows (the hotel is located in a former nuclear bunker) and televisions. Bathroom, of course - one at all. About hot water - who had come, and sneakers. Was not enough, but it's our people too familiar.
But the price! Where else in Europe (and not only in Switzerland) it is possible to sleep for ten dollars? Sheesh. Accordingly, the availability in the "today" you will not find. Must be ordered. And very early.
And the idea is very nice. We have these bins at one time set up - enough to solve the problem of a hotel in Ukraine.