An employee of the local branch of a company communication and Vitaly Kopytkin pensioner Alexander Kazakov met Tuesday morning on a completely banal about Vitaly asked Alexander - an experienced motorist to help adjust the carburetor in his car.
Dig deeper into the hood with a screwdriver, Alexander said that everything is in order and suggested Vitaly conduct sea trials of the machine. They went in the direction of the mountain ash, which the Southern neighborhoods Kohtla-Jarve.
They have known for a long time. Vitaly - experienced specialist in the field of information technology and digital equipment, teaching the elderly to use Alexander digital cameras and camcorders. Moreover, both -fanaty shooting to such an extent that not leave the camera almost round the clock. Here and this time everyone had a camera.
Ride in the area of ​​waste heaps, they spontaneously decided to climb it. "As if some force pushed us up the hill. I have repeatedly summer and winter up here, but this time felt some special ease, as if thirty years dropped, not a step did not depart from the young Vitalik ", - says Alexander pyatidesyatishestiletny.
ufo Kohtla-Järvel
Further events developed as a fantastic movie. Alexander asked his young friend to remove the background panorama of the Southern neighborhood. After a few shots, Vitaly shouted: "Look, a plate!" Indeed, against the sky floating UFO, which is clearly seen in the picture. But more - more: a few minutes Vitaly Alexander drew attention to the fact that on the contrary the new Selver store was formed some kind of a circle, and to his left a gaping hole. Houses together they have downloaded images to your computer, and considering that, where was visible a circle, found that in this frame lens captured a flying saucer. "These are on! What is this pepelats? "- Vitaly surprised. And Alexander is not a joke got cold feet: "Right invasion of some sort!»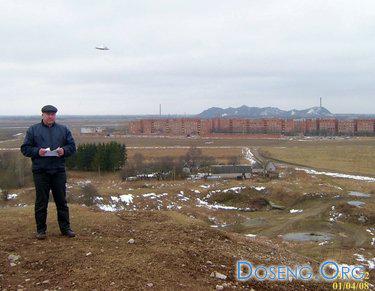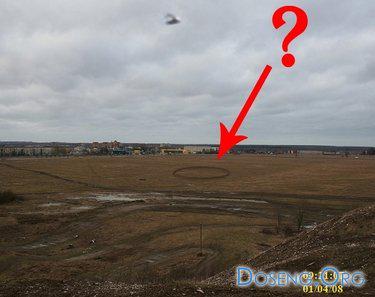 What was it? What caused the UFO visit in Kohtla-Jarve? Why dish appeared in this place? Delfi reporter contacted known Estonian ufologist Igor Volkov, who first investigated the UFO phenomenon in the vicinity of Kohtla-Jarve. In the eighties of the last century, Ida-Viru literally became a mecca for unidentified flying objects. It has been observed, and, most importantly, capture on film a UFO hovering near the fertilizer plant in Kohtla-Jarve. It was documented UFO landing in Jõhvi near the military unit. Were interviewed numerous witnesses of this phenomenal phenomenon, made measurements at the landing site. It was recorded as flight and hovering at a low altitude of the triangular UFOs in the area of ​​the frontier in Narva-Jõesuu. And the sky above Lake Peipsi in the years literally swarming plates.
"The fact that UFOs have appeared in the area, there is nothing surprising - told Delfi Igor Volkov. - Southern districts of Kohtla-Jarve is above mine workings. Because the voids in the earth radiates energy, which has always attracted such objects. In addition, waste heaps, if you look at the geological map, pass break crust. Located near high-voltage power line, which is a co-factor for the appearance of UFOs. Moreover, I can with high probability to say that at this time in this place there were other unidentified flying objects that your observers do not notice, or else plates "did not want" to show them myself. "
Ufologists recommend residents of Ida-Viru often look up to the sky. Skeptics he said: "From what you often see his feet than in height, and on do not believe in aliens. I do not claim that the plates arrive to us from the depths of space - maybe it's guests from parallel worlds, if not from the depths of the earth, but what UFOs are, I do not doubt for a minute. "
From this Tuesday, those who believe in UFOs, it was for two people more. And we ask all those who witnessed the visits of flying saucers, to respond and to describe their observations.