Funny curiosity from England.
Lived was State Chamber of Commerce of England (The Office of Government Commerce), abbreviated OGC.
Maybe in Russian it is not the name, but it is not so important.
And this was at the Chamber logo. Here it is: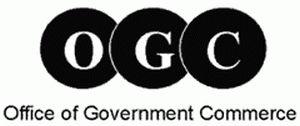 But over time, the House leadership decided that this logo is obsolete, and they decided to order a new logo.
Found performers paid them 14,000 pounds (nearly 28,000 US dollars) and got a great new logo.
Here it is:

At first everything was fine. They even have already received pens and other souvenirs with a new logo, preparing his official presentation to the public ... And then a thunderclap ... Someone noticed something.
And notice that if the new logo rotated 90 degrees, then it becomes quite vulgar picture.
Here it is:

Now the Chamber of Commerce to think about what to do with new handles and souvenir products, such as the logo is unlikely to be already recognized their new official sign.
Turn imagination and think of what might look like this logo
P.S. If you do not understand the last picture - the upper circle - the head, the lower - leg, well, in the center - hand ...