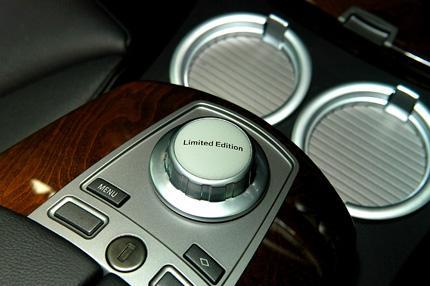 Since May 2008, it will be possible to buy one of the 100 cars BMW 740Li and 750Li with elements of decoration Individual, engraved Limited Edition button on the doorstep and the iDrive controller and a special Limited Edition nameplate on the trunk lid.
Body models Individual Limited Edition is covered by the original paint colors Opal Black, not used in mass production.
Inside the car is lined with wood, the seats are made of genuine black leather and glass and window openings edged with black glossy bars. The special features of the design of the car can also be attributed, and dual chrome exhaust pipe connections, which will give any clear - the athlete in front of him.
From the technical bells and whistles is almost everything that can be imagined: the navigation system and night vision camera, and the system Adaptive Drive (includes control system operation of the chassis and a system of continuous Damper Control), and a color 8, 8-inch LCD LCD monitor with TV function, and an interface for a mobile phone featuring Bluetooth, and CD changer, and much more. In a word - the ideal individual!
Limited 740Li and 750Li come with a 6-speed automatic transmission; 20-inch alloy wheels; bi-xenon headlights with washers; hatch with transparent cover; sports leather steering wheel with heating; avtodovodchikom doors and automatic opening / closing trunk lid.
The cost model 740Li at the official BMW dealers will be 4,019,400 rubles, and the 750Li - 4,501,800 rubles.