The newspaper "Komsomolskaya Pravda" published the dry figures
International Contest "Eurovision»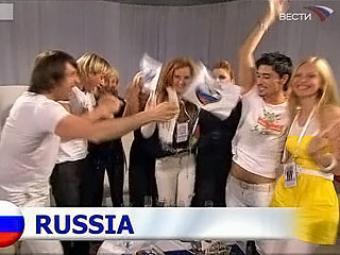 1 million euros Dima Bilan spent on preparations for the "Eurovision" - despite the fact that world stars Evgeni Plushenko and Edvin Marton played for free.
 - EUR 500 000 spent Ani Lorak only in your number in the mirrored room. Another 200 000 worth her dress.
 - Rumor has it that seven million euros spent debutants this year, the team of Azerbaijan only in his promotional company (for example, around Belgrade hung huge banners with the image of representatives of the country).
 - Dima Bilan took with him 10 shirts that had to break. But Edvin Marton brought 50 pairs of different colored sneakers. Edwin - a fan of sports shoes, puts on her mood and believes that he always has to be the choice of what color shoes to wear.
 - A record number of countries took part in the "Eurovision". For the first time in the history of the competition to express themselves decided 43 countries.
 - 3 000 000 condoms distributed to volunteers for all visitors of the competition. This year's "Eurovision" has decided to draw attention to the problem of AIDS. As part of this action and there were defenses against disease.
 - 25 000 people could fit "Belgrade Arena", where the tournament was broadcast music. In the first semi-final, it was filled only a third, already on the second half. But during the final, despite the fact that the price of tickets reached EUR 1,000, the hall was filled to the stop and another 2,000 people watched the broadcast from the outside.
 - We have supported, giving 12 points Dima Bilan and putting it in the first place, countries: Ukraine, Estonia, Israel, Armenia, Latvia, Serbia, Belarus and Lithuania.
 - In addition, we were given: Germany - 7 points, Macedonia - 6 points, Belgium - 3 points, Bulgaria - 6 points, Serbia - 10 points, Cyprus - 8 points, Moldova - 10 points, France - 1 point, Romania - 10 points, Portugal - 6 points, Hungary - 10 points, Andorra - 5 points, Poland - 6 points, Slovenia - 7 points, Czech Republic - 7 points, Spain - 8 points, the Netherlands - 1 point, Malta - 8 points, Ireland - 5 points, Azerbaijan - 8 points, Greece - 7 points, Finland - 10 points, Croatia - 6 points, Montenegro - 8 points.