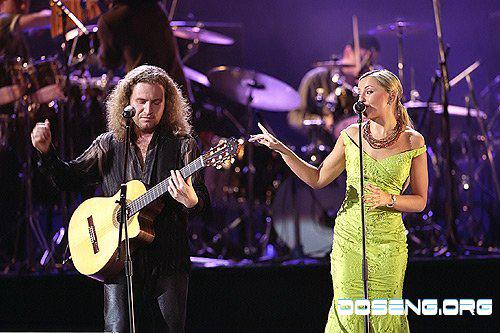 Approaching it is time to Christmas and New Year holidays. Who wants to make your celebration memorable, may invite celebrity guests, the benefit is no shortage of proposals.
Prices of stars and stars begin already with a few thousand euros. The newspaper "Komsomolskaya Pravda" published list price for Russian celebrities, who are now most readily bought at corporate parties for the New Year, while the German Bild causes prices of some Western stars.
Russian celebrities
1.Verka Skrdyuchka - from 65 thousand. Dollars
2. Comedy Club - from 20 thousand dollars
3. Zhanna Friske - 15 thousand. Euro
4. Alla Pugacheva - 70 thousand. Euro
5. "VIA Gra" - 20 thousand. Dollars
6. Bilan Dima - 60 thousand. Euro
7. "Factory" - 15 thousand. Dollars
8. "City 312" - from 10 thousand. Dollars
9. "Brilliant" - 15 thousand. Dollars
10. "A-Studio" - from 10 thousand. Dollars
11. "Ivanushki International» - 8 thousand. Dollars.
Western celebrities
Anna Ermakova (7): Mama Angela prepared to "sell" the daughter of Boris Becker to anyone who will pay 50 thousand. Euro. Interviews will cost another 25 thousand.
Rolling Stones: During the hour and a half performance of the legendary group to a narrow circle of the public will have to pay 4 million euros, including accommodation and flights.
Kylie Minogue (39): In the 20-minute private concert singer received 900 thousand. Euro. So in an hour it is probably 2, 7 million.
Jennifer Lopez (38): The singer until recently could be ordered for 1, $ 2 million. True, this is not possible, since Lopez is pregnant.
Diana Ross (63): The former lead singer of The Supremes within the United States is ready to come to the visitors for 250 thousand. Dollars.
Sheryl Crow (45): The singer does not sit on the neck of Lance Armstrong's former husband. During one particular invitation she earns 450 thousand. Dollars.
Celine Dion (39): "only" one million requests for ourselves Franco-Canadian singer. This price, however, does not include accommodation of its numerous entourage.
Rod Stewart (62): When the Sultan of Brunei's birthday, invited me to visit Rod Stewart, who agreed to come on the evening of 4, 5 million dollars.
Elton John (60): In comparison with Stewart, his British counterpart Sir Elton John a discounter. Also in Brunei, he sang for 1, 5 million dollars.
Gerhard Schröder (63): While the former German chancellor not so long ago in this business, he asked similar fees ranging from 50 to 100 thousand. Dollars.
Bill Clinton (61): The former president of the United States with 100 thousand. Bargaining is just beginning. For a year on their reports, he earns millions.
Paris Hilton (26): Socialite appear at the event for the sum from 100 thousand. Dollars. They say, for coming to Russia to his daughter millionaire Paris PLastinin paid two million "green».
Sheri Blair (53): The wife of former British prime minister is ready to speak for those who want to report on "Compatibility of family and career" for 40 thousand. Euro.
Boy George (46): Because of the constant conflict with the law price of Boy George has fallen sharply. In 2002 it was necessary 20 thousand. Euro, now enough for four and a half.
Michael Jackson (49) or the appearance of a private concert at a gala event worth at least $ 1 million. And his friend the Sultan of Brunei paid for performance in his chambers as many as 10 million.
Heidi Klum (34): You are the supermodel solid fare - 50 thousand. Dollars or euros, depending on where it should act.
P-Diddy (37): Over 35 thousand. Dollars American rapper even ready to act as a DJ. To this sum must be added the cost of even the stars stay.
Claudia Schiffer (37): A short talk, a sip of water, a souvenir photo. That hour passed, during which the former model takes 40 thousand. Euro.
Shakira (30): 840 thousand. Euros, say, the Russians paid, the Colombian singer invited to his birthday party.
Stevie Wonder (57): Blind soul legend performs at private events for 620 thousand. Euros or more.
Robbie Williams (33): Over 1, 5 million euros singer you perform as many as 17 of their songs, which is good in terms of price-quantity.
Christina Aguilera (26): Her prices range from 800 thousand. 3, 6 million euros, which paid a Russian banker in two performed songs for him.
Sting (56): 300 thousand. Euros paid Sting Microsoft founder Bill Gates for the performance of several songs at his birthday party. If the event is held outside the United States, below 1 million price is not lowered.
Dita Von Teese (35): Once strippers stripped for 25 thousand. Dollars. Admittedly this was a special price for the head of Playboy Hugh Hefner.
Muhammad Ali (65): 250 th. Euro is to invite the legendary boxer to him. However, much depends on the health status at any given moment.