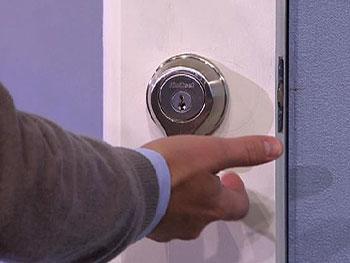 If you have ever faced a problem getting into the dark little key in the lock, or a plurality of packets in their hands at all deprive you of any chance to open the door, you will be happy to learn about innovation SmartScan from the company Kwikset, which is designed to make your life easier.
SmartScan is the first biometric technology that will allow you to do without key will be invisible in the interior of your apartment. Place your finger under lock and key, the system will scan your fingerprints, which will open the door and go into the room. In order to close the room, enough to knock three times slightly to adapt.
Most good news is that if you want you can adjust the SmartScan for themselves. So, if your house being some kind of exercise, you set a special regime of temporary admission of workers in the room, which regulates the number of days or weeks, during which will be allowed to enter or, according to more stringent conditions may limit the specific hours of being outsiders in a house that is extremely convenient if you have a nanny or a house. worker. The memory device stores up to 50 prints.
This autonomous system does not require installation and can be installed only in the presence of a screwdriver in the building. According to preliminary estimates, the cost of SmartScan will be? 250.