Beaten in the quarterfinals against Portugal with a score of 3: 2, the Germans were the first European Championship semifinalists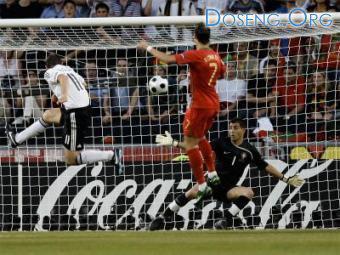 Team Germany became the first semifinalist of Euro 2008, winning with a score of 3: 2 Portuguese. As part of the German team excelled Bastian Schweinsteiger, Miroslav Klose and Michael Ballack; Response goals on account of Nuno Gomes and Helder Postiga. In the semifinals, the Germans will play the winner of the match Croatia - Turkey. The first attack an assist against Germany (in 22 minutes) began Lukas Podolski down the left and sent a cross. Schweinsteiger was released from custody the defense and score another shot on goal Ricardo from close range.
Four minutes after a pass from Schweinsteiger's free-kick missed the Portuguese defender Miroslav Klose, who sent the ball into the goal with a header Ricardo. Portugal goalkeeper touched the ball, but to prevent a goal failed.
After 40 minutes, the Portuguese were able to win back one goal. German goalkeeper Jens Lehmann parried dangerous blow of Cristiano Ronaldo, but the ball bounced to Gomes, who successfully played on finishing.
After 61 minutes, the third goal against Portugal scored the German team captain Michael Ballack. Bastian Schweinsteiger's free-kick completed a shed (cross), Ballack won the riding from Paulo Ferreira and made a superb header.
Three minutes from time substitute against Portugal striker Helder Postiga reduced the lead, using the transfer from the flank. In the last minutes of the meeting, the Portuguese attacked a lot, but the dangerous moments it could not be established. The match ended with the score 3: 2 in favor of the German national team, reports Lenta.ru.
In the semifinals, the Germans will play the winner of the match Croatia - Turkey, which will be held June 20 and will begin at 22:45 Moscow time.